Since the start of reorganization that began a couple of years ago, Sony (NYSE:SNE) actively restructured its unprofitable enterprises and invested a lot of capital in its leading businesses. Earnings results from the last few years show us that the company's financial shape improved, but there's still a lot of work to do in order to successfully compete with rivals going forward.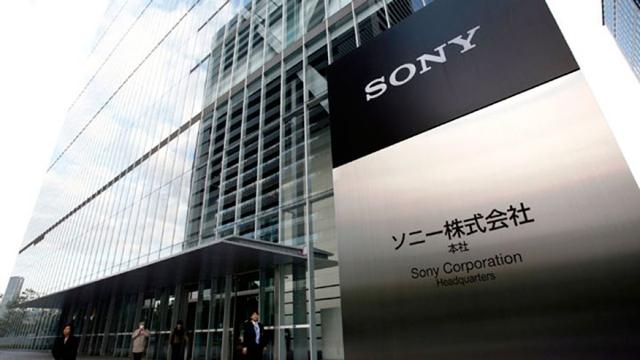 In 2016, Sony made a number of high-level changes and highlighted its major developments that should improve the company's position in the industries that it participates in, and give us a better insight on the management's ability to execute corporation's strategy.
At the moment, Sony has nine major divisions which cover the specific areas of the company's overall business portfolio. Out of those nine, there are three segments that in the last few months consecutively made more than 200 billion yen quarter after quarter and could be the major catalysts of growth for Sony in 2017. They are Home Entertainment & Sound (HE&S), Financial Services and Game & Network Services (G&NS). As we can see from the image below, their overall sales and operating income were better in comparison with other divisions.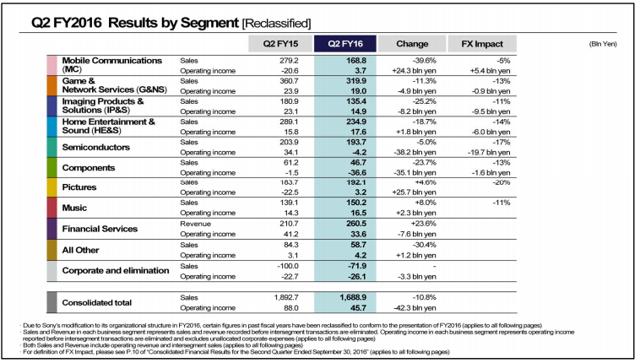 Source: Sony's Q2 FY16 Earnings Presentation
We could also see that Sony struggled with beating its results in comparison with the same quarter from the year before primarily due to the FX impact, and is currently in need to perform better in the upcoming quarters. If you take a closer look at those three divisions that I described above, then you would understand why I think that they might be the major catalysts of growth for Sony in the next quarters.
In the last couple of months, the HE&S division announced a number of new hardware devices that were showcased on this year's CES and have a lot of potential in the future. Among new displays, sound systems and audio products, Sony presented its newest Bravia OLED TV, which has a unique Slim Backlight Drive+ technology and will be the company's major 4K hardware. And with the rise in sales of Sony's 4K TVs along with the increased demand for the 4K technology, the company is poised to be one of the leaders in this market and create shareholder value along the way.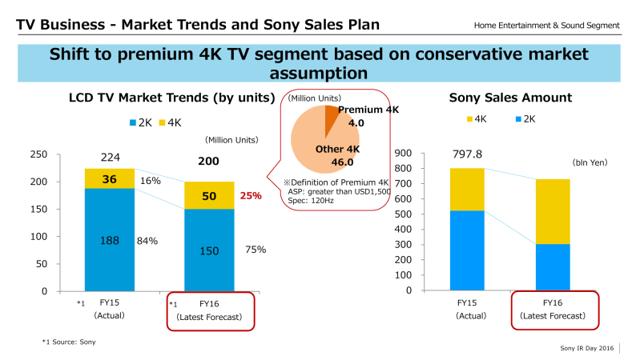 Source: IR Day 2016
In addition, Sony's Financial Services subsidiary (official name: Sony Financial Holdings) constantly improves its performance and increases the value of its business portfolio for its shareholders. At the moment, it has assets in areas like life insurance, banking services and securities exchange business. Thanks to its broad network of corporate clients and diversified portfolio of different asset classes, the company will continue to be a dominant player on the financial market in Asia-Pacific region and will help Sony to continue to show strength.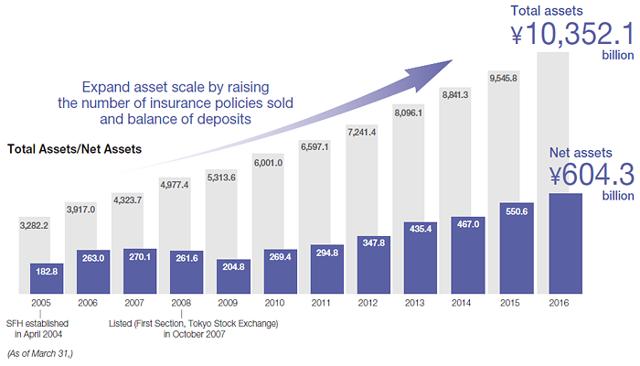 Source: Sony Financial Holding presentation
As for the gaming segment, last month Sony announced that its PlayStation 4 console sold more than 50 million units worldwide since its release in 2014. This is a great news for the company, considering that its competition, primarily Microsoft with its Xbox One, sold around 20 million units of its console. Also, Sony's latest hardware in PlayStation 4 series PlayStation 4 Pro, which was released in October, received a warm welcome from the public and is in high demand among fans. On the software side, Sony continues to strengthen its lineup of exclusive games to continue to increase its user base and plans along with its first party studios to surprise fans this year.
In Q2, Sony's gaming division had operating income and sales of 19 billion yen and 320 billion yen, respectively, which is lower in comparison with the same period a year earlier. The decline was primarily to the impact of the FX exchange and low amount of new games released during that period. But if we consider the latest release of PlayStation VR and the upcoming lineup of games for the Sony's ecosystem, we might suggest that the company also has a lot of potential in this business segment and poised to grow.
At the moment, Sony has two Hold and four Buy recommendations from major advisory firms:

Source: MarketBeat
Its financial metrics are improving since the start of reorganization. While operating and net margins are only around 3% and 1%, respectively, the operating cash flow continues to increase Q/Q and debt decreases, which is a good sign for me to go long.
Considering the announcement of the newest products in the company's products pipeline along with strong performance in different business segments (primarily those three that I described above) in the last few months, Sony has great chances to outperform the market in the upcoming quarters and the current share price represents a good entry point for potential buyers.
I'm long Sony.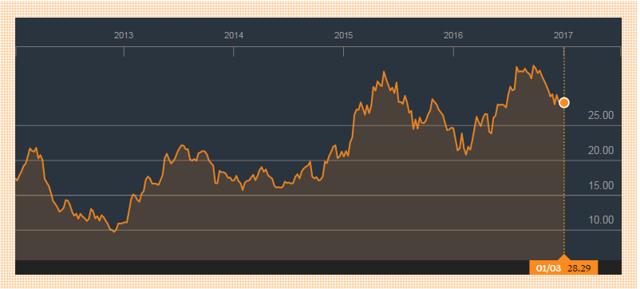 Source: Bloomberg
Disclosure: I am/we are long SNE.
I wrote this article myself, and it expresses my own opinions. I am not receiving compensation for it (other than from Seeking Alpha). I have no business relationship with any company whose stock is mentioned in this article.