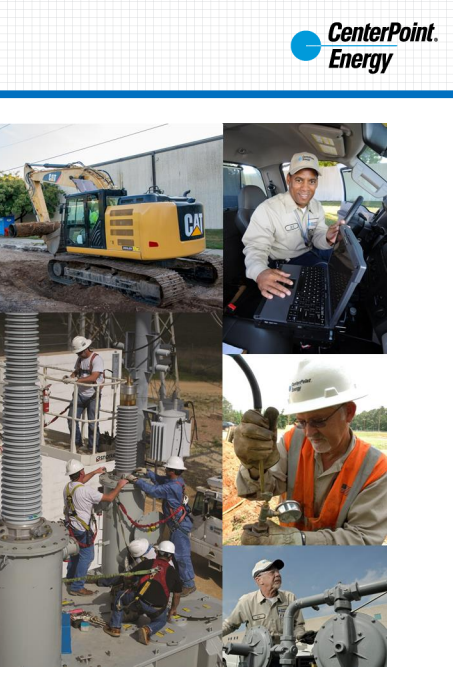 CenterPoint Energy, Inc. (NYSE:CNP) is a gas and electric utility with operations in Houston, Texas and other areas. With its growing earnings and projected dividend growth, its current market price makes it a buy.
Is CNP a good investment partner?
In past articles, I have implicitly worked through a checklist to determine if a company is a good investment partner. I think an explicit discussion of that checklist will prove useful to investors.
The first thing I look at is the market a company works within. What I want to see is that the market offers the potential to grow. For most companies, that means that there are underserved customers for them to pursue. For others, tobacco companies, for example, it means they can increase prices to produce growing revenues.
The second thing I look at is profits. I want to see that a company has been profitable in the past. I also want to see that management has a good idea of what makes it profitable and has a good plan to grow profits in the future. I consider it a plus when management gives me a forward-looking estimate of profit growth. I use the generic term profit, because while for many companies, profit is well measured by GAAP earnings, that is not true for every company.
The next thing I look at is how the company manages debt. Here, I want to see two things, that the company has an investment grade credit rating (or at least no worse than its competitors in its industry) and that it doesn't have too large an amount of debt due in a very short time, mostly in the next year or so. This is particularly important in industries where adding more assets takes a lot of cash.
The final thing I want to see from a company (and really the most important thing) is that it has a commitment to pay and raise the dividend. My first four requirements can be seen as supporting the company's ability to pay and raise the dividend. Ideally, I would like to see management make some sort of commitment on this issue. This item is so important that I use the current dividend and my prediction of how the company can grow the dividend over the next five years to determine what price I want to pay for the shares.
To evaluate CNP, I looked at this presentation and this presentation from the company website. Read both presentations, but below I include the slides important to the items in my check list.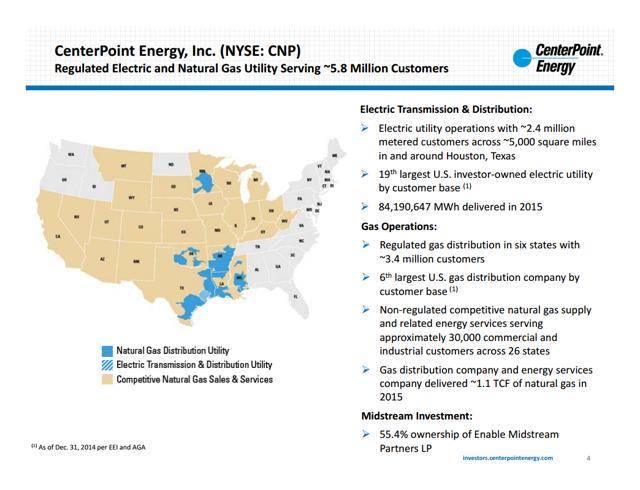 This first slide addresses the first item on my checklist. Texas is clearly a growing market for a utility company. And the company has identified a large number of potential new customers. This slide also points out that CNP owns a majority stake in Enable Midstream Partners (NYSE:ENBL), an MLP (more on this later).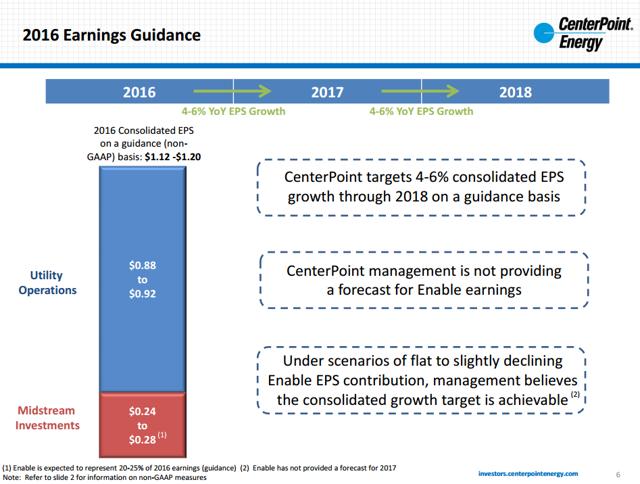 The slide above addresses the second item on my checklist. I want to see profits. And here are profits reported as EPS on a guidance basis. It also shows the company's projected growth in earnings. More importantly, it shows that CNP can still achieve these numbers even if Enable doesn't grow its earnings. In 2015, Enable caused CNP to have negative earnings due to a very large non-cash impairment charge on Enable assets.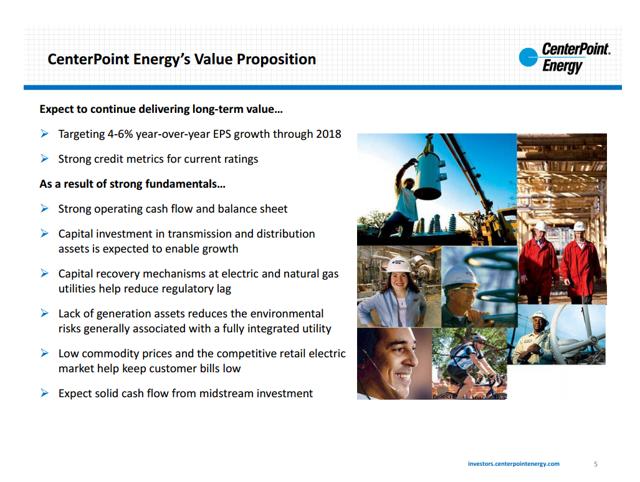 This slide shows features of CNP's plan to grow in the future. It provides an estimate of earnings growth over the next few years and some of how it plans to do it. From the two slides addressing the profit item, it seems reasonable to expect 4-6% growth in profits.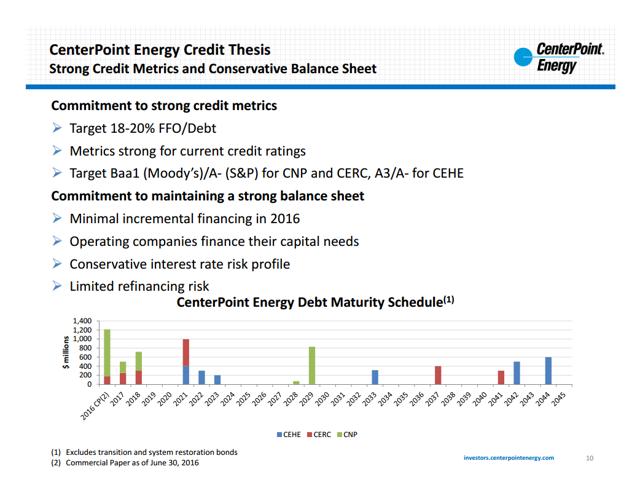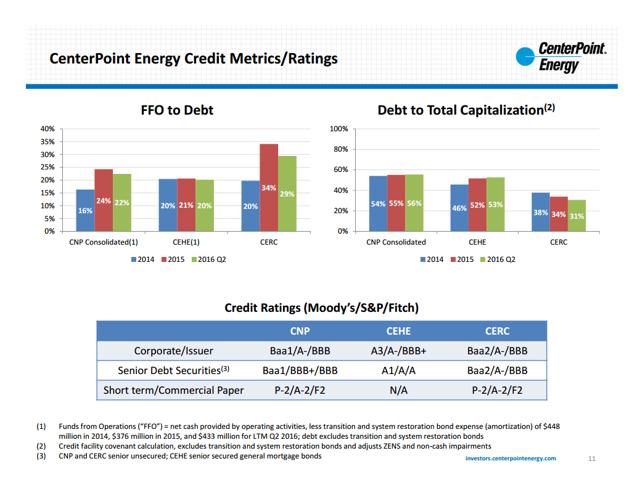 The two slides above address the debt checklist item. The first slide addresses the plan to manage debt, while the second slide shows current debt metrics. As can be seen, currently CNP still has work to do to get to its targeted Debt/FFO ratio. The CERC unit seems to be the area where the most work remains to be done. At this point, it seems like the debt is being well handled, but an eye needs to be kept on the CERC unit.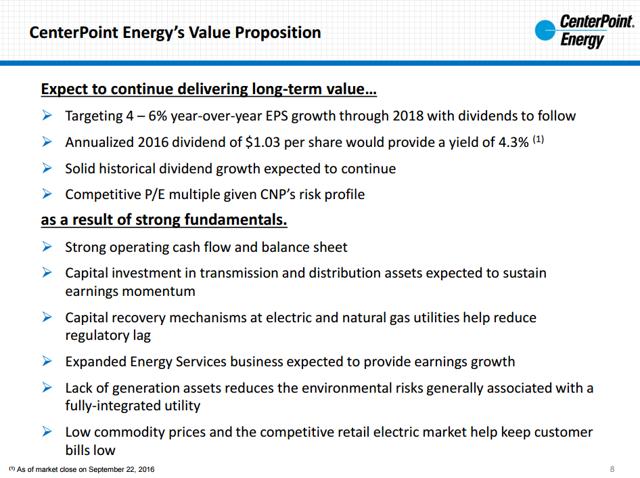 This final slide addresses the dividend issue. I like that CNP explicitly links dividend growth to EPS growth. And I like that it talks about how much it pays out now and it has had solid dividend growth in the past and expects that to continue in the future. I would have liked it better had CNP presented a graph showing that growth, but it meets my requirements that the company talked about it.
Looking at the CCC List, I can see that CNP has raised its dividend each year for the last 11 years. I might make exceptions for some companies, but for utilities, I see no reason they can't have raised dividends for at least five years and preferably 10 or more years. Also from the CCC List, I see that over the last 10 years the various DGR values are all at least as high as the low end of guidance for EPS growth. So in determining the price I want to pay for CNP, I will use the current dividend of $1.03 and a short-term dividend growth rate of 4%.
One area of concern for me is the performance of Enable. In 2015, it caused CNP to take a very large impairment charge. That charge offset more than the total earnings of CNP. While that was a non-cash charge, and so, it didn't impact CNP's ability to pay the dividend in 2015, it was certainly large enough to cause some concern. Since that point, Enable has made efforts to eliminate contracts that charge a percentage of the value of the material transported and instead increased its percentage of contracted volume that charges a fixed rate; there is still an issue with Enable impacting CNP. To compensate for this concern, I am going to lower my buy target so that I pay only 90% of the PV of the predicted future dividend payments.
What's a good price?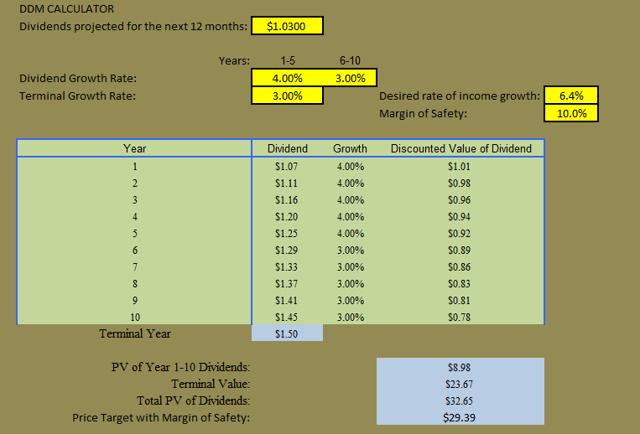 Using my Excel® based DDM calculator (pictured above, you can see the web-based calculator I based it on here and read a discussion on how the formulas were developed here) to figure out what I want to pay for CNP, I plug in the current dividend of $1.03 and 4% for the dividend growth rate. With a terminal rate of 3% (which is what I typically use for utilities since I think they can grow earnings at least close to long-term inflation) and a discount rate of 6.4% (since I want my investments to grow their income at twice the rate of inflation), I get a PV of $32.65 for CNP. As I mentioned above, I want an additional margin of safety because of the uncertainty around Enable. I think a 10% discount to the PV of future dividend payments will give me reasonable safety if Enable proves to be a bigger drag than management concludes. So my buy target for CNP at this time is $29. Given that the current market price of CNP is around $25.20, that makes CNP a buy (well, if you have money to invest anyway).
Can options help?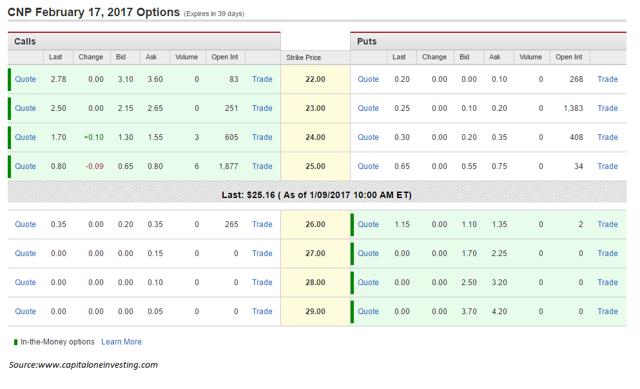 Given where the market price is relative to my buy target, I don't really need help from options to get a good price. But that doesn't mean we can't get an even better price.
Because my target price of $29 is so much above the current market price, I don't see any calls I want to write at a strike price I am willing to sell. As can be seen in the graphic above, the $29 strike call for February has an ask of just 5 cents and a bid of 0.
The $25 put, however, does have a nice premium where you should be able to get $0.60 to $0.65 with a limit order. For just 36 days, that is a good return even if you only have about a 1-in-4 chance of getting the shares assigned to you at that price.
Conclusion
CNP was one of the stocks that made my Top 10 list in this article. Since the purpose of that article was to show how a different metric would produce different evaluations of a stock, I used the data from this article so as to isolate the differences in evaluation to just differences in the metric. CNP was one of the companies that made my Top 10 list where I hadn't written an article with a full analysis. Based on a full analysis, CNP still looks like a good investment partner, although the situation with Enable bears watching. Even taking in concerns about Enable, CNP looks to be a buy. I don't currently own CNP but it is on my watch list. When I get cash at the end of the month, if my call on my CVX shares is exercised, I hope to pick up some if it is still selling at a good value.
Note: I hope you all got something out of this article. I do appreciate the time you took reading it. If you are one of those who follow me here, I appreciate it; if you'd like to include yourself amongst those individuals, please hit the "Follow" button next to my name as well as following other contributors whose work you enjoy. As always, please leave any feedback and questions you may have in the comments below.
Disclaimer: This article is intended to provide information to interested parties. As I have no knowledge of individual investor circumstances, goals, and/or portfolio concentration or diversification, readers are expected to complete their own due diligence before purchasing any stocks mentioned or recommended. The price I call fair value is not a prediction of future price but only the price at which I consider the stock to be of value for its dividends.
Disclosure: I/we have no positions in any stocks mentioned, and no plans to initiate any positions within the next 72 hours.
I wrote this article myself, and it expresses my own opinions. I am not receiving compensation for it (other than from Seeking Alpha). I have no business relationship with any company whose stock is mentioned in this article.