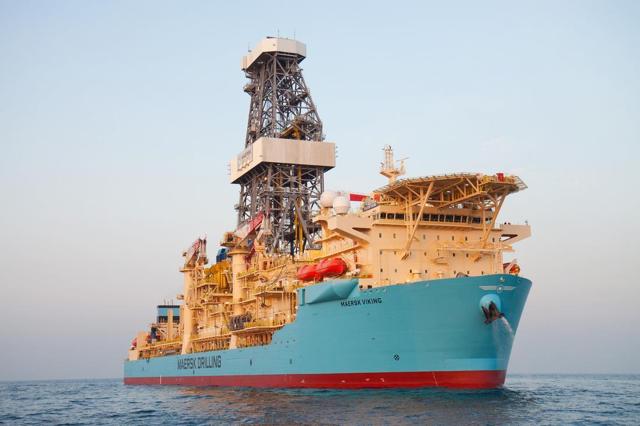 Image: Drillship Maersk Viking - WorldMaritime.
Investment Thesis
The offshore drilling industry plays an important role in the oil and gas supply chain; no one can deny this basic principle. Did you know that oil production from offshore locations represents about 29% of the global crude oil production in 2015, according to the EIA? This percentage has been nearly constant since 2005. I expect the percentage in a range between 28.5% and 29.5% in 2016.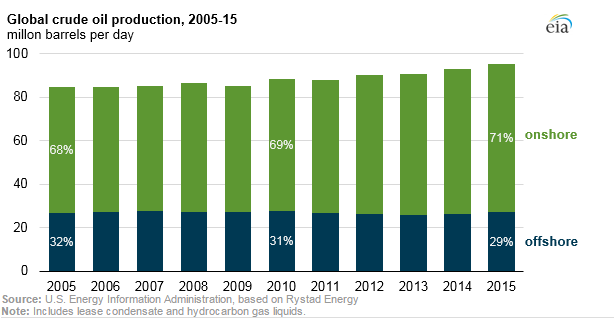 The main locations are in Saudi Arabia, Brazil, Mexico, Norway/UK and the USA and represent a total of approximately 27 million BOE/d.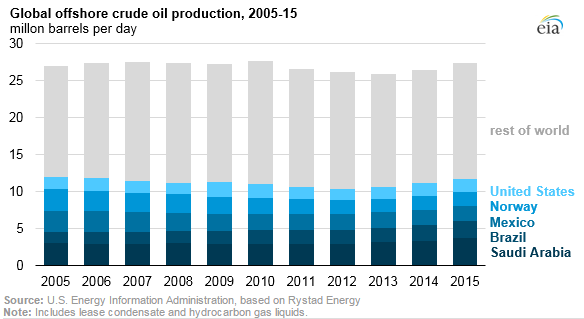 The bulk of the crude production is still in the "shallow waters," which are generally cheaper and less technically challenging when compared to other offshore segments.
"Shallow waters" require a rig less expensive anchored to the rock floor, called Jack-up. This category can be classified into four sub-categories:
High Spec (HE or BE)
Premium
Standard
Mat Cantilever/Slot
However, the move toward "deep waters" and "ultra-deepwaters" projects is clear the past 5 to 10 years, and has required other types of rigs.
Exploratory drilling in "deep waters" and "ultra-deep waters" is naturally more costly and complex for oil majors, but technology advancements and the near exhaustion of shallower prospects left no choice to the oil majors who are turning increasingly to the deeper waters, particularly in Brazil, West Africa and in the Gulf of Mexico.
The rigs required to drill in the "deep waters" segment are called floaters or mainly Drillships or Semi-submersibles. The cost of building such a rig stands in the range of $600 million to over $900 million.
Semi-submersibles and Drillships can be classified under three sub-categories:
Midwater
Deepwater
Ultra-Deepwater
The day rate paid by oil majors depends on the rig specifications, and also the location and duration of the work. The range in day rate can be from $40k/d to as high as $350k/d or more. Day rates have been going down the past three years, due to the crash in oil prices and rig oversupply.
Graph overview of the Offshore fleet status Worldwide, as of January 9, 2017.
The total rigs stands at 977 now - may vary a little (+/-2) depending on the under-construction status - the number of rigs actually contracted is 425, which represents 46.1% of the total rigs. Below are the number per categories.
| | | | | | | | |
| --- | --- | --- | --- | --- | --- | --- | --- |
| | Midwater | Deepwater | Ultra-deepwater | High Spec | Premium | Standard | Mat Cantilever/slot |
| Jack-ups | 0 | 0 | 0 | 110 | 214 | 264 | 46 |
| Semi-Submersibles | 77 | 30 | 81 | 0 | 0 | 0 | 0 |
| Drillships | 7 | 11 | 137 | 0 | 0 | 0 | 0 |
| Total | 84 | 41 | 218 | 110 | 214 | 264 | 46 |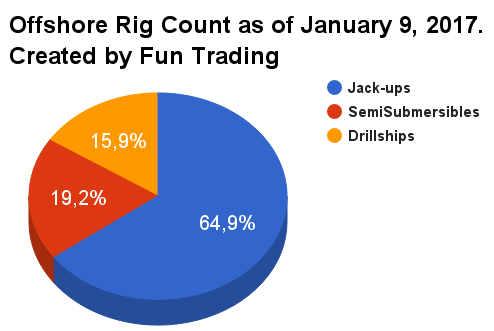 | | | |
| --- | --- | --- |
| | Average delivery year | Age |
| Jack-ups | 1995 | 22 |
| Semi-Submersibles | 1994 | 23 |
| Drillships | 2007 | 10 |


If you want more details for each segment:
To access my article for the Drillships, please click here.
To access my article for the Semi-Submersibles, please click here
To access my article for the Jack-ups, please click here
Conclusion
The offshore drilling Industry is an important segment of the oil and gas production worldwide, and will remain an important source of production until 2040, at least, according to Exxon Mobil's (NYSE:XOM) 2040 outlook. The reasons are simple to figure out and it is called electrification.
How the economic growth will be met?
Economic growth will lead to an increase of the electrification of the world economy and the electrification will be supported by seven main sources of energy - oil, gas, coal, nuclear, biomass, wind/solar and hydro/geothermal. Oil and gas will represent 58% of the global energy mix.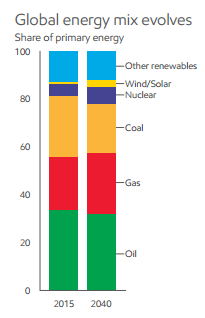 Growth drivers
1 - By 2040, world population is expected to reach 9.1 billion, up from 7.3 billion today.
2 - Global GDP will effectively double, with non-member countries of the Organisation of Economic Co-operation and Development (OECD) seeing particularly high levels of economic growth. Particularly in China and India (Asia-Pacific region).
3 - Global energy demand will be up by about 25 percent in the year 2040.
The offshore industry activity will be indispensable to meet the demand of the modern world, and ignoring this basic fact is a costly mistake that should be avoided as an investor with a long-term perspective.
It shows the actual demand/supply imbalance as quite atypical when it is placed in its proper context.
One element that increases the chance of supply deficit is that IEA estimates that the liquids supply will decline by 80% by 2040, without any additional liquids, which is considered the natural decline.
Now, the question is where the reserves will come from to replenish this loss due to strong consumption?
How much reserves will remain in Saudi Arabia and other big oil producers 30 years from now?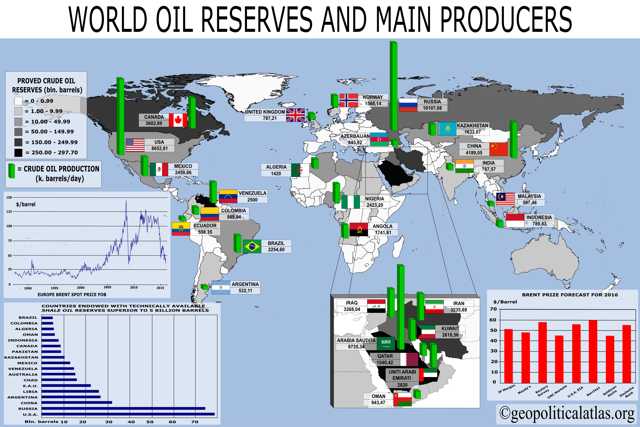 Courtesy EIA
It is clear that the world needs drilling for oil, offshore and onshore, unless we give up our way of living, and no one is prepared to do that, let's be honest and realistic for a moment, please.
Yes, global warming will be a challenge - it is already challenging as we speak - but I am sure that our collective brain will solve this difficult dilemma as it always do when it is turned into an inescapable necessity.
Thus, let's keep in mind the long-term perspective when we experience a difficult time with our investment in the offshore drilling sector for the past several years. This is only a bear cycle, but it will change.
I recommend to use these tough winds to accumulate at a discount price some major drillers such as Transocean (NYSE:RIG), Ensco (NYSE:ESV), Noble Corp. (NYSE:NE), Diamond Offshore (NYSE:DO) or Rowan Companies (NYSE:RDC) and a few others which will survive the downtrend. Eventually, Seadrill (NYSE:SDRL) and Atwood Oceanics (NYSE:ATW) will offer a great long-term opportunity when the debt will be refinanced in 2017. Others present too much risk right now to be considered as investment but are still great for trading - Ocean Rig (NASDAQ:ORIG) and Pacific Drilling (NYSE:PACD)
Important note: Do not forget to follow me on the oil industry. Thank you for your support.
Disclosure: I am/we are long RIG, ESV, NE.
I wrote this article myself, and it expresses my own opinions. I am not receiving compensation for it (other than from Seeking Alpha). I have no business relationship with any company whose stock is mentioned in this article.