Early on Monday, just as I was finishing the overnight market recap for the Heisenberg Report, I happened on a pretty incredible chart.
I banged out a few introductory sentences and posted it along with some color from Goldman (NYSE:GS).
For those who don't follow the blog, here's the visual which shows that whereas three quarters of high yield energy bonds were trading at what amounted to distressed levels at this time last year, only ~2% fit that description today (just 12 months later):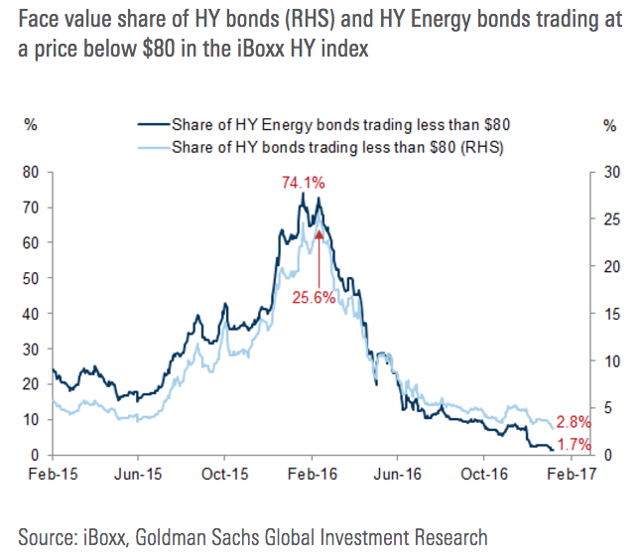 (Chart: Goldman)
It would be near impossible to overstate how incredible that is. "Nearly 3 in every 4 [HY energy] bonds traded below $80 last January compared to a paltry 1.7% share today," Goldman wrote, elaborating in a note accompanying the chart.
Everything is apparently fixed.
I wanted to write a few more words on this and show you some more charts to put it in context.
As my followers are aware, I've documented HY credit's (NYSEARCA:HYG) remarkable run quite extensively. Through the third week of December, HY energy bonds had outperformed the Energy Select Sector SPDR Fund (NYSEARCA:XLE) by a wide margin and, more generally, total returns on HY bonds as a group had well outpaced returns on the S&P 500 (including dividends).
"Credit spreads compressed meaningfully over the past month, bringing their current levels close to tights for this credit cycle," Deutsche Bank (NYSE:DB) noted last week, adding that "at 415bps, our DM USD HY index is now only 65bp away from its post-GFC lows, or less than a distance it traveled since early December."
Here's a visual that illustrates Deutsche's point. Spreads on Barclays US HY index are now at 27-month tights, which telegraphs an exceptionally benign environment.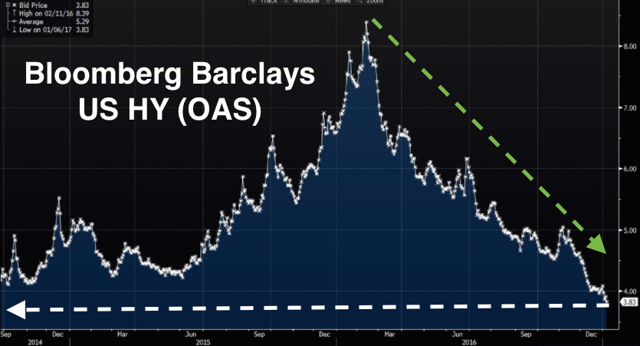 (Chart: Bloomberg)
All of this despite the fact that the 12-month trailing default rate in the Energy & Metals and Mining cohort hit 27.64% last year, driving the overall HY default rate to a post-crisis peak of 5.06%.
So what's the occasion?
Because oil prices are above $50. That's it. That's the whole rationale here. You might ask why I'm downplaying that as though WTI didn't just soar 50% in 2016...

(Table: Bloomberg)
Yes, you might wonder if I have an answer for you. Have a look at one last chart that gives you an idea of where oil prices were the last time HY energy traded at current levels: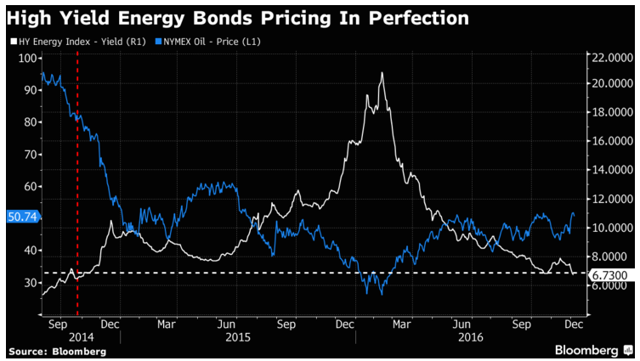 (Chart: Bloomberg)
So if you want to talk about HY relative to oil prices, just note that the last time HY energy yields were as low as they are today, WTI was at $80.
On that note, I'll give the last word to Bloomberg's Spencer Cutter:
There are a lot of things that have to go right to justify the market being where it is today.
Disclosure: I/we have no positions in any stocks mentioned, and no plans to initiate any positions within the next 72 hours.
I wrote this article myself, and it expresses my own opinions. I am not receiving compensation for it (other than from Seeking Alpha). I have no business relationship with any company whose stock is mentioned in this article.