Shares of Best Buy (NYSE:BBY) have had quite the turnaround. In June, the company was priced for death, and we recommended the stock as a buy at those levels. Just over half a year and 2 strong quarterly reports later, shares are up better than 40% but off their mid-December highs. At these levels, we think Best Buy needs to continue outperforming expectations in order to support the valuation. Fortunately for investors, our research indicates that Best Buy had a strong 2016 Holiday season.
Below, we have compiled multiple data points which collectively suggest Best Buy performed quite well in November and December.
E-commerce drove the majority of this year's Holiday sales gains, and Best Buy significantly grew its e-commerce market share year over year. Adobe Digital Insights and First Data both agree that retail e-commerce transactions grew roughly 11-12% YoY in Holiday 2016, while Slice Intelligence put the e-comm growth number closer to 20%. According to Slice Intelligence, Best Buy is not only the second biggest player in Holiday e-comm, but also grew its e-comm market share from 3.5% to 2015 to 3.9% in 2016, the biggest YoY market share gain outside of Apple (NASDAQ:AAPL).
Our online web traffic and search interest checks further support the thesis that Best Buy had strong digital sales in Holiday 2016. Web traffic measurement sites SimilarWeb, Alexa, and Quantcast all show strong web traffic gains for Bestbuy.com in the Holiday season, with particular strength in November. Google Trends shows a similar spike in "Best Buy" search interest in November that is on par with last year's spike.
NPD Group's weekly Holiday sales reports indicate Best Buy was a choice destination for shoppers throughout November and December. According to the NPD's weekly Holiday sales reports, technology and electronic spending started off slowly for the first two weeks of November before picking up in weeks 3 and 4 behind strength in PCs. Weeks 5, 6, and 7 were overall slow for technology and all of retail, but showed strength in wearables, headphones, home automation products, and instant print cameras. Week 8, boosted by two additional shopping days, delayed Hanukkah shopping, and a shipping deadline crunch, saw sales in all retail categories jump, including an 11% jump in technology sales. Overall, it looks like strength in consumer electronic products such as PCs, wearables, headphones, home automation products, and instant print cameras allowed Best Buy to put up respectable Holiday numbers.
Despite the above tailwinds, we have one concern related to data from the National Retail Federation. In the NRF's early December 2015 survey, 22.8% of survey respondents had purchased a consumer electronics gift. This year, that figure fell to 22.6%.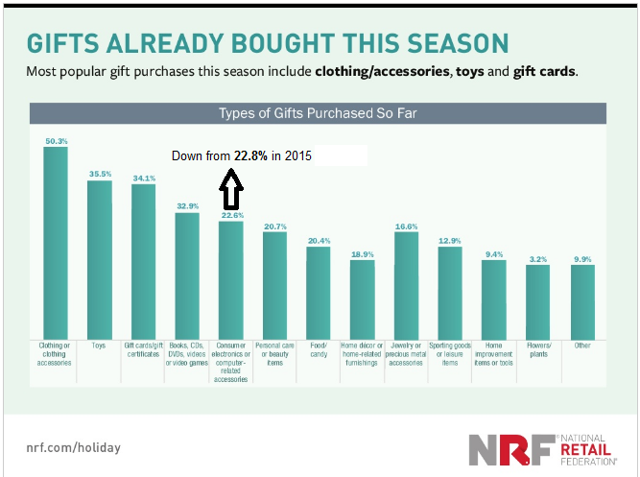 This slight drop is somewhat concerning, but was perhaps offset by higher post-Christmas shopping. In the 2015 survey, 34.1% of respondents had no plans of shopping post-Christmas, and that figure fell to 32.5% in the 2016 survey. More specifically, the percentage of respondents planning on shopping at an electronics store after early December grew from 17.7% in 2015 to 18% in 2016. In sum, not only did more people plan on shopping later this year, but also more people planned on specifically visiting an electronics store like Best Buy. This late-surge boost is also similar to what NPD reported.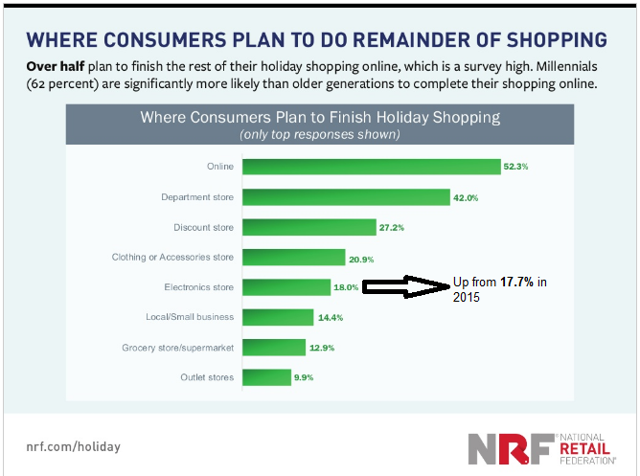 Overall, we are optimistic on Best Buy's Holiday sales. That said, we remain tethered by the stock's current valuation. Given the sales growth trends so far this year, we think Best Buy can stabilize sales around $39.75B per year. Applying a 23.5% gross margin (consistent with gross profit trends this year) and taking out roughly $7.6B in annual opex (also consistent with historical 2-year trends) gets us to roughly $1.7B in annual operating profits for Best Buy. After $50m in net interest expense and at a 35% tax rate, we think Best Buy is a stable business at just under $1.1B in net income per year, or roughly $3.40 per share. That puts the stock at roughly 12.7x what we see as a stable, base-case EPS for the company. The stock, though, has normally traded at just north of 13x earnings over the past 3 years. A 13x multiple on our base-case, stable EPS of $3.40 implies a target price of $44. That isn't much upside, but that EPS figure could head significantly higher in the event of major corporate tax cuts because Best Buy is a relatively full tax-payer. For argument's sake, say Best Buy's effective tax rate can fall to 27.5%. That would equate to a stable, base-case EPS of $3.80. A 13x multiple on that implies a price target of almost $50.
We do not particularly like being long a stock that we see as only having fundamental upside in the event of widespread tax reform, but a strong Q4 ER could expand the stock's multiple and send shares higher without any tax reform news. We think there is a good amount of risk in shares at these levels and aren't particularly attracted by the risk-reward profile here, but we are fairly optimistic that Best Buy performed quite well in November and December. As it has been for the past 2 quarters, Best Buy stock is on our radar as a potential earnings trade and we again will look to buy on any dips into the Q4 ER.
Disclosure: I/we have no positions in any stocks mentioned, but may initiate a long position in BBY over the next 72 hours.
I wrote this article myself, and it expresses my own opinions. I am not receiving compensation for it (other than from Seeking Alpha). I have no business relationship with any company whose stock is mentioned in this article.