Behringer Harvard Opportunity REIT I, Inc. (OTC:BHOR) is a REIT that has frustrated investors for years due to underperformance and high fees. However, orderly liquidation is likely and the expected net proceeds are probably worth at least 25% more than the current share price.
How it all began
In September 2005, BHOR commenced a public offering of common stock at a price of $10 per share. Aggregate gross proceeds from the offering totaled approximately $538.7 million and net offering proceeds after selling commissions, dealer manager fees and organization and offering expenses totaled approximately $481.8 million. Before having begun to buy real estate, BHOR spent roughly 10% of their investors' capital.
How BHOR performed
Having cost investors some money out of the gate, BHOR then cost them some more.
Despite starting at $10/share, the last quoted share price at my broker's website was $1.30. The trading volume is very low, and shares are illiquid so limit orders are a must.
Since the IPO, there were interim distributions, which partially made up for capital losses.
BHOR is externally managed and is subject to what I consider to be fairly large advisory fees. From the above linked source (form 14a):
Our Advisor received an asset management fee of 0.575% of the aggregate asset value of acquired real estate and real estate-related assets... Our Advisor and its affiliates receive acquisition and advisory fees of 2.5% of the contract purchase price of each asset for the acquisition, development or construction of real property or 2.5% of the funds advanced in respect of a loan investment... We pay our property manager and affiliate of our Advisor, Behringer Harvard Opportunity Management Services, LLC or its affiliates (collectively, "BH Property Management"), fees for management, leasing and maintenance supervision of our properties. Such fees are equal to 4.5% of gross revenues plus leasing commissions...
There are more fees, but I did not take time to tease them all out. They seem high and that's the only thing that matters to me.
How things will end
Management is presently seeking shareholders' approval to liquidate the company. It stands to reason that shareholders will approve this. They would have a hard time selling their shares in the open market, and likely would not want to continue holding them and keep paying hefty external advisory fees. An acquirer recently approached the company, but BHOR did not wish to sell itself at a discount.
Management believes that in liquidation, the company is worth between $1.75 and $2.01 per share. At the Annual Meeting of Stockholders to be held on January 23, 2017, stockholders will be asked to approve the proposed plan.
It looks like the company began selling its properties already: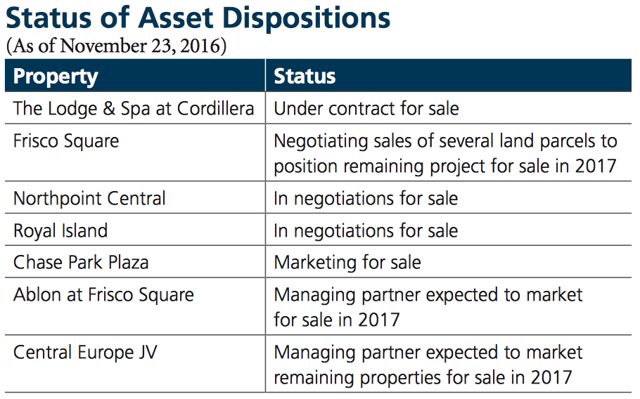 What to do
First, please remember this article is meant only as a starting point for your research.
For me, despite having written this summary, BHOR remains a work in progress. It may end up in the "too hard" pile because of low liquidity and uncertain amount of time orderly liquidation could take. Shares trade, thinly, at a nice (although not enormous) 25% or so discount from the lower end of company's own estimate of net liquidation value. Therefore, I believe this situation is better suited for smaller fund managers or individual investors with related experience. Whatever you do, please read the above-linked Form 14 carefully.
One way of playing this situation would be to use limit orders to patiently acquire some stock and wait for the likely shareholder approval of liquidation on January 23, in the hope that BHOR will rise on the news.
Disclosure: I/we have no positions in any stocks mentioned, and no plans to initiate any positions within the next 72 hours.
I wrote this article myself, and it expresses my own opinions. I am not receiving compensation for it (other than from Seeking Alpha). I have no business relationship with any company whose stock is mentioned in this article.