Although the regulatory review remains a question mark, Monsanto's (NYSE:MON) robust performance with on-market products helps solidify Bayer's (OTCPK:BAYRY) strategic rationale. Continued pricing strength, product innovation and a lengthy approval process help solidify Monsanto as one of the world's pre-eminent agricultural technology companies. With an attractive 17% deal spread and 2% dividend yield, I think Monsanto offers a compelling investment opportunity over the next 12-18 months. With the Rite Aid (NYSE:RAD)/Walgreens (NASDAQ:WBA) deal spread tightening, this is currently my favorite merger arbitrage opportunity.
Monsanto's Business Operations Uninterrupted
It seems that recent M&A issues were caused by a business that was suffering from either a PR or operational issue, particularly if the acquirer is Abbott (NYSE:ABT). Monsanto, though, is no stranger to controversy (remember the backlash against genetically modified seeds); and the company's business appears to be on the rebound and performing well.
Revenue in Q1 jumped a whopping 19.4% y/y to $2.7 billion, driven by robust growth in South America. Not only did Monsanto take a double-digit price increase to account for the strong dollar and local currency inflation, but it also saw its amount of corn acreage planted jump 25% y/y in Argentina and increase 10% y/y in Brazil. Management's commentary suggests that global corn acreage will actually be somewhat flat with a mix shift from North to South America, which likely will balance out over the course of the year.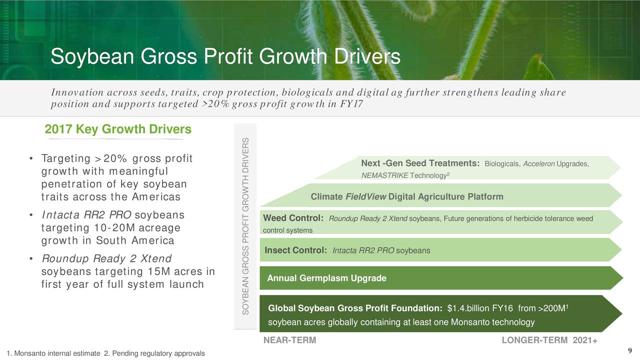 Source: MON Q1'17 Earnings Slides
That said, Monsanto will experience a strong increase in profitability driven by an increase in soybean gross profit margin on the company's Intacta RR2 Pro product - an insect-protected seed developed specifically for OUS markets. The product reduces insecticide usage for farmers and Monsanto is predicting a 30-60% increase in acreage for the product in 2017.
In the US market, Monsanto should see a strong increase in its next-gen Xtend Crop System after it went through a lengthy process to receive approval in several states. Monsanto forecasts a 15x increase in acreage with the new product in 2017 and I think its uptake could be slightly better than expectations, given the product profile.
More importantly, the Xtend product line should have an enduring competitive advantage. It took the Environmental Protection Agency (EPA) a whopping 7 years to approve the product for use in the United States. While management expressed frustration over the process, its length ensures a slow pace of innovation that provides Monsanto some insulation from competition.
After a rough 2016, Monsanto's business has rested at the bottom of the agricultural cycle. With long-term crop productivity necessary to sustain current food consumption habits, I think the long-term business is in great shape.
Regulatory Review Remains the Wild Card
Although I believe the incoming administration will be friendly to M&A, Bayer's acquisition of Monsanto remains a cross-border transaction that could eliminate some American jobs. Monsanto and Bayer have limited business overlap and with commitment from Bayer to divest any overlapping products, I do not think the Department of Justice will provide much of a headache. Yet, the President-elect is tough to predict.
Add on Volatility
With 17% upside to the acquisition price and a 2% dividend yield, I think Monsanto represents a strong investment opportunity. However, I do believe there will be some volatility over the next year and I would start a 25-50% position at current levels. I would also add downside protection. I've held my position for the last 3 months and I have also incorporated some option strategies such as selling cash-secured puts at attractive strikes and selling calls against my equity position if implied volatility feels too high. It is currently my largest M&A position.
Disclosure: I am/we are long MON, RAD.
I wrote this article myself, and it expresses my own opinions. I am not receiving compensation for it (other than from Seeking Alpha). I have no business relationship with any company whose stock is mentioned in this article.
Editor's Note: This article discusses one or more securities that do not trade on a major U.S. exchange. Please be aware of the risks associated with these stocks.