Due to the low trading volume for the US ticker (OTCPK:MOBAF), purchasing shares of Manitoba Telecom Services (MTS) on the Toronto stock exchange with liquidity above C$1 million per day is recommended. The market cap of MTS is C$2.8 billion. BCE is listed in Toronto and New York with a market cap above $38 billion and sufficient liquidity.
Deal consideration and upside
The deal was announced May 2, 2016. The merger agreement prohibits MTS from issuing another dividend before the merger closes. Shareholders of MTS can elect to receive:
0.6756 shares of BCE per share of MTS, or

C$40 in cash per share of MTS.
The cash consideration is fixed at approximately 45% and the share consideration fixed at approximately 55% of the total consideration. An oversubscription of either option will lead to proration. The structure is similar to the bank mergers I have written about here and here.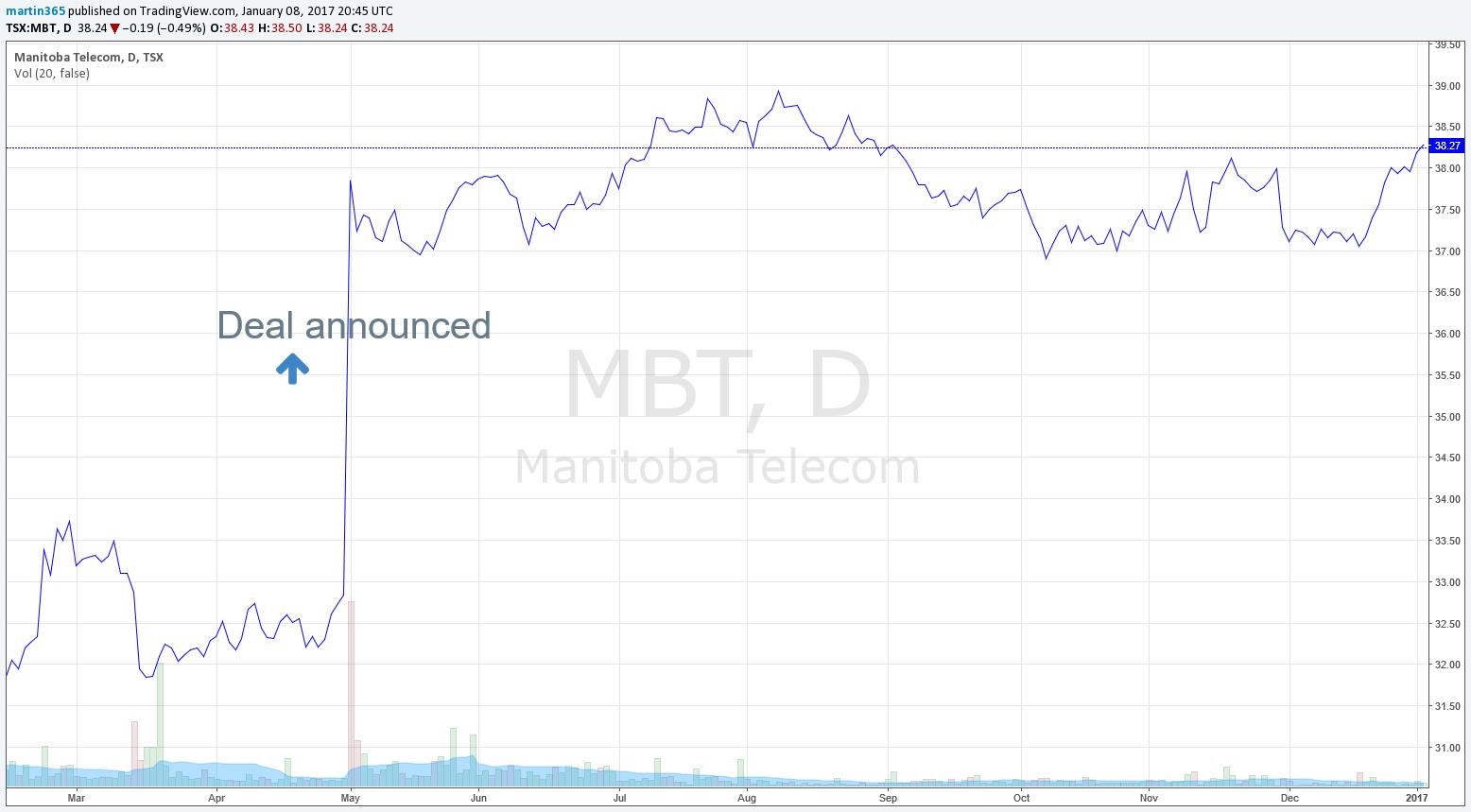 Using current prices for the shares and a conservative assumption for the closing date ("early 2017") would result in an upside of about 4%, or 32% annualized:
| | |
| --- | --- |
| TSE:BCE | $58.56 |
| cash | $18.00 |
| share | $21.76 |
| total | $39.76 |
| TSE:MBT | $38.24 |
| spread | $1.52 |
| upside | 3.97% |
| expected close | 2/28/2017 |
| annualized | 32.17% |
With the cash consideration at C$40 and the share consideration at C$39.56 having only a difference of about 1%, it is unlikely that proration would increase the result much further. Even if you get the currently higher valued cash consideration for 100% of your shares, it would be just C$0.24 more per share than the mixed consideration with 100% proration.
The annualized return will be better the faster the deal closes. The effective date of the merger cannot occur later than May 1, 2017, unless extended. The date could be extended up to October 28, 2017. The next quarterly dividend for BCE is up in March, and therefore, does not influence this calculation with an expected closing at the end of February.
Worth mentioning for US shareholders is the option to get the cash consideration in US dollars, although one cannot be sure what the rate will be beforehand: "The exchange rate that will be used to convert payments from Canadian dollars into U.S. dollars will be the rate established by Computershare Trust Company of Canada, in its capacity as foreign exchange service provider to BCE, on the date the funds are converted, which rate will be based on the prevailing market rate on the date the funds are converted (page 3)."
Deal risk
MTS shareholders will own approximately 3% of pro forma BCE common equity if the deal closes. BCE is much bigger than MTS and should have no problem closing the deal when approved. Court approval and MTS shareholder vote are already secured. The risk of this deal lies in the regulatory hurdles.
The companies have received the first of three regulatory approvals. Left are the necessary approvals from the Competition Bureau and Innovation, Science and Economic Development Canada (ISED). MTS holds a number of radio or spectrum licenses issued by ISED. Important factors for the ISED decision to approve each license transfer are the change in spectrum concentration levels and the ability of the applicants and other existing and future competitors to provide services. It is possible to allow only the transfer of some of the licenses.
The Canadian Radio-television and Telecommunications Commission (CRTC) approved the transfer of Broadcasting Distribution Undertaking (BDU) licenses in December. The reverse break fee of C$120 million payable by BCE to MTS if the transaction is not approved in certain circumstances is just about 4% of MTS' market cap.
The example of T-Mobile (NASDAQ:TMUS) in the US comes to mind, which shows deals in regulated industries like telecommunications can be risky. In 2011, AT&T (NYSE:T) abstained from trying to buy T-Mobile. Softbank (OTCPK:SFTBY) still has hopes to merge its Sprint (NYSE:S) with T-Mobile USA. The deal has been on and off in the past, but the regulatory hurdle seemed too high. Now, with a new president, they may try for real.
It is important to know MTS is a league away from the size of the three larger players Bell (NYSE:BCE), Rogers (NYSE:RCI) and Telus (NYSE:TU). The Canadian Wireless Telecommunications Association provides some data for wireless phone subscribers in Canada:
Q3 2016

Subscribers

Share

Bell Wireless

8,380,949

28%

MTS Mobility

489,659

2%

Rogers Wireless

10,143,000

34%

SaskTel Mobility*

614,221

2%

TELUS Mobility

8,507,000

28%

Freedom Mobile

1,043,288

3%

Videotron

867,700

3%

Total Subscribers

30,045,817

100%

* Additions supplied on an annual basis only.
The distant #4 in wireless subscribers, Freedom Mobile, may look unfamiliar. It was renamed from Wind Mobile in November 2016. Shaw Communications' (NYSE:SJR) acquisition of Wind Mobile closed on March 1, 2016. With Freedom Mobile as a strong new competitor with the backing of Shaw, how much room is left for smaller players anyway? Could MTS survive on its own long term?
If Bell would acquire MTS, it would be the #3 merging with #7 by Canada-wide mobile subscribers. I admit I could easily be wrong, but I am optimistic the acquisition will be approved. There are some concerns prices will rise; see also here. BCE already announced the sale of one-third of the postpaid wireless subscribers of MTS, as well as one-third of MTS' Manitoba dealer locations to Telus. MTS' Postpaid subscribers were 430,331 as of Q3 2016. Pro forma, this would leave BCE #2 with just 76,721 more subscribers than Telus, and maybe was done to appease the regulator proactively.
Downside risk
With the upside clearly established, it is important to have a guess how much one could lose if the deal does not go through. MTS immediately traded upwards when the deal was announced. Since then, it has more or less traded sideways.
The last close before the announcement was C$32.84. On May 2nd, MTS closed at C$37.85. This means it rose about 15%, which is comparably low on a merger announcement and means the downside of a deal break is low.
In the meantime, MTS increased to C$38.24, while issuing one permitted dividend of C$0.325. Including the gross dividend, the increase was 17% from the undisturbed price. Now, one has to compare this to a peer group to take a guess at how MTS stock price would have moved if the company were not in a pending merger. The following table summarizes my calculations:
Toronto / C$

4/29/2016

1/8/2017

dividends

return

BCE

58.84

58.56

2.048

3.0%

Telus

39.78

44.08

1.400

14.3%

RCI

48.8

52.2

1.440

9.9%

SJR

23.22

27.26

0.790

20.8%

average

12.0%

MTS

32.84

38.24

0.325

17.4%

implied downside

-4.6%
With my assumptions, the expected downside would be below 5%. This can only be seen as an educated guess. No one can know how MTS would have traded, and the peer group has a different revenue mix than MTS, although they are the closest I could find.
Using the mixed deal bid without any potential benefit from proration of C$39.76 and downside of 4.6%, we can calculate the implied probability that the deal will close. The undisturbed price is estimated to be current price minus implied downside, which equals C$36.48.
(38.24-36.48) / (39.76-36.48) = 55.7%
If you think my assumptions are good, you have to also think the probability of the deal closing is larger than 55.7% for an investment in MTS to have a positive expected return as a merger arbitrage.
Canadian tax on consideration
The companies provided neither tax advice nor opinion for shareholders who are not resident in Canada initially. In the circular, they write: "It is anticipated that information about United States tax consequences, which are not currently determinable, will be provided prior to the Election Deadline." MTS will provide at least four business days' notice of the election deadline, and the election deadline is planned to be three business days before the closing of the deal. This would leave me some room to sell the stock if the tax consequences are reported to be negative. MTS has given some examples for Canadian shareholders here. Some US federal income tax consequences, according to MTS, can be found here. If part of the payment would be deemed to be a dividend, there would possibly be Canadian withholding tax subtracted for foreign holders, as far as I know. I am no tax expert, but this happened to me in the past and lowered my return. To avoid this, I would sell my holding prior to closing, unless I have more information until then.
Conclusion
I, for one, think the deal is attractive. All tables are plain text, so you can copy and re-calculate with your assumptions easily.
Of course, there is the possibility of the deal not going through. To be extra conservative, I did not include the reverse break fee into my undisturbed price for the downside calculation. An annualized return above 32% is attractive, and in absolute terms, there is not much deal specific risk to the downside. This is a pretty safe merger arbitrage opportunity in terms of risking permanent impairment of capital. The return is uncorrelated to the market, when fully hedged. This can be a good diversification. On the other hand, one can also just go long MTS with the expectation the deal will close soon.
Disclosure: I am/we are long TSE:MBT.
I wrote this article myself, and it expresses my own opinions. I am not receiving compensation for it (other than from Seeking Alpha). I have no business relationship with any company whose stock is mentioned in this article.
Additional disclosure: I may also short BCE.
Editor's Note: This article discusses one or more securities that do not trade on a major U.S. exchange. Please be aware of the risks associated with these stocks.