The Walt Disney Company's stock (NYSE:DIS) had a rough 2016. Its shares underperformed the S&P 500 by almost 10 points, but the good news for investors is that this company's long-term business prospects still look attractive heading into the new year.
Disney's stock performance has recently turned positive - DIS shares are up ~15% while the S&P 500 is up only ~6% since the presidential election. Many in the financial community are actually starting to ask if DIS shares have run too far too fast. In my opinion, the answer is no. But I assume your time horizon is longer than one year because I do believe that a lot has to go right over the next four quarters for this company's stock to outperform the broader market. Why? Because quite simply, Disney will have to contend with a self-produced headwind being its tough expectations.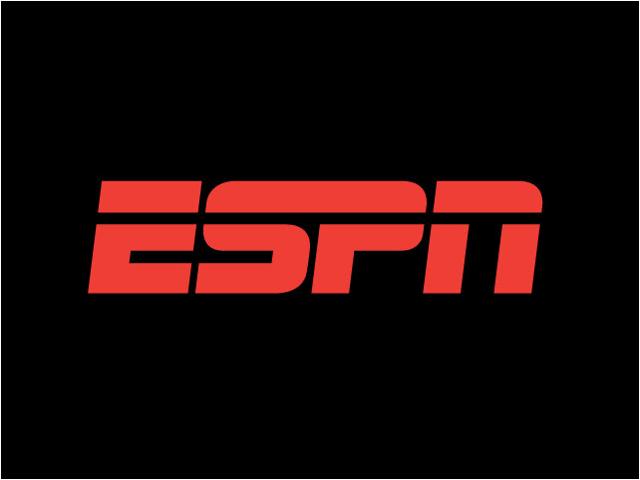 There Is Such A Thing As A Good Problem To Have
To start, investor sentiment is finally turning positive, as shown by the recent DIS stock performance. In my opinion, this is because the market is beginning to realize that Mr. Robert Iger, President & CEO of Disney is doing almost everything possible to combat the concerns related to subscriber losses. Yes, the changing TV space still has the potential to greatly impact Disney's business (and operating results) in a negative way. With that being said, I would still argue that the company is a best-of-breed media entertainment company (i.e. the best house on the block), and that its other operating segments will give management the needed time to figure out how best to position its media assets, including ESPN, in the new skinny bundle world. Therefore, Disney facing tough comps over the next four quarters will be "the concern" of 2017, at least in my book.

(Source: Disney's Full-Year 2016 Earnings Presentation - edited by author)
Last year marked the sixth consecutive year of Disney reporting record results. To this point, the graph below shows the steep upward trend of Disney's revenue and net income since 2008.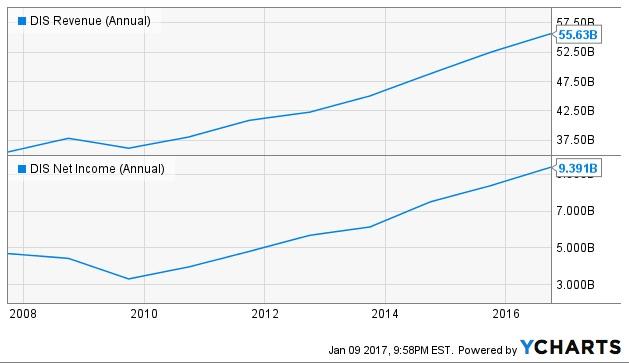 At some point Disney will not be able to report record results and I anticipated for this to happen in 2017 due to several factors - high programming costs (cutting into margins), further subscriber losses and a slowdown for the Studio Entertainment division (more on this below). With this backdrop in mind, it's important to note that 2017 is not expected to be a challenging year for Disney not because the company's businesses are in decline but because the company's fiscal 2016 was just that good. This is what I like to call a good problem to have, as it is related to a company simply cooling down after greatly outperforming expectations in the preceding year(s).
The Studio Entertainment Division, The Slowdown
Over the last year, investors have been hanging their hats on the company being able to grow its top and bottom line by relying on the Studio division's impressive YoY growth. This will not be the case for 2017. It is hard, or should I say nearly impossible, to have a year like Disney's Studio division had in the past year. For example, Disney had four of the top five domestic grossing movies in 2016.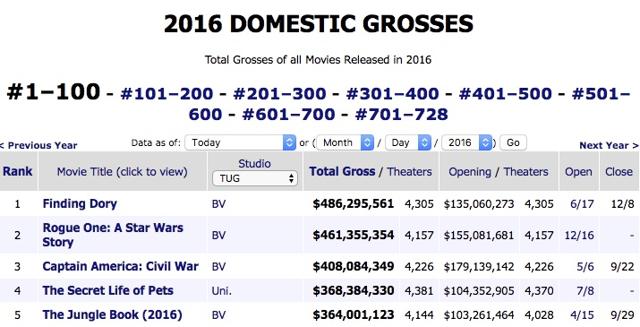 (Source: Box Office Mojo)
Plus, the Studio division brought in a record-breaking $7.5 billion in total box office revenues in 2016. Almost everything is working for Disney's Studio division, and it is showing up in the numbers.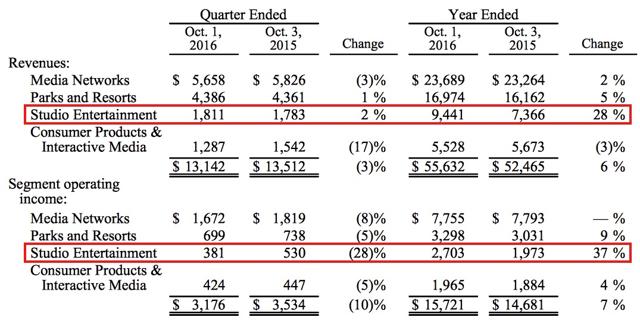 (Source: Disney's Full-Year 2016 Earnings Presentation - edited by author)
For full-year 2016, Disney's Studio division grew revenue and operating income by 28% and 37%, respectively. On one hand, it is encouraging that the division's revenue and operating income grew by high double-digit figures over the last year, but on the other hand, this impressive performance is causing investors to expect this type of results year-in and year-out, which is simply not possible (or healthy, in my opinion).
Enter 2017. Disney expects a slow year for the Studio division, which was a topic that was recently covered by Christine McCarthy, CFO of Disney, at the Internet, Media & Telecommunications Conference. Ms. McCarthy covered the company's earnings expectations and disclosed that Disney is set to release only seven films in 2017, which is a big decline (~60%) from the number of films that was released in 2016. More importantly, Ms. McCarthy also mentioned that the Studio division plans to pick back up in 2018 by releasing 11 films.
Disney will definitely have to face tough questions related to the ESPN concerns in 2017, but I believe that the financial community will also begin to question the prospects of the Studio division if Disney fails to continue the streak of reporting record results. These questions (i.e. short-term concerns), will likely cause downward pressure on Disney's stock price over the next four quarters but, in my opinion, this will create opportunities for investors with a long-term perspective to get Disney shares at attractive prices.
Why You Should Stay Invested In Disney
There are four main reasons why investors should stay invested in Disney, even if the company fails to report record numbers:
1. Returning More Capital To Shareholders - Disney recently raised its semi-annual dividend from $0.71 to $0.78, so investors are being paid to be patient. Additionally, Disney spent ~$7.5 billion buying back shares in fiscal 2016 ($6.1b in fiscal 2015) and investors should expect more of the same in 2017.
2. Disney Is Already Making Moves In The Skinny Bundle World - As described in this article, Disney has already started making moves (i.e. BAMtech, DirecTV Now, Hulu) in the TV space. This shows that management is not sitting on its hands. Only time will tell how the changing landscape will shape out, but I would not bet against Disney (i.e. the king of content).
3. Shanghai Disney - This Park had over four million visitors in its first four months and management expects for Shanghai Disney to be a key growth driver in the years ahead.
4. Valuation - Disney has a P/E ratio [ttm] of ~19, which is a slight premium to its peers (and the market).

(Source: simplywall.st)
Disney's slight premium is warranted, in my opinion, and I actually believe that the premium will expand in 2018 and beyond.
Bottom Line
There is a lot to like about Disney heading into 2017 and I am not the only one who thinks so. Evercore ISI recently upgraded DIS shares and identified the company as a "top pick" for 2017. However, my focus is more on 2018 and beyond because there is a real chance that Disney will fail to live up to expectations over the next four quarters.
If Disney does end up having a cooldown year, investors should not lose sight of the fact that Disney still has great long-term business prospects, so any pullbacks should be considered buying opportunities.
If you found this article to be informative and would like to hear more about this company or any other company that I analyze, please consider hitting the "Follow" button above.
Disclaimer: This article is not a recommendation to buy or sell any stock mentioned. These are only my personal opinions. Every investor must do his/her own due diligence before making any investment decision.
Disclosure: I am/we are long DIS.
I wrote this article myself, and it expresses my own opinions. I am not receiving compensation for it (other than from Seeking Alpha). I have no business relationship with any company whose stock is mentioned in this article.