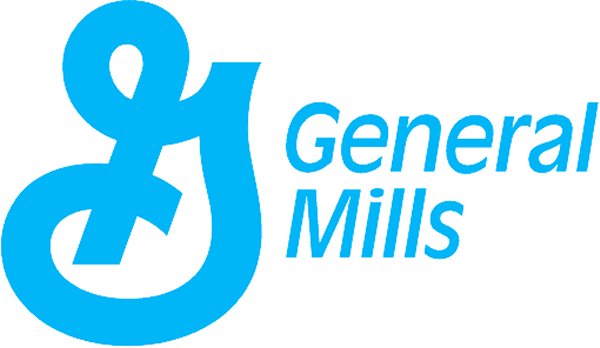 This article is about General Mills (NYSE:GIS) and why it's a good total return and income investment that's being considered for The Good Business Portfolio. When I scanned the 5 year chart it was obvious that General Mills had a good past 5 year record. General Mills is the largest Packaged Foods & Meats provider with Kellogg (NYSE:K) as the next largest. I previously review Kellogg in September 2016 and put it on my buy list but before I buy I want to look at the bigger company General Mills. Fundamentals of General Mills will be reviewed and sometimes compared to Kellogg in the following topics below The Good Business Portfolio Guidelines, Total Return and Yearly Dividend, Last Quarter's Earnings, Company Business and Takeaways And Recent Portfolio Changes.
I use a set of guidelines that I codified over the last few years to review the companies in The Good Business Portfolio (my portfolio) and other companies that I am taking a look at. For a complete set of the guidelines, please see my article " The Good Business Portfolio: Update To Guidelines and July 2016 Performance Review". These guidelines provide me with a balanced portfolio of income, defensive, total return and growing companies that hopefully keeps me ahead of the Dow average.
Good Business Portfolio Guidelines.
General Mills passes 11 of 11 Good Business Portfolio Guidelines. These guidelines are only used to filter companies to be considered in the portfolio. Some of the points brought out by the guidelines are shown below.
General Mills is a large-cap company with a capitalization of $35.9 Billion. The large size of General Mills gives it the muscle, plus its large cash flow to increase the business going forward. The next biggest company in the Packaged Foods & Meats sector is Kellogg at $28.4 Billion capitalization 20% smaller than GIS , which leads to competition between the two companies.
General Mills has a dividend yield of 3.0% which is above average for the market. The dividend has been increased for 10 of the last ten years and its dividend is very safe. General Mills is therefore a choice for the income investor. The average payout ratio is fair at 60% over the past five years. After paying the dividend and share buy backs leaves cash remaining for investment in new company purchases.
General Mills total yearly cash flow at $2.2 Billion is strong allowing the company to have the means for company growth through buying of bolt on companies. This good cash flow makes the dividend very safe with room for increases each year as the Packaged Foods & Meats sector continues to grow with the population and economic Improvement.
I also require the CAGR going forward to be able to cover my yearly expenses. My dividends provide 3.1% of the portfolio as income and I need 1.9% more for a yearly distribution of 5.0%. The three-year forward CAGR of 7.0% (S&P Capital IQ) meets my requirement. This good future growth for General Mills can continue the uptrend benefiting from the growth of the working population and economic improvement.
Looking back five years $10,000 invested five years ago would now be worth over $17,800 today almost the same as Kellogg at $17,900. This makes General Mills a good investment for the total return growth investor looking back, that has future growth as the need for its products increases.
General Mills S&P Capital IQ rating is four stars or buy with a target price of $70.0. General Mills is 13% below the target. GIS is a good buy at the present price for the investor who wants average growth that has a medium term (2 -3 years) investment horizon.
Total Return And Yearly Dividend
The Good Business Portfolio Guidelines are just a screen to start with and not absolute rules. When I look at a company, the total return is a key parameter to see if it fits the objective of the Good Business Portfolio. General Mills beat the Dow baseline in my 48.4 month test compared to the Dow average. I chose the 48.4. month test period (starting January 1, 2013 and ending to date) because it includes the great year of 2013, and other years that had fair and bad performance. The total return of 67.64% makes General Mills a good investment for the total return growth investor. General Mills Has increased its dividend for each of the last 10 years and presently has a yield of 3.0% which is above average for the income investor and the total return is good which makes GIS a pick for the total return investor. The dividend yield of GIS is 50 BPS better than Kellogg with the total return difference from the DOW pretty much the same at 15%
DOW's 48.4 month total return baseline is 52.36%
| | | | |
| --- | --- | --- | --- |
| Company Name | 48.4 Month total return | Difference from DOW baseline | Yearly Dividend percentage |
| General Mills | +67.64% | 15.28% | 3.0% |
As seen in the 5 year price chart below General Mills has a good chart over 2012-2017 YTD, that shows a steady long term growth going up and to the right. The chart is great because it shows the strong steady growth over the 5 year period beating the DOW when the DOW average is up 52%.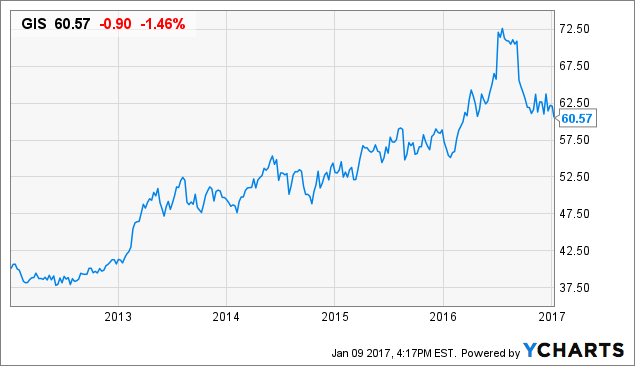 Last Quarter's Earnings
For the last quarter on December 20, 2016 General Mills reported earnings missed expected by $0.02 at $0.85 compared to last year at $0.83. Total revenue was lower at $4.1 Billion than a year ago by 5.4% year over year and missed expected by $120 Million. This was a fair report with bottom line increasing and top line decreasing. The next earnings will be out in March 2017 and are expected to be $0.71 compared to last year at $0.65. The company also continues it's share buyback program.
Business Overview
General Mills is a manufacturer and marketer of branded consumer foods sold through retail stores. The Company is a supplier of branded and unbranded food products to the North American food service and commercial baking industries. The Company's sells its products through a range of grocery stores, mass merchandisers, membership stores, natural food chains, drug, dollar and discount chains, and e-commerce grocery providers operating throughout the United States and around the world. Product categories include ready-to-eat cereals, snacks, refrigerated yogurt, frozen meals, unbaked and fully baked frozen dough products, and baking mixes.
You can see from the graphic below the large range of cereals that General Mills sells. I myself eat Cheerios each day.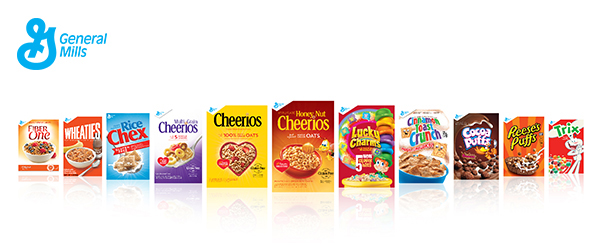 Source : General Mills
Over all General Mills is a good business with 7% projected revenue growth as the economy and the Packaged Foods & Meats sector continues to grow. The good cash flow provides GIS the capability to continue its growth with addition of more bolt on companies. As the economy and population grows so will the sales of the General Mills business.
Its products are marketed under various brands, which include Annie's and Betty Crocker which are household names with many other product names in there long list of products.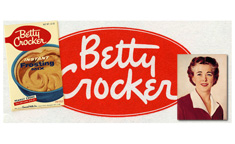 Source : General Mills
The economy is showing moderate economic (about 2.5%) growth right now and the FED has raised rates December 2016 with future rate increases dependent on the United States economy. The FED projects for 2-3 increases in 2017. I feel when it does raise rates it will be less, maybe 1-2, they don't want to trigger a slowdown in the economy.
From the last earnings call December 20, 2016 General Mills Chairman and Chief Executive Officer Ken Powell said "Although we posted disappointing net sales performance in the second quarter, we delivered good growth in adjusted diluted EPS, driven by significant expansion in our adjusted operating profit margin, Our organic sales declines reflect the actions we've taken to optimize our spending and prioritize profitable volume, as well as weakening food-industry trends in the U.S. We're making targeted adjustments to our plans in the second half to improve our top line performance while still delivering our margin expansion and EPS growth commitments. We remain confident that our strategy of investing behind Consumer First ideas - while driving strong margin expansion - will generate long-term sustainable growth, robust cash flow, and top-tier returns for our shareholders."
This shows the excellent feelings of the top management to continued growth of the company and its business to provide value to the shareholder.
Takeaways and Recent Portfolio Changes
General Mills is an investment choice for the total return and income investor with its above average yield of 3.0% and its good total return over my test period. General Mills will be definitely be considered for The Good Business Portfolio when an open slot is available. I was surprised to see how similar the two companies were with GIS being a little more undervalued and higher dividend yield but slightly less growth potential than Kellogg. GIS in the Packaged Foods & Meats business is using its good cash flow to buy bolt on companies and expand its business. GIS has solid growth potential for upward earnings as Packaged Foods & Meats sector continues to grow. If you want a steady growing company that also provides a fair income GIS may be the right investment for you.
Trimmed position in Harley Davidson (NYSE:HOG) to 5.1% of the portfolio. I will eventually sell the HOG position since sales have become stagnant and the stock price is high because of take over rumors.
Harley Davidson January 6, 59's covered calls were bought to cover and new calls, February 3 ,60's were sold to gain more time value.
Added to position of Texas Instrument (NYSE:TXN), now at 3.8% of the portfolio. I intent to keep adding to TXN until it is 4% of the portfolio a full position.
Added to position of Ingersoll-Rand (NYSE:IR) now at 4.0% of the portfolio a full position.
Added to position of Digital Reality Trust (NYSE:DLR) now at 0.93% of the portfolio. I feel the computer industry facilities business has nowhere to go but up and DLR pays an above average dividend. I wrote an article on Digital Reality Trust in September of this year if you are interested.
The portfolio has filled in the open portfolio slot with PepsiCo (NYSE:PEP) to 0.6% of the portfolio and may be followed by Kellogg or General Mills when the next slot is open.
The Good Business Portfolio generally trims a position when it gets above 8% of the portfolio. The four top positions in The Good Business Portfolio are, Johnson and Johnson (NYSE:JNJ) is 7.9% of the portfolio, Altria Group (NYSE:MO) is 7.9% of the portfolio, Home Depot (NYSE:HD) is 7.8% of portfolio and Boeing is 9.2% of the portfolio, therefore BA is now in trim position with Home depot , Johnson & Johnson and Altria getting close.
Boeing is going to be pressed to 10% of the portfolio because of it being cash positive on individual 787 plane costs at $151 Million in the third quarter. The recent earnings blew away the estimate of $2.63 and came in at $3.51. BA has just received a large order for 15 747-8 planes which will help keep this line open. BA is a long term buy and has a backlog of over 7 years.
For the total Good Business Portfolio please see my recent article on The Good Business Portfolio: 2016 third-Quarter Earnings and Performance Review for the complete portfolio list and performance. Become a real time follower and you will get each quarters performance after the earnings season is over.
I have written individual articles on CAB, JNJ, EOS, GE, IR, MO, BA, Omega Health Investors, Texas Instrument , Digital Investors Trust and Home Depot that are in The Good Business Portfolio and other companies being evaluated by the portfolio. If you have an interest please look for them in my list of previous articles.
Of course this is not a recommendation to buy or sell and you should always do your own research and talk to your financial advisor before any purchase or sale. This is how I manage my IRA retirement account and the opinions on the companies are my own.
Disclosure: I am/we are long BA, JNJ, HD, OHI, MO, HOG, IR, TXN, DLR, PEP.
I wrote this article myself, and it expresses my own opinions. I am not receiving compensation for it (other than from Seeking Alpha). I have no business relationship with any company whose stock is mentioned in this article.