In 2016, based on data from Goldman Sachs, 26 percent of aggregate S&P 500 company cash went to fund share buybacks, matching 2013 ratio of buyback to cash for the highest in 9 years. At the same time, dividends rose to 19 percent of cash compared to 18 percent in 2015, and M&As contracted to 14 percent of cash from 18 percent in 2015.
As a result, Capex and R&D spending by S&P 500 companies managed to rise to 41 percent of cash in 2016 from 40 percent in 2015, making this the third (after 2015) lowest Capex & R&D spend year (as a share of total cash) since 1999.
Capex & R&D represent organic investments by the firms and are jobs additive. M&As and buybacks are forms of financial allocations and are not supportive of jobs creation. In 2016, based on the data, the split between financial and organic investment was 40:41, which is slightly better than in 2015 (42:40), but still represents the fourth worst year on record (since 1999).
Charts below illustrate: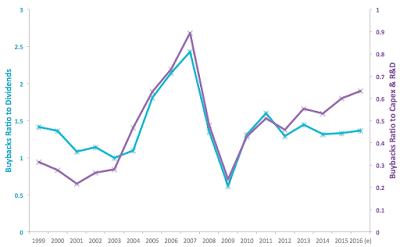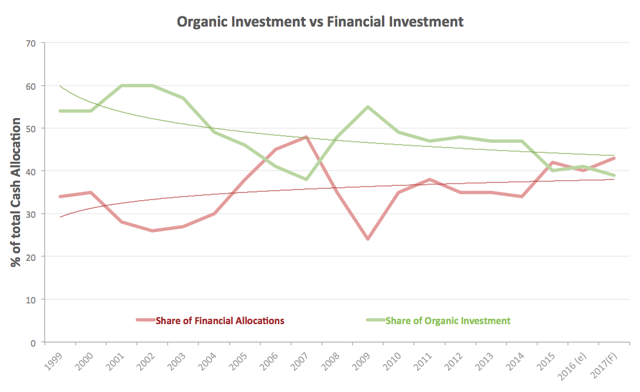 Controlling for volatility, on trend, share of cash diverted to organic investment continues to trend down and is forecast to fall below 40 percent in 2017. Meanwhile, share of cash going to financial allocations is trending up and is forecast to reach 43 percent of total cash in 2017.
And, financial markets are once again starting to reward buybacks relative to organic growth: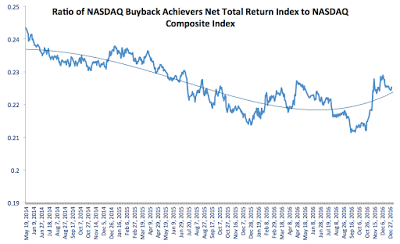 All in, the trends suggest that Capex improvements are unlikely to materialise anytime soon and the secular decline in investment, consistent with supply and demand sides of secular stagnation thesis is here to stay. Which is bad news for the S&P 500 constituents - lack of organic investment spells lack of value added growth and market potential in the long run. Glut of M&As and buybacks spells rising risks from misallocation of cash (M&As) and superficial priming up of equity valuations (buybacks-sustained asset bubble). Neither is good.