Everyone knows about the difficulties posed by soft reinsurance pricing to incumbents. However, investors should be aware of possible improvements in the pricing environment that have been discussed in recent months. Swiss Re (OTCPK:SSREY) is positioned to benefit if these develop in reality.
Good company, tough sector
Swiss RE is a good company in a difficult sector. I have recently written about a number of insurance and savings firms that are producing reasonably attractive shareholder economics and seem good value at around 1xBV: you can see your way to 10% total annual returns from the likes of Hartford, Lincoln National, and, in Europe, AXA.
With Swiss RE I can just about get there, but it's tight. It's possible the yield will climb from the current 4.8% to 5.5% by 2018. And if BVS has reached 110 by the same year, then the likely 10% ROE that year should justify a share price around that amount and today we stand at CFR 102. So we squeak in with 8% share price appreciation respectively for 2017-18 yields of 5.2 and 5.5%. The corresponding PE ratio for 2018 is 9.5x. That should be 10.5 for 2018 when we get there.
We all know the problem with reinsurance: the soft price environment, and it was that which persuaded Warren Buffett to exit Munich Re in 2016. The sage cited new entrant capital, including hedge fund capital, as promising a gloomy long term outlook for reinsurance.
In response to such concerns, Swiss Re has always sought to emphasize the long term growth outlook, with deepening reinsurance penetration as an important offset to the price softness reinsurance faces. It sees growth in all its segments in a long term timeframe: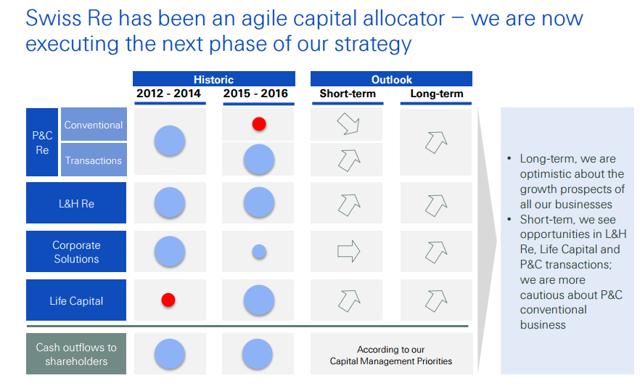 Company Presentation
Perhaps more interestingly, The Group Chief Underwriting Officer Matthias Weber, speaking at a recent industry conference, pointed to an improved second derivative in price softening with the pressure lessening in degree. He went as far as to call a bottom for pricing:
"So we believe we are close to the bottom of this market cycle, and maybe we have reached it already, we don't know for sure" and he said this applied to "nat cat, but it's also true for liability,"
It is hard to explain what he is reporting. However, one of many reasons for a hardening of margins might be that reinsurance reserves have been reduced in order to feed the bottom line of companies to make earnings targets. A report by JLT RE last August cited falling incidence of excess capital and growing capital gaps:
"Arguably the largest 'catastrophes' ever to befall the risk transfer business have not been the mega property-related events which feature prominently in the headlines, but the slow build-up of reserve weakness driven by aggressive pricing in longer-tail, non-catastrophe lines over extended periods of time.
"Periods of reserve deficiencies have typically had more bearing on the pricing environment due to a prevailing lack of trust in counterparty balance sheets and general boardroom uncertainty,"
This might help explain why price aggression may be easing. Were this capital deficiency really to come through then it would give Swiss Re a firmer revenue outlook due to improved volume possibilities as more risk pools became attractive.
Would this mean Buffett is wrong?
The most interesting question is whether this kind of development would challenge Warren Buffet's view that burgeoning capital capacity in reinsurance condemns it to shoddy ROC over the long term. It would obviously be good for the share price of Swiss Re in the short term. The question has to be whether a hardening of prices would simply re-attract fresh capital, making it hard for reserve depleted firms to rebuild rapidly without cutting dividends.
The logic of this seems inexorable, but I can think of two offsets . First, the influx of new players in reinsurance over recent years in part reflects the difficulties of spread based duration arbitrage and therefore this might ease if interest rates make a sustainable move higher. The calculus of potential new entrants may change with the move higher in rates and the improving yield curve. Second, natural catastrophe losses have been subdued in recent years and a period of "compensating" heavy losses in nat cat, which should occur at some point, would challenge anyone "swimming naked", to use Buffet's phrase, after offering thin risk-adjusted pricing. Industry leaders (Swiss Re, Munich Re) should be able to clean up in new volumes were something like that to occur.
Conclusion
We had all better start reading reinsurance news websites, since the moving parts in all this will provide an answer at some point. Swiss Re is a comfortable hold here, and a decent long position allows the possibility of what would probably be a euphoric market reaction to the end of the soft pricing cycle, even if it were only temporary.
Disclosure: I/we have no positions in any stocks mentioned, and no plans to initiate any positions within the next 72 hours.
I wrote this article myself, and it expresses my own opinions. I am not receiving compensation for it (other than from Seeking Alpha). I have no business relationship with any company whose stock is mentioned in this article.
Editor's Note: This article discusses one or more securities that do not trade on a major U.S. exchange. Please be aware of the risks associated with these stocks.