Since my last bearish article about oil (NYSEARCA:USO), the commodity has essentially traded sideways until OPEC announced the intention to pump the brakes on production. While there has not been a huge rally, WTI has risen substantial to new 52-week highs recently. But to bring things into perspective, let's not forget that oil has traded around the current level couple of times in 2016, often on the back of rumored production cuts.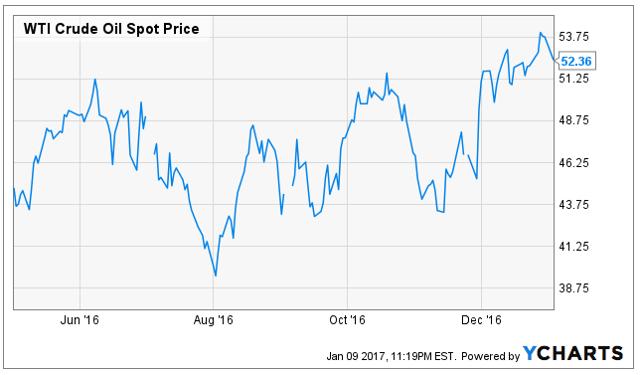 However, the situation is different this time: the deal actually went through! So where do we go from here? "Up" is my answer.
In the past I've always asked readers to consider the increase in domestic production (read Big Red Flag For Oil). Perhaps it was still unclear several months ago, but now there is no doubt that a positive trend has formed.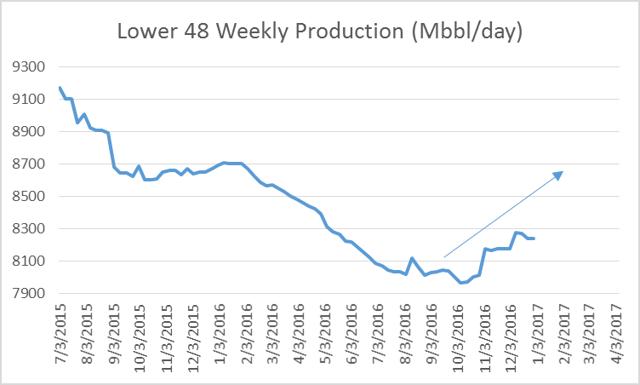 Source: data from EIA
If we include Alaska production, the bounce is even more pronounced. One could say that the trough formed back in July 2016.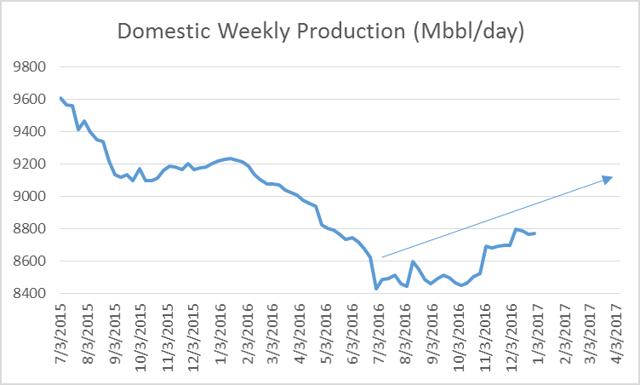 Source: data from EIA
However, given the severity of OPEC's production cut, I believe that the pace of increase will not be quick enough to offset the supply loss.
Let's do the math. OPEC's deal stipulated that production will decline by 1.2 MMbbl/day. Later on non-member countries, including Russia, also decided to join the party, agreeing to cut production by an additional 558 Mbbl/day. These two initiatives will slash 1.758 MMbbl/day off of total supply. If domestic production were to completely offset this increase, it would imply a production rate of 10.528 MMbbl/day, a level that has never been reached since EIA started collecting data. The current record for weekly production occurred during the week ended June 5th, 2015, which averaged 9.61 MMbbl/day). Furthermore, it is impossible for domestic producers to just turn on the tap after a significant period of underinvestment. Keep in mind that many producers have been living off of old wells, so it could take some time to boost production significantly.
If we take a macro view, the incoming Trump administration could also spur additional demand, as the need for oil tends to correlate with positive economic growth. As for specific policies, the elimination or overhaul of EPA could curtail renewable energy supply, thus driving more demand for fossil fuels such as oil.
What can go wrong?
I would say that my number one concern is how long OPEC members will stick to the agreement. The incentive to cheat increases as oil price rises, and considering that none of the members are exactly well-off right now (not even Saudi Arabia, given its intention to raise cash through Aramco's IPO), one cannot rule out the outcome that has occurred often in the past. In fact, I think it is just a matter of time before OPEC production rises once again. However, I believe that OPEC members will be temporarily encouraged by the immediate effect of their restraint, and will thus keep to the agreement in the short-term.
Conclusion
Overall, I believe that recent geopolitical developments have altered what was a bearish landscape for oil, setting up the stage for a short-term rally. While challenges to the bull thesis is never far away, I believe that the immediate effects of the supply cut will outweigh the potential risks of bearish developments.
Click the "Follow" button beside my name on the top of the page to be updated with my latest insights. To learn more about the Core Value Portfolio, whose goal is to compound capital at 20% over the long term, I encourage you to read the introduction to my investment process. Premium subscribers get full access to the Core Value Portfolio.
Disclosure: I/we have no positions in any stocks mentioned, and no plans to initiate any positions within the next 72 hours.
I wrote this article myself, and it expresses my own opinions. I am not receiving compensation for it (other than from Seeking Alpha). I have no business relationship with any company whose stock is mentioned in this article.