Overview:
The retail sector continues to be in focus after another sell-off today after last week's bloodbath. Major sell-offs have come after several companies reported profit warnings and reduced guidance. I was watching the sector prior to the sell-off looking to grab some bargains ahead of the New Year in a market that is overvalued and was hoping to discover value in the sector.
With the ICR conference on tap along with December retail sales, we are putting retail in focus to begin the week.
Retail Sales on Tap:
December's retail sales will be published this Friday allowing markets to examine the last month of key holiday sales data to assess whether many brick and mortar and department stores were able to weather the fierce competition that has compressed margins and hurt comp sales during the busiest retail quarter of the year. The retail sector has struggled of late due to the rise of online retailers that have pressured mall traffic crimping sales and margins.
Here is a look at the trend for retail sales throughout the last 5-years.
The chart has been sourced from trading economics and can be viewed in greater detail here.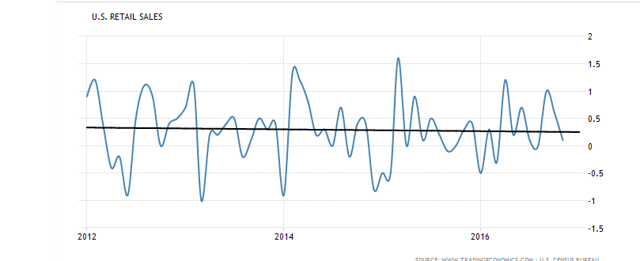 The flattish trend in retail sales is seen as continuing into the New Year. Our team estimates that December retail sales will clock in at $465.30B, roughly flat M/M while Q1 is expected to remain roughly level with last year's figures.
There are upside risks to our forecast, namely related to heightened spending during the presidential honeymoon period as voters may feel more confident about the economy and therefore spend more. However, given recent profit warnings and Black Friday sales data we are cautious to include this in our outlook as this is seen as more of a surprise factor rather than something tangible.
Fortunately for the retail sector, the prospect of a stronger economy under Trump given the mix of fiscal stimulus and a trend of increasing wages may encourage consumers to spend a little bit more leading to higher sales forecasts in the future. We will need greater clarity throughout the first few months of the presidency to consider this; however, as political risks remain a growing uncertainty that cannot be used as tangible investment reasoning in our view.
Overall, we rate the retail sales segment of our economic monitor as yellow suggesting caution given the fact that consumers have continued to spend less on clothing and apparel and instead on home, food, and electronic products. Furthermore, the fact that online has become a cheaper alternative coupled with the fact that consumers are earning less than they were 10 years ago while carrying more debt continues to be a drag on overall sales.
Here is a chart from Bloomberg depicting the trend of weakening clothing and apparel spend.

Sector Valuation Update:
I have spent a lot of time discussing retail sales as it relates to brick and mortar and department stores as these have been my areas of interest given the recent sell-off as it has many investors questioning whether or not the category offers worthwhile bargains.
The department store category was pummeled last week as we saw several reports that sparked sell-offs in major department store names. Among major news releases, we noted Macy's (NYSE:M) and Kohl's (NYSE:KSS) announcements, which detailed of store closings and profit warnings. We also noticed store closings from Sears (NASDAQ:SHLD) as well as an IPO withdrawal and store closings coming from privately held Neiman Marcus. These companies have witnessed declining foot traffic at key locations, declines in across the board margins, lower comp sales, and lower sales.
Department Store's: Hidden Value, or Value Traps?
I have examined key ratios and performance metrics for the following retailers: Macy's, Nordstrom (NYSE:JWN), Kohl's, and Dillard's (NYSE:DDS). I felt that these companies were comparable while offering differentiated business strategies allowing investors to choose a strategy they felt offered a competitive advantage.
I have included sector averages as well as color coded ratings that are related to company specific historicals. This way, viewers will be able to see whether or not the company is performing above or below historical averages alongside sector averages to truly get a clear view.
Below is several performance metrics.

As you can see, the department store category has greatly underperformed its benchmark SPDR S&P Retail (NYSEARCA:XRT) throughout much of the recovery. The 1-month discounts the markets have given many of these stocks could be cause to invest in the sector, so let's examine the fundamental picture.
On the valuation side, it seems that things are cheap, but not necessarily a bargain.
Note that the EPS and revenue growth have factored in 3 year growth as to smooth out one-off items.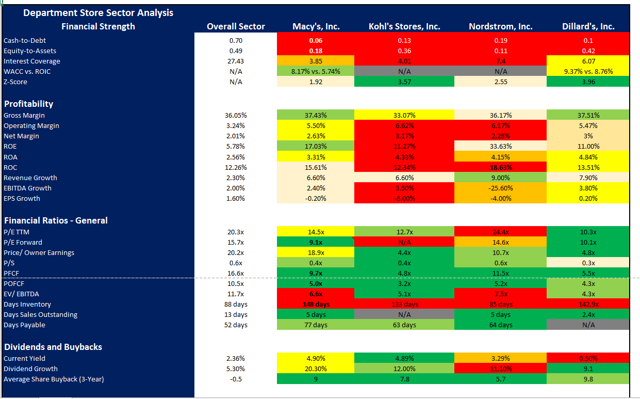 An area that bothered me the most was the profitability metrics. I have rated these metrics as either cautious (yellow-orange) or negative (red). This indicates that the companies have either began downward trends in the listed metrics, or are continuing current (downward) trends. The reason this has been concerning to me is that on several valuation metrics there are decently sized historical discounts, particularly in forward P/E, P/S, PFCF, and EV/EBITDA. However, the fact that these companies are experiencing declining sales, ROE, ROC, and ROA, as well as margin compression makes the discount appear warranted. If one is to expect multiple expansion, they must be supported by uptrends in margins and ROE and ROA, something that just isn't going on here.
Nevertheless, it appears that Macy's and Dillard's seem to be the most well rounded of the 4 considering the fact that they have experienced declining sales at a slower pace than their competitors, have better than historical ROE, ROA, and ROCs while not being terribly expensive. In fact, Macy's looks fairly cheap at 9.1x forward earnings and considering that its strong real estate portfolio should place a floor on valuation.
Meanwhile, Nordstrom has been able to manage strong 3-Year growth in the top-line while maintaining average ROE, ROA, and ROCs. However, when compared to its peers, its margins have been on a consistent downward trend making me question the fact that it still remains the most expensive of the four at 14.6x forward earnings and 24.4x TTM earnings. Perhaps investors are giving more weight to Nordstrom's off-price segment, Nordstrom Rack, which has experienced strong growth. However, the segment has been cannibalizing the chain's primary Nordstrom retail stores that command higher margins. This likely explains the continued downtrend in margins and is cause for concern headed into 2017 as mall foot traffic continues to decline. For me to consider JWN, I would need to see a return to the higher margin Nordstrom department stores or a refocus on the off-price segment at the expense of main brand stores.
As an aside, I noticed a consistent trend throughout each of the members, which is a continuing trend of growing days inventory suggesting that companies are having a hard time selling their products. This is particularly concerning for me and is another reason to remain on the sidelines for department stores.
Now we will examine what analysts have in store for the sector.
Below I have listed analyst estimates pulled from estimize.com for the listed companies.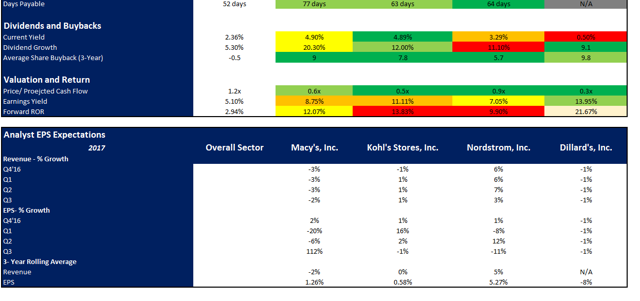 It appears that analysts have mixed feelings about each company in 2017. I am skeptical about these figures as analyst estimates have been pulled down over the past quarter and may continue to be pulled down as more profit warnings are released. It seems that over the long run, investors are either expecting tepid growth or decelerating growth, hardly a reason to invest in the sector despite valuations.
Conclusion
Department store stocks are a clear underweight in my book. I cannot seem to envision a reversal of declining mall traffic, a switch to Amazon (NASDAQ:AMZN), and declining apparel spend as the trend appears to be secular and not transitory. This is not to say that retail stocks as a whole are doomed; however, the fact that department stores have less brand appeal than brick and mortar retail makes them easier targets for Amazon to swallow.
In my opinion, I suggest either looking for off-price retail stocks such as TJ Maxx (NYSE:TJX) or Ross Stores (NASDAQ:ROST) or brick and mortar stores that are either diversified luxury apparel - LVMH, or stores such as H&M or Urban Outfitters that are continuing to experience growth and are not as susceptible to Amazon as department store chains given their heightened brand appeal.
Disclosure: I am/we are short SHLD.
I wrote this article myself, and it expresses my own opinions. I am not receiving compensation for it (other than from Seeking Alpha). I have no business relationship with any company whose stock is mentioned in this article.
Additional disclosure: The views expressed in this article contain the opinions of BlackVault Investments and in no way are an offering and/ or solicitation of investment advice.