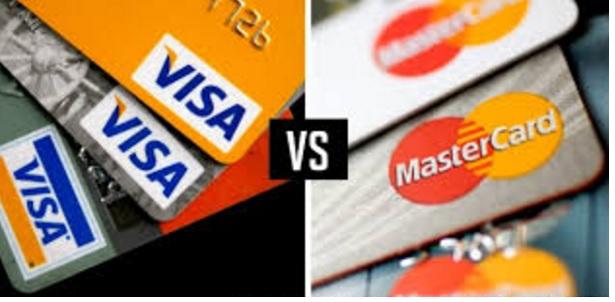 Both Visa (NYSE:V) and MasterCard (NYSE:MA) have absolutely crushed it over the past decade, enriching investors to a staggering degree.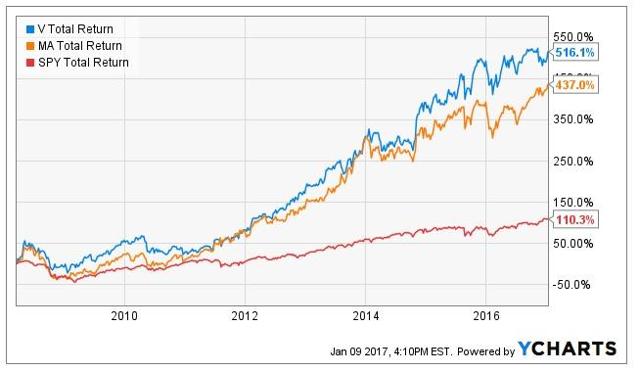 However, while value oriented investors might worry that this kind of incredible outperformance means that both stocks are now pricing in their amazing future growth potential, the truth is that both Visa and MasterCard remain exceptional long-term dividend growth stocks.
That being said, at the present time there are four reasons why MasterCard represents the hands down better investment at this time.
Visa: The World's Credit Card King
Visa is the undisputed king of global financial transaction processing (58% global market share) courtesy of its network of 16,800 financial institutions worldwide connecting 44 million global merchants to the 3.1 billion consumer credit and debit cards in circulation. In the past 12 months alone Visa processed $8.2 trillion, taking a small cut of that for itself.
This massive scale creates powerful network effects that give Visa a wide moat that helps to generate strong pricing power. And given that 85% of global transactions are still in cash, Visa has a massive growth runway that spans decades. Even with the need to continually update and improve its network and service offerings, Morningstar estimates that Visa will be able to consistently grow its earnings by at least 8% CAGR over the next 20 years.
For dividend growth investors, that kind of growth potential, when combined with strong buybacks, and a very low payout ratio, means that Visa represents one of the best long-term dividend growth stocks you can own today.
MasterCard: Worthy Challenger To The Throne
MasterCard is the second largest financial transaction processor, with 26% market share courtesy of its network that includes: 40 million merchants, 1.6 billion cards in circulation, and $4.6 trillion in transaction volume in 2015.
MasterCard has been aggressively attempting to differentiate its service offerings in recent years, to help stave off the long-term threats of regulators and fintech. Part of this has been a move towards additional services that help financial institutions and merchants extract more value from its relationship with MasterCard (more on this later).
This helps to not just diversify the company's cash flow but also cement relationships between MasterCard and other major financial providers as the world moves towards a more mobile based, "digital wallet" financial system.
Profitability: MasterCard Has Superior Returns On Capital
Source: Morningstar

| | | | | | | |
| --- | --- | --- | --- | --- | --- | --- |
| Company | Operating Margin | Net Margin | FCF Margin | Return On Assets | Return On Equity | Return On Invested Capital |
| Visa | 52.3% | 39.7% | 33.5% | 11.5% | 21.0% | 14.2% |
| MasterCard | 52.2% | 38.1% | 39.5% | 25.1% | 64.3% | 47.1% |
| Industry Average | 32.7% | 18.0% | NA | 2.6% | 16.2% | NA |
Thanks to the fact that both Visa and MasterCard's transaction processing businesses effectively operate as toll roads in the world of digital payments, both companies are massively profitable free cash flow generating machines.
That being said, thanks to MasterCard's aggressive investments into ancillary services, such as advanced AI based fraud protection, loyalty card program management, and data analytics, MasterCard has a slighter stickier ecosystem that allows it to command very strong pricing power and generate far superior returns on shareholder capital.
Better yet, the revenue from those services, though currently MasterCard's smallest revenue stream, is the fastest growing. In fact in the most recent quarter this division reported 23% year-over-year growth.
Now in fairness to Visa part of the reason that its returns on capital are lower than MasterCards' is because of the recent acquisition of Visa Europe, whose operating margins are much lower, 26% compared to its 65%. The recent nature of this acquisition, and the debt and shares it took to close the deal, means that it will take some time for Visa to achieve significant cost synergies in the European business, and bring its returns on capital up.
That being said, MasterCard clearly has superior operational performance due to its world class management team, led by CEO Ajay Banga. Banga has set MasterCard on brilliant strategic path to diversify and growth its business into areas that most credit card companies don't typically tread, such as greater business relations with governments and a growing portfolio of services that help to only boost its brand equity and widen its moat.
Balance Sheet: Both Strong But MasterCard's Is A Fortress
Source: Morningstar

| | | | | | |
| --- | --- | --- | --- | --- | --- |
| Company | Debt/EBITDA | EBITDA/Interest | Debt/Capital | Current Ratio | S&P Credit Rating |
| Visa | 1.78 | 20.94 | 32% | 1.78 | A+ |
| MasterCard | 0.57 | 75.47 | 34% | 1.65 | A |
| Industry Average | 19.02 | NA | 70% | 1.77 | NA |
Don't get me wrong, neither Visa or MasterCard has a lot of debt, especially given their strong free cash flow margins. However, as you can see Visa's leverage ratio, (Debt/EBITDA) and interest coverage ratio (EBITDA/Interest) is far lower than MasterCard's, indicating less future ability to continue borrowing at recent rates.
Of course to be fair to Visa we have to acknowledge that the recent spike in debt was due to the company's $23 billion acquisition of Visa Europe, which has the potential to boost the company's growth for many years to come, including EPS growth of over 30% in 2017.
However it will reduce Visa's financial flexibility somewhat in the future, at least until the acquisition's cash flows become accretive to both the bottom line and balance sheet.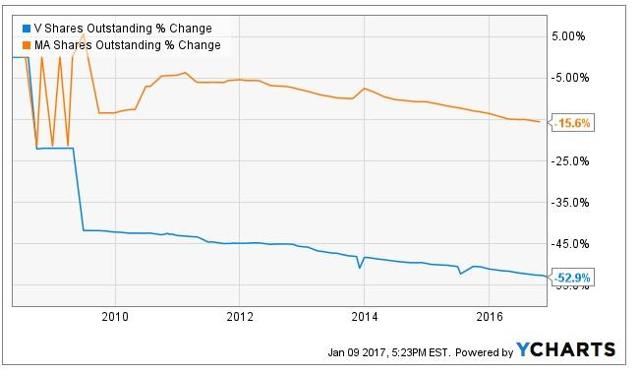 That matters because both Visa and MasterCard have historically been aggressive with returning capital to shareholders, especially in the form of buybacks.
However, thanks to the more aggressive buybacks by Visa, including $7.2 billion worth over just the past 12 months, Visa's total capital return FCF payout ratio (buybacks + dividends) is an unsustainable 168%, compared to MasterCard's more conservative 96%.
With interest rates likely to keep rising for several years, MasterCard's more disciplined approach to debt, buybacks, (which help reduce the payout ratio and allow faster, longer dividend growth), once again gives it an edge as a long-term dividend growth stock.
Dividend Profile: Close Call But MasterCard Likely To Grow Dividends Faster
Sources: Gurufocus, Fastgraphs. Factset Research, Multpl.com, Moneychimp.com

| | | | | |
| --- | --- | --- | --- | --- |
| Company | Yield | TTM FCF Payout Ratio | 10 Year Projected Dividend CAGR | 10 Year Projected Total Return |
| Visa | 0.8% | 26.7% | 15.6% | 16.4% |
| MasterCard | 0.8% | 19.5% | 16.0% | 16.8% |
| S&P 500 | 2.0% | 39.5% | 6.1% | 9.1% |
At the end of the day the most important thing that matters to me is a strong dividend profile which consists of: current yield, dividend security, (balance sheet and payout ratio), and long-term growth prospects.
We've already seen that both companies have very strong balance sheets, (though I consider MasterCard the stronger of the two). Similarly from a payout ratio point of view both are low enough to make the dividends bullet proof. However MasterCard's slightly lower ratio means that it is slightly more likely to reach the reasonable long-term dividend growth expectations analysts currently have for it and that my own models say are reasonable expectations of future payout growth.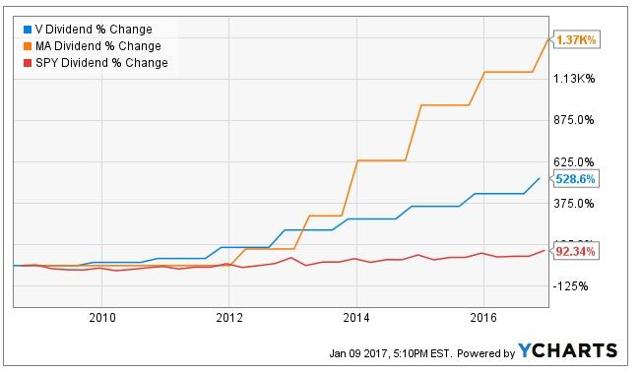 That's especially true given the company's better long-term payout growth record, which is superior to Visa's. And since long-term market studies show us that total returns generally track yield + dividend growth, based on the equal yield of both companies, MasterCard is likely to generate slightly better total returns over the next 10 years.
Of course given that the market's historical total return has been 9.1% CAGR, both Visa and MasterCard are still worth owning, since both are likely to continue generating far superior returns in the coming years.
Valuation: MasterCard Wins Easily
Source: Gurufocus

| | | | | |
| --- | --- | --- | --- | --- |
| Company | PE | Historical Median PE | Yield | Historical Median Yield |
| Visa | 33.2 | 27.7 | 0.8% | 0.7% |
| MasterCard | 29.8 | 26.7 | 0.8% | 0.3% |
As you can see neither Visa or MasterCard are trading cheap right now, especially in comparison to the S&P 500's PE of 26.1; which is itself at historic highs.
However, from both an absolute perspective MasterCard's lower PE makes it appear the better buy today. That's especially true given that MasterCard is trading at less of a historic premium to its median PE.
Of course as a dividend growth investor the valuation metric I care most about is yield. Comparing each company's yield to its historic median value is generally how I determine whether or not a stock is cheap enough to open a position in, (the lower bar to clear compared to adding to one's existing position).
In this case I'd be willing to open a position in Visa, (and have done so) though I'd recommend that investors looking to add wait for a significant dip.
That's especially true given that a discounted cash flow or DCF analysis shows that Wall Street is currently pricing is higher growth for Visa than what the company is likely to deliver over the next decade.
Sources: Morningstar, Fastgraphs, Gurufocus

| | | | | | |
| --- | --- | --- | --- | --- | --- |
| Company | TTM FCF/Share | 10 Year Projected Growth Rate | Fair Value Estimate | Growth Baked Into Current Price | Margin Of Safety |
| Visa | $2.09 | 17.1% | $64.27 | 20.1% | -27% |
| MasterCard | $3.74 | 15.7% | $119.42 | 14.2% | 10% |
In contrast MasterCard appears to be trading around 10% beneath its fair value, and is pricing in more realistic growth expecations. This means that today represents both a decent chance to open, as well as add to one's position.
Risks To Consider
There are three major risks to consider before investing in Visa or MasterCard.
First, like all multi-national corporations, international diversification creates negative currency risk should the dollar remain strong or strengthen further. That could indeed prove to be the case if US economic growth improves thanks to the effects of the Trump stimulus and US interest rates rise steadily over the years.
However the two biggest concerns are specific to each company and derive from the very sky-high profitability both enjoy. Those margins represent money out of other people's pockets, and this exposes both Visa and MasterCard to political and regulatory risk.
For example in 2010 The Dodd-Frank law capped US debit card interchange fees, and Europe is also considering similar regulatory limits to each company's fee structure.
However the biggest risk is in the potential for rival payment services, specifically cheaper, mobile based alternatives to change the game by creating a lower cost paradigm to financial transactions.
Companies such as Square (NYSE:SQ), and Paypal (NASDAQ:PYPL), or even a yet unknown firm using disruptive tech such as blockchain, could end up destroying their wide moats and forcing both to participate in a future price war that could decimate margins.
Bottom Line: Both Are Must Own Stocks BUT MasterCard Is The Better Buy Right Now
Don't get me wrong, I consider both Visa and MasterCard to be "must own, buy and hold forever" dividend growth stocks courtesy of their cash rich business models, decades long growth runway, and impressive dividend growth records. In fact I own both for my own diversified dividend growth portfolio.
That being said, with: superior profitability, a stronger balance sheet, lower payout ratio, and slightly better valuation, I have no qualms about declaring MasterCard the superior credit card giant to buy at this time.
That's not to say that you shouldn't necessarily buy Visa if you don't own it, but I'd recommend waiting for a pullback before adding to one's position given the current lofty valuation.
-----------------------------------------------------------------------------
Are you ready to supercharge your investing success in 2017 and beyond? Then join Seeking Alpha's top 25 writers for the eye opening, and potentially massively profitable opportunity to learn from the mistakes, successes, and insights from some of the world's best investing minds.
Seeking Alpha And Investor In The Family Radio are proud to present the 2017 DYI investor summit, with can't miss interviews and presentations from: Chris DeMuth, Bret Jensen, Rida Morwa, Brad Thomas, Eric Parnell, Ian Bezek, Richard Berger, Aurelien Windenberger, Doug Eberhardt, Ralph Baker, Lawrence Fuller, Double Dividend Stocks, Mark bern, Mark Hibben, Dividend House, J Mintzmyer, William Koldus, Damon Verial, Richard Lejeune, Avi Gilbert, Shailesh Kumar, Chuck Carneval, Adam Aloisi, Colorado Wealth Management, and your very own Dividend Sensei.
If you're ready to stop spinning your wheels, and take charge of your financial future, then join us for a look back at what we all learned in 2016, but most importantly what investors can expect in 2017 including our best investing ideas.
More importantly though, learn what pitfalls to avoid that hold you back from achieving your financial dreams and how to go from a mere "good" investor to a true legend of Wall Street.
Disclosure: I am/we are long V, MA.
I wrote this article myself, and it expresses my own opinions. I am not receiving compensation for it (other than from Seeking Alpha). I have no business relationship with any company whose stock is mentioned in this article.