Investors Get Taken To The Cleaners? I Take In Their Dirty Shirts
Subscribers to "Retirement: One Dividend At A Time" got an early look at this material and receive instant text message trade alerts which often produce lower entry price points and higher yield and income.
It is always the case that for every buyer in the stock markets, there is a seller. When buying, a value investor always wants to be on the right side of the trade.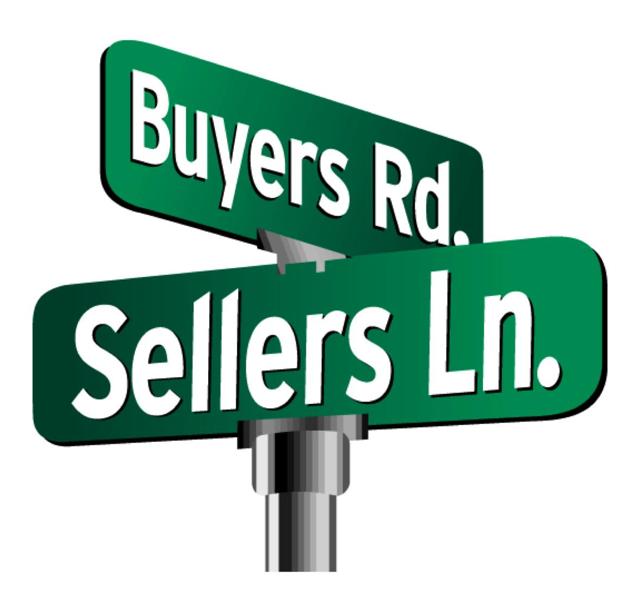 But what is the right side?
Some Metrics That We Use
Every investor has his/her favorite metrics that they employ to size up an investment that might be on their watch list for possible share accumulation. They might include:
Minimum history of 5 years of earnings growth
Minimum of dividends growing for 5 or more years
P/E ratio below the broad market P/E
P/E ratio below its peer group
Growing free cash flow, sufficient to pay the dividend
Payout ratio below 70% of earnings, indicating plenty of room to grow
Metrics Applied At Opportune Moments
Once we've done our due diligence on a high-quality company and have satisfied ourselves that it meets our criteria, we might want to place it on our watch list and wait for an opportune time to accumulate shares.
An opportune time might be defined by several factors. If the broad market went into correction mode and pulled most stocks down with it, including your watch list candidate, this might constitute an opportunity.
Perhaps the entire industry sector that your company is part of goes into correction mode as part of the many rotational corrections that happen all the time. Maybe it's simply money rotating from one overpriced sector to an underperforming one. This might present yet another opportunity to start accumulating stock.
Another propitious moment might arrive in the form of a company-specific, temporary setback that frightens a good deal of current investors. Sometimes, those investors shoot first (sell their holdings) and ask questions later. If it can be determined, by a certain margin of error, that the new investor could obtain a greater margin of safety by buying shares at lower prices while others panic, this might represent a value investor's best moment to strike.
Such a broad general correction occurred in the beginning of 2016, when the broad market witnessed a greater than 10% decline over the first six weeks of the year.
Buying high-quality stocks that are temporary fallen angels is the essence of value dividend investing.
Strategy Session: Take Their Dirty Shirts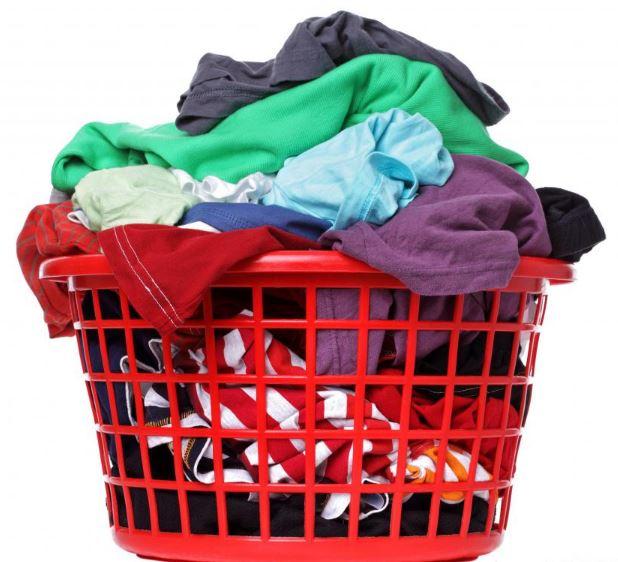 Not too long ago, AT&T (NYSE:T) was selling in the $34 range. Some investors complained that the company was getting stodgy, not growing fast enough and that the $.01 per quarter dividend raises were becoming smaller percentage-wise with each passing year. They deemed the company a has-been and said they'd consider it as an income vehicle only if it traded back down to $30 per share.
Though I consider $30 pretty far-fetched at this time, something more attainable might be at the $35.65 level, which would give us a 5.5% yield. This would represent a fall of 14.5% from current levels and might be approached if further rate rises in 2017 - expected to total 3 or more - spook investors into panic mode. AT&T shareholders recently got spooked and suffered price declines when president-elect Trump tweeted against the proposed merger with Time Warner, Inc. (NYSE:TWX).
Should that occur, many investors who recently bought at the $44 level would feel like they're losing their shirts and begin to turn over their dirty laundry to us. We'd be happy to take on more of this high-quality company for a greatly enhanced yield.
Having the patience to pursue value for your investment can make all the difference between a so-so investment and a great income vehicle.
AT&T, Price and Yield, Inverse Relationship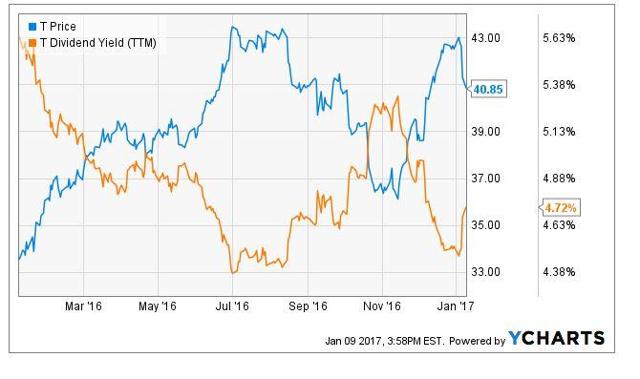 Well, at the $34 level, the $1.96 annual dividend translated to a 5.76% yield. When it reached the $44 level, that same dividend translated to a much lower yield at 4.45%.
I'm guessing a few of those investors reluctant to buy at the $34 level are kicking themselves today, now that they realize they passed up a price point that could have saved them a great deal of initial investment dollars. And of course, there's the income factor.
At the lower price point, the investor could have bought more shares and gained much higher yield and higher income than what is possible today. In fact, 29.4% more income.
AT&T Variable Price and Yield Points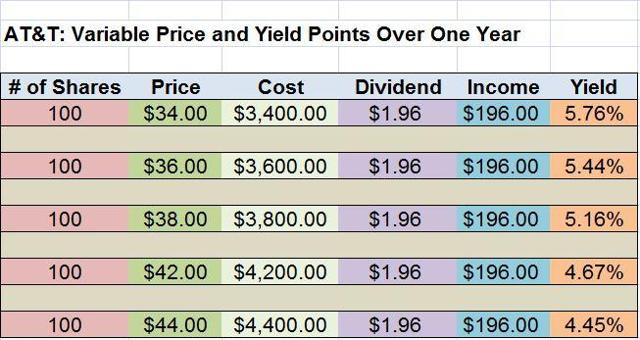 Inverse Relationship of Price and Yield
In the bond market, it is always the case that the higher the price of a bond, the lower the yield becomes. The corollary, of course, is that whenever a bond price falls, the yield increases.
This is due to the fixed coupon that a bond is issued at. If a bond is issued with a face value of $100.00 and a fixed interest payment annually of $4.00, the yield on the initial issue date is 4%.
$4.00 $100.00 = .04, or 4%
After the initial issue date, the price of the bond will fluctuate to reflect current interest rate conditions. Should interest rates generally rise to 5%, that same bond will see its price decrease to the point that the interest coupon of $4.00 will represent a 5% yield to new buyers. Without such a price adjustment, new buyers would have no interest in owning it. They want to get the prevailing interest rate for their new investment.
A little quick math reveals the approximate price the bond would have to fall to in order to yield the new prevailing rate of 5%.
$4.00 / $80.00 = .05, or 5%
If we are talking long bonds and long-term interest rates, this is pretty close to what the adjustment would be, especially if it took place in the first couple of years of a 30-year term. The bond price would have to adjust downward to about the $80 level.
So, the adjustment in rates causes the principal value of the bond to fall about 20%, from $100 face value when issued to about $80 to reflect current interest rates.
Dividend Stocks: Bond-like Proxies
Because most dividend stocks are bought for income, just like bonds, most view them as bond proxies, with one important caveat. Most bonds carry fixed interest payments that do not change for the life of the bond. That $4.00 annual payment discussed above will not change by an iota for the full term of the bond. Inflation could take off like a rocket some day and decimate the buying power of those interest payments.
Unlike bonds, dividend growth stocks are those that raise their dividend payments on a pretty regular basis. So, the increased dividends keep the investor ahead of inflation. But for this rosy picture, the investor trades away one comfort that the bond investor attains.
The bond investor who holds his individual bond to maturity is guaranteed repayment of 100% of face value, barring any bankruptcy or other company default. The dividend investor has no such guarantee. His stock price will fluctuate daily. He may receive more or less than what he paid if he ever decides to sell his shares. And his company could possibly go bankrupt too, leaving him with no principal value.
So the dividend investor trades the comfort of growing and higher dividend payments for the added risk that volatility brings to his investment.
What About The Pure Income Investor?
The ideal that most dividend growth investors aspire to entails the saving, accumulating and investing of enough assets such that they will provide enough income to fill the gap between our social security benefits and our actual expenditures in retirement.
For this investor, stock price is only important on the date that shares are actually accumulated. This goes to the above discussion, and illustrates why the value dividend investor is very concerned about getting good value for his investment when initially made. The price paid will determine the starting yield. So, if his watch list company comes down to a price that makes sense for him, fits all of his criteria and produces good income, that becomes the determining factor that helps him make the final decision to invest.
Understanding the relationship between price and yield is crucial for dividend investors.
Watch List Real Time Tracker
Being interested in keeping abreast of value pricing and dividend yields, I can use The Watch List Real Time Tracker to monitor this for me and use it as a research tool. It allows me to obtain the current real-time trading price of my stocks throughout the day, and it automatically sources the dividend amount and current yield for me. Here, I've input the ticker for AT&T and benefit from all the data presented to me.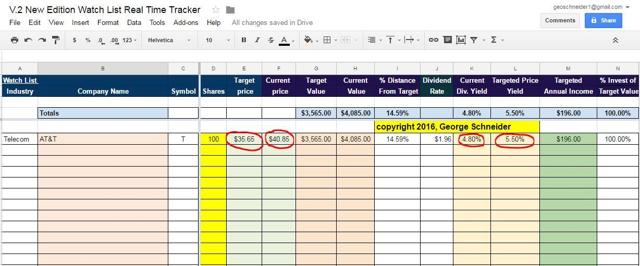 I can tell at a glance that at today's price, the $1.96 annual dividend of T presents a yield of just 4.80%. But if I'm not satisfied with that yield and think a price correction may occur, I can easily manipulate target prices I'm willing to pay in order to get a 5.5% yield. In this case, the answer is clear. Paying a price of $35.65, the target price, will get me that 5.5%.
When T comes within 3% of that target price, Column I will turn green to alert me to get my limit order ready (this function is variable and can be set anywhere the user likes).
The app also shows me automatically what my annual income would be if I buy those 100 shares.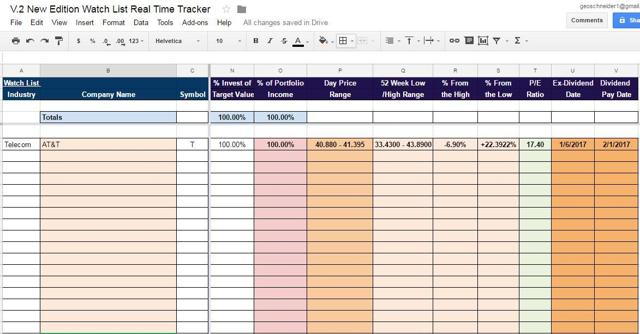 When we scroll to the right, I can see the percent of income that T will produce for the portfolio. Since I've entered only one ticker symbol for now, the income amounts to 100% of portfolio income. Of course, we can enter several tickers at a time to compare different investment ideas, yields, investment amounts, etc. Once this is done, all of the algorithms will account for this and adjust amounts and yields accordingly.
Column P displays the price range for the day. Next to that we can view the 52-week high/low range, and next to that we see that T is currently trading 6.9% from its high and more than 22% above its 52-week low. Next, the P/E ratio is displayed, and for those investors interested in deploying a dividend capture strategy, recently discussed in this article, we have the ex-dividend date displayed and the dividend pay date in the rightmost column.
Real Time Portfolio Tracker
The Real Time Portfolio Tracker can tell me, in real time, all of my portfolio positions, what I paid for them, each company's dividend rate, dividend yield, what percent of income each stock produces for the portfolio, what percent of my investment I spent to acquire each company, capital gains/losses, etc.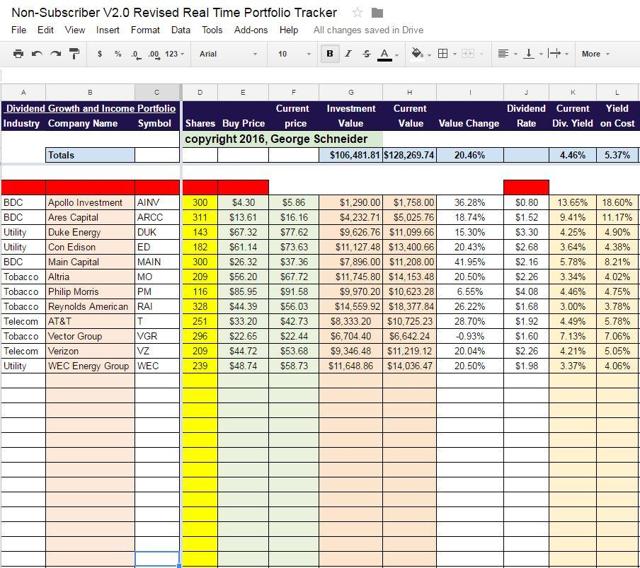 If there is a negative change in value since purchase, this will be reflected using a minus sign and highlighted in red.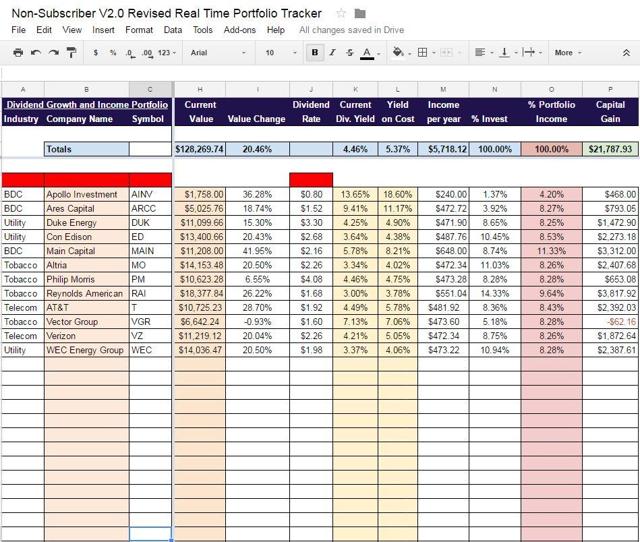 In a newly added feature, Column P indicates capital gains/losses for each portfolio constituent as well as the portfolio total, also highlighted in red in any instance of a capital loss.
So, I have an efficient, real-time gauge of what the portfolio is valued at, at any given time of the day, and what my overall portfolio income currently is.
Interested readers can learn more about all of my digital tools, helping to improve stock market performance and generation of income, at my Instablog.
I have been demonstrating, as in this article, strategies and methods to build and grow income. They are suitable for young investors just beginning their investment journey as well as retirees and near-retirees interested in preparing for their eventual retirement from active work. This has been done through public demonstration of what I have named the Fill-The-Gap Portfolio.
The Fill-The-Gap Portfolio At A Glance
Two years ago, I began writing a series of articles on December 24, 2014, to demonstrate the real-life construction and management of a portfolio dedicated to growing income to close a yawning gap that so many millions of seniors and near-retirees face today between their Social Security benefit and retirement expenses.
The beginning article was entitled "This Is Not Your Father's Retirement Plan." This project began with $411,600 in capital that was deployed in such a way that each of the portfolio constituents yielded approximately equal amounts of yearly income.
The FTG Portfolio Constituents
Constructed beginning on 12/24/14, this portfolio now consists of 18 companies, including AT&T Inc., Altria Group, Inc. (NYSE:MO), Consolidated Edison Inc. (NYSE:ED), Verizon Communications (NYSE:VZ), CenturyLink, Inc.(NYSE:CTL), Main Street Capital (NYSE:MAIN), Ares Capital (NASDAQ:ARCC), Reynolds American, Inc. (NYSE:RAI), Vector Group Ltd. (NYSE:VGR), EPR Properties (NYSE:EPR), Realty Income Corporation (NYSE:O), Sun Communities Inc. (NYSE:SUI), Omega Healthcare Investors (NYSE:OHI), W.P. Carey, Inc. (NYSE:WPC), Government Properties Income Trust (NYSE:GOV), The GEO Group (NYSE:GEO), The RMR Group (NASDAQ:RMR) and Southern Company (NYSE:SO).
Because we bought all of these equities at cheaper prices since the inception of the portfolio, the yield on cost that we have achieved is 6.63%.
FTG Recap
FTG Portfolio Close, 1/5/17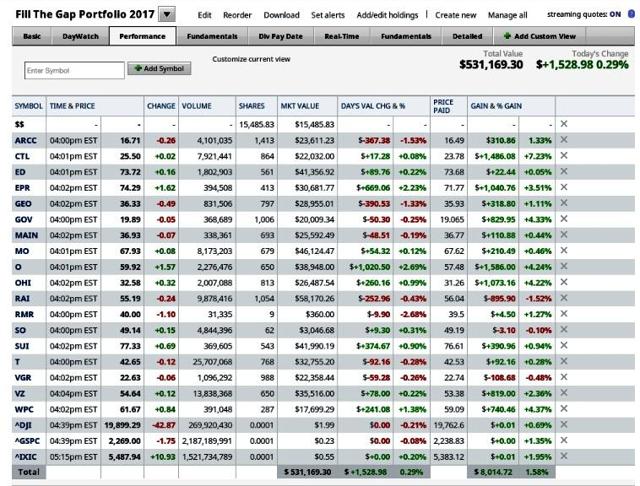 Currently, with the addition of three new recent positions discussed in earlier articles, the FTG is producing $26,969 in annual income. When added to the average couple's social security benefit of $28,886 (including the 2017 increase of .3%), we have, in only 24 months' time, significantly exceeded our goal of filling the gap between SS income and a comfortable $50,000 retirement. In fact, our total income between these two sources is now $55,855. We benefited from many dividend increases received over the past several months and our reinvestment of dividends into our three new positions. The new dividend income attendant to our recent purchases has us now in hailing distance of our total dividend income exceeding social security benefit income.
We have enjoyed a regular stream of dividend increases, more than enough to keep us comfortably ahead of inflation.
The FTG Portfolio started out December 24, 2014, with an annual income of $21,246. It finished 2015 with overall portfolio income of $25,057.
Because we finished 2016 with $26,969 in annual income, we have seen growth in dividend income of $1,912 over last year, or 7.63%. From inception in 2014, in just two years, we have seen income grow $5,723, or 26.93%.
With its beginning value of $411,600 and the addition of a $6,500 IRA contribution for 2015 and a $6,500 IRA contribution for 2016, total asset contributions come to $424,600. The portfolio has grown $106,569 to a value of $531,169. This represents capital appreciation of 25.1% in just 24 months.
$531,169 - $424,600 = $106,569 capital appreciation
$106,569/$424,600 = 25.1% percentage gain
On a price return basis, in just the first three trading days of 2017, the FTG has grown $8015 in value, or 1.58%, while the S&P 500 is up just 1.35%, also on price return. Accordingly, the Fill-The-Gap Portfolio has effectively returned 1.17 times the return on the S&P index. In other words, it has handily trumped the S&P index by 17%. It has also outperformed the return of the Dow Jones Index by 129%.
RODAT Subscriber Portfolio Recap, January 5, 2017
As of the 1/5 close, the RODAT has risen 1.84%, for capital appreciation of $7000.65 so far this year. In contrast, the Dow has risen just .69% for the year and the S&P 500 index has risen just 1.35%. This means the RODAT subscriber portfolio is outperforming the Dow by 2.67 times (167%) and the S&P 500 by 1.36 times (36%).
We will continue monitoring the markets closely, looking for new opportunities to deploy capital in order to increase our annual income. In the meantime, we're happy to enjoy the ongoing capital appreciation of the portfolio.
Mirror Trades In the FTG and RODAT Subscriber Portfolio
Subscribers and readers wishing for an easy way to mirror their trades after the RODAT subscriber portfolio and the FTG Portfolio can easily enter tickers to discover proportional share amounts to buy. After doing their own due diligence, they might wish to proportionately mirror their own trade using the parameters I've discussed above, using My Fill-The-Gap Mirror Calculator or the My RODAT Mirror Calculator.
MY FTG Mirror Calculator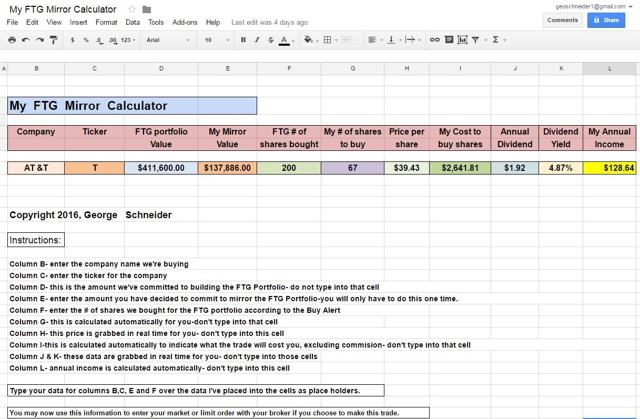 Author's note: Should you be interested in reading any of my other articles detailing various strategies to enhance your returns on a dividend growth portfolio, you will find them here.
I invite you to follow me in order to be notified of all of my new work on a real time basis. Simply click "Follow" next to my picture, then choose "Follow this author" and "Real-time alerts on this author."
As always, I look forward to your comments, discussion and questions. Please share your experience of buying stock to capture dividends and how it impacted your portfolio income.
To learn more about our premium service which includes instant free text alerts, please click this link:
Retirement: One Dividend At A Time
Disclaimer: This article is intended to provide information to interested parties. As I have no knowledge of individual investor circumstances, goals, and/or portfolio concentration or diversification, readers are expected to complete their own due diligence before purchasing any stocks mentioned or recommended.
Disclosure: I am/we are long T, MO, ED, VZ, CTL, MAIN, ARCC, RAI, VGR, EPR, O, SUI, OHI, WPC, GOV, GEO, RMR, SO.
I wrote this article myself, and it expresses my own opinions. I am not receiving compensation for it (other than from Seeking Alpha). I have no business relationship with any company whose stock is mentioned in this article.