Financials and Industrials Show Strong Returns Post-Election
In the aftermath of the U.S. presidential election, financial markets responded positively to expectations for policies from the administration of President-elect Donald Trump that could lead to more growth, higher inflation, and higher yields. These policies include tax reform, increased fiscal spending, and reduced regulation. Sectors that are expected to benefit from these policy changes have seen the strongest returns in the wake of the election - Financials and Industrials, for instance. Conversely, interest rate sensitive sectors and bond proxies such as Real Estate and Utilities have declined.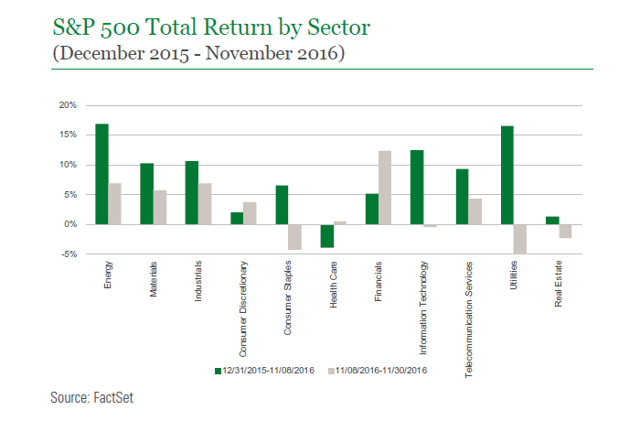 We took advantage of the recent market volatility and upgraded our portfolios. We decreased our position in some cyclical stocks that benefitted from the post-election rally and approached our fair value estimate. Also, before the election, we added a basket of biotech stocks. We increased our position in some of these following the election, given easing concerns about government involvement in drug pricing. We also added to some names tied to our secular growth themes as investors rotated out of them.
In regard to fixed income, yields have risen sharply since the election, and we have been positioned for higher yields for some time. Essentially any rate rise can hurt total returns, so our modest duration positioning mitigates the negative impact of the rise in rates. Credit spreads have tightened and should continue to do so if U.S. Treasury yields maintain their upward trajectory. The rise in Treasury yields could lead to a shift in terms of what the sources of yield are in fixed income portfolios.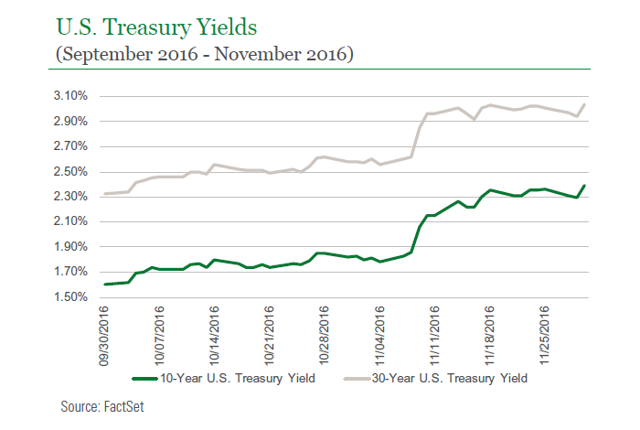 We are not yet convinced that any potential boost to economic growth from the expected policies of the Trump administration will be long lasting. Our long-term secular slow growth overview is unchanged post-election. However, over the intermediate term, we believe that growth, inflation, and interest rates, particularly in the United States, are more likely to move to the upside than the downside due to factors in play before the election (for example, a tight labor market and the bottoming of global inflation) and potential policy decisions post-election (for example, tax cuts, less regulation, and fiscal stimulus). Note that we expect this possible upside to still be within the post-global financial crisis range of GDP growth and not a material shift back to the "old normal."
The election also has not changed our view that focusing on companies with strong growth prospects is the right strategy for the long term. We continue to believe that fundamentals will win out and that a low-growth environment is the most likely scenario for the intermediate term. Volatility in the wake of this election is not surprising. We expect there to be continued choppiness moving forward and will remain vigilant in seeking out opportunities that will benefit our clients over the long term.
Global Economy
China's purchasing managers' index readings continued to surprise to the upside in October, registering figures that are two-year highs. We believe that the massive stimulus pursued by the Chinese government earlier in the year is the primary cause of the improved economic data. However, the durability of the government's stimulus-driven demand policies remains unclear.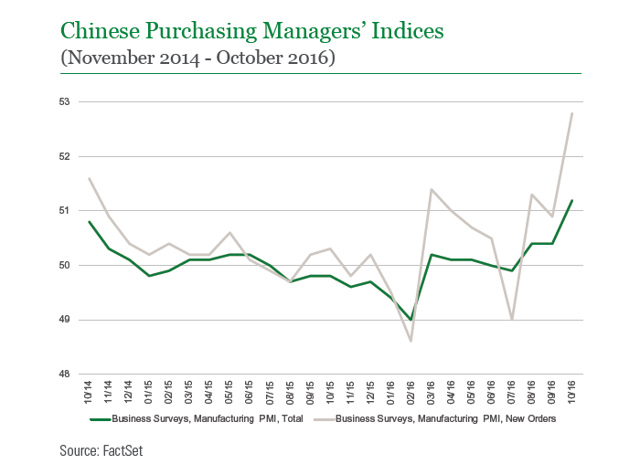 On the one hand, credit expansion continues to meaningfully exceed underlying economic growth by a significant amount, non-performing loans remain elevated and under-reported, and property prices appear to be in bubble territory, with the government pursuing tightening measures to cool price growth and curb housing demand.
On the other hand, the country has made progress curtailing excess capacity in certain industries, which is helping to improve corporate profits as well as cash flows and bring an end to deflation. Moreover, the rate of change in loan defaults seems to be getting better as companies pay down debt and work to shore up corporate balance sheets and support investment (e.g., debt for equity swaps, public-private partnerships).
Elsewhere, in the latest twist tied to the Brexit process, the U.K. High Court ruled that Prime Minister Theresa May must get the approval of Parliament to trigger Article 50 of the Lisbon Treaty, which details the process by which a member-state can leave the European Union (EU). May had argued that all that was necessary was a direct order from her, and her administration is appealing the ruling.
The implication of the need for a parliamentary vote is that the Brexit process becomes more complicated, drawn out, and mired in uncertainty. We anticipate that there will be significant debate about the nature and scope of Brexit such that a full divorce (i.e., a "hard Brexit") from the EU becomes less probable and that the timetable for triggering Article 50 and the actual Brexit gets pushed out.
Our base case remains that the U.K. government will follow through with some sort of a Brexit (the scope and scale not apparent at this time). The more prolonged the Brexit process becomes, the more it will continue to act as an overhang to business confidence and investment. For these reasons, we continue to be cautious on U.K. growth and would avoid investing in domestically exposed U.K. companies unless valuations discount an overly pessimistic scenario.