It hasn't been long since my last article on Square Inc. (NYSE:SQ). The stock market moves fast which means I must move equally quickly. In my last article on Square Inc. found here, I told readers to watch the 13.50 level in SQ shares like a hawk. 13.50 was an important level and if these new higher prices were to stick that level needed to hold. And hold it did, almost to the penny, traders took note of the strength of the support and quickly bid shares 11% higher over the next 5 trading days. The breakout from the 13.50 level and the run to recent highs at 14.75 ish was important, but Square shares have traded at these levels in the past. If SQ shares can push through 15.50, the breakout will be one of the most important in SQ's history, and many on Wall Street will likely take note.
If SQ shares break 15.50 with authority, it will be what is sometimes called a "Blue Sky Breakout." In a blue sky breakout, all previous resistance levels are cleared, and there is literally nothing in its way, at least from a technical perspective. During a blue sky breakout, the herd mentality can take over, bidding shares to levels that beget any rational fundamental valuation. Pros often buy breakouts because they often come with momentum.
Momentum is one of the few stock market phenomena that exists and can be beneficial to investors. Cliff Asness of AQR Capital Management has researched the phenomenon extensively, and many of the firm's funds invest on this principal alone. At its heart momentum is when securities that have done well vs. its peers continue to do well vs. its peers for an extended period. It's why you often hear investment prostalking about investing in the stocks that have done well and not the stocks that are bombed out. The adage "buy low sell high" is a bit of a fallacy. Most pros out there "buy high sell higher" and avoid trying to catch falling knives and pick bottoms.
What does this have to do with breakouts? Blue sky breakouts names can become great momentum names because as they get going, they are breaking out nearly every day. Some technicians have a bunch of fancy ways to measure how far they think the breakout might go. I've done better trimming some stock after the breakout (ringing the register if you will) and setting a stop on the rest at the breakout. I've been able to capture some really big moves using this strategy but to each their own.
So why am I so certain a Square Inc. breakout is about to occur? One of the reasons why is the options flow, let's look under the hood there and see what's happening.
SQ Option Flow:
I've been watching SQ call option flow for the last 4 trading days. From 01/04/17 to 01/09/17 Calls have been trading over 5X vs. puts. I've seen over 7k call options bought on the bid or mid in those same 4 days, and nearly all have been new open interest (new options bought from market makers). I thought a participant was ringer of the register for a moment but saw them roll into higher options just a moment later (selling the calls they had gains on and buying new higher strikes). This rolling of options is a common practice for professional traders, and you see it when they have conviction in a trade. Even if we take just a one-day snapshot, in this case, 01/09/2017 we can see how much more volume is on the call side: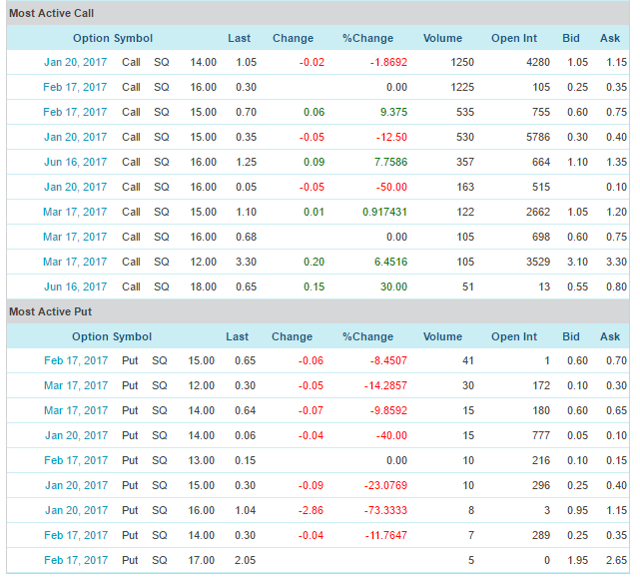 (Source: Nasdaq.com)
Over 4,400 calls traded on just Jan 9th vs. under 200 puts. Clearly, nobody is interested in protection in SQ shares right now, at least not with puts. I can't say I'm surprised at option action like this. Flow in this manner in not uncommon as you get close to breakouts. Market participants try to get exposure to the breakout as cheaply as they can, and there is no better tool than options for that kind of trading. Now that we have seen some of the options flow lets get down to the core of this thesis, the technicals.
SQ Technicals:
SQ technical picture: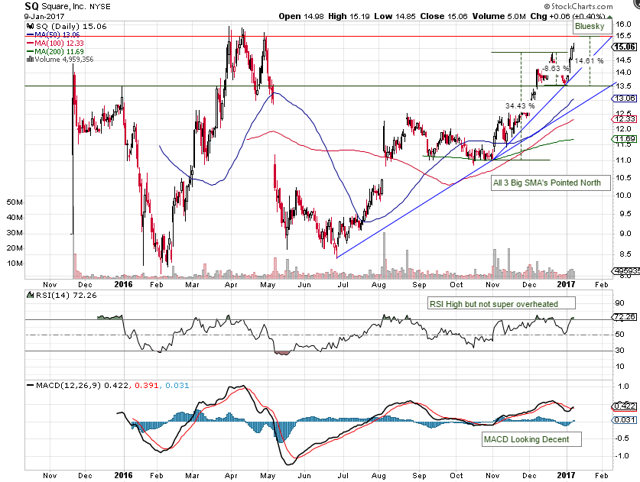 (Source: stockcharts.com)
That right shoulder I was worried about didn't form and turned into nothing more than a quick pullback. The MACD looks good again, and the RSI, while high is not currently egregiously high. The concerns that were present before remain: SQ is quite a bit higher than all its moving averages. SQ shares are also quite a bit away from the longer trend line that goes back to when SQ shares bottomed in July. It looks like traders have become interested with its new steeper trendline that has formed since November after the company reported its 2016 Q3 numbers.
If SQ shares don't go up to 15.50 and break through (or bounce off, a scenario that wouldn't be good for longs), I could see shares pulling back to 14.70 ish and would look for support there (a level that was previously resistance). I like this chart, but I'm choosing to play it with stock on this one. I just haven't had success trading SQ options but have done well with the equity, so I'm sticking with that works. A more aggressive player might take a look at those Feb. 2017 16 calls that were active on 01/09/17 for a supercharged bet that SQ shares break out and move much higher.
A more conservative trader might wait for the breakout to happen and buy shares when it's confirmed; such a trader would be happy to give up 4-5% to be sure they are dealing with a true breakout. Chalk me in the "a breakout is going to happen" camp, it might wobble a few times before (another reason I'm going with stock and not options), but I think SQ is going through 15.50. And when it does I think you'll be hearing a lot more from the talking heads regarding this name.
Conclusion:
I didn't think I'd be talking about SQ so soon; sometimes that's just how it is. Pullbacks can happen over months or sometimes days; SQ went with the latter. I've talked in depth about the business opportunity Square Inc. presents. It's a story that I simply want to be exposed. If I can get exposure to a story I like with good technicals to boot I'll take it.
There have been some rumors that Jack Dorsey the CEO of both Twitter (NYSE:TWTR) and Square Inc. might be stepping down as CEO of Twitter. I honestly couldn't tell you if that would be a good thing or a bad thing over the long-term but in the short-term, it likely would be net positive for shares of SQ. In my opinion, SQ shares have been hurt by its unwarranted affiliation with Twitter. If Square could get that bogeyman off its shoulder, it would undoubtedly be a good thing.
I think Square Inc is one of the great disruptive companies of our time on both the payments side and SME lending side; it's a phenomenal company. If the street came around to SQ's story (and it looks like they are doing just that) and shares get some momentum behind them I believe it could earn a place amongst the other great momentum stocks of the world. If that happens who knows how high it could go, I'm willing to invest and see and with a chart like Square's I think you should take a look as well.
Disclosure: I am/we are long SQ.
I wrote this article myself, and it expresses my own opinions. I am not receiving compensation for it (other than from Seeking Alpha). I have no business relationship with any company whose stock is mentioned in this article.