Investment Thesis
HCA Holdings Inc. (NYSE:HCA) is a high-quality hospital and healthcare company with high returns on capital and strong free cash flow generation, trading at an attractive valuation.
HCA - A High Quality Business
HCA is the largest public hospital and health care services company in the U.S. The company has a market capitalization of ~$30 billion. The company's access to fast-growing urban markets in the Sun Belt, an aging demographic, an improving patient mix as economic conditions improve, and market-share gains in specialty services all offer compelling opportunities for patient volume growth.
HCA is a fully integrated provider system that stretches across 42 markets in the U.S. and the U.K., with unique insights of the health care space. No market comprised more than 7% of revenues or 10% of adjusted EBITDA in 2015. The company is also well diversified in its service lines, with no particular area representing more than 13% of revenues. The company's scale and diversified business mix provide it a competitive advantage in negotiating contracts and managing reimbursement uncertainty.
Though HCA Holdings is likely to experience increased margin pressure due to slower reimbursement growth, it is better equipped to offset these pressures on the back of its scale and business diversity, resulting in less earnings and cash flow volatility relative to its peers.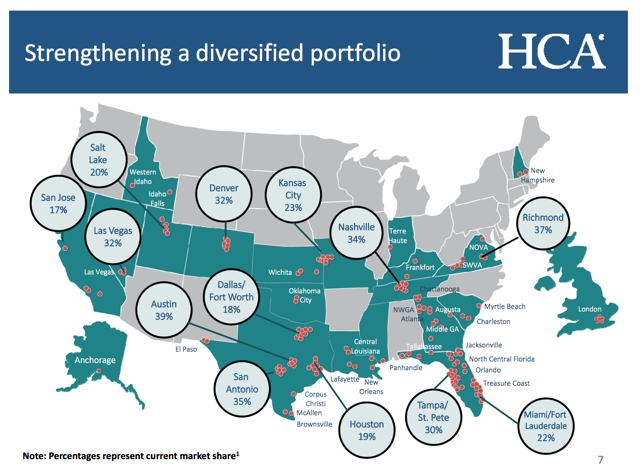 Source: HCA Investor Presentation
Operations in the Sun Belt give HCA access to fast-growing urban markets and states that typically have less stringent oversight of insurance premium hikes.
As the largest private hospital, HCA has more scale advantages than competitors. Consolidating IT infrastructure and back-office services allows HCA to keep costs lower.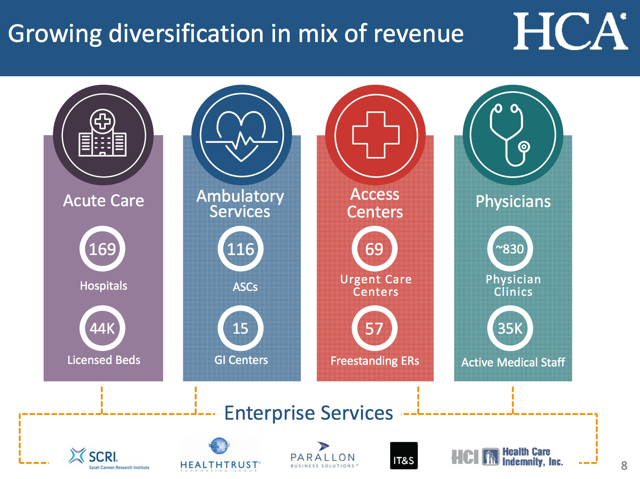 Source: HCA Investor Presentation
Over the last 5 years HCA has grown EBITDA at a 14% CAGR. The company generates an attractive return on assets and significant free cash flow in a growing industry.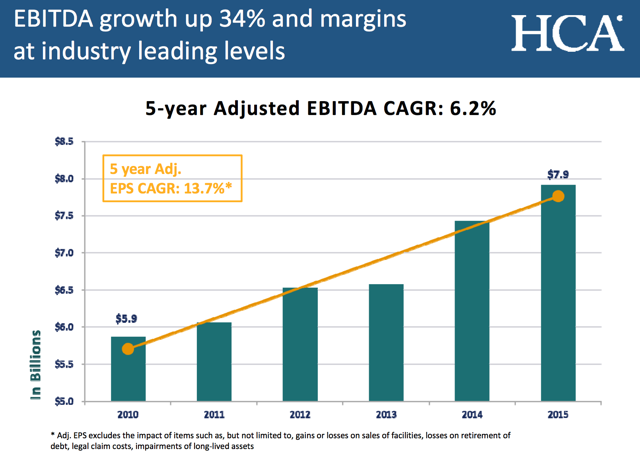 Source: HCA Investor Presentation
HCA is a great franchise, with best in class management, assets, operations and organic growth prospects. The company has a solid track record of capital allocation.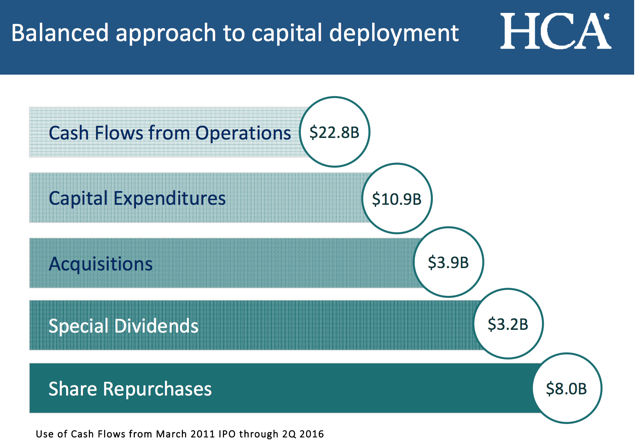 Source: HCA Investor Presentation
For the first nine months of 2016, cash flows from operations were $3.9 billion, up 25% from prior-year period. In November, the company authorized an additional share repurchase program for up to $2 billion. The company is expected to generate free cash flow of about $2.7 billion in 2017 and is likely to continue repurchasing shares as well as consider acquisitions and returning cash to shareholders as dividend.
Solid Industry Fundamentals
Industry fundamentals remain solid as well. In the U.S., the 65-and-older population will be the fastest-growing segment during the next decade. With significant operations in Florida, the state with the highest expected concentration of these individuals, HCA should realize strong admission growth.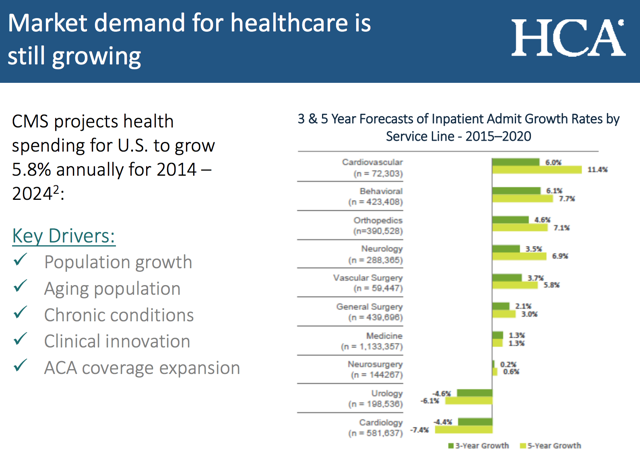 Source: HCA Investor Presentation
Attractive Valuation
Current Share Price is $78.90. The Forward P/E ratio is 12x or 8% Earnings Yield.
My earnings power valuation (Based on Greenwald Valuation Methodology) implies an intrinsic value of ~$105 - $150 per share or upside of approximately 35% - 90%, providing investors with significant margin of safety.
Valuation Model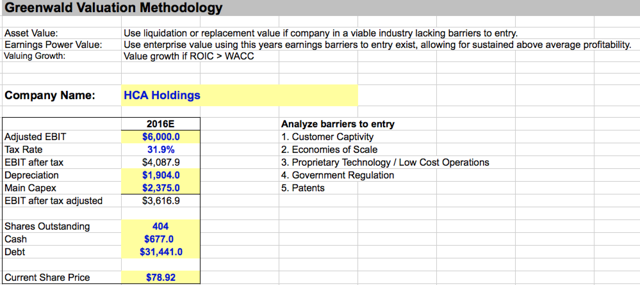 The following well-known value investors also own HCA:
Michael Burry - Scion Asset Management
Glenn Greenberg - Brave Warrior Advisors
David Tepper - Appaloosa Management
Stephen Mandel - Lone Pine Capital
Risks
Reimbursement from government payers appears to be the most relevant risk. Deceleration of Medicare reimbursement growth, the decline of Medicare Advantage, and the 2% sequester may lower HCA's profitability.
Conclusion
HCA is a solid long-term buy for investors: A high quality hospital and health care services company in the U.S. with growing free cash flow trading at a very attractive valuation.
Disclosure: I/we have no positions in any stocks mentioned, but may initiate a long position in HCA over the next 72 hours.
I wrote this article myself, and it expresses my own opinions. I am not receiving compensation for it (other than from Seeking Alpha). I have no business relationship with any company whose stock is mentioned in this article.