Thesis
Macy's (NYSE:M) stock is heavily beaten down, with the market implying a combination of revenue and margin contraction in the years ahead. Macy's could represent an attractive opportunity for those who believe in an upcoming sales stabilization while maintaining 10%+ EBITDA margins and similar levels of capital intensity.
Overview
Macy's disappointing holiday sales prompted management to re-adjust its full-year guidance back to the lower-end of the previously stipulated range. Same-store sales are also projected to decrease by around 2% for the FY2017, as the brick-and-mortar retail environment continues to flounder with declining secular trends still in full force. To account for the contracted earnings, the company is reducing overhead by cutting 10,000 jobs (6.3% of its workforce).
Some positive news is that Macy's online business grew by double-digit percentage points. The bad news is that Macy's online presence accounts for perhaps only 15%-20% of its sales, which is a recent improvement, but still behind the trend and likely permanently so. Amazon (NASDAQ:AMZN) holds distinctive advantages in the size, scope, and scale of its retail business and has monopoly-like qualities, whereas Macy's is attempting to chip away in the mid-scale retail space. Naturally this business model will come under intense competitive pressure from online and discount-oriented retailers, as Macy's lacks competitive strength in matters regarding both pricing and general convenience.
The company's FY2017 (beginning February 1) restructuring plans will begin with the slashing of $550 million worth of expenses. The company also plans to close 68 stores (out of 730 currently open) in 2017 to rebalance its infrastructure to a level that's more amenable to its current business needs. About $250 million of the planned savings will be invested back into the company's e-commerce business, China operations, Bluemercury makeup division, and Backstage discount sales segment.
Macy's strategic alliance with Brookfield Asset Management will continue to look for opportunities to divest real estate assets where the present value of the land itself - and/or the net value of how these funds can be strategically deployed back into the business - may be of greater value than the retail business itself. In Q4, Macy's sold its Stonestown Galleria store in San Francisco in addition to its Portland, Oregon store for a combined total of $95 million. The company also reached an agreement to sell its downtown Minneapolis, Minnesota, store to New York investment firm 601W for approximately $40 million. The company derived about $575 million in the FY2016 from real estate sales.
Some of the cash proceeds from both real estate monetization and standard cost reduction will need to be used for the sake of debt pay-down. The company is aiming to keep a debt/EBITDA ratio below 3.0x (per its internal definition). EBIT/interest expense is currently at 4.3x measured over the past four quarters. Management will attend to discretionary debt reduction after the end of the fiscal year on January 31.
If Macy's is to turn around and grab back market share, it will be an elongated process. About 80%-85% of its transacted business is estimated to come from its physical retail outlets, yet foot traffic continues to decline. Accordingly, the company's November and December performance is likely to continue through 2017 and weigh on earnings ahead.
Valuation
With respect to valuation, if we assume that Macy's will achieve about $24.8 billion in revenue for the FY2017, incur depreciation expense at 4% of sales (and set equal to capex), an effective tax rate of 35%, no working capital growth, and a 1.8% long-run growth rate of the economy, a cost of debt of 3.9% based on comparably rated debt, and a cost of equity of 7.5%, we can sensitize share price outcomes to the factors of both the year-over-year revenue growth rate and EBITDA margin.
Given the headwinds involved in even managing to stabilize sales figures, I use a range running from (minus)-4.5% to 1.5% in 150-basis point increments. For its EBITDA margin, I use a range running from 6% to 14% in 200-bp increments. Macy's is currently trending toward the left end of the revenue growth range and toward the middle of the specified EBITDA margin parameters.

(Source: author)
In terms of upside/downside percentage at each corresponding point in the table:

(Source: author)
From this valuation exercise, it's clear that Macy's, after the recent correction, is well beaten down by the market and is understandably trading off low expectations ahead. At a standard discount rate, the market is pricing in some combination of revenue and margin contraction.
The chart suggests that even if Macy's can keep its top-line consistent at around $25 billion per year (as unlikely as it might be) and maintain EBITDA margins of around 10% per year (just slightly worse than how it's currently doing), the stock would have about 65% upside.
Capital Structure
To estimate the company's optimal debt design, I used the credit statistic of unlevered free cash flow to interest expense and assigned various range-bound values of this metric to estimate synthetic credit ratings (based on the traditional rating scale used by the big three ratings agencies). These credit ratings were then converted to interest rate costs based on the current spread between each rating and the 10-year US Treasury.
Once interest costs by credit rating are calculated, we can plot out a curve that will estimate the company's optimal capital structure by putting the weighted-average cost of capital ("WACC") on the vertical axis and debt-to-capital on the horizontal axis. The point on the curve at which the WACC is minimized represents the ideal debt-to-capital ratio. This can then be expressed in various other debt metrics, such as debt/EBITDA, EBIT/interest expense, and so forth.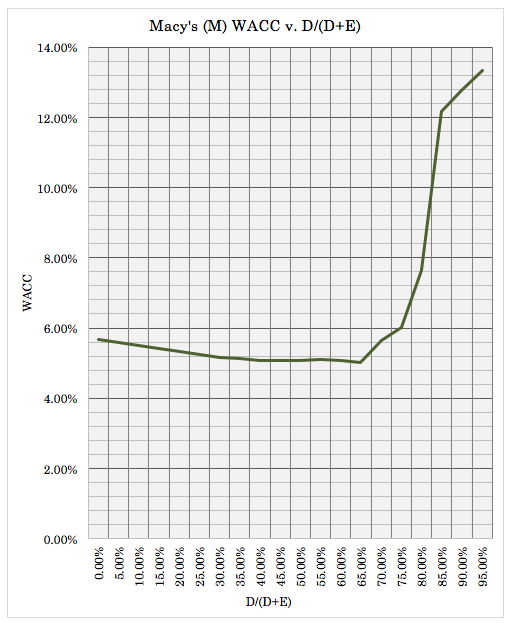 (Source: author)
How capital structure management might influence the stock price across the spectrum: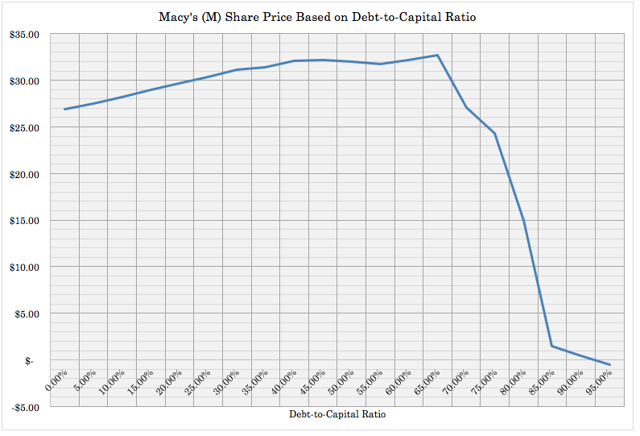 (Source: author)
As of the end of Q3, Macy's debt/EBITDA was around 3.0x, with the company's optimal ratio - based on projected FY2017 financials alone (about $1.5 billion in operating income) - estimated at 4.4x. This figure was extrapolated from the minimized point and a debt-to-capital ratio of approximately 65%. The current debt-to-capital ratio sits at about 45%. (As of the close of the last trading day before Black Friday, this ratio was approximately 35%.)
This model illustrates that leveraging beyond a debt/EBITDA ratio of 4.4x would be highly value destructive due to insufficient cash flow to pay off that level of debt. The degree of value creation from extra debt starts receding at around a 30% ratio, meaning an optimal debt/EBITDA ratio likely sits around 2.0x, and would provide the company with a solid A-range investment grade rating (currently rated BBB by S&P). However, getting down to 2.0x would entail $2.4-$2.5 billion in debt pay-down. Leveraging down to 2.3x would consume an entire year's worth of real estate liquidation, cost savings from restructuring efforts, and leveraged free cash flow.
With the company's operational and financial profile projected to decrease in the years ahead, voluntary pay-down of debt becomes increasingly necessarily.
Even so, any semblance of Macy's keeping its anticipated top-line contraction to a minimum while maintaining relatively steady pre-tax margins would provide a significant boost to the stock. The issue, naturally, is that the company's recent operational performance implies that gloomier days are still ahead of the company.
Disclosure: I am/we are long AMZN.
I wrote this article myself, and it expresses my own opinions. I am not receiving compensation for it (other than from Seeking Alpha). I have no business relationship with any company whose stock is mentioned in this article.