The SPDR S&P Bank ETF (NYSEARCA:KBE) has been red hot since the Nov. 7 presidential election, rising approximately 25% from $35.09 to a recent price of $43.36. Among the reasons given for the euphoric market rise are President-elect Trump's campaign promises to:
reduce banking regulations
stimulate the economy via tax reductions plus infrastructure spending, and
push for normalization of interest rates.
There are three reasons that I expect the bank earnings reports will result in a cooling off of KBE stock price: fundamental, political, and technical.
First, the economy has not improved to the extent that would justify a 25% increase in bank stock prices. Although the outgoing government would have us believe that the economy is hot, there are enough red flags to question that belief. The red flags include lagging inflation, questionable employment statistics, and declining retail spending. The market rise is not due to expected bank profits this reporting period, but anticipation of the promised Trump policies. The Trump promises will not play out for some time, if at all.
Second, the major banks want, I mean really want, the Dodd-Frank Wall Street rules squashed. With this in mind, it isn't in the banks' interest to provide optimistic forward guidance. When the earnings reports are released, they won't have their party faces on. Instead they will be wearing their "I've been done wrong" faces. If the government feels that they are doing well without change, then why change?
Example: I think that Goldman Sachs, at least, learned their lesson a few years ago when they gleefully announced that their HFT platform had generated a profit every day for an entire quarter. Not long after, the SEC started investigating HFTs.
The third reason is technical. After a breakout of this magnitude, there is usually a consolidation period, before movement upward resumes.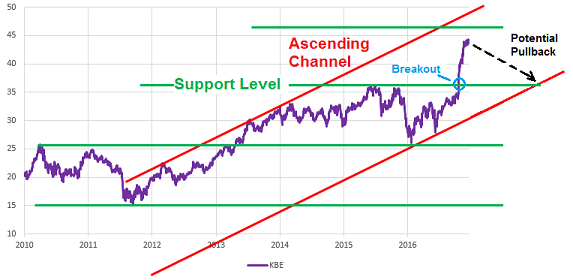 While it is conceivable that the ETF price could rise up to the $46 level or even $50 and still be contained within the ascending channel, I expect an eventual pullback to the $36 support level. The upcoming bank earnings releases represent a natural point in time for an anti-climax.
Summary: The near term price range for KBE is $36 - $46, the current price being $43.36. The price could potentially spike up to $50 before pulling back if the upcoming earnings season is unexpectedly bullish.
Disclosure: I/we have no positions in any stocks mentioned, and no plans to initiate any positions within the next 72 hours.
I wrote this article myself, and it expresses my own opinions. I am not receiving compensation for it (other than from Seeking Alpha). I have no business relationship with any company whose stock is mentioned in this article.