The recent uptick in crude oil prices on the back of the production cut by OPEC and non-OPEC countries should prove to be a tailwind for Seadrill (NYSE:SDRL) from this year onward. The reason why I say this is because a production cut will lead to a rebound in crude oil prices, which will encourage oil companies to start drilling.
Since Seadrill is an offshore drilling company, it will witness an increase in its backlog as more of its customers decide to start drilling in order to fill the supply gap emerging in the oil market. Additionally, the company's focus on lowering costs and the improvement in its backlog will drive a stronger earnings performance going forward. So, in this article, we will take a closer look at the reasons why Seadrill's financial performance could improve and the potential impact on its stock price.
Why Seadrill's end market will improve
According to Bloomberg, Saudi Arabia is now expected to cut more production than expected, which means OPEC countries will witness a larger production decline as compared to the stated production cut of 1.2 million barrels a day. More specifically, countries such as Russia, Mexico, Azerbaijan, Oman, and Kazakhstan have now disclosed their production cut numbers. These countries are now expected to limit their production by 100,000 barrels a day, 35,000 barrels a day, 40,000 barrels a day, and 20,000 barrels a day, respectively, in 2017.
In all, non-OPEC members are expected to cut their crude oil production by 600,000 barrels a day in 2017 to reduce the global oversupply of crude. On account of such production cuts, oil inventories should start declining in 2017, pushing crude oil prices higher. For instance, global crude oil inventory builds are forecasted to average 300,000 barrels per day in 2017 as compared to average inventory builds of 700,000 barrels per day in 2016.
The decline in crude oil inventory as a result of a reduction in production should improve prices in 2017. However, better oil prices could encourage oil companies to resume drilling, since they have been focused on reducing their costs. In fact, the rig count in the U.S. is already recovering.
According to a report by Baker Hughes, the rig count in North America improved 7% to 870 rigs in the week of January 6, 2017. This represents a rise of 55 rigs on a week-over-week basis. More specifically, the rig counts are now well above the year-ago level. The following table shows the improvement in the rig count: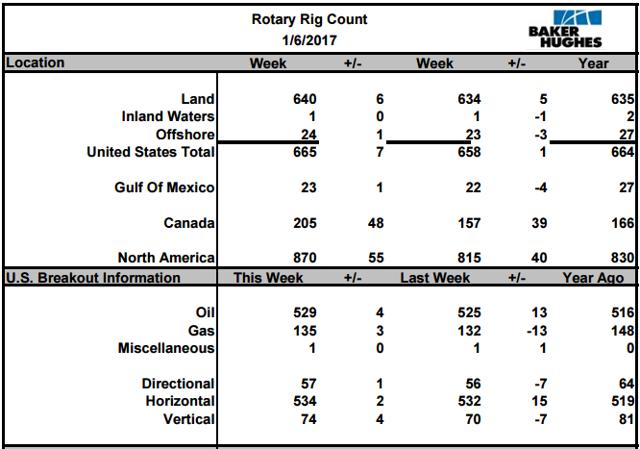 (Source: Baker Hughes)
This increase in the rig count is a welcome sign for Seadrill, because it means the company will witness a higher demand for its floater units and jack-up units. Moreover, the company has younger and modern fleet as compared to its peers, which should help it win more contracts going forward. The chart below illustrates the age of Seadrill's fleet as compared to its rivals in the industry.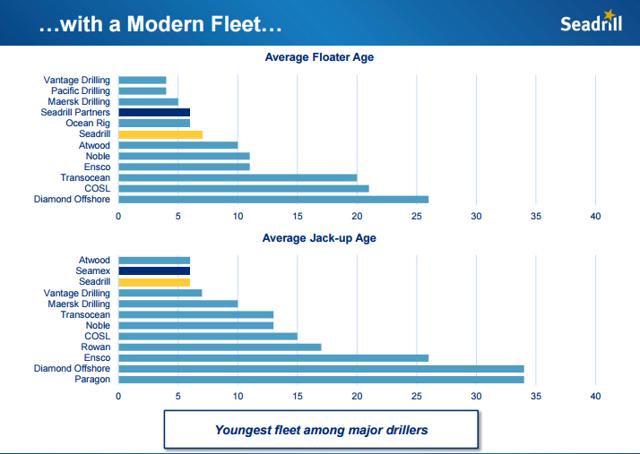 (Source: Seadrill)
Seadrill's younger fleet will create an advantage over its peers and should help it win more contracts going forward. This is because a younger fleet will enable the company to drill in a more efficient manner. Moreover, offshore demand is expected to accelerate going forward, as onshore production will not be sufficient to match the demand run-up, leading to more offshore rig contracts.
Why Seadrill's backlog will improve
For instance, oil demand is expected to increase by 4% to 84.2 million barrels by 2020 from 80.2 million barrels per day in 2015, but the supply to match this demand will require more than half of offshore production through 2020.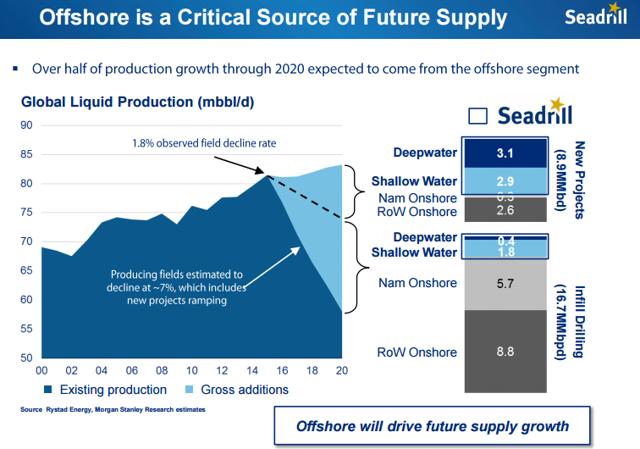 (Source: Seadrill Limited)
Additionally, according to The Street, the offshore drilling industry is recovering with an increase in oil price, and Seadrill remains an attractive investment due to the fact that it has a much younger and modern fleet in the industry. The Street also stated that, "We believe there are onshore wells economic below $40 [per barrel], and we also believe there are offshore places economic below $40."
Since there are offshore discoveries that are profitable below $40 per barrel, Seadrill has started witnessing an uptick in its contract base. For example, the company recently entered into a three-year contract extension agreement with Saudi Aramco (Private:ARMCO) for its AOD III jack-up rig at a day rate of $102,740. This agreement has added approximately $113.5 million to its backlog through 2019.
Another positive regarding Seadrill is that it has been able to improve its fleet utilization, despite weak commodity pricing, as a result of its younger fleet. For instance, it now expects the economic utilization rate for its fleet to come in at 99% for 2016, up 4 percentage points as compared to economic utilization of 96% in 2015 and higher by 8 percentage points as compared to 2014 levels. This is shown in the graph below.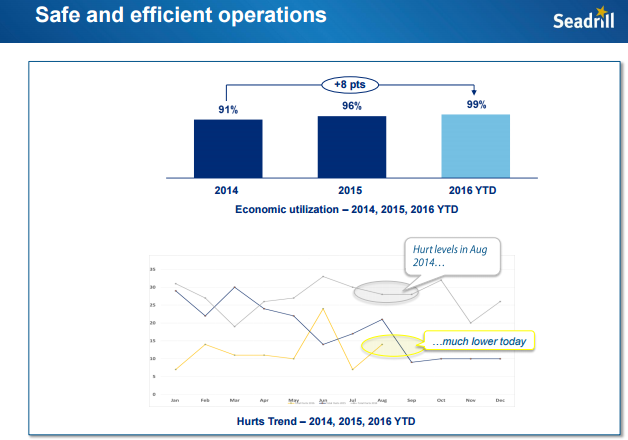 (Source: Seadrill)
Driven by such improvements in the end market and Seadrill's improving backlog, the company's financials should get better.
Impact on the stock price
According to estimates, in 2017, Seadrill will post a profit of $0.13 per share as compared to a projected loss of $0.20 per share in 2016. This will be a massive turnaround as compared to 2016, which is not surprising if we consider the expected improvements in the company's backlog and the turnaround in the industry.
Now, assuming that Seadrill is able to post earnings of $0.13 per share, it will post strong upside this year considering its forward price-to-earnings ratio of 37. At its forward P/E ratio and projected earnings of $0.13 per share for 2017, Seadrill should have a stock price of $4.80 per share by the end of the year. This represents around 40% upside from current levels.
Conclusion
All in all, an improving end market, coupled with Seadrill's young fleet and high economic utilization should allow the company to improve its bottom line performance this year. This will have a positive impact on SDRL stock price as discussed above, which is why investors should continue to hold the stock going forward.
Disclosure: I/we have no positions in any stocks mentioned, and no plans to initiate any positions within the next 72 hours.
I wrote this article myself, and it expresses my own opinions. I am not receiving compensation for it (other than from Seeking Alpha). I have no business relationship with any company whose stock is mentioned in this article.