There seems to be a disconnect between the valuation of Bonanza Creek Energy, Inc. (NYSE:BCEI) stock and the valuation of the company's debt. What happened to the "efficient market" theory? Under a recently filed pre-packaged reorganization plan (docket 20), shareholders are actually getting a modest recovery, unlike most bankruptcy plans where shareholders get wiped out. BCEI equity buyers are overvaluing their recovery using the current prices of the company debt as a benchmark. This is based on the expectation that the "pie" will be cut differently, because Fir Tree Inc. filed a Form 4 on January 9 indicating that it has bought even more shares, raising its ownership to about 17%.
The Reorganization Plan
Bonanza Creek announced on December 23 that it was going to do a pre-packaged bankruptcy to restructure its balance sheet and to enable a renegotiated NGL contract. The proposed plan and disclosure statement (docket 21) were filed on January 4. There is a lot of confusion in the disclosure statement.
The company is going to raise $200 million via a rights offering. The rights will be issued to debt holders, who will also get 95.5% of the new stock (pre dilutions). BCEI stockholders are getting 4.5% of the new stock (pre dilutions) and 3-year warrants to purchase, on a pro rata basis, 7.5% of the total outstanding shares of the new stock at a per share price of $1,450,000,000 based upon a total equity value of Reorganized Bonanza Creek. The "old" BCEI stock will be cancelled, and the amount of new stock received will be diluted by the rights offer and the management incentive plan. So, instead of getting 4.5% of new equity, existing shareholders are getting only 2.1% after dilution. That is a huge difference, and it has caused confusion amongst investors. There could be additional dilution if the warrants are exercised.
Management is getting 4% when the company exits Chapter 11 and could get an additional 6% under the management incentive plan. There is also going to be a renegotiated contract under more favorable terms with NLG Energy Partners.
This table is from the disclosure statement: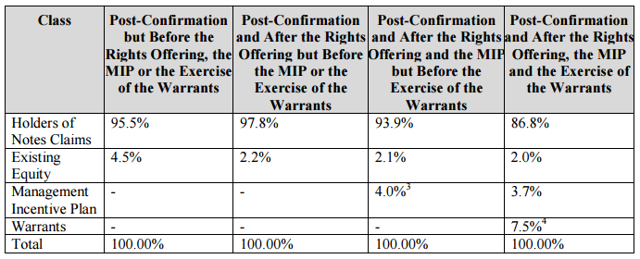 There is confusion regarding what shareholders are getting. According to page 7 of the disclosure statement, there is no distribution to existing shareholders. That is correct. They are not entitled to distribution, but they are getting a "settlement" (new equity and warrants). If "... any holder of an Existing Equity Interest that opts out of granting the voluntary releases contained in Section 11.8 of the Prepackaged Plan will not receive its pro rata share of the Settlement Consideration and shall not receive any consideration or any distribution whatsoever under the Prepackaged Plan." If you want to get the new stock and warrants, do not opt out. Do not check and return the below form that you may receive. Shareholders are not entitled to vote on the plan, and this form is not a ballot to approve the plan.

There is also additional confusion on pages 6 and 7 of the disclosure statement indicating distributions of new equity and rights for various general unsecured classes. Effectively, what it indicates is that the noteholders in total are getting 95.5% of the new stock and all the rights. There is also no statement that I could find regarding the exercise price of the rights and/or at what percent discount from a set plan value the exercise price is. If you look at the table, the percentage of new equity for existing shares drops from 4.5% to 2.2%, assuming the exercise of the rights, so the discount must be significant.
Timetable
This is a pre-packaged bankruptcy, with 51.1% of the noteholders already approving the plan. A hearing is set for January 13 regarding approving the below timetable to enable a speedy exit from Chapter 11. Both the approval of the disclosure statement and confirmation hearing would be set for February 8. Under the restructuring support agreement, the plan must be confirmed with 105 days from the bankruptcy filing date.
Financial Projections and Valuation
Perella Weinberg Partners' (PWP) projections were based on December 1 data and the expectation that Bonanza will re-start its drilling program in April using one rig. The weak projections for 2017 reflect the decline in production caused by the termination of drilling in the first quarter of 2016. (Individual investors may disagree with the projected oil and natural gas prices.)
PWP estimated that the enterprise value is $570-680 million, and assuming $65 million cash, the equity estimated value is $630-740 million. With the $800 million in the two note issues selling at about 90, bond investors are valuing the new company equity, after factoring the dilution from rights and the management incentive plan (not factoring potential dilution from the warrants), at $767 million [($800 million x .90)/0.939 = $767 million]. Of course, the bonds would sell at some discount to their expected recovery because of risk and the time value of money.
Using PWP's $680 enterprise value and 2018 estimated EBITDAX of $183 million, the multiple is only 3.7x. That multiple and, therefore, enterprise value seems extremely low. Using multiples of 5x and 7x, the enterprise value is a more realistic $915-1281 million.
Adjusting for the rights and management incentive plan, existing shareholders are getting 2.1% of new equity, which is valued at $16 million (0.021 x $767 million). PWP valuation for equity "includes approximately $3 million of value to existing equity holders in the form of warrants". Totaling the implied value of new equity and the $3 million warrant value, the total is recovery for existing shareholders is $19 million, or about $0.38 per current share. That compares with the latest closing BCEI price of $2.08. There seems to be a disconnect in the bond market and the equity market.
It is interesting to note that using a 7x multiple and 2020's EBITDAX, the year the warrants expire, the enterprise value would be $1.428 billion, which is just below the warrant's exercise price of $1.45 billion. There is a very real possibility that the warrants will be in the money before they expire.
One would expect that if investors were forecasting higher equity valuations than estimated in the disclosure statement, both equity and notes would trade higher. Are investors confused about the dilution issue, or are they just riding Fir Tree's coattails? Are they expecting adjustments to the plan, which would give BCEI shareholders more equity and less equity to noteholders? Are investors not bidding up the note prices because they understand that under bankruptcy laws, a reorganization plan cannot distribute recovery for a creditor more than their claim (par plus unpaid interest)?
Fir Tree Buys More Stock
Fir Tree Inc. has increased its BCEI holding to 8,596,485 shares with purchases of 3,559,222 shares at $1.34 on January 4 and 59,700 shares on January 5. Since it is above the critical 10% level, it is subject to the "short swing" Section 16 profit rule. Under that rule, any profits from a market sale of its holding within six months could be claimed by the company. Its participation in the settlement or any other transaction as a result of an event under a reorganization plan would not be subject to a claim by the company. This is, therefore, most likely not a quick buy/sell trade.
Did Fir Tree buy more shares hoping to torpedo the prepackaged plan to get more equity recovery for existing shareholders and opting out of the releases, or does it think the market was not correctly pricing the warrants and new equity being received under the settlement? I do not know.
Conclusion
I sold my holdings of BCEI, which I bought last summer during the 30-day grace period, on January 9, as per my post in the comment area of a prior BCEI article. I am confused about Fir Tree's objectives in buying more stock, and I worry that it may try to torpedo the plan to get more recovery. Because of the short-swing profit rule, it cannot be doing just a quick buy/sell trade. While I feel PWP valuations and projections may be too conservative, the current BCEI price of $2.08 does not offer enough upside to justify purchasing.
If an investor expects the current plan to be confirmed and that energy prices will hold steady or increase, the notes could be an interesting purchase - if and only if they are planning on participating in the rights offer. If they are not planning to participate in the rights offer, they should sell, because the value of the rights is a major part of the distribution.
Disclosure: I/we have no positions in any stocks mentioned, and no plans to initiate any positions within the next 72 hours.
I wrote this article myself, and it expresses my own opinions. I am not receiving compensation for it (other than from Seeking Alpha). I have no business relationship with any company whose stock is mentioned in this article.