ConocoPhillips' (NYSE:COP) number one tight oil play is its Eagle Ford position. Out of the 216,000 net acres ConocoPhillips has in the region, 213,000 net acres are centered around the core of the Eagle Ford. That includes DeWitt, Gonzales, the northern part of Live Oak, and Karnes counties, making this very economical core Tier 1 acreage in the current pricing environment.
As plenty of the Eagle Ford's production tends to be very light oil or condensate, ConocoPhillips operates three condensate processing facilities to support its operations. Two facilities, the Helena and Bordovsky complexes near Kenedy, TX, are owned outright by the firm and have a combined 105,000 BOE/d of processing capacity. Over in Pawnee, TX, the Sugarloaf Plant has 30,000 BOE/d in processing capacity which ConocoPhillips has a 87.5% interest in.
What those processing facilities do is separate the NGLs (natural gas liquids) from the crude oil. That leaves NGLs and condensate, with the former put into storage tanks until it can be sold and the latter is sent off to refineries now that it meets market requirements. Due to the Eagle Ford's proximity to the Gulf Coast, price realizations tend to be very close to West Texas Intermediate (America's crude pricing benchmark) and Henry Hub (natural gas pricing benchmark) while other unconventional plays tend to realize slightly lower prices.
Growth returns
On average, Conoco pumped 174,000 BOE/d net out of its Eagle Ford division in 2015. As the super-independent let its foot off of the gas pedal production out of its Eagle Ford asset fell down to 163,000 BOE/d net by Q3 2016.
This was due to the company running just two rigs in the play as it scaled back its capital expenditures. With both trains of the APLNG venture completed, Conoco plans to direct capex that was allocated to major developments in 2016 towards its unconventional operations this year. That will see its Eagle Ford rig count move up to five this year, possibly higher depending on where oil prices go. By the end of 2016, Conoco stated it planned to have four rigs operating in the Eagle Ford region with another guided to hit the area this year.
With 3,500 net locations left to be drilled that have a cost of supply below a realized crude of $40/barrel and a "huge segment that's got down in below $25 (realized oil price) fully burdened cost supply, single well cost supply in the mid-teens", ConocoPhillips growth runway is very long even for a firm of its size. That's equal to a recoverable resource base of 2.4 billion barrels of oil equivalent, with a heavy crude weighting.
ConocoPhillips defines cost of supply (that generates an after-tax ROR of 10%) as including all capital, lifting costs, transportation, infrastructure and G&A expenditures, the impacts of price inflation (from oilfield services firms and labor costs) if Brent hit $65/barrel, any taxes associated with the project, and the product mix along with the associated differentials. In other words, a fair assessment of what the fully burdened break even price is, other than related interest expenses on the debt Conoco had to take on during the downturn.
Buying up additional acreage that is on par with Conoco's existing position would be a very expensive endeavor. To add drilling locations to its inventory, the best source of upside will come from the Austin Chalk as downspacing efforts (moving well laterals closer together) have been pushed to the limit already.
Austin Chalk
ConocoPhillips hasn't provided too much information on the results of its appraisal program of the Austin Chalk formation (other than saying "initial results" are "encouraging"), but there is enough information out there to get an idea of what to keep in mind. Located just above the Eagle Ford horizon, the Austin Chalk is considered one of the best chances the upstream industry has of being able to organically add high quality well locations to their drilling inventories in the Eagle Ford.
Where the Eagle Ford formation is thinner and more viscous, Conoco's drilling teams target only the Lower Eagle Ford horizon. The Lower Eagle is the crown jewel of the play and the interval that yields the strongest wells for the most part. Drilling a well in the Upper Eagle Ford interval would interfere with the production of other wells and/or wouldn't yield a material amount of hydrocarbons. Either way, those wells wouldn't be worth drilling.
As the Eagle Ford formation gets thicker and less viscous it starts making sense to drill a couple wells targeting the Upper Eagle Ford interval. Through its SRV, stimulated rock volume program, Conoco has been getting a much better idea of what intervals of the play are producing and how that picture changes with time (as wells pump more oil & gas from the ground). This isn't new, Conoco has been using this technique for around five years now, but it does yield very important information when it comes to boosting well EUR, estimated ultimate recovery rates, and tapping into multiple horizons.
By taking a core sample (a portion of the rock deep down below the surface) of the geology Conoco seeks to develop before and after completing a well through the hydraulic fracturing process, the firm gets a better idea of how the rock is actually fracturing. As Conoco analyzed the biomarkers in each producing formation what the firm found was that wells targeting the Lower Eagle Ford were also producing resources from the Upper Eagle Ford before those fractures closed over time.
With that information, Conoco can figure out where to target the more productive parts of the Upper Eagle Ford. Below is a picture of what that looks like.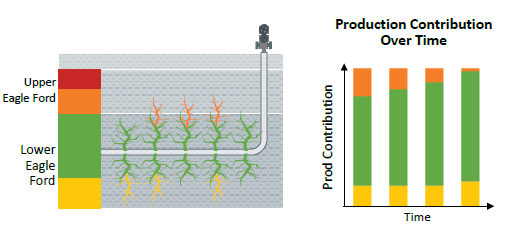 Source: ConocoPhillips Presentation
Using this same technique Conoco can figure out where to target the Austin Chalk formation as well. This will be done in the thickest and least viscous parts of the play in the region where Conoco operates, which happens to be centered around its sizeable position in Karnes and Southern DeWitt County.
Below is a look at the small piece of information Conoco has released, but keep in mind this shouldn't be viewed as the Austin Chalk outperforming the Eagle Ford intervals. A lot more information is needed, such as total well costs, the size of completions, the assumptions surrounding the production curves of each interval (are these new or older wells, the most productive or the average, etc), and so on.

Source: ConocoPhillips Presentation
Final thoughts
With earnings season on the horizon, interested investors and shareholders alike should keep ConocoPhillips' ramp up in the Eagle Ford in mind. The Austin Chalk formation remains a very interesting play and one that other Eagle Ford operators have been starting to develop more aggressively. Any concrete and reasonably presented updates on the Austin Chalk should be well received by the market.
This is another piece of the puzzle that helps support my bullish sentiment towards ConocoPhillips and is part of the reason why I'm a shareholder. Investors interested in reading more about why you should consider taking a stake in the firm should check out Buy ConocoPhillips With Major Catalysts On The Horizon. Thanks for reading!
Disclosure: I am/we are long COP.
I wrote this article myself, and it expresses my own opinions. I am not receiving compensation for it (other than from Seeking Alpha). I have no business relationship with any company whose stock is mentioned in this article.