The VanEck Vectors Gold Miners ETF (NYSEARCA:GDX) posted a gain of 7% last week, after an explosive 8% gain the prior week. Despite this impressive back to back weekly performance, many bears still seem to be doubting this rally. The comments section of gold articles were full of bears this weekend, proclaiming victory after the Friday sell-off. One day does not change a trend, and unless the bears are all day traders, they may be biting off more than they can chew. While the index did close below $22.50 last week, this inflicted zero damage to the downtrend break that occurred earlier in the week. I believe this to be the most important recent development for the index, and feel it is more important than the $22.50 level everyone has their eyes on. The bears may think they're winning the daily battles, but they're losing the war on the longer term time frames.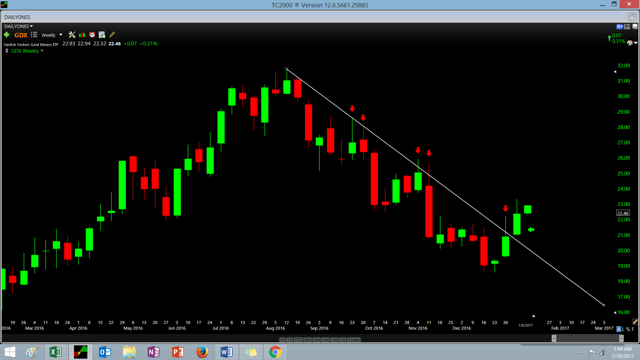 (Source: TC2000.com)
As we can see from the above chart, using a weekly chart of the GDX has been very useful for positioning one's self in the index. A clear downtrend was in place by mid-September, and there's been no reason to get long until this downtrend was broken. While the GDX did briefly spike above this downtrend line during the week, it was never able to close above this downtrend line. This is one of the benefits of weekly charts, as they are much less prone to fake-outs. Fortunately for the gold bulls, this all came to an abrupt change during the first week of 2017. The Gold Miners Index closed with conviction above its weekly downtrend, finishing the week at $22.39.
In addition to closing above the weekly downtrend line, the GDX also made two more positive developments that the bears are overlooking.
The GDX closed above its 50-day moving average.
The GDX managed to hold and close above its 20-month moving average to finish the year.
As we can see from the below chart, a close above the 50-day moving average for the GDX is quite significant. The Gold Miners Index was stuck beneath its 50-day moving average for over 4 months, and closed above it for the first time last Wednesday. The bears were likely expecting a reversal the next day, but the exact opposite happened. The index followed through with a 5.8% gain the next day, and gave itself some wiggle room above this moving average. The slope of the 50-day moving average is beginning to flatten, which is exactly what the bulls want to see. If the bulls can keep the GDX above its 50-day moving average for another 10 trading days, it should be able to assume a flat slope.
(Source: TC2000.com)
The 20-month moving average is one of my favorite indicators to help me position in markets. A market above its 20-month moving average is in bull mode, and a market below its 20-month moving average should be avoided. I do not worry about intra-month moves when using this indicator, and the close is all I pay attention to. A close below the 20-month moving average in December of 2011 was a very ominous sign for the Gold Miners Index, and I liquidated all of my gold stocks at the beginning of 2012. I patiently waited 4 years to see a close back above this level, and finally got it at the end of February last year. This gave me an all-clear to begin looking at the index from the long side, and I wasted no time bringing B2Gold (NYSEMKT:BTG) and McEwen Mining (NYSE:MUX) to my readers attention.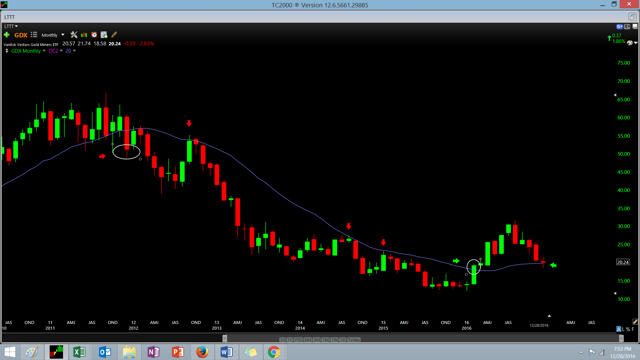 (Source: TC2000.com)
In my late December article, "GDX: Bears Get Fat, Perma-Bears Get Slaughtered", I shared the above chart of the GDX relative to its 20-month moving average. The following excerpt came with the chart:
"As we can see in the below chart, any rallies to the 20-month moving average acted as a ceiling for the stock between 2012 and 2016. This is because the 20-month moving average had a negative slope, and was resistance for the index. Now that the GDX has broken above the 20-month moving average and potentially begun a new bull market, the 20-month moving average should act as support on this test."
After flirting with its 20-month moving average for all of December, the GDX managed to close above this level. This was an important level to hold for the bulls, as it kept the bull case alive for the Gold Miners Index. While the December close was very important, I wanted to see follow through from this signal, and thus far we have gotten it. The GDX is up 7% thus far this month and is showing no mercy for bears who front-ran a close below the 20-month moving average.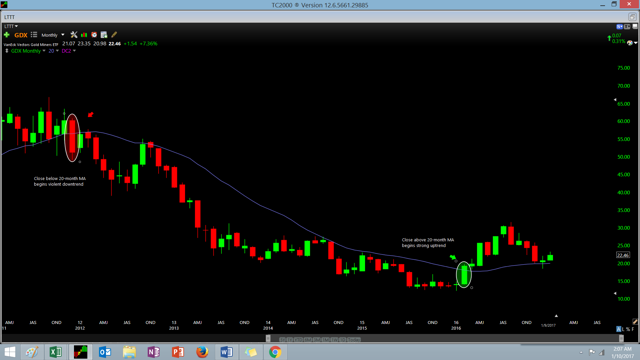 (Source: TC2000.com)
Bullish Sentiment
I have built charts of Daily Sentiment Index data for my readers, so they can visualize what current sentiment looks like on different asset classes. In addition to plotting Daily Sentiment Index data onto charts, I have used my own custom moving averages to help time tops and bottoms in markets. I am a trend follower by nature using moving averages and new highs/lows to dictate my positioning in markets. The Sentiment Trend System I've built uses the same methodology, but instead substitutes designed to sentiment for price. This allows me to trend follow sentiment, and attempt to get the odds slightly more in my favor for positioning myself in markets. For me to enter full long positions in markets, I want to see sentiment trend higher above all its moving averages, while price also trends above its key moving averages. Due to the fact that gold is currently in a downtrend for price but uptrend for sentiment, I only have a half long position the metal.
(Source: Daily Sentiment Index, Author's Chart)
As we can see from the above chart, gold has spent the past 3 months at extremely pessimistic levels. The 21-day moving average for bullish sentiment dropped to the lowest level in history in December, while all of the moving averages converged at level of 10% bulls. Fortunately for the bulls, bullish sentiment has ticked higher and closed above all of its moving averages. This is one of the most powerful buy signals based on my system, especially when this occurs after a reading of sub 10% bulls.
The moving averages continue to trend higher on gold, and bullish sentiment currently sits at only 27% bulls. This is exactly what I want to see at this juncture, as this tells me that most do not believe in the recent rally. Despite gold being 6% off its lows at $1,120/oz, there are still 3 bears for every 1 bull in the market. What's even more positive is the erosion of bulls on down days for the metal, but slight up-tick in bulls on up days.
On Friday, bullish sentiment dropped from 30% to 23% (a 7% drop in bulls) based on a 0.67% drop in the gold price. Today, bullish sentiment creeped up to 27% (a 4% gain in bulls) after a 0.98% move higher in gold. This tells us that the bulls are hesitant to come back into the market, but are quick to flee on any pullbacks. This tells me that the nerves of the gold bulls have been tested beyond what they're used to lately, and they are very skittish to return with full conviction. The current sentiment chart for gold is in extremely bullish alignment, and should be supported on any dips. The 21-day moving average for sentiment sits at 15% bulls, and any dips to this level will likely be bought aggressively.
Technical Outlook & Summary
Moving to a daily chart of the GDX, we can see the descending channel the Gold Miners Index has been locked in since Q3. The GDX has recently broken out of this descending channel which is a huge development for the index. The longer the GDX is able to hold above this level, the more trouble the bears are in. Typically, when an index breaks out of a descending channel that was acting as resistance, the descending channel top then becomes support. This held true on Friday as the descending channel top comes in at $22.02, and the GDX touched $22.02 intra-day and rallied off this level. Going forward, I would like to see the bulls defend this level and stay outside of the descending channel.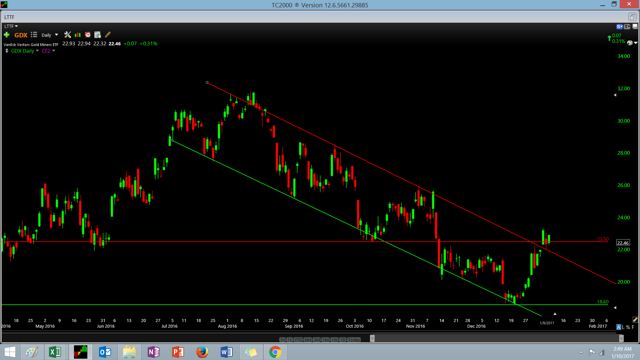 (Source: TC2000.com)
The bears seem fixated on the $22.50 level, and I agree it's a very important technical level. Having said that, the longer term time frames have already moved to bullish. The 20-month moving average has held on a closing basis, and the weekly downtrend is broken. This is not a scenario that bears want to be short from, and the $22.50 level is their last line of defense now. If the GDX continues to hold and close above $22.50, the next level of resistance does not come in until $24.82. This is where the 200-day moving average sits, and it's possible that this will slow up the index.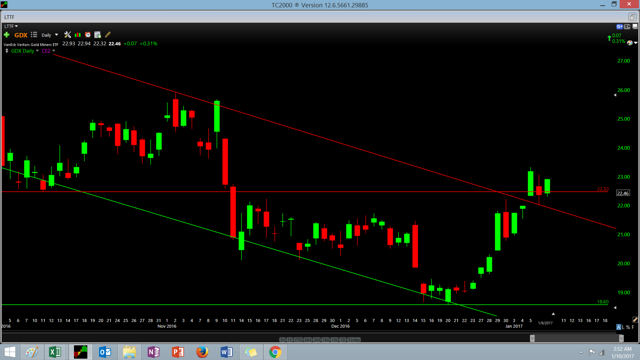 (Source: TC2000.com)
Gold is currently sitting just 1% shy of the $1,200/oz level, and this should provide a serious test for the metal. If the metal is able to break out above this level, the bears will be scrambling to cover their shorts. Several bears still believe that this is the perfect bear case for gold miners and are still fixated on their sub $1,000/oz price targets for gold. It does not pay to be stubborn when the story changes, but some writers seem convinced that this is merely a dead-cat bounce. While I am still cautiously bullish gold, I am quite bullish on the miners. The miners have made significant progress technically the past couple weeks, and the bears would be better served to zoom out on their charts.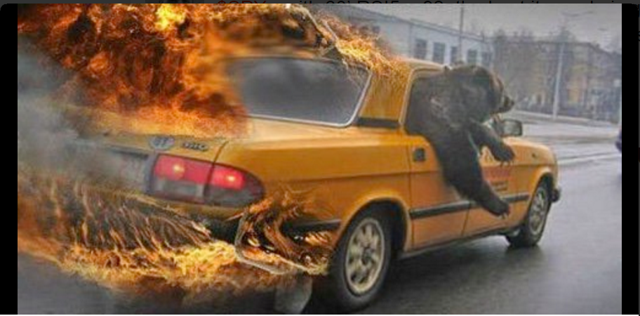 Bullish sentiment on gold has come to its most oversold reading in 35 years, and the gold miners have just ended one of their steepest drops since 2008. Unless the world is 'ending' like everyone thought in 2008, the bears are overstaying their welcome remaining short here. I remain 42% net long the gold miners, and at my heaviest allocation to the sector since February of last year. While gold is still in a downtrend, the GDX has broken out and is gaining momentum daily. The bears are overstaying their welcome and will continue to pay the price for adding to shorts at the lows. If they are not able to push the index back below $21.00 very soon, they'll sorely regret not moving into hibernation in late December.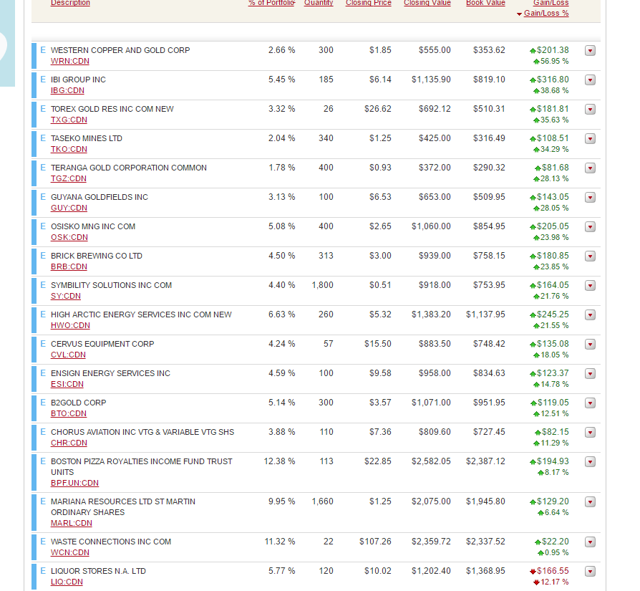 (Source: CIBC Investors Edge Account)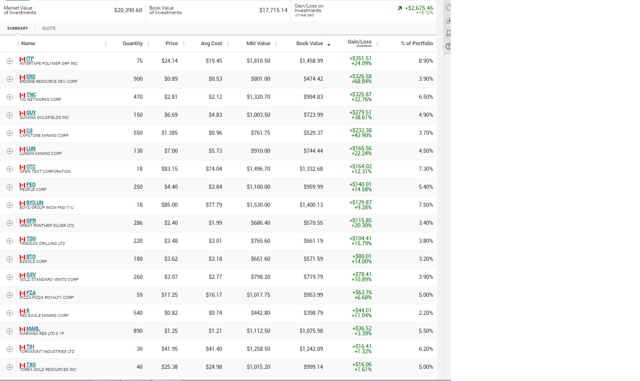 (Source: TD WebBroker Account)
For full transparency, I have shown my main investment accounts above where I remain heavily long miners. Despite the strong move off the lows the past 10 trading days, I have not taken profits as I am looking for higher prices.
My top 5 mining positions in no particular order are:
Disclosure: I am/we are long GLD, MRLDF, TORXF, GUYFF, BTG, OBNNF.
I wrote this article myself, and it expresses my own opinions. I am not receiving compensation for it (other than from Seeking Alpha). I have no business relationship with any company whose stock is mentioned in this article.
Additional disclosure: If you liked this article and found it useful, please feel free to follow me by clicking on my name next to my avatar at the top of this article. I also invite you to follow me at www.twitter.com/TaylorDart01 where I routinely share my entries, exits, and stops on new positions, as well as updating followers on sentiment data on markets I am following.