The copper (NYSEARCA:JJC) rally at the end of October / beginning of November was violent; 30% in 13 sessions on the back of the election and an epic short squeeze. Unfortunately this kind of move isn't usually sustainable and a pullback / consolidation after such a move is normal.
This was also the case for Freeport-McMoRan (NYSE:FCX). I warned on November 28th not to chase the rally. Not because I was particularly bearish on FCX or copper, but because the cycle of buying looked to be completing and I thought there would be a correction and better places to buy in the '$13.5-$14 area'. This was later fine tuned in the comments section to $13.6 and here is what has happened since: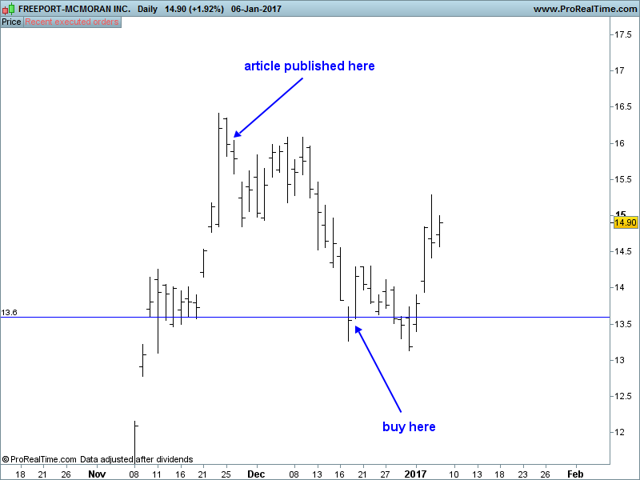 I'm not pointing this out to boast (actually I think my longer term view may have been off the mark), but want to build some trust with my readers. I use technical analysis to time entries and exits and there appears to be a lot of doubt about this approach. Certainly I do not always call things right, but I do think my analysis provides an edge as the above hopefully illustrates.
The focus now is where to target and how to manage long positions. Information is always changing and what seemed likely in November may not be as probable in today's market. With this in mind, I'd like to show you how I am managing my position and what to expect going forward.
Copper's Lead
Most readers already know how sensitive FCX is to the price of copper. FCX has a higher beta, but if positions sizes are adjusted, the correlation is as high as 0.99 over 80 days: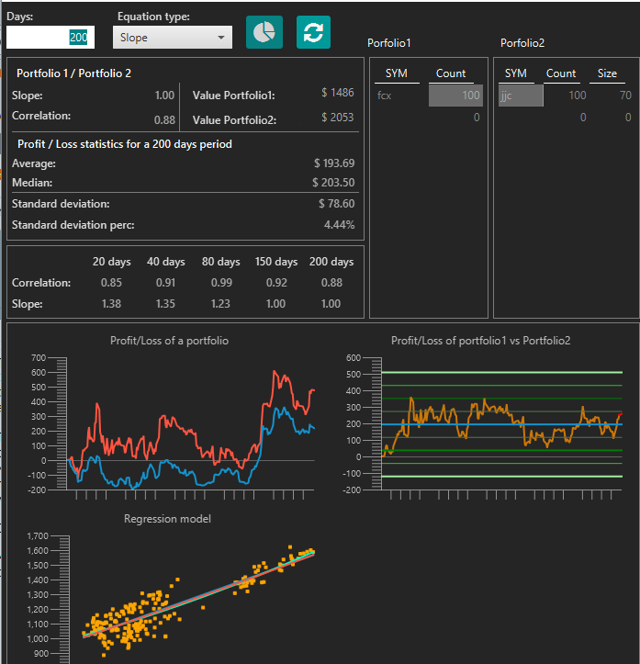 software developed by Arbitrage Trader
My longer term fundamental view on copper can be found here. In brief I think there will be a shift into production deficit in years to come. This view is encouraged by December's ICSG press release on refined copper, which stated (highlights are mine),
According to preliminary ICSG data, the refined copper market for September 2016 (excluding the adjustment for changes in China's bonded stocks) showed an apparent production deficit of around 15,000 metric tonnes ((t)). When making seasonal adjustments for world refined production and usage, September showed a production surplus of about 25,000 t. The refined copper balance for the first nine months of 2016, including revisions to data previously presented, indicates a production deficit of around 84,000 t (and a seasonally adjusted deficit of about 29,000 t). This compares with a production deficit of around 28,000 t (a seasonally adjusted surplus of about 34,000 t) for the same period of 2015.
I take their figures with a pinch of salt, but there does look to be improving data yet again.
A History Lesson (Or A Lesson From History)
I am modeling copper's recovery on an analogy with the period of 1999-2000. Many markets have similarities with this period; equities, the Dollar, oil, gold and also copper all seem to be correlated in similar ways.
At the 1999 lows, copper had fallen 50% in a four year bear market. The recent bear market took just under 5 years and fell 58%.
The initial recovery from the 1999 lows took 18 months and rallied 54% before re-testing the lows. The recent rally was 38% but so far the duration is only 12 months. This suggests we may have a few months consolidation before a final spike up, but the latter half of 2017 may involve a deep correction.
FCX also has a very similar price structure to 1999-2000:
Sure, you could find me 100 differences between the two periods, but all these factors are filtered through and reflected in price. I find the similarity in the price patterns hard to ignore, and it's a bit scary.
And I'm not just plucking any old period from the charts which look vaguely similar. As I said earlier, many markets and asset classes are correlating and interacting in the same way as 1999-2000. I wrote an article about it here. In the case of FCX, I didn't have to search for the repeating pattern, I already knew where it would be.
Nonetheless, I am not saying FCX is about to crash to new lows. I am just much more cautious about staying long and have already closed half my long position from $13.6 at $15.15 for a quick 11%. The rest I am trailing a stop on (now at $13). If I get stopped I will leave FCX well alone as I don't like the probabilities below $13.
If $13 were to break, the inverse head and shoulders pattern would fail and a lot of longs will be trapped: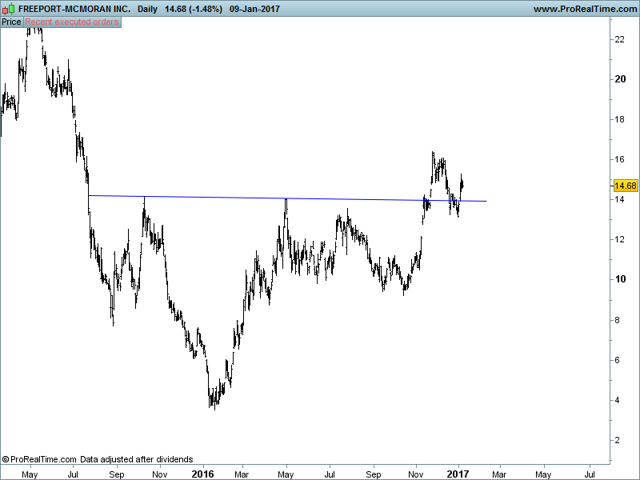 I don't plan on being one of them. There was a lot of hype after Trump's win, and people were buying FCX after a 350% rally from the 2016 lows. The pattern above is a very bullish, and very pretty, but I think it's also very dangerous.
It's worth also keeping an eye on China, the leading global consumer of copper accounting for about 45% of world demand. Their currency is weakening, and as The Heisenberg has been reminding us, there is 'the looming threat of a bond market meltdown'.
Any type of 'meltdown' in China is bound to have consequences for copper and for FCX.
Long Term
In the longer term copper looks to be slowly turning. I actually think it may consolidate and make one more high above $2.8 before retracing back to the low $2s where it should bottom for many, many years.
If copper and FCX were to return anywhere near to the 2016 lows they would be excellent long term buys. FCX bottomed in the year 2000 around the same time as the S&P500 (NYSEARCA:SPY) topped. It is a great buy when other stocks and sectors look frothy and it's hard to find value plays.
I will update if I this scenario plays out.
Conclusions
I was cautious at the November highs and advised to wait to $13.6 to buy FCX based on short term technicals. That trade has been filled and is working, but I'm still cautious. In fact I'm leaning bearish and have moved up my stop.
There are three major red flags:
1) Problems in China.
2) An analogy with 1999-2000.
3) A break of $13 will trap bulls playing a technical pattern, and buyers of the Trump hype.
I cannot say what will happen, but I can say the probabilities for longs don't seem too great.
Longer term I still really like FCX and copper, but if I get stopped on my position I will only get interested again toward the end of 2017 and at much lower prices.
Disclosure: I am/we are long FCX.
I wrote this article myself, and it expresses my own opinions. I am not receiving compensation for it (other than from Seeking Alpha). I have no business relationship with any company whose stock is mentioned in this article.