In the timeless comedy, My Cousin Vinny, the last scene takes us to the courtroom in fictitious Beechum County, Alabama, where Vincent LaGuardia Gambini has just won his first case. He is in a hurry to get out of town, terribly worried that the judge may have gotten word from a court clerk in New York City that he had misrepresented himself as to his credentials.

As he hurries out of the court building, Vinny is interrupted by his grateful defendants and the District Attorney, who shakes his hand.
D.A.: "Vinny, you did a terrific job."
Vinny: "Thanks."
D.A.: "You got an open invitation any time you come here. We can get us a deer next time."
Vinny: "OK. Thanks a lot. I feel like if I don't get outta here now, I might never be able to leave."
Terrified, Vinny sees Judge Chamberlain Haller approaching…
The judge: "Mr Gambini. I have a fax here from the clerk of New York…."
At this point, Vinny is convinced he is about to go to jail (yet again). He lowers his head and lifts his hands so that he can be handcuffed. Then, the towering judge grabs his right hand and begins to shake it.
The judge: "I owe you an apology, Sir. I'm honored to shake your hand. Win some, lose some. Your courtroom manner may be rather unconventional, but I gotta tell you,...you're one helluva trial lawyer."
Vinny (looking surprised at his fiancé, Ms. Mona Lisa Vito, played by Marisa Tomei) responds:
"Thank you. And you're one helluva judge."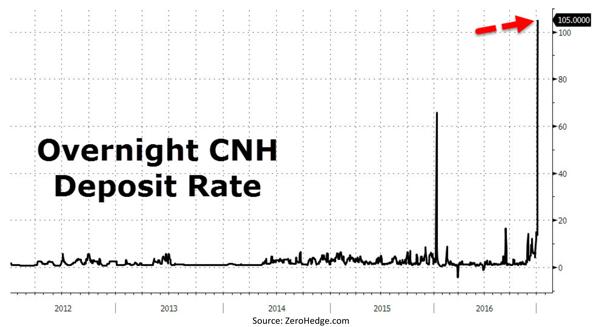 Graphs are for illustrative and discussion purposes only. Please read important disclosures at the end of this commentary.
The bears on the Chinese yuan - myself included - must feel like Vinny, in that we are just about to get handcuffed and taken away by the People's Bank of China (PBOC), which for all intents and purposes acts as the judge in the courtroom of yuan currency trading. The massive borrowing cost spike in offshore yuan funding markets in Hong Kong suggests the PBOC is doing virtually the same type of bear-hunting operation they performed just about a year ago in January 2016. The only difference is that the yield spike in overnight offshore yuan funding markets - referred to as HIBOR rates - was a little smaller a year ago.
The goal with this HIBOR spike, of course, is that it forces bearish positions that are carried on a large amount of leverage to be covered, which in turn causes a sharp appreciation for the yuan exchange rate (a spike lower in the blue line, below). Since the USDCNY (onshore yuan) and USDCNH (offshore yuan) rates are inverted (yuan per dollar), a spike lower in the chart actually means sharp appreciation.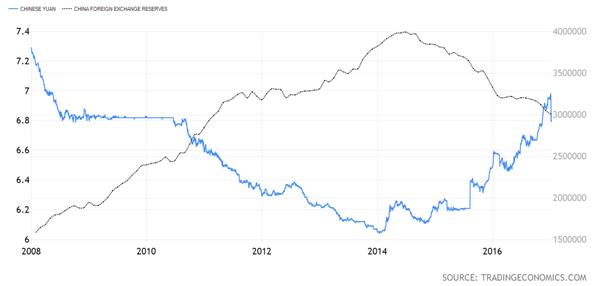 Graphs are for illustrative and discussion purposes only. Please read important disclosures at the end of this commentary.
I think the bears could ultimately be victorious and get a further yuan depreciation in 2017, just like they got further weakness in the yuan after the previous PBOC bear hunt in the HIBOR market in January 2016, which shows a similar yield spike (see first chart). The question begs to be asked: Why is the PBOC engaging in this bear hunt right now? The reason could be the upcoming Trump inauguration on January 20th or simply a need to rein in short-selling of the yuan. I do not believe that an engineered short squeeze in the USDCNH exchange rate will stop the yuan devaluation, but it sure looked sharp last week.
The other big news that came over the weekend came out of the Chinese foreign exchange reserve data, which showed outflows of $41 billion in December, far less than the consensus estimate of $51 billion. For the year as a whole, China's reserves fell nearly $320 billion to $3.011 trillion, on top of a record drop of $513 billion in 2015. The $3 trillion mark looks destined to be taken out next month. But as I have mentioned before in this column, the forex reserve level looks rather suspicious if you net out the foreign borrowings of mainland entities. In that calculation, the level of forex reserves drops to $1.7 trillion.
Also, we don't know what the composition of their forex reserves is and how liquid the forex reserve assets are. The Chinese may have less money on hand to defend the yuan, which may be one explanation as to why they are engineering short squeezes in the HIBOR market. The yuan depreciated by 6.6% against the dollar in 2016, its biggest one-year loss since 1994, which is ironic, since December 1993 marked the previous huge overnight devaluation of the yuan to the tune of 34%. Many China watchers believe this large overnight devaluation was the original trigger of the Asian Currency Crisis of 1997-1998, which originally started as a domino effect in Asian currencies, but quickly spilled over into local economies.
I think the chances for an overnight devaluation are growing by the day, regardless of the PBOC bear hunt in the HIBOR market last week. I do not believe that an orderly slowdown is possible in the Chinese economy. I am very surprised that 2016 was as orderly as it was when it comes to the deteriorating news flow from China - the term "orderly economic slowdown" is an absolute oxymoron when it comes to deflating credit bubbles. Sooner or later, such deflating credit bubbles end up being disorderly and I am watching with great interest if 2017 will be the year when China's economic unravelling accelerates.
Mind Dr. Copper
The surprising Republican victory created a "Trumpnado" in more than one market, from bonds to stocks to currencies to commodities. But one market where the Trumpnado is just a short squeeze is in copper.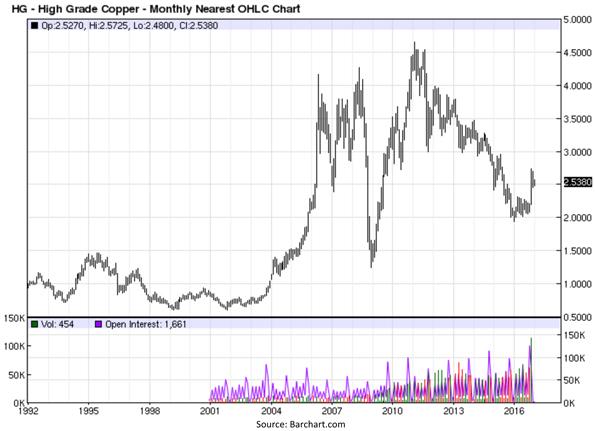 Graphs are for illustrative and discussion purposes only. Please read important disclosures at the end of this commentary.
The reason is that the Trumpnado was supposed to be driven by expected Trump policies that would affect the demand for commodities, driving up demand for capital and maybe creating higher inflation. I have not heard a thing along these lines coming out of the upcoming Trump administration, or the President-elect's infamous Twitter account, that is anything but bearish for copper, which is why I think the short squeeze in copper may fizzle out and we will make new lows in the commodity market.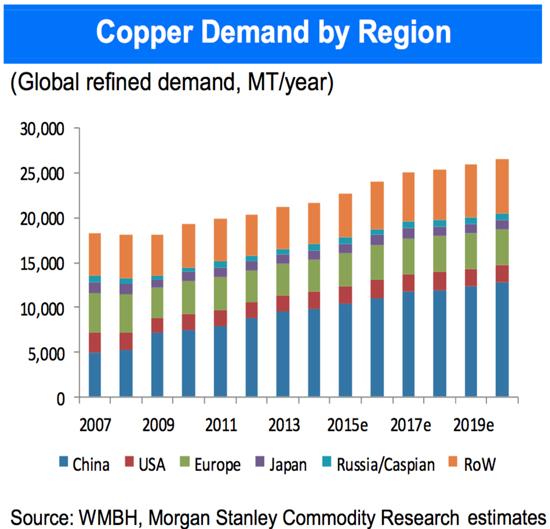 The reason is, you guessed it, China. As the #1 consumer of copper, China is mired in a deflating credit bubble exacerbated by a verbal war with the President-elect over a possible trade war. If there is no trade war with China, which I hope will be the case, I think the price of copper will decline based just on the deflating credit bubble in the Chinese economy. If there is a trade war, the price of copper will decline faster.
Disclosure: *Navellier may hold securities in one or more investment strategies offered to its clients.
Disclaimer: Please click here for important disclosures located in the "About" section of the Navellier & Associates profile that accompany this article.