Some had hoped that the mRNA specialist Moderna Therapeutics (MODNA) would use its JPMorgan slot to announce plans to go public. In the event, the secretive group did the next best thing by giving more information about its pipeline, including five projects already in the clinic. Until now it has only disclosed two clinical-stage assets and given few details about them.
Chief Executive Stéphane Bancel did not mention any plans to float – but with $1.3bn in the bank, including last year's huge financing, Moderna does not need cash and might want to wait for more favorable market conditions.
In the meantime, it has its hands full with a 12-strong product pipeline, including the five clinical assets. Four of those products are being tested in infectious diseases while the other, partnered with AstraZeneca (NYSE:AZN), is in cardiovascular disease.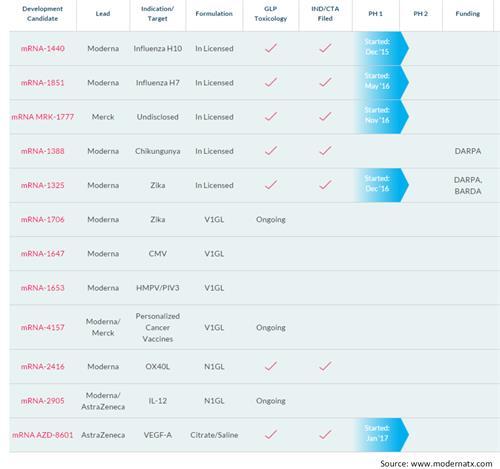 Infection
The company had already disclosed that mRNA-1440 and mRNA-1851 were in human trials, but had not given details of their indications or targets. Now it has revealed that the assets are being evaluated in influenza H10 and influenza H7 respectively. Topline results should be available this year and could go some way towards validating Moderna's platform.
Meanwhile, the Merck & Co, (NYSE:MRK)-partnered mRNA MRK-1777 went into a Phase I study in an undisclosed infectious disease in November 2016. Rounding out the clinical infectious disease contenders is the Zika vaccine candidate mRNA-1325.
Moderna also has a Chikungunya vaccine, called mRNA-1388, which could start human trials soon. And next to enter the clinic could be the cytomegalovirus vaccine mRNA-1647. There is currently no vaccine available for the virus, the most common cause of newborn disability, because "no one has been able to do the right biology" according to Mr. Bancel.
Cardiovascular and oncology
The final clinical-stage asset, the AstraZeneca-partnered mRNA AZD-8601, encodes for vascular endothelial growth factor-A (VEGF-A), and is designed to create more blood vessels to regenerate heart tissue after a heart attack or in heart failure. The product is injected directly into the heart so could avoid any problems that might result from high systemic levels of VEGF-A.
Moderna also has preclinical projects in oncology, and at JPMorgan Mr. Bancel highlighted two of these: mRNA-2416, which encodes the Ox40 ligand and is designed to recruit T cells; and mRNA-2905, which encodes the toxic molecule IL-12 – the subject of another partnership with AstraZeneca.
Both are injected directly into tumors, so again could avoid systemic side effects – and both could be combined with checkpoint inhibitors, Mr. Bancel said.
In addition, Moderna has a second collaboration with Merck investigating a personalized cancer vaccine.
There is much enthusiasm for Moderna but there are of course also risks, including the difficulty of getting mRNA into cells (Vantage Point – The messenger comes calling, July 23, 2015). Mr. Bancel admitted at JPMorgan that the company's approach is "either going to be a huge success or not work", adding there was "nothing in between".
But the group is not afraid to splash the cash to find out. The chief executive said that Moderna plans to burn through $300m in 2017 – "more than the market cap of most biotech companies". Its pharma partners and investors will hope the gamble pays off.