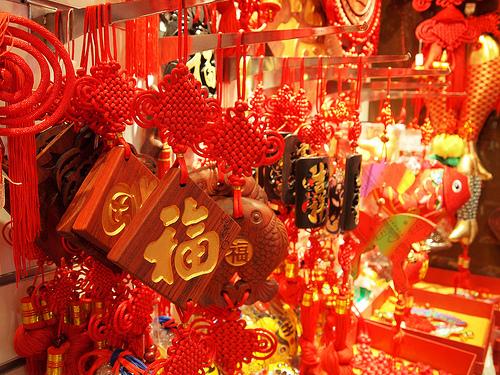 News that manufacturing in China has risen once again, must be music to the ears of market bulls, given entirely different circumstances exactly one year ago.
However given the concerns about China's lending policies how does all of that measure up now, and how could an interested investor take advantage of one while avoiding banking risk in the other?
China's industrial production certainly seems to have plateaued during 2016, with a major low created last January.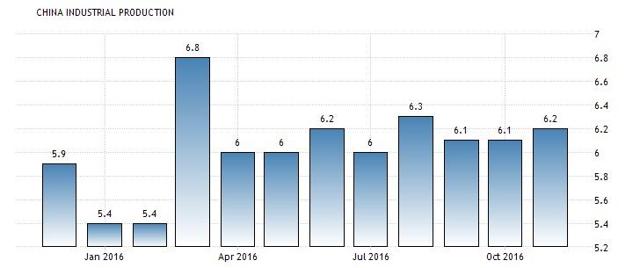 source: tradingeconomics.com
The Chinese Government has been trying to rebalance the Chinese economy with policies which support domestic demand rather than relying on exports. Reports suggest services now outweigh manufacturing in China, which also seems positive for general growth. However some economists are concerned this has had the effect of a huge credit creation and therefore corporate debt, which has created another imbalanced in the banking sector:
According to Euromoney:
In October, China's State Council approved a programme of debt-to-equity swaps to bring down China's soaring corporate debt, now estimated at the equivalent of $18 trillion, or 170% of GDP. Reaction to the news has been mixed. China analysts and commentators have urged it to do something about the corporate debt load - with the IMF the latest to do so in a detailed working paper in October - but there is also concern that the measure fails to deal with an underlying problem and just lets errant companies and projects off the hook.

China has sought to insist that these will be market-oriented swaps that are only open to companies with good prospects. Lian Weiliang, an official at the National Development and Reform Commission, said at a briefing in Beijing on October 10: "Debt conversion is no free lunch. The relevant market players will make their own decisions, take their own risks and enjoy the benefits."
On Tuesday, CNBC reported that Chinese mainland markets closed up 1 percent following the release of a survey which shows a rise in factory activities for December:
The Shanghai composite finished up 32.64 points, or 1.05 percent, at 3,136.28, while the Shenzhen composite added 16.84 points, or 0.85 percent, to 1,985.95. In 2016, the benchmark Shanghai index had tumbled 12.3 percent, registering its worst year since 2011.

Source : Trading Economics

The China Caixin manufacturing Purchasing Managers' Index (PMI) climbed in December, marking its fastest rate of improvement in three years, figures released Tuesday showed.

source: tradingeconomics.com

China's Caixin Manufacturing Purchasing Managers' index (PMI) rose to 51.9, compared with 50.9 in November and beating forecasts for 50.7, on the back of increased demand. A reading above 50 represents expansion in a sector, whereas a reading below 50 represents contraction.

The private manufacturing survey results came after figures at the weekend showed China's official PMI fell to 51.4 in December, slightly weaker than expectations

So PMI news is closely followed. "Data indicated that improved domestic demand was the key driver of new business growth, however, as new export sales were unchanged in December."
With the weaker international economy and government focus on domestic trade to avoid 'the middle income trap', Chinas economy has trended towards consumption and services rather than being manufacturing and export led. Consumer industries such as real estate, retail and leisure, have developed into more than 50% of the mainland economy.
There are persistent concerns about the economies health, private sector debt has risen while growth from debt has declined, yet exports appear relatively unchanged, rhetoric from the campaign trail focuses on China's exports, but numbers are just holding steady, growth appears to be domestic:
On the campaign trail, Trump repeatedly accused China of manipulating its currency in order to give its exports an advantage over U.S.-made goods, and he threatened to slap a tariff of up to 45 percent on Chinese imports.

On Tuesday, he upped the ante on anti-China rhetoric, saying via Twitter that "China has been taking out massive amounts of money & wealth from the U.S. in totally one-sided trade, but won't help with North Korea. Nice."

But the latest Caixin data showed that the new export orders index was at the neutral 50.0 level, with 90 percent of the surveys respondents saying there was no change in new business from overseas.

"A number of panelists commented on relatively muted foreign demand in the latest survey period," the survey statement said.
The economists being interviewed below, are keen to point out that the Chinese government is boosting the housing market from unsustainably low interest rates, a policy which the first interviewee says is probably creating weakness in the Yuan, (but which also supports trade). The U.S. dollar is strong against many currencies, having a 'safe haven' appeal for large capital flows escaping other global issues, a situation not helping developing markets with currencies still tied to the dollar.
Consumer confidence - that 'canary in the coal mine' for a consumption led economy, is continuing to improve:
source - Trading Economics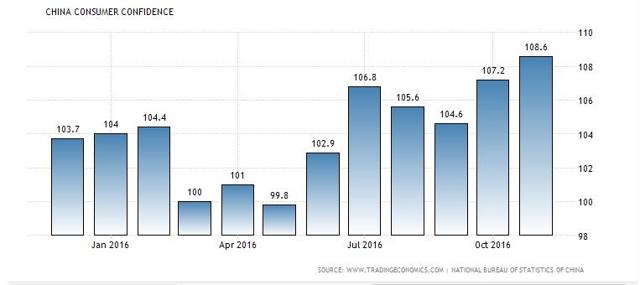 So how does an investor take advantage of an improving Chinese manufacturing situation and consumer sentiment, while ideally diversifying out of the risk of local banking and possible local housing issues?
ETFs often find performance lows following a dividend payment, and both of the following funds released payments in December; while at the same time the Shanghai index is turning up from the lower side of a rising 'support level', illustrated on the chart of the index above.
Global X China Consumer ETF (NYSEARCA:CHIQ)
Dividend
$0.17
Dividend Date
2016-12-28
Annual Dividend Rate
$0.17
| | |
| --- | --- |
| Ticker | CHIQ |
| Primary Exchange | NYSE Arca |
| CUSIP | 37950E408 |
| ISIN | US37950E4089 |
| Net Assets | $66,310,262.82 |
| Management Fee | 0.65% |
| Annual Fund Operating Expense | 0.65% |
| Inception Date | 11/30/09 |
| Shares Outstanding | 5,750,000 |
| 30-Day SEC Yield | 0.87% |
| Distribution Frequency | Annually |
CHIQ only lists investments in consumer related stocks, like entertainment, jewelries or telecommunications companies which means no investment in either Chinese banks or the housing market.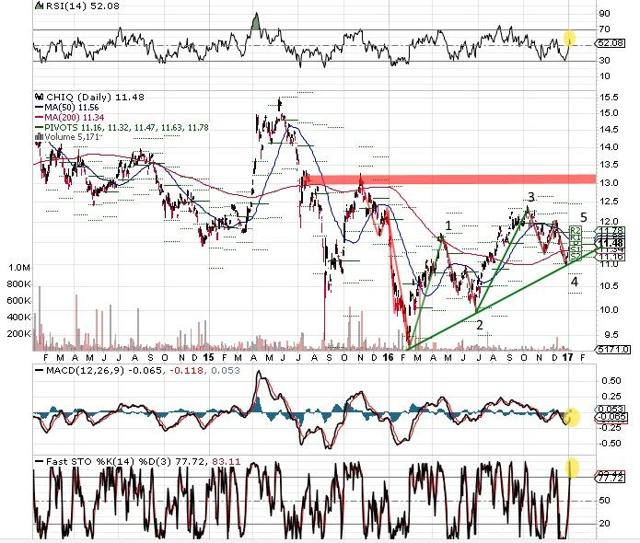 CHIQ is already off the bottom, with the fast stochastic at the top end of the range. It can hold that top while trading sideways as we can see from previous examples. However, previous (green) waves 1 and wave 3, have also formed from five minor waves. So far, there has been no minor wave 2 correction of the developing wave 5. The minor wave 2 correction of each previous wave 1 and 3, has been similar in depth.
This ETF is quite volatile, you can see price rises significantly, even on slight increases in positive volume showing from the oscillators.
The correction waves (red zig zag ABC) into a 'wave 2 down' and 'wave 3 down], both reverse from the same rising trend line drawn green. Selling resistance is likely to be on or approaching the thick horizontal red band of selling resistance.
Or the Guggenheim China Technology ETF (NYSE:CQQQ)
Dividend
$0.60
Dividend Date
2016-12-23
Annual Dividend Rate
$0.60
| | |
| --- | --- |
| Symbol | CQQQ |
| Exchange | NYSE Arca |
| NAV Symbol (IIV) | CQQQIV |
| CUSIP | 18383Q135 |
| Fund Inception Date | 12/8/09 |
| Distribution Schedule (if any) | Annually |
| Gross Expense Ratio | 0.70 % |
| Net Expense Ratio | 0.70 % |
| Fiscal Year-End | 8/31 |
| Investment Adviser | Guggenheim Funds Investment Advisors, LLC |
| Distributor | Guggenheim Funds Distributors, LLC |
| AlphaShares China Technology Index | ACNIT |
| Index Provider | AlphaShares |
| | |
| --- | --- |
| Volume | 25,207 |
| Shares Outstanding | 1,300,000 |
| Total Managed Assets | $48,265,417 |
CQQQ intends to track performance,
Before the fund's fees and expenses, of the AlphaShares China Technology Index. CQQQ generally will invest in all of the securities comprising the index in proportion to their weightings in the index.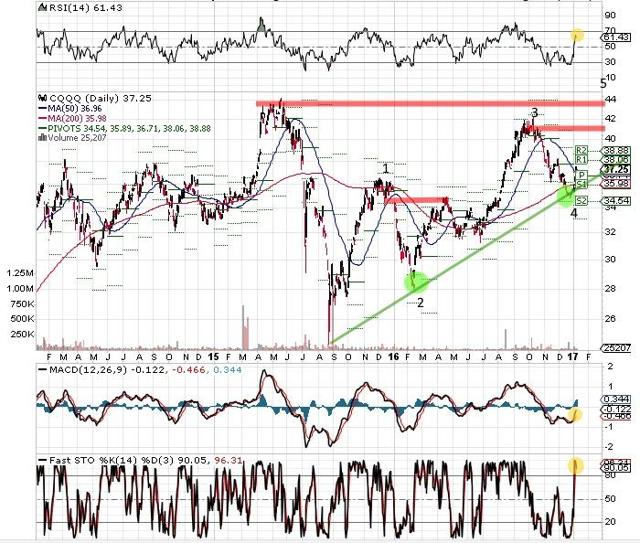 A rather more complicated chart, this one is also off the bottom, with the fast stochastic turning down from the extreme overbought level, but with a positive MACD. As per the previous chart wave 5 appears to be in play, with bullish minor wave 1 potentially complete, (RSI is at the top of the range appears to be turning down, but could still move up a tad), and minor wave 2 down possibly developing. Note the proximity to the rising green trend line, the red 200 day moving average and support 1 level. The pivot could also create a higher turning point however, the fast stochastic needs to drop to at least 50, and ideally below 20, before renewing the trend up.
Wave 5 could progress to red resistance and correct significantly, from below the high of wave 3, (as per the last) which suggests a longer bull run, or it could trade to another peak of 3, build support from about 40, in a zig zag sideways consolidation, and then take out the higher resistance level. Either pattern is possible and should be allowed for in risk management, but the former seems most likely, unless there's a major reaction bullish reaction across the industry.
Rising sentiment, and improving manufacturing in China along with bullish ETF charts, are all reasons to consider long positions in CHIQ and CQQQ, which reduce risk from investing in individual companies, as well as avoiding banks and real estate.
However liquidity, daily trading volume, and the level of personal exposure should also be factors worth considering for smaller sector ETF.
Disclosure: I/we have no positions in any stocks mentioned, and no plans to initiate any positions within the next 72 hours.
I wrote this article myself, and it expresses my own opinions. I am not receiving compensation for it (other than from Seeking Alpha). I have no business relationship with any company whose stock is mentioned in this article.