Oil prices fell by almost 4 % on Monday, with the WTI (WTI) and Brent trading at $51.96 and $54.94 respectively at the time of writing this article. Although it is true that the OPEC-non OPEC oil deal will have a major effect on oil prices, there are other factors that will also have a major influence on prices. One of those factors is the US crude oil production. It is interesting to note that rising US oil output was the biggest reason why oil prices fell on Monday.
Oil prices fall as the US output rises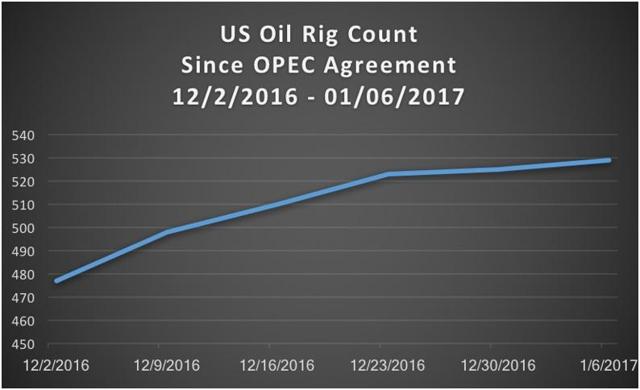 Image Source: oilprice.com
On Friday, oil field services provider Baker Hughes came out with its rig count report. As per the report, the total number of oil and gas rigs in the US increased by 7 to stand at 665 active oil and gas rigs. Investors must note that this was the tenth consecutive week when the oil and gas rigs have been added. Also, the oil rig count is at its highest peak in last one year. In fact, some of the analysts believe that the US rig count will stand at 850-875 by the end of 2017. This development is bearish for oil prices. "The price weakness calls attention to some bearish news that the market had been willing to ignore, such as the high level of (fourth quarter) supply still in transit to consumers and the uptrend in U.S. drilling rigs and actual oil production", said Tim Evans of the Citi group. In my earlier article, I had already stated that any increase in oil prices will result in an increase in the US oil production. This is what is happening right now. The optimism related to the OPEC-non OPEC oil deal is being counter- balanced by the rising US rig counts.
Oil prices come under more pressure because of Iraq and Iran
Investors must realize that any (small or big) news that is related to OPEC's upcoming production cuts will have a considerable impact on oil prices (NYSEARCA:USO). Oil prices came under more pressure on Monday after it was reported that oil exports from Iraq's southern Basra ports reached a record 3.51 million barrels a day for the month of December 2016. Although the country's oil ministry still insisted that it will honor the OPEC deal, analysts and market experts remain skeptical about this claim. "We have compliance with the Gulf countries, but the rest of the slate is looking a bit shaky. With the big numbers coming out of the southern port of Basra for December it's implying that Iraq may be the first big crack in the wall of the OPEC agreement," said Robert Yawger of Mizuho Securities USA. Besides this, there is another case of Iran. As per Thomson Reuters Oil Flow data, the amount of Iranian crude oil held on tankers at sea has dropped from 29.6 million barrels (during the beginning of October 2016) to 16.4 million barrels as of now. This shows that Iran's tanker exports have increased considerably in last two months.
Takeaway for investors
In my previous article, I had stated that oil may remain in the range of $53-$58 during the first half of 2017. Although some of the prominent OPEC members like Saudi Arabia and Kuwait have reduced their January's crude oil production, there are other OPEC members like Iran and Iraq who are increasing their oil production. On the other hand, even Nigeria is looking to increase its oil production in 2017. Then, we have a case of rising US oil and gas rig counts. Looking at all these factors, it can be seen that oil prices will face some resistance between $52-$55 in near future. Investors must take note of this.
Disclosure: I/we have no positions in any stocks mentioned, and no plans to initiate any positions within the next 72 hours.
I wrote this article myself, and it expresses my own opinions. I am not receiving compensation for it (other than from Seeking Alpha). I have no business relationship with any company whose stock is mentioned in this article.