The biotech complex has been a difficult sector to trade since Donald Trump was announced as the new president-elect. In fact, back in November when Trump won, many thought biotech stocks were going to the moon as the consensus was the New Yorker was more business minded than Hilary Clinton and he would remove the shackles for biotech companies in this space. Hilary Clinton, was up to that point, hammering the biotech sector for the with regard to prices for specific meds to the tune that, every time she opened her mouth, biotech stocks would get crushed.
Many thought it would be different with Trump but his fresh comments in December about his pledge to bring down drug prices has resulted in a cloud remaining over the sector especially for investors. Up to that point, I was bullish on the sector. The prime ETFs such as iShares NASDAQ Biotechnology Index (ETF) (NASDAQ:IBB) and SPDR S&P Biotech (ETF) (NYSEARCA:XBI) had undergone significant corrections since the middle of 2015 but had definitely appeared to have bottomed.
I will be interested to see where the sector goes from here but normally market forces win out over government interventions and Trump if he gets serious will only affect a few stocks. One has to remember that clinical trials can be extremely expensive and are a requisite for sustained progress in this industry. M&A activity is still really hot in this sector which makes me believe that the companies with the strong competitive advantages should prevail.
We went long Novartis AG (ADR) (NYSE:NVS) a few months back and the stock is well up since we entered. Another stock I am looking at is Amgen, Inc. (NASDAQ:AMGN) which also has strong competitive advantages and looks undervalued relative to its intrinsic value. However the stock has had a strong run-up over the past month and I would be waiting for a meaningful pullback here before entertaining any notion of getting long.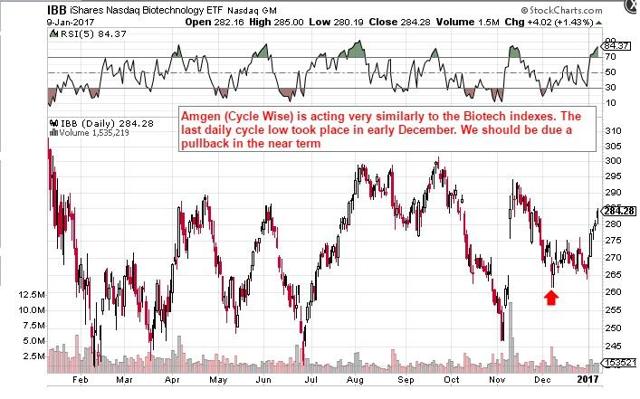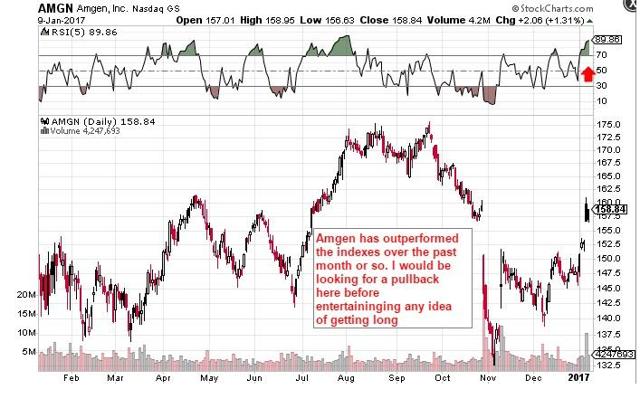 Sentiment in the stock is also sky high which doesn't auger well for future gains over the initial part of this year. Another company in this sector with strong competitive advantages, Allergan (NYSE:AGN), rallied aggressively off its lows last month when sentiment was absolutely on the floor. This is the kind of set-up we are looking for in Amgen which still has not materialized.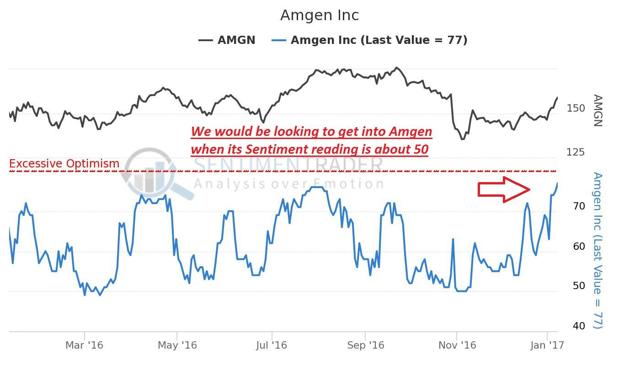 Source : Sentimentrader.com
Apart from waiting for technicals to set up nicely, Amgen's fundamentals remain the strongest calling card. As Enbrel sales are expected to flatten in the near term, the company knows it will need to avail of its growth triggers to offset competition eating into its market share. The first potential growth trigger will be Repatha which is expected to report data in the cholesterol area over the next month or so. Since Enbrel makes up about a quarter of total company sales, encouraging data from Repatha is crucial in that it definitely has the potential to be a bigger earner for the company which would take some of the pressure off Enbrel going forward.
Companies are invariably valued in this sector by their current portfolio and their pipeline. The one thing that Amgen has going for it is that it is diversified enough to be able to withstand competitive pressures which has to be a competitive advantage. By having a host of successful treatments across a host of areas mitigates risk in my opinion. Apart from Enbrel and Repatha, Amgen remains strong in Prolia/Xgeva and Sensipar where it has leading positions in osteoporosis and renal disease treatments.
The company pays a strong dividend, has a low pay-out ratio of 37% and its debt to equity ratio is under 1. Therefore even if the likes of romosozumab and erenumab that should come to market in the next few years don't live up to their potential, the company has the balance sheet and cash pile for acquisitions if that is the route it wants to take. Amgen's earnings multiple of 15.9 is fractionally below its 10 year average of 16.4 and the company's sustained cost cutting drive along with better manufacturing efficiencies should protect the bottom line an cash flows accordingly.
Therefore to sum up, I definitely have Amgen earmarked for future growth but I see a pullback coming. In fact, I expect to get this stock well under $150 in the months ahead. A nice pullback in US equity markets would do wonders for resetting sentiment in Amgen. Patience is required at present.
Disclosure: I/we have no positions in any stocks mentioned, and no plans to initiate any positions within the next 72 hours.
I wrote this article myself, and it expresses my own opinions. I am not receiving compensation for it (other than from Seeking Alpha). I have no business relationship with any company whose stock is mentioned in this article.