McDonald's (NYSE:MCD) decision to sell its Chinese & Hong Kong operations should have not come as a big surprise considering its intentions to refranchise over 90% of its stores through 2018. Although this stock is outside my buy zone at present, I don't see anything unfavorable about this deal. I have no doubt the new consortium will take the proverbial bull by the horns and drive the brand aggressively in the area especially in tier 3 and 4 cities where competition would be thinner. It is interesting that public opinion remains mixed on the deal (where Beijing-backed Citic and Citic Capital Holdings will lead the consortium) but I believe McDonald's will continue to charge higher over the long term for a number of reasons.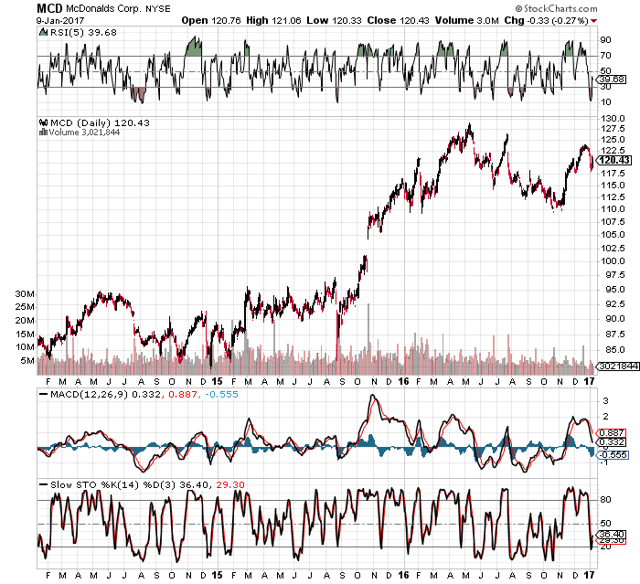 Same store sales results in the US were the reason so many analysts had turned bearish on McDonald's. The US is McDonald's largest market contributing something like 40% to the revenue take and over 50% to operating income. The new CEO Steve Easterbrook really has to be given credit here for turning sales comps growth around in the US since the back end of 2015.
The "All Day Breakfast" initiative definitely helped the cause and what was particularly impressive was the speed of the rollout which probably in the end took less than 6 months. However the stock looks like it needs another catalyst that will convince the Street to value this stock higher. It was the US market and specifically the "All Day Breakfast" that turned things around in the autumn of 2015. So with the stock trading at around $120 and with an earnings multiple of 22.50, investors are rightly asking at present if there is another catalyst that will make this stock jump another 20% out of its current trading range.
Astute investors will know that the US market for McDonald's is becoming saturated. Although Americans are the biggest fast food eaters in the world in terms of per capita spending, it is a market where consumers are spoilt for choice. Therefore this is why you see consumer preferences changing at break neck speeds. The market can aggressively reward one fast food chain one year but then a shift in spending can dramatically affect profits in the succeeding year. McDonald's has done well in the US over the past 18 months by becoming nimbler and above all more aware o what its customers want. In fact, the abolition of the create your taste campaign should be a victory for the traditionalists and long term investors as the "system" argument rolls on.
Over the past 5 years as McDonald's stock was stuck in a tight trading range, many analysts hopped on the same line that McDonald's business model was out of date. I wasn't buying any of it as the fast food chain sells a necessity. Yes you can dress it up anyway you want but it still sells a necessity. Interestingly enough, back in the great recession (when not much dressing up was needed), McDonald's was one of the very few US multi-nationals that grew its earnings convincingly. Why? Because it sells something in high demand and at speeds and prices that few can match. I do not think this will change.
With relation to China, I see the exact same possibilities as those of Spain - which is, incidentally, where I live. Why? Well, Spain - which still has, along with Italy, the lowest per capita fast food consumption rates in Europe - is booming for McDonald's. Spain does not have a history of fast food. The Spaniards generally eat very well probably due to their culture and heritage. However this is changing unfortunately. The proliferation of franchised restaurants here has meant that units have been erected in the thousands in recent years which has changed two major trends. The first is the sheer footprint the likes of McDonald's have now in this country and the second is the standard of traditional bar/restaurant food.
Villages and small towns in this country never had fast food joints. In years past, if you wanted to eat out, you would have done it in a restaurant where full course good Spanish meals could have been bought from 10 euros and up. Unfortunately these establishments haven't been able to compete with fast food joints and McDonald's is probably the most competitive of them. This is why common restaurant menus have come down in Spain over time but so has the quality. This has given the likes of McDonald's more market share especially in areas where competition is benign.
Therefore I would take the Chinese culture argument with a grain of salt. The new consortium will aggressively expand the McDonald's footprint and give its customers what they want at speed and at a price that will be ultra competitive. China's perceived obstacle like Spain could turn into a big opportunity. I would be a buyer here if the stock were to return to an earnings multiple of under 20.
Disclosure: I/we have no positions in any stocks mentioned, and no plans to initiate any positions within the next 72 hours. I wrote this article myself, and it expresses my own opinions. I am not receiving compensation for it (other than from Seeking Alpha). I have no business relationship with any company whose stock is mentioned in this article.