It won't be surprising if 2017 turns out to be a turnaround year for Chipotle Mexican Grill (NYSE:CMG). The efforts undertaken by the company to enhance its sales will have a positive impact on the company's revenue performance, and this should help it deliver upside on the stock market. Let's see how.
Chipotle's higher sales will lead to stock upside
Chipotle has undertaken a number of efforts to bring customers back to its locations and win consumer confidence after the E. coli virus outbreak. The good news is that the steps undertaken by Chipotle have led to growth in its top line in recent quarters, as shown in the chart below: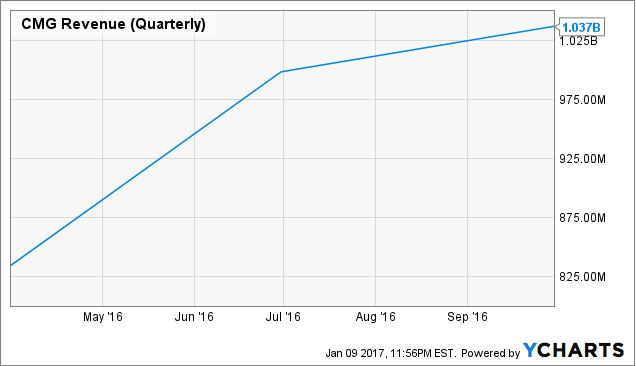 More importantly, the growth in Chipotle's top line is expected to continue this year as well. According to analysts, Chipotle's revenue in 2017 should rise around 16% as compared to last year to $4.55 billion on average. In comparison, for the 2016 financial year, Chipotle's sales are expected to drop around 13% on a year-over-year basis. Thus, this year, Chipotle will report a strong comeback in its top line performance.
Now, Chipotle currently has a market capitalization of $11.5 billion, while it has generated around $3.87 billion in sales over the past four quarters. As a result, the company has a price-to-sales ratio of 2.98. If Chipotle is able to sustain this price to sales ratio in 2017 and manages to increase its revenue to $4.55 billion, then its market capitalization in 2017 will increase to $13.55 billion. This means that as compared to its current market capitalization, Chipotle will be able to deliver upside of around 18% this year.
In my opinion, Chipotle looks well-placed to deliver such upside on the market this year as it has taken a number of steps to increase its revenue. The company is set to launch more stores and has been improving its menu in order to increase sales. For example, by adding Chorizo to its menu, Chipotle has gained impressive traction since this item is now 7% of its entrée sales.
In fact, as Chipotle points out, 70% of Chipotle's customers who have tried Chorizo are of the opinion that their desire to keep visiting the restaurant has increased. Additionally, 77% of Chipotle's customers believe that Chorizo is changing their outlook toward the company in a positive manner. As a result, it is not surprising to see that Chipotle has witnessed an improvement in its restaurant sales and traffic trends in recent months according to the latest available data, as shown below: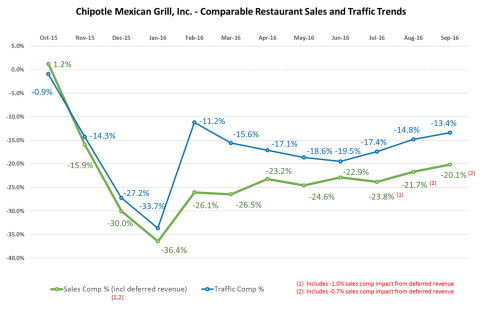 Source: Chipotle Mexican Grill
Therefore, as the sales and traffic trends pick up pace, Chipotle's revenue will rise this year and help the stock deliver robust upside. But, more importantly, Chipotle's top line growth will also filter to its bottom line, which will eventually lead to upside in the long run. Let's see how.
Bottom line growth will be another tailwind for the stock price
Driven by its focus on enhancing sales, Chipotle is of the opinion that it can achieve earnings per share of $10.00 this year as it can increase its restaurant level operating margins to 20%. Now, for 2016, Chipotle's earnings are expected to come in at just $1.33 per share as compared to earnings of $15.10 per share in 2015.
So, if Chipotle actually manages to increase its earnings to $10.00 per share this year, it will witness strong growth in its stock price based on its price to earnings ratio. But, for conservatism's sake, even if Chipotle's earnings grow to $9.02 per share for the year as analysts expect, its stock price should rise to almost $470 this year given its five-year average price-to-earnings ratio of 52.
This represents potential upside of around 18% from the current stock price of $398, which equates to the potential rise in the stock price from the revenue perspective.
Additionally, Chipotle's bottom line will continue to improve in 2018 as well, with analysts forecasting the company to report earnings of $12.93 per share. At Chipotle's five-year average PE ratio, this level of earnings in 2018 should give the company a stock price of $672, which represents 70% upside from current levels.
Conclusion
Thus, Chipotle Mexican Grill looks well-placed to deliver strong gains on the market in both 2017 and 2018. So, investors should start accumulating long positions in the stock as it is set for robust upside in the coming two years after a disappointing performance in 2016.
Disclosure: I/we have no positions in any stocks mentioned, and no plans to initiate any positions within the next 72 hours.
I wrote this article myself, and it expresses my own opinions. I am not receiving compensation for it (other than from Seeking Alpha). I have no business relationship with any company whose stock is mentioned in this article.