Mexico's central bank published aggregate November results for the Mexican banking sector.
Strong loan growth and decent credit quality
According to the regulator, total sector's credit portfolio increased by 16.1% y/y in November. As the chart below demonstrates, this is the highest annual growth rate since December 2011.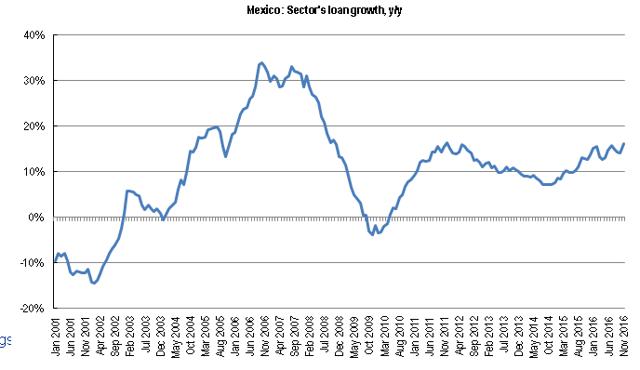 Source: Banxico
Corporate loans grew by 19.3% y/y, partially driven by FX revaluation effects due the recent MXN devaluation.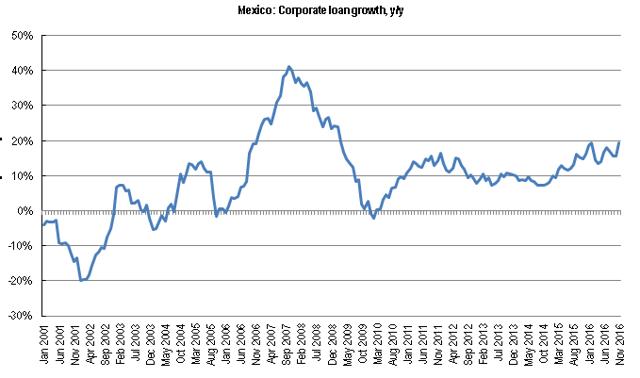 Source: Banxico
Retail loans increased by 12.5% y/y, thanks to strong car lending dynamics (+18.2% y/y).
Notably, the sector's asset quality continues to improve. Total NPL ratio decreased by 6bps m/m and 65bps y/y to 2.7% in November.
Margin tailwinds ahead
Mexico's central bank has recently started a monetary tightening cycle. The regulator has raised the policy rate by 255bps since December 2015 pushing the benchmark rate to 5.75%.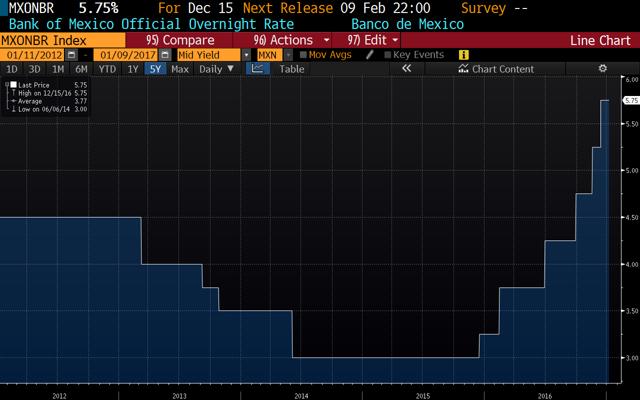 Source: Bloomberg
More importantly, the market expects the policy rate to reach 6.4% in 2017, implying a further 65bps hike.

Source: Bloomberg
Policy rate hikes should support Mexican banks' margins. According to Santander Mexico (NYSE:BSMX), a 100bps rise in the policy rate would boost its net interest income by MXN850mn (around 4% of BSMX's pre-tax income), all else remaining equal. As such, policy rate hikes could alleviate potential earnings pressure from weaker loan growth and asset quality issues.
Most of the downside is priced in
In our recent articles on Inbursa (OTCPK:GPFOF) and Santander Mexico, we noted that uncertainties related to a potential break-up of the North American Free Trade Agreement (NAFTA) do pose a risk to Mexico's economic growth, the sector's credit portfolio and asset quality. However, Mexican banks have already underperformed the rest of the LatAm region and current market valuations suggest that most of the downside have been already priced in.
Moreover, from a long-term fundamental view, Mexican banks remain very attractive as credit penetration in the country remains among the lowest in emerging markets, suggesting that the sector still has several years of robust loan growth.
Bottom line
Despite the ongoing macroeconomic uncertainties following the U.S. presidential elections, Mexican banks still offer an attractive case for long-term fundamental investors. The latest data from Banxico suggests that Mexican banks look to be in a much better position than many had feared they would be.
As a buy-side analyst and a deputy portfolio manager, I oversee a financials-focused fund, and will be continuously providing research coverage on developments with global banks, insurers, asset managers and other financial companies. If you are interested in the topic, consider following us by clicking the "Follow" button beside our name at the top of the page. Thank you for reading.
We also invite readers to take a closer look at our recently launched subscription service. Get in-depth fundamental research, stock recommendations, trading ideas, exclusive access to professional databases, sophisticated valuation models and expert commentary on Wall Street recommendation from an award-winning hedge-fund analyst with a proven successful track record. For more info, please click here.
Disclosure: I am/we are long BSMX.
I wrote this article myself, and it expresses my own opinions. I am not receiving compensation for it (other than from Seeking Alpha). I have no business relationship with any company whose stock is mentioned in this article.
Editor's Note: This article discusses one or more securities that do not trade on a major U.S. exchange. Please be aware of the risks associated with these stocks.