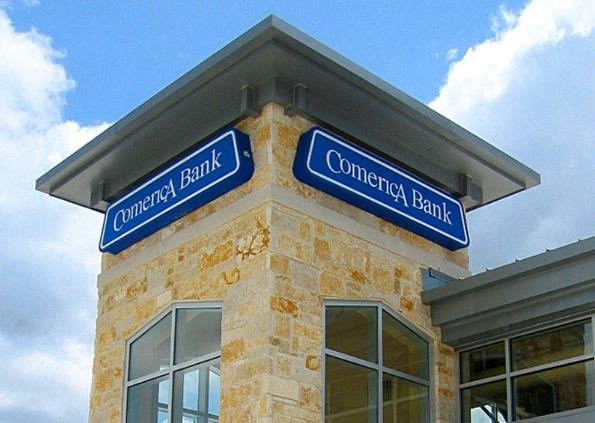 In the past, I've been critical of Comerica (NYSE:CMA) as the company's energy exposure wreaked havoc on its earnings and balance sheet a few quarters ago, and then as what I viewed as overvaluation never went away. In fact, I shorted CMA multiple times as it rose and fell along with sentiment on oil-exposed lenders in the early part of 2016 with good success. But CMA is now at all-time highs - matching levels it last saw in the late '90s - and heading into earnings, sentiment couldn't be better. The current version of CMA is certainly more growth-oriented than it was a few quarters ago but at almost 18 times 2017 earnings, that doesn't seem like enough to me.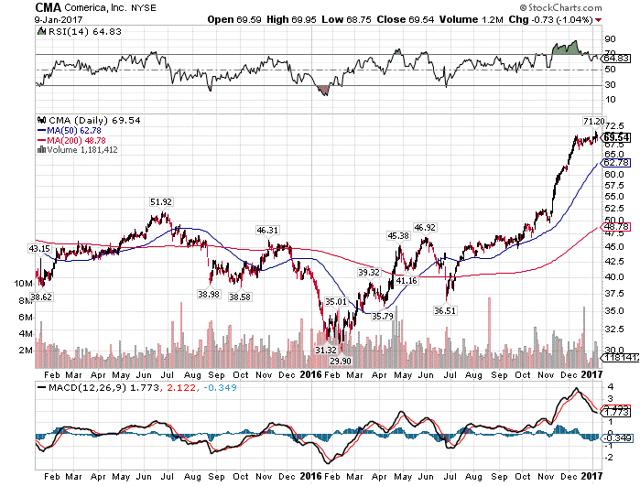 Analysts have revenue up 4% this quarter and earnings of 87 cents against 77 cents in last year's Q4. CMA has been growing more quickly than the industry and while its growth against its peers has slowed, on an absolute basis, CMA is still certainly pulling the right levers. And with its energy exposure well under control, a significant headwind to earnings has been removed. I expect we'll continue to see moderate growth in loans and deposits in Q4 as CMA carries on with its growth plans but it is important to note that CMA's revenue growth from here is going to be industry-average at best. There's nothing inherently wrong with that except for when you consider that CMA is sporting such a ludicrous valuation.
The thing is that CMA is still continuing to struggle with margins despite all of its tailwinds. NII was up just 1% in Q3 - trailing total loan growth - as CMA's production on each dollar of revenue continues to be weak. The Fed raised rates in Q4 but not until very late so I'd expect CMA's NII is going to be weak again for Q4. Guidance here is what I'm interested in because with the stock as expensive as it is, loan growth alone isn't going to cut it. CMA needs higher margins and if it doesn't get them, it is going to have a very challenging time growing into a $70 stock price. This problem is nothing new for CMA but when the stock was $35, it was excusable. Now, that is not the case.
The GEAR Up program has apparently identified enormous cost savings for CMA and management reckons it can save $180M in 2017 and $270M in 2018 on a pre-tax basis via workforce reductions and process improvements. Those are very big numbers indeed and will certainly help drive significant earnings growth. If CMA really can drive that level of improvement, it means that it has been far too bloated for a long time and that the cuts were needed. But gains are gains and CMA is certainly providing bullish guidance when it comes to costs; now it just needs to execute.
Sale rumors have been swirling as well and that has certainly helped push CMA higher but is that really a reason to buy this stock? After all, CMA is sporting a $12B market cap, meaning only the biggest banks could afford it at this point, particularly in light of the fact that a sizable premium would need to be paid. And to say that regulators aren't exactly friendly to mega-mergers in the banking world is an understatement so to be honest, I don't get the excitement here. I think the chances of a sale are about as close to zero as you can get and while I may be proven wrong, that's a chance I'm willing to take. Betting on a $15B buyout in the banking world is a fool's errand in my view and in particular, when you consider what a potential acquirer would be getting for its money.
Earnings are expected to rebound in a big way in 2017 to almost $4, thanks in no small part to the cost savings we already talked about. It is true that CMA is slated to grow earnings very quickly but those gains have already accrued to the stock. Shares have more than doubled since their February low from last year and while many bank stocks have done that, CMA has rallied more than just about anyone. It is also going for nearly 18 times 2017 earnings - also very high relative to its peers - and even if it does achieve double-digit ROE in 2017 and beyond, that's way too much. The big banks are going for 13 times 2017 earnings on average so CMA's premium is a whopping 35% or 40%. There is no chance CMA is worth 40% more than Goldman Sachs (NYSE:GS), JPMorgan (NYSE:JPM), Bank of America (NYSE:BAC), Citi (NYSE:C), Morgan Stanley (NYSE:MS) or the others but that is how it is being valued. I get the models are different but those names are growing as well and the gap between CMA and the rest simply isn't close to being that large.
Finally, the stock is hitting resistance at its all-time highs from nearly twenty years ago right now. Breaking through that is going to take a powerful catalyst and while an earnings report could certainly do it, at the same time, what else could CMA say during its report to make people continue to buy this stock? Expectations are already very high and continuing to rise and so is the valuation. The sale rumors sound a little crazy to me and while the rate hike from December should help CMA's subpar margins, it would take a lot of improvement to justify 18 times earnings. I have to think CMA is a sell here at best and a short if you think the sale rumors are unfounded and that margins will continue to plague CMA's results. I'm inclined to get back into my short position here at all-time highs because there is way too much that would have to go perfectly for the stock to go higher from here.
Disclosure: I/we have no positions in any stocks mentioned, but may initiate a short position in CMA over the next 72 hours.
I wrote this article myself, and it expresses my own opinions. I am not receiving compensation for it (other than from Seeking Alpha). I have no business relationship with any company whose stock is mentioned in this article.