Written by Dan Cohen and Scott Matusow
In the last part of our series on Calithera Biosciences (NASDAQ: CALA), we will be examining the company's second clinical asset, the first-in class arginase inhibitor CB-1158 and the company's acquisition chances sometime this year or early 2018.
Bristol-Myers Squibb (NYSE: BMY) in particular seems keen on targeting these MDSC's in order to gain a meaningful edge in the IO space. The company has acquired or partnered a host of assets in the past few years to address the primary modalities of MDSC derived immune suppression.
In February of 2015 BMY acquired the private firm Flexus Biosciences Similar to how IDO inhibition blocks degradation of tryptophan thus restoring T-cell function in the tumor, arginase inhibition may also help restore immune function in the TME. These enzymes inhibit immune responses through the local depletion of amino acids that are essential for anabolic functions in lymphocytes. Multiple studies have narrowed down the primary mechanisms of arginase derived immune suppression to a few interesting and key domains. Primarily, the reduction of extracellular arginine results in the depletion of the CD3ζ chain of the T-cell receptor (TCR). This pathway is crucial for T-cell activity, cytotoxicity, and proliferation at the tumor site.
The CD3 receptor is also a primary therapeutic pathway for both cell engineered therapies (CAR-T and TCR) as well as CD3 redirecting bispecific antibodies such as Amgen's (NASDAQ: AMGN) Blincyto and early stage biotech Affimed's (NASDAQ: AFMD) AFM11. When these receptors are dampened or inhibited, T-cells cannot generate the crucial immunologic memory necessary to sustain a durable response to therapy. Restoration of arginine in the TME by arginase inhibition from CB-1158 may be necessary to overcome T-cell exhaustion that we have seen in a number of therapeutic approaches aimed at directing T-cells against the tumor. Arginase also plays a crucial role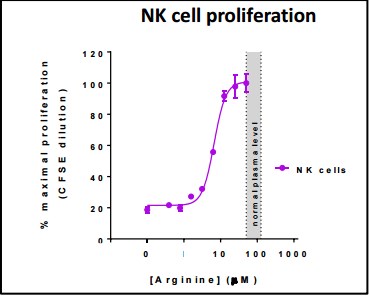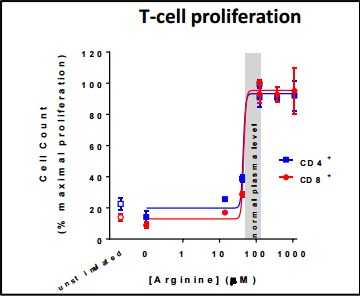 The normal plasma arginine levels in healthy patients generally range around 50-130 µM. However these levels are typically depleted in cancer patients, more dramatically within the TME where there are higher concentrations of MDSCs. The company's first look at the pharmacokinetic effects at the lowest dose level of CB-1158 (50mg twice daily) in increasing plasma arginine also appear promising (shown below). To date, this is the first compound that directly inhibits arginase activity to make it into the clinic. If these effects are sustained within the TME this molecule can function as a metabolic checkpoint inhibitor considering the polarity of response shifts with and without ample access to arginine.

CB-1158 has also demonstrated significant pre-clinical synergies with a number of other IO drugs, including PD-1, CTLA-4, and IDO inhibition, all of which are of are being currently developed by Bristol-Myers-Squibb. In light of the recent collaboration agreement last month intended to study the impact of CB-839+PD-1 on suppressor cells in the TME, it appears that Bristol-Myers Squibb may also be interested in CB-1158 to further these effects.
Our primary thesis for investment in Calithera is based upon its platform of metabolic regulators and the potential it possesses in synergizing with a number of novel IO approaches. However, we see a distinct possibility that Bristol-Myers Squibb may elect to either further such collaborative efforts into a full scale partnership agreement in a manner similar to the scale-out deal with Five-Prime Therapeutics (NASDAQ: FPRX) or acquire Calithera outright as a tack on to its IO pipeline.
In our estimate, Calithera does not have aspirations to become a full-fledged pharmaceutical company. Recently, the company's Chief Financial Officer (NASDAQ:CFO) stepped down while Calithera did not replace him with a new CFO nor an interim one. Instead, the company announced that;
[CEO] Susan Molineaux will become the company's Principal Financial Officer and assume Mr. Waddill's administrative responsibilities, and Stephanie Wong, the company's Vice President Finance since April 2014, will become the company's Principal Accounting Officer.
Calithera seems to have little interest in having a full-fledged dedicated CFO, which leads us to believe its ultimate goal is to be an acquisition rather than seeking a full-fledged partnership.
Therefore, we think Calithera's ultimate destiny is likely to be an acquisition as a tack-on research and development (R&D) for a large pharma, which would likely be Bristol-Myers-Squibb as the pharma giant has lately been giving more focus on the R&D arm of its massive company. Bristol, interestingly enough has an R&D center in Redwood California, roughly 15 miles or so south of Calithera's base of operations in The San Francisco Bay Area, California.
At the time of this writing, Calithera's stock has risen sharply to start off 2017, up from the low $3 range to now sitting at the mid-$4 range. Its current valuation currently sits around $90M, which in our estimation is still far too low based on the currently known data sets + its MDSC 'collaboration' with Bristol-Myers Squibb. We think the company's correct fair trading valuation should be in the range of $250M to $300M, or roughly the $13 to $15 a share range. Curiously, we have recently seen other write-ups out there suggesting Calithera could be acquired for $6 a share. For a variety of reasons, these opinions are flat-out wrong-headed.
For starters, Calithera's Chief Operating Officer (CEO) Susan Molineaux sold her last company Proteolix to Onyx Pharmaceuticals, for what turned out to be a deal worth in excess of $800M for its asset carfilzomib. The deal saw a $276M upfront cash payment + $535M in contingencies, which was fully realized over time. Afterwards, Onyx was acquired by Amgen for $11B.
The full potential of both CB-839 and CB-1158 could be worth billions in a variety of applications and lines of therapy, especially in combination with Bristol-Myers Squibb's anti PD1, Opdivo (nivolumab). We would also point out that many insiders have a right-to-buy options deal with some of the strike prices north of $16 a share. To reiterate, the view that Calithera could be acquired for anything less than at least $500M is clearly wrong.
While it may be premature here to suggest an acquisition of Calithera is imminent, it's reasonable to assume based on the current company structure. It seems like that once again as with Proteolix, Susan has an acquisition of Calithera as the end-game here. Many former Proteolix employees are now employed with the company, most as Senior Vice Presidents and Vice Presidents.
Additionally, at least 2 investment firms we have found both have had good success investing in small cap companies that became eventual acquisitions; Adage Capital (3,635,069) and Morganthaler (2,161,915 shares) hold nearly 30% of Calithera's outstanding shares.
In conclusion, we believe Calithera is grossly undervalued at its current valuation and makes for a nice small cap biotech investment at these prices - mainly because of their platform of metabolic regulators and the potential they possess in synergizing with a number of novel IO approaches.
However, we also believe that the company will be acquired sometime this year, or early 2018. We think the eventual acquisition price will be a combination of cash up-front and a contingency value right (NYSEMKT:CVR), which in total should see an acquisition value here worth north of $1B. This valuation comes out to a fully realized stock price of around $50 a share or so based on Calithera's current number of outstanding shares
Before some might think we have lost our collective minds stating this, we refer to the recent Allergan (NYSE: AGN) acquisition of Tobira Therapeutics - that deal saw Tobira's shares go from roughly $4 to $40 a share overnight. In that deal, Allergan acquired Tobira for an upfront payment of $28.35 per share in cash, plus $49.84 per share in CVR's. Also, as stated earlier in this article, we refer to Bristol-Myers Squibb's acquisition of Flexus for $1.25B - which adds further validity to our speculation here.
Notwithstanding our acquisition prediction for Calithera, our one-year price target falls in the range of $13 to $15, as acquisition predictions are hard to pin down in exact timing. We strongly feel that in 2017, small cap biotech will be on the rise as large cap biotech looks to diversify their pipelines in lieu of potential political headwinds that could see pricing limitations.
These large cap companies are better served in having a diverse portfolio of drugs in their pipelines to potentially bring to market, rather than relying on a single asset model to drive valuation, much like Gilead (NASDAQ: GILD) has relied on Harvoni now for some time to drive its valuation.
Disclosure: I am/we are long CALA, AFMD.
I wrote this article myself, and it expresses my own opinions. I am not receiving compensation for it. I have no business relationship with any company whose stock is mentioned in this article.
Additional disclosure: Disclaimer: This article is intended for informational and entertainment use only, and should not be construed as professional investment advice. They are my opinions only. Trading stocks is risky -- always be sure to know and understand your risk tolerance. You can incur substantial financial losses in any trade or investment. Always do your own due diligence before buying and selling any stock, and/or consult with a licensed financial adviser. Editor's Note: This article covers one or more stocks trading at less than $1 per share and/or with less than a $100 million market cap. Please be aware of the risks associated with these stocks.
Editor's Note: This article covers one or more stocks trading at less than $1 per share and/or with less than a $100 million market cap. Please be aware of the risks associated with these stocks.