"Economics is extremely useful as a form of employment for economists." - John Kenneth Galbraith


Biotech continues to pad its rally so far in 2017 on Monday as the main biotech indices added almost one and a half percent in trading yesterday within a mixed and slightly down market.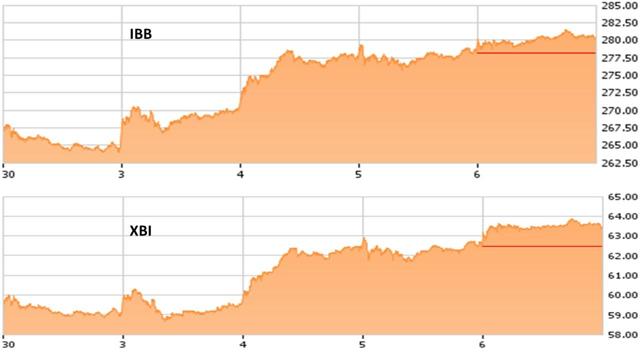 Helping biotech add to its impressive rally so far in the New Year was the big J P Morgan Healthcare conference in San Francisco, which always inspires plenty of positive analyst commentary. Two significant acquisitions yesterday that carried significant premiums also boosted sentiment on the sector.
Note: To get these Biotech Forum Daily Digests as soon as they are published as well as my free Instablogs, just click on my profile, hit the big, orange "Follow" button, and choose the real-time alerts option.

Mars announced Monday it was buying animal health play VCA Antech (NASDAQ: WOOF) for almost $8 billion, roughly a 30% premium. In my opinion, this could put Aratana Therapeutics (NASDAQ:PETX) in play. Investors also made the connection as that stock was up over six percent in trading yesterday.
Aratana is one of the few pure plays in animal health, which had already seen increased deal activity over the past year. The shares have a market capitalization of just $300 million and had its first three drugs approved in 2016. It also has over a half dozen drugs in its pipeline. The stock is up some 40% from when I last did a 'deep dive' on it, but the shares still feel like they have upside.
Also on Monday, Takeda (OTCPK:TKPYY) bought oncology mid-cap ARIAD Pharmaceuticals (NASDAQ:ARIA) for over $5 billion that included a ~75% premium. One has to wonder whether this shelves negotiations for Takeda to buy Salix from Valeant Pharmaceuticals (NYSE:VRX) for approximately $10 billion, even as Takeda's management has stated there are additional deals to come. Valeant was also busy yesterday, selling its skin care business to L'Oreal for $1.3 billion and its Dendreon cancer business to China's Sanpower Group for just over $800 million.
In other news on Monday, Merck (NYSE:MRK) expanded its collaboration deal with Incyte (NASDAQ:INCY) around investigating the combination of Incyte's Epacadostat and Merk's Keytruda in solid tumors and blood cancers. That combined with the general excitement in the oncology space thanks to the purchase of ARIAD, had Incyte's shares up some 10% in trading yesterday.

Celgene (NASDAQ:CELG) took advantage of its turn at the podium at J P Morgan's Healthcare conference to report preliminary full year 2016 results showing a 22% rise in revenues and guided for another roughly 18% increase in FY2017. Management also reiterated FY2020 guidance of $13.00 a share in earnings, which makes the stock's $120 a share trading levels look more than reasonable.
Not surprisingly, this news spurred a couple of analyst firms to reiterate Buy ratings on this biotech stalwart yesterday. BTIG said yesterday its price target is $138 within its reissued Buy rating and Jefferies said its price target is $142 a share on Celgene. Today, we have Oppenheimer coming in with a Buy rating and $141 a share price target. I articulated this weekend why I thought Celgene should be a mainstay core holding in any well-managed biotech portfolio.
After four straight "Hold" ratings over the past three weeks, including at Wells Fargo this morning, Illumina (NASDAQ:ILMN) finally gets some love from analysts. Merrill upgrades the stock to a Buy with a $175 price target. Merrill's analyst probably feels it's a good time to chime in after the company just announced after the bell yesterday that it plans to introduce a new DNA gene sequencer with new architecture it says eventually could push the cost of decoding a human genome to as low as $100.
Mixed views on oncology concern Spark Therapeutics (NASDAQ:ONCE) despite the stock's over six percent move yesterday on a very good day for oncology stocks on ARIAD's agreement to be bought at big premium. J P Morgan and Cowen & Co. reissued Buy ratings yesterday, with the former having a $75 price target on Spark. Jefferies taking the opposite side of that bet with a Hold rating and $57 price target also issued Monday.
Note: New analyst ratings are a great place to begin your due diligence, but nothing substitutes for deeper individual research in this very volatile sector of the market. Many of the small-cap names highlighted in "Analyst Insight" will eventually appear in the "Spotlight" section, where we do deeper dives on this type of promising but speculative small-cap concerns.

On Sunday night, news broke on Reuters that Merrimack Pharmaceuticals (NASDAQ:MACK) was selling its pancreatic cancer drug Onivyde as well as a late stage compound, which is a generic version of DOXIL. This drug does some $600 million in annual sales and Merrimack had a partnership that would have resulted in royalties in the mid-20s as a percentage of sales. The stock surged almost 50% in pre-market trading, but investor enthusiasm soon died after details of the over $1 billion potential transaction came out. The stock ended up ever so slightly from where it began the day.
Given the news, it is time to revisit the investment case for Merrimack, which changed drastically given this announcement.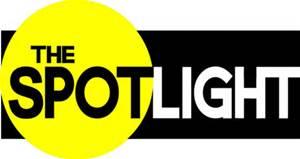 What Merrimack will receive for these two assets:
$575 million in cash. The company will use these proceeds to pay off all debt, pay a special dividend of $1.54 a share to shareholders and fund development of its three remaining compounds through 2019. Merrimack will also lay off 80% of its staff, which will substantially reduce cash burn.
In addition, the company will receive up to $450 million in potential Onivyde contingency payouts. It will receive $225 million if/when Onivyde is approved for front-line pancreatic cancer, $150 million if/when Onivyde is approved for small cell lung cancer and if/when Onivyde is approved for any third indication. It seems a good probability that Onivyde will eventually be approved for front-line pancreatic cancer and key data is out this year from Phase II trials.
Results for small cell lung cancer have been encouraging to date but success here is a long way off. The company also has another $33 million in net milestones in the agreement that look easy to achieve such as approval of Onivyde for current approved indications to two additional major European countries, which triggers an $18 million payment.
What is left:
So if you assume that Onivyde is approved for front-line pancreatic cancer garnering the $225 milestone payment as well as the $33 million in easier to achieve milestones, another special dividend of approximately $2.00 a share should be accrued by shareholders on top of a more immediate $1.54 a share special dividend payout. Combined this means the company could be paying out almost exactly the $3.67 a share the stock is selling at currently in special dividends over the next few years, roughly 40% upfront.
This leaves just over $120 million (~90 cents a share) to fund development of the remaining three early stage compounds in its pipeline to 2019. I am putting no value on any potential milestone payouts for small cell lung cancer or any "third" indication for Onivyde at this time.
Outlook:
It is probably best to hold shares of Merrimack for the time being. It will probably be a volatile week for the stock as analysts weigh in. In addition, the company has gone from a "Tier 3" stock where investors' main concern was Merrimack's debt levels to a well-funded but early stage "Tier 4" developmental concern whose future is now tied to assets that previously were tertiary to its value proposition.
I believe the company probably deserves to trade at $5 to $6 a share, which is down considerably from my previous hopes around Onivyde. However, I did buy a few more shares near the close of trading yesterday. This name should probably only be held by investors comfortable in investing in early stage developmental concerns within a well-diversified biotech portfolio.

Note: Don't forget to register for the 1st Annual Seeking Alpha Investing Summit on January 23rd. 25 of the top contributors here on Seeking Alpha will be giving their investment views on 2017 and the best places to invest in the markets in the New Year.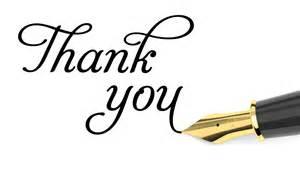 Thank You and Happy Hunting
Bret Jensen
Founder, Biotech Forum
Disclosure: I am/we are long CELG, MACK, PETX.
I wrote this article myself, and it expresses my own opinions. I am not receiving compensation for it (other than from Seeking Alpha). I have no business relationship with any company whose stock is mentioned in this article.