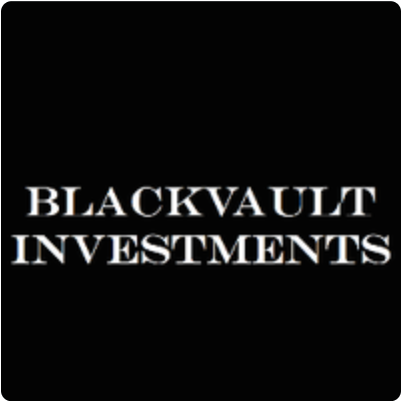 Our Performance
As we all know, the high yield credit space was an exciting area to be invested in this past year, and opportunity was plentiful. The BlackVault Investments bond portfolio has done well this year investing in junk bonds, primarily in the Oil & Energy sector, netting the portfolio a very pleasing 22.5%+ return on the year. The core portfolio consists of bonds with a weighted average of 2.75 years to maturity, limiting duration risk in a rising rates environment and uncertain credit market. These core positions have been held through the majority of 2016 with minor adjustments.
A smaller portion of the portfolio is utilized in trades or small positions.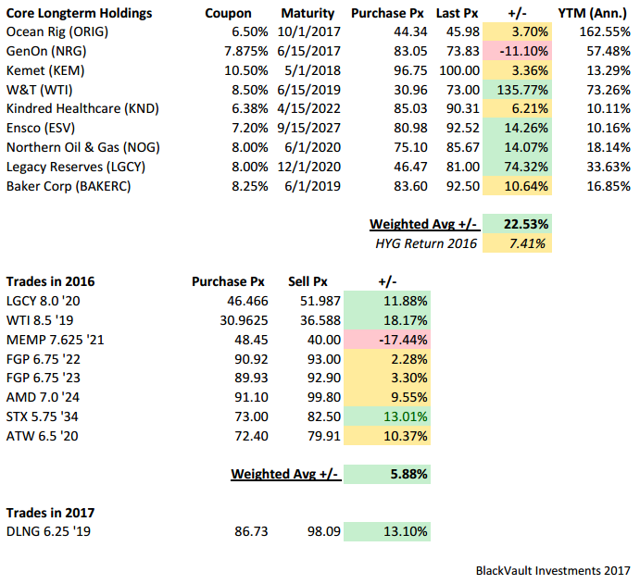 Compared to the 10% year-end return of iShares iBoxx $ High Yield Corporate Bond ETF (NYSEARCA:HYG), I am very pleased with our portfolio's performance. It's been a tumultuous year all around so I've added the S&P 500 here for context. Junk bonds have now outperformed the S&P 500, excluding the past two recessions, by the most since 1993.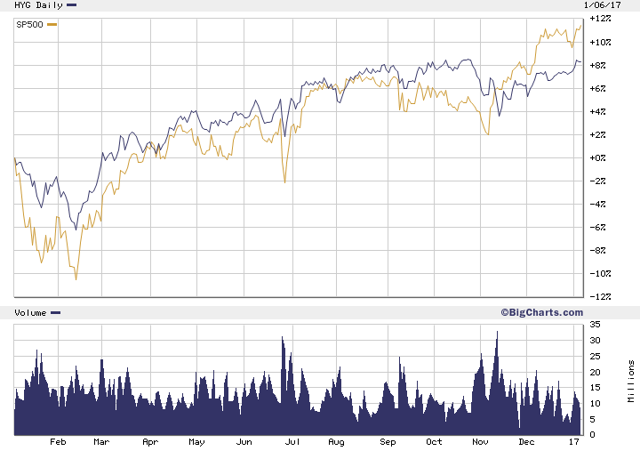 Since the New Year, the Dynagas (NYSE:DLNG) 6.25% '19 position was sold at a gain of 13.10%. A position was expanded in Ocean Rig 6.50% '17 bonds.
High-Yield Outlook 2017
As of Dec. 22nd, U.S. economic growth was measured at 3.5%, a little hot, encouraging high corporate debt levels and spurred on by cheap money. Following the wave of Brexit puns post-June 23rd, I even heard cries of a "Crexit", driven by the swell in corporate debt.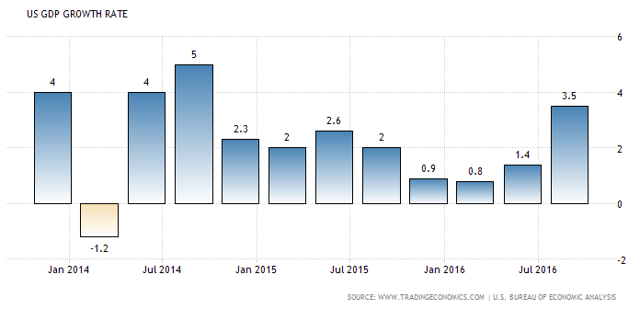 Our forecast for 2017 points towards a more modest 2.5% GDP growth rate, which may cool the default cycle and bring debt back to more manageable levels. That being said, I am hesitant to declare myself wholly bullish on high-yield, as too many things remain to be seen.
One of the main points of 2016 was the level of corporate defaults. Defaults in 2016 were primarily driven by the energy and mining sectors. In a review, J.P. Morgan recently indicated that 84% of corporate defaults in 2016 were by commodity tied companies. Unfortunately, we're not quite yet over the hump. Early 2017 still sees another large chunk of bond issues maturing, a number of them I have myself seen in the distressed energy market.
As a ballpark figure, Morgan Stanley research indicates defaults could hit 23% by 2019, take it with a grain of salt. That being said, I'm in favor of a near-term peak in high yield defaults in 2017, before tapering back down over the course of the year, cooling off namely due to a more controlled GDP growth rate trajectory.
This is in fact a fair possibility. Last year, I mentioned to my colleagues around the office and wrote on Seeking Alpha about the steady rise in corporate defaults, and was not alone. The wave of defaults has culled many of those already at severe risk, namely in Oil & Energy as I see it. A stabilized oil outlook is a huge positive here. More on our outlook for oil here and here. Moreover, Moody's LSI (liquidity-stress index) has been receding over the last six months from a peak in March, painting an optimistic portrait for 2017 defaults. The index falls as corporate liquidity improves.
Default rates peaked above 11% following each past recession of the last 25 years, but throughout the default cycle last year neither the default rate nor running projections rose this high. The running average default rate is 4%. The red bar, F 2017, is our forecast.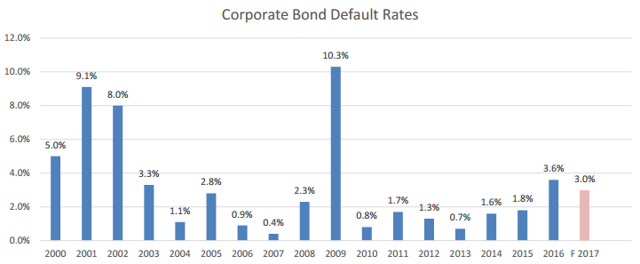 Source: J.P. Morgan, Bloomberg
Corporate default rates will also likely be suppressed by a large scale down in the number of borrowers classified with distressed debt: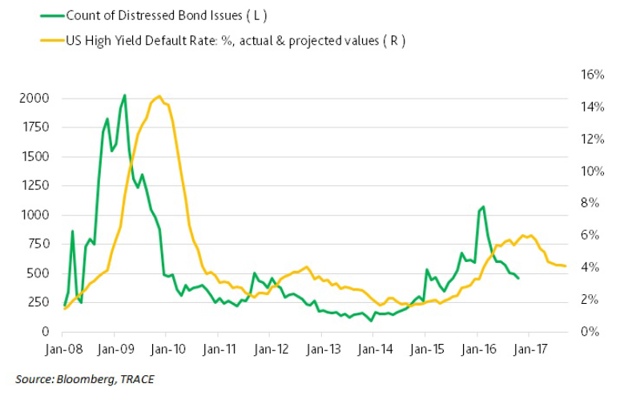 From another view, we have had our fourth consecutive annual declining of high-yield issuance: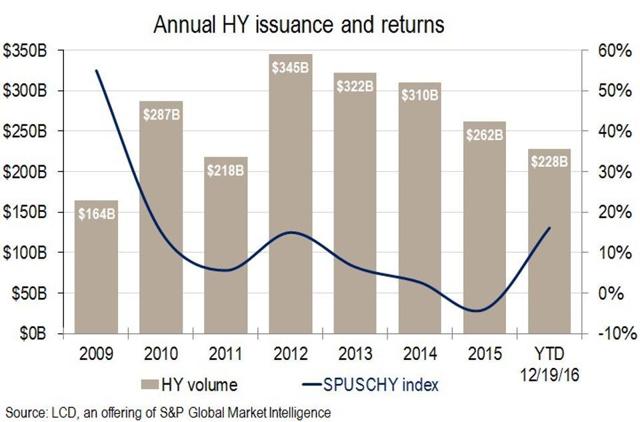 Fairly illiquid underlying securities of bond ETFs are still an area of concern as well. The central banks and pension fund driven search for yield to match obligations in today's credit market are forcing institutional and individual investors alike to plumb increasing depths for yield, moving down the capital structure and away from quality. A severe narrowing of the spread between high yield and investment grade could spark a rush for exit doors, doors that may be locked if redemptions on funds mount high enough. Should general sentiment on high-yield turn risk averse, the situation could become dire. The market will not sustain such flows.
This may be redundant, but I expect that going into 2017, the high-yield market will continue to be heavily tied to commodity markets. Riding off the back of last years rally, I feel extremely cautious going forward, however stabilizing oil prices, corporate default and debt levels show potential relief. I am optimistic that there remain other high-yield corporate bond opportunities outside of the energy & mining sectors as well, providing good opportunities to diversify against turbulence in commodities and take profits off the table. In my opinion, the high yield bonds may have over stretched, HYG overperformance driven by optimism on crude despite massive energy defaults, the Fed suppression of rates, and the deep dive for yield across the board.
Disclosure: I/we have no positions in any stocks mentioned, and no plans to initiate any positions within the next 72 hours.
I wrote this article myself, and it expresses my own opinions. I am not receiving compensation for it (other than from Seeking Alpha). I have no business relationship with any company whose stock is mentioned in this article.
Additional disclosure: This article contains opinions of BlackVault Investments, LP and does not constitute as an offering and/ or solicitation of investment advice.