J.C. Penney's (NYSE:JCP) inconsistent turnaround continues to trudge along. On January 6th 2017, the company reported a -0.8% decline in comparable store sales for the combined nine-week period of November 2016 - December 2016. In comparison, the company reported a 3.7% and 3.9% increase in comparable store sales for the same nine week period in 2014 and 2015 respectively. What on earth went wrong for J.C. Penney during this year's holiday season, and what does this result suggest more broadly in terms of the company's turnaround efforts?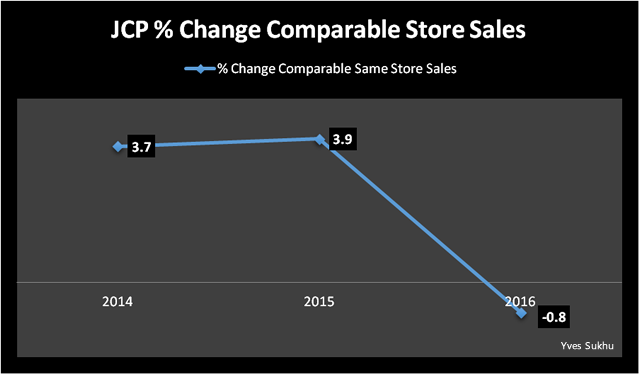 To put the company's results into context, JCP was not alone. Most retailers in its peer group reported declines in holiday season revenue. For example, both Macy's (NYSE:M) and Kohl's (NYSE:KSS) reported -2.1% declines in comparable store sales.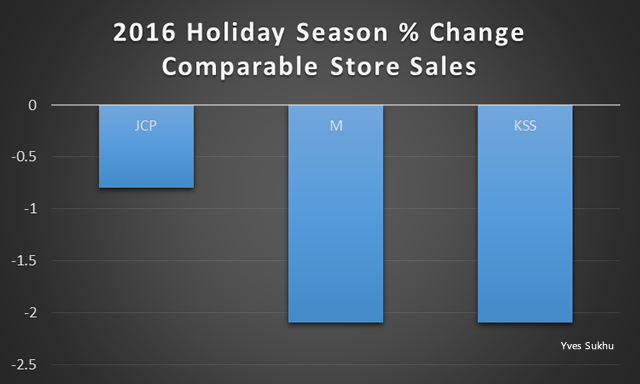 So, it would seem reasonable to argue that broader, macro-level forces are at work within the retail industry, and eating away at the traditionally strong holiday season. These forces include less mall traffic (i.e. less of a desire to shop), less of a middle-tier consumer, and greater e-commerce spending.
Perhaps the most powerful of these forces is the consumer pushing an increasing share of his spend from brick-and-mortar stores to e-commerce stores. Indeed, JCP notes that e-commerce sales grew by double-digits during the 2016 holiday season. The growing trend toward e-commerce is further supported by preliminary data from MasterCard suggesting that overall holiday spending increased 4% in 2016. If consumers were spending more money, and retail store sales were mostly down, then online stores are probably where a good portion of those dollars were spent.
But, how much additional revenue did JCP realize from online sales, and did it make up for the loss of in-store sales? Unfortunately, in the past, the company has not broken-down its in-store sales revenue versus its e-commerce store revenue. But, one would think that the company would directly indicate if e-commerce sales gains were making up for in-store sales losses. Since the company has made no such statement, it is reasonable to assume that e-commerce revenue is not growing fast enough to compensate for brick-and-mortar losses.
So, how will J.C. Penney ever return to growth? The company is betting its turnaround strategy on 3 pillars:
Private brands.
Omni-channel engagement.
Revenue per customer.
In regard to the company's omni-channel engagement strategy, the thinking goes that consumers want multiple ways to shop, and may initiate a transaction on one sales channel, and complete the transaction on another channel:
For example, a consumer may see a product in J.C. Penney's online catalog, but go into a J.C. Penney store to actually buy it.
In fact, this specific example is crucial to the success of the company's other two main strategies of private branding and revenue per customer; both of which rely on "customers-in-store" to drive results as management has outlined. For example, management points out in its 2015 annual report that it expects its store-in-a-store concept to help increase revenue per customer. (If you're not familiar with J.C. Penney's store-in-a-store concept, the company has exclusive agreements with premium brands such as Sephora and Disney (NYSE:DIS) to setup mini-store-formats for those brands within their stores). As another example, J.C. Penney offers salon services in certain store locations.
But, are these strategies working? In particular, are the e-commerce store and brick-and-mortar stores reinforcing each other by driving consumer traffic between channels? Without more data from the company, it is difficult to say for certain. And the recent holiday sales decline could be interpreted in a couple different ways:
On the one hand, if J.C. Penney's omni-channel strategy was working, the double-digit increase in e-commerce sales should have driven more store traffic, which should have driven more in-store sales.
On the other hand, J.C. Penney's decline in comparable store sales was not as bad as some of its competitors, so the opposite argument could be made that their omni-channel strategy is helping to drive customers in-store, which is why their performance was better.
Which argument is more plausible? I lean towards the first argument: J.C. Penney's omni-channel strategy is not working, and that we are seeing more of a pure shift of consumer spending online versus in-store. Why do I think this is the case? EVERY brick-and-mortar retailer has an omni-channel strategy. Of course, some retailers implement this strategy better than others. But, there is no conclusive data to indicate that J.C. Penney's implementation of its omni-channel strategy is significantly better than that of its competitors.
Frankly, it is not clear how J.C. Penney will return to sustainable growth, or if it is even possible given how rapidly the retail environment is changing. If current consumer trends continue as outlined above (e.g. consumer moving from brick-and-mortar to online), then the company will be competing with the likes of Amazon.com (NASDAQ:AMZN). And it is difficult to imagine JCP competing on a pure e-commerce basis. Of the 3 pillars of their growth strategy, only their private branding strategy is unique to J.C. Penney in the sense that their brands are exclusively theirs. But, the company relies on in-store shopping to help drive brand awareness. So, if store traffic continues to decline, then even this strategy will suffer. The company may find themselves in a similar position to Sears (NASDAQ:SHLD) who recently announced the sale of their legacy Craftsman brand to Stanley Black & Decker (NYSE:SWK) for $900 million in a bid to raise cash.
Management is going to have to out-innovate its retail competitors to survive and return the business to a growth trajectory. With the business somewhat more stabilized from a financial perspective, management should outline growth strategies that are unique, differentiated, and defensible.
Despite the challenges outlined in this article, I am long JCP. It is worthwhile to note that while JCP stock is down -9.3% year-to-date, the stock is up 8.6% over the past twelve months as of the writing of this article. Management has demonstrated financial discipline, and the company is doing a lot of the "right" things including a focus on consumers at the lower-end of the market, re-working their product mix based on market trends, and creating unique in-store experiences.
This is a stock to watch carefully, however. If comparable store sales results continue to decline for the next couple quarters, without an equal or greater gain online, then the current business model may simply be unsustainable over the long-term. And in that case, management may have to make some difficult choices to alter their strategy, which would be even more difficult given that the company already tried to reinvent itself under Ron Johnson, with a terrible outcome.
Disclosure: I am/we are long JCP.
I wrote this article myself, and it expresses my own opinions. I am not receiving compensation for it (other than from Seeking Alpha). I have no business relationship with any company whose stock is mentioned in this article.