This is the fifth installment of my sector rotations guide. Each month (or major swing in the markets), I try to beat the S&P 500 (SPY) by buying SPDR sector ETFs.
The idea is fairly simple. There is more potential for profit (and loss) in individual sectors, especially when the index is trading sideways. I try to buy strong sectors which have pulled back onto support and avoid overbought sectors at resistance. I also use Elliott Wave to identify cycles of buying and selling and stages in trends.
So far I have posted 3 successful months where I beat the index, and a complete miss last month as I was left scratching my head in the wake of the election moves.
So how did I do in December, and what is setting up in January and beyond?
December's Review
My last article was on December 8th. This is how the sectors performed since the close on Friday 9th December: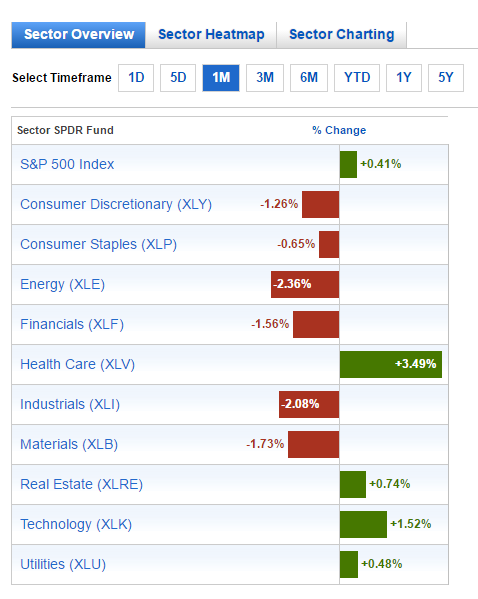 source: sectorspdr.com
The relatively flat performance of the S&P 500 (SPY) benchmark is exactly the kind of return I want to beat with my strategy. But as you can see, there weren't many sectors outperforming with a simple buy and hold strategy. As always, selection and timing are essential.
I suggested to avoid Industrials (NYSEARCA:XLI) and Financials (NYSEARCA:XLF) and wait for a small pullback.
I don't want to say where the pullback will start from. When it does, take a Fibonacci retrace from the September low and buy at the 23.6% retrace.
XLF did pull back, but hasn't retraced enough, yet. XLI on the other hand has played out very nicely: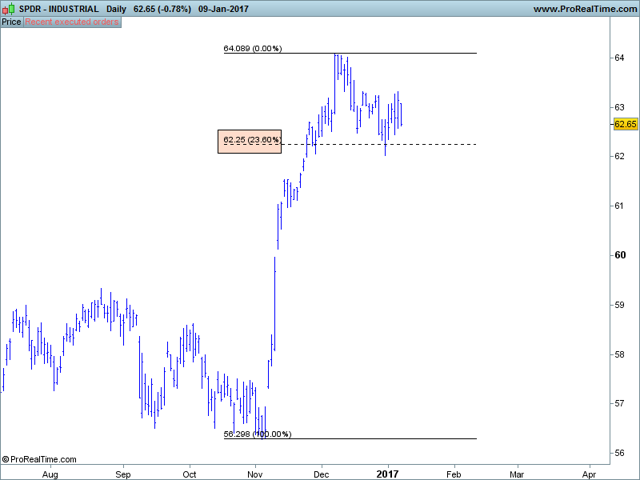 Right on the 23.6% retrace, as is so common when strong trends pull back.
Consumer Discretionary (NYSEARCA:XLY) was another one I suggested to avoid and wait for a pull back. Here is the resistance I pointed out in December: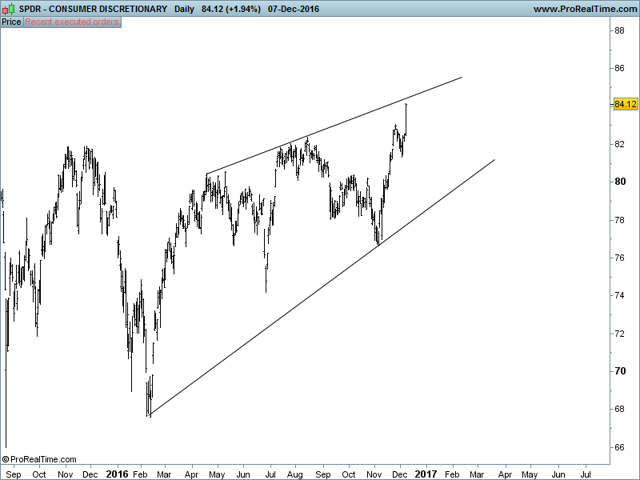 And here is the effect of that resistance: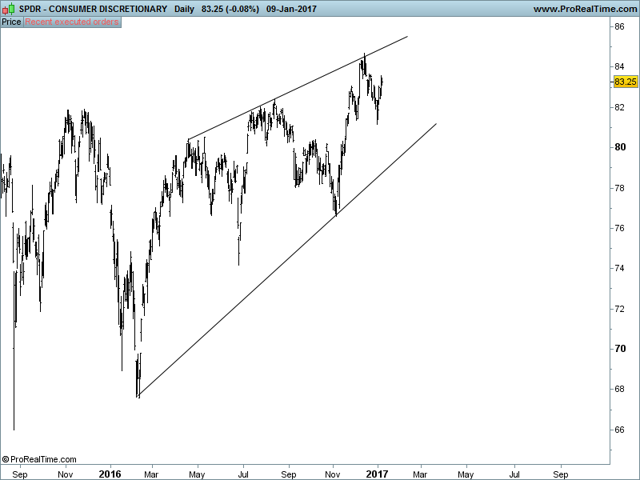 It's simple stuff really, but effective. Knowing which sectors to avoid and buy on pullbacks is half the battle.
Of course I also need to make some purchases. My choices in December were Healthcare (NYSEARCA:XLV) and Real Estate (NYSEARCA:XLRE).
Healthcare was the best performer and is up over 5% since my buy.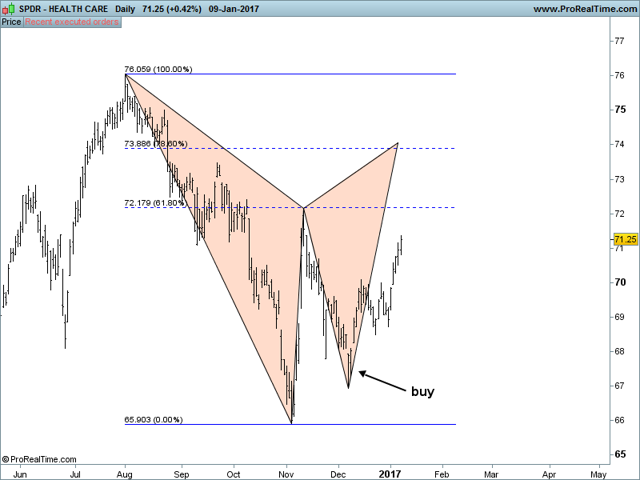 I have closed half and will hold the rest to my target of $73.8.
XLRE did not perform quite as well, but I closed half the trade this week with a profit of just over 2%.
My only other trade was Consumer Staples (NYSEARCA:XLP), which is a hangover from previous months. I am holding at an average of $52, which is around break-even.
The three holdings beat the S&P 500 in terms of an averaged percentage gain. It's actually a bit more complicated as I am scaling in and out of positions and I am holding 1/4 in cash to use when sectors move into entry points.
For the sake of clarity, I will try and use a new system. I will calculate how $10,000 would perform if invested in the S&P 500 from today's date. My sector trades will also use (a fictional) $10,000 between them. If I have $5,000 invested across two sectors and I want to make an additional purchase, I will have to sell one.
The only problem with being so specific is I may have to update trades in the comments section. Let's see how it goes in the next month.....
The Next Buys
I should re-iterate my view that the S&P 500 is late cycle and there are no compelling long term buys in the sectors. In fact I think several sectors, such as XLP, XLRE and XLU have topped and XLK is within two weeks of a long term top.
That said, there is still money to be made buying for the bounces, and with the first leg down in US bonds nearly complete, sectors like XLP could benefit.
If I had $10,000 to invest across the sectors I would invest $5,000 in XLP on a re-test of the channel at around $50.6.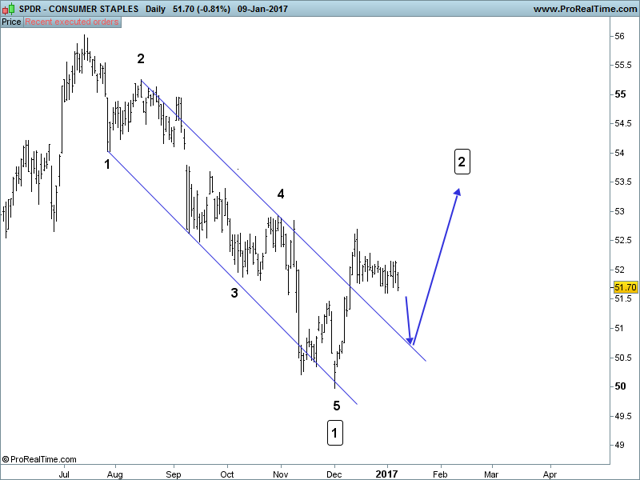 A stop at new lows and a target of the gap at $53.7 would give this trade an approximate $3.1 reward for a $0.9 risk.
I would invest the other $5,000 in XLF at $22.7. This trade would likely move inversely to XLP and I may be taking profits in XLP as I am buying XLF. I can't say that for sure, yet, but I do like the set-up on XLF.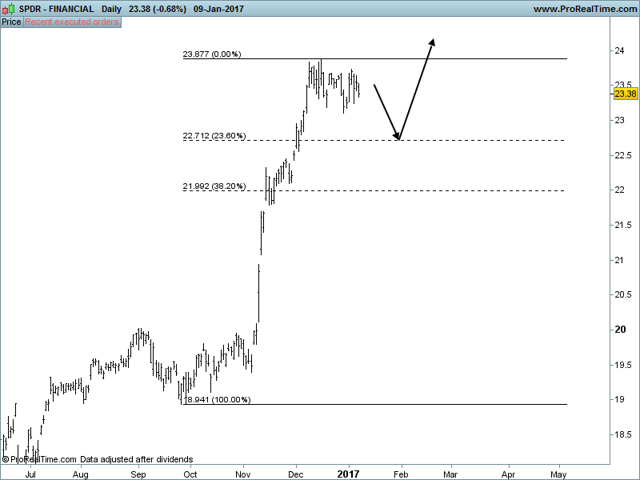 My stop would go under the 38.2% Fibonacci retrace at $21.8, risking $0.9 for a target of $1.8 at $22.5.
Obviously I don't know if these trades will trigger, and if the S&P 500 continues higher without getting filled I will underperform considerably. This is what happened in November and is the risk associated with this strategy.
I will also prepare other buys. XLV looks good on the next 23.6% pullback measured from the 30th December lows (actually I'm already long, but for the sake of future articles I will have to buy it again). Energy (NYSEARCA:XLE) is a buy at $72.7. Any re-test of the lows in XLU and XLRE are also a decent long. I will update these trades if and when they are near entry points.
I will avoid Technology (NYSEARCA:XLK), and Consumer Discretionary for now.
Conclusions
December was a flat month in the benchmark, but I managed to beat it by buying XLV and XLRE. I have now beaten the index 4 out of 5 times. Please note sectors have more beta than the S&P 500 so the added risk should be taken into account.
In the next 30 days I have listed sectors I am interested in buying and ones I want to avoid. I will update trades in the comments section. See you next month.
Disclosure: I am/we are long XLV, XLP.
I wrote this article myself, and it expresses my own opinions. I am not receiving compensation for it (other than from Seeking Alpha). I have no business relationship with any company whose stock is mentioned in this article.