Vical (NASDAQ:VICL) has been a horror show for investors. Failed trials, poor technology and a lack of awareness have left this small biotech company from San Diego all but forgotten. There are many reasons that a long-term investor would have no interest in this company even though it passes Benjamin Graham's criteria as a net-net investment because it is trading below cash. I believe there might be one or two more puffs left in this old cigar butt investment if you put a swing trade spin on it.
Although VICL will eventually need to use some of its $43 million in cash to fund operations and trials, we might get a puff or two of profits before it's gone. With an annual burn rate of $8-11 million the company should be able to advance its pipeline for at least two years with no need to dilute or secure risky financing. This should provide a swing trader with enough time to implement and exit their trade.
VICL's recent fiduciary responsibility has put it on stable financial footing for the next three years and is what initially caught my interest but not everything is good at VICL. There are some historical and future risks that need to be assessed.
VICL's stock price plummeted after their CMV vaccine candidate ASP0113 failed to meet its primary endpoint of a statistically valid proportion of patients achieving CMV viremia in September of 2016. For those of you who don't follow the company, this trial wanted to show safety and efficacy regarding the ASP0113 vaccine intended to reduce the possibility of kidney transplant rejection. Safety wise the vaccine had no concerns but sadly the vaccine also didn't help prevent CMV and failed the phase II trial.
Over a year beforehand in June of 2015, VICL's herpes vaccine failed to significantly reduce viral shedding. Viral shedding facilitates the transmission of herpes…but more on herpes later.
It was a rough year for VICL and shareholders paid the price. In fact it has been a rough five years for VICL. Let's go to the tape of suffering of shareholders past. The one year chart shows painful losses.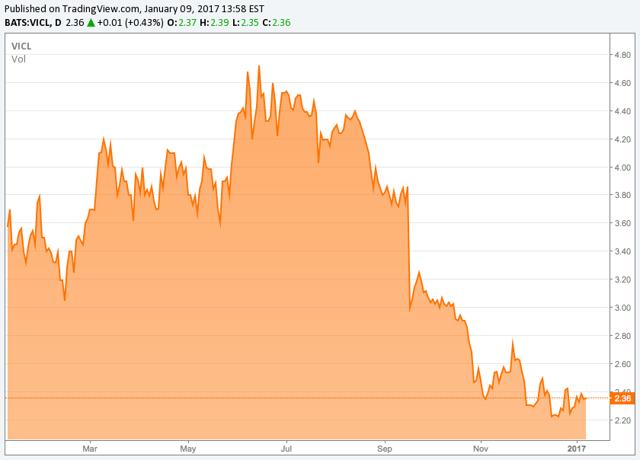 The five-year chart shows even greater capital destruction.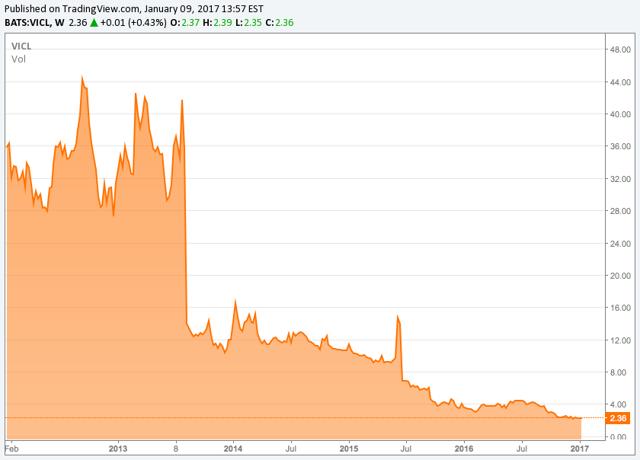 Obviously, VICL has been a pretty good short candidate. Poor execution has destroyed quite a bit of capital here. Any long-term investment would rightfully be questioned and perhaps even ridiculed. Even the company insiders have been reluctant to buy at these prices which is concerning. These reasons combine to make this a highly speculative and potentially risky trade but ironically VICL has never been on better financial footing. It really is a fairy tale type of investment for those that like to buy when others are fearful.
I think at today's price of $2.50 VICL presents an opportunity as a short-term swing trade with an asymmetric risk reward profile.
Considering VICL's risk one should only consider adding shares as part of an overall strategy diversified into at many of these high-risk opportunities after conducting your own due diligence. These opportunities are both high risk and high reward.
The cash they have on the books and the two programs in their pipeline should limit the current downside but one never knows.
Sentiment is very poor right now for VICL because of their past failures. Any good news would show immediate appreciation in the stock price. That doesn't mean we couldn't see VICL continue to drift downward but unless some macro event drives it down you have to ask yourself how low can the market cap go below the cash they have in the bank?
Because of VICL's history and current risk profile, I cannot commit to VICL as a long-term investment. I have however purchased a speculative swing trade position in the company which I will explain my reasoning for further below.
No swing trade works without some form of positive catalysts. The image below from VICL's website shows the products in the pipeline that could act as potential catalysts.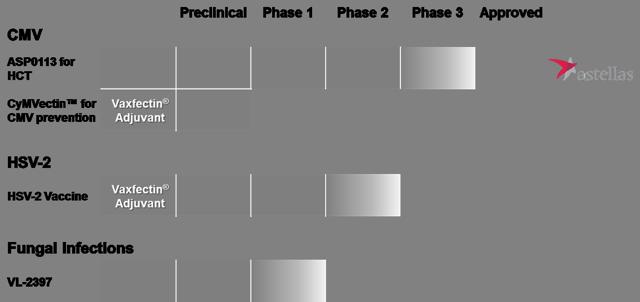 Source: vical.com
VICL is currently enrolling a phase II trial for the HSV-2 Therapeutic Vaccine treatment of herpes with the purpose of reducing lesion rates. Reducing lesion rates reduces the spread of infection.
400 million people are infected with herpes worldwide. Some news regarding this program may be expected by September of 2017. I am not counting on good news here but I am marking this time period to be my potential exit point for this swing trade.
Since 1995, the only drug approved for herpes is Valtrex made by GlaxoSmithKline (NYSE:GSK) . Any improvement in the current treatment of herpes would be a huge opportunity for VICL and would be welcomed by herpes sufferers.
At VICL, there are more than just herpes treatments to consider so enough about herpes.
VICL also has an antifungal treatment, VL-2397, which was found growing in a Malaysian park. This unique compound has demonstrated some antifungal properties. The hope is that VL-2397 Antifungal manages to kill fungus without excessively poisoning the patient. Hospitals have a real need for more treatment options regarding fungal infections. Current treatments have high toxicity levels and can damage patients' organs and even cause death.
The company plans on presenting their data and disclosed that, "everything has gone very well with that study" at their recent conference call. According to their very excited CEO, Vijay Samant, they want to, "make a splash" with the data. As a current shareholder, I expect them to make a big one.
Currently the market is giving no value to either HSV-2 or VL-2397. Mr. Market thinks that the company is worth less than if you liquidated it. I expect to see some increased attention over the next eight months and an improvement in sentiment. Given the company's cash balance, ongoing treatment trials, and current low price, I am initiating a swing trade position in VICL until September.
Disclosure: I am/we are long VICL.
I wrote this article myself, and it expresses my own opinions. I am not receiving compensation for it (other than from Seeking Alpha). I have no business relationship with any company whose stock is mentioned in this article.
Editor's Note: This article covers one or more stocks trading at less than $1 per share and/or with less than a $100 million market cap. Please be aware of the risks associated with these stocks.