As an investor, I value predictability a great deal. It's for that reason that I want to focus in on CH Robinson Worldwide Inc. (NASDAQ:CHRW). For those who are familiar with my writings, one of the industries I tend to favor companies that specialize in transportation and logistics. The reason for this is the simple idea that whatever happens to the overall economy, and to different sectors within it, "stuff" has to be moved from where it is manufactured/extracted to where it is needed. This is a constant, regardless of who is in office, and is becoming more so in our more globalized world. I also like predictability, and stability in the companies that I invest in, and CH Robinson is certainly that.
CH Robinson is a third party logistics company that provides freight and logistics services to over 110,000 customers, 68,000 carriers worldwide. What intrigues me most of all about the company is that they are the largest contracted pool of motor capacity in North America, with access to more than 1 million pieces of equipment. This is a large, stable, global logistics company.
Predictable Cash Flows
Reviewing the company's sales and net income figures going back to the period of the great recession indicates that the company has the capacity to weather the most severe economic downturns. Particularly impressive in my view is the fact that, although revenue was down 12% between 2008 and 2009, net income during this period actually grew somewhat. In addition, the company actually raised its dividend during this period, which was certainly atypical during that unpredictable time. The conclusion I draw is that the company is capable of reacting to slowdowns by reducing variable costs.
Dividend History
The first thing to note is that dividends have consistently been a reasonable percentage of net income. The company has been conservative, and these seem sustainable. Some would call the dividend history of the company fairly mixed, given that the cash dividends paid have tended to jump around. I prefer to give the company the benefit of the doubt and suggest that they declare dividends to match business conditions. In fact, over the past decade dividends have typically been approximately mid 40s of net income (with two years where they were 38% and 53% respectively). Thus, to my mind, the dividend shows little chance of being cut (or drastically increased).
The Stock
As I've said frequently (tiresomely?), a great company can be a terrible investment if the proxy we use to access that company's cash flows (i.e. the stock) is overpriced. The good news on this front is that, at the moment, the stock is reasonably priced relative to the overall market. The PE is approximately 20 times, the forward PE is not priced excessively, as it is about 20 times. The Enterprise value to EBIT is a lowly 13.24, suggesting a nice steady earnings yield of approximately 8%.
Technical Snapshot
As per our TrendCharts Daily Price Model the trend for CHRW turned Bullish on January 6, 2017. After hitting a 52-week high of $76.80 on December 12 the stock sold off and dropped to the $72.50 level. It has now established a strong support level at $72.50 and short-term bullish momentum looks ready to carry it back to at least the $75.00 level. Today we will buy the CHRW 17FEB17 72.50 Call Options which will provide us with approximately 16x leverage on our LONG trade. Our initial stop-loss exit signal for the trade will be a daily close below $72.50.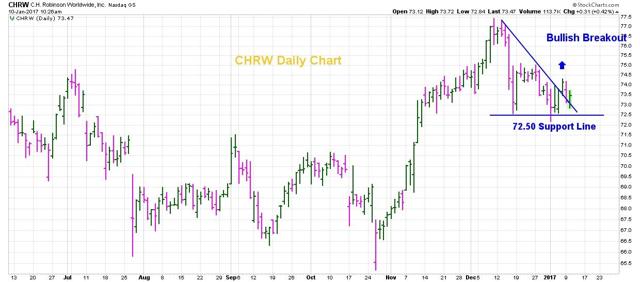 Conclusion
I believe long term investors would do well to buy CH Robinson at these levels. This is a sustainable, global business, that has a proven ability to weather (forgive the pun) the most severe economic downturns. Additionally, the shares are reasonably priced and offer a decent, sustainable dividend.
Disclosure: I/we have no positions in any stocks mentioned, but may initiate a long position in CHRW over the next 72 hours.
I wrote this article myself, and it expresses my own opinions. I am not receiving compensation for it (other than from Seeking Alpha). I have no business relationship with any company whose stock is mentioned in this article.