Rheumatoid arthritis (RA) is one of the most prominent inflammatory autoimmune diseases in the world and the US, affecting an estimated 4.9 million people globally and 1.3 million Americans. First-line treatment, often a disease-modifying antirheumatic drug (DMARD), is used to reduce symptoms such as inflammation.
However, the focus of this article will be on a different type of drug called biologics with the exception of JAK inhibitors (which are included due to their relevance in RA treatment). These often act as a second-line treatment when patients have had an inadequate response to DMARDs (around 33% of patients) such as methotrexate (MTX) and are used in conjunction with background DMARDs to increase clinical remission rates. They can and are also used as a first-line treatment, but it depends on the patient and their needs. Biologics have the highest rate of sales growth in RA due to their efficacy, ability to address unmet clinical need, and their pricing. According to Visiongain, 92.3% of global RA sales in 2015 came from biologics.
Additionally, we'll keep our focus on the US, rather than globally, given that sales from the US exceed those of the other major markets. In most RA biologics, US sales exceed all other major markets combined. In summary, we'll talk about the current market biologic products, biosimilars and pipeline biologic products in the US.
Current Market Environment
Current biologic top sellers in RA include AbbVie (NYSE:ABBV), Johnson & Johnson (NYSE:JNJ), Amgen (NASDAQ:AMGN), Pfizer (NYSE:PFE), Bristol-Myers Squibb (NYSE:BMY), Roche (OTCQX:RHHBY), and UCB (OTCPK:UCBJF). The table below shows the drugs marketed by these pharmaceutical giants and relevant details:
| | | | | | |
| --- | --- | --- | --- | --- | --- |
| | Company | Mechanism | Efficacy* - ACR20 | Efficacy*- ACR50 | Side Effects Difference 1 |
| Orencia | BMY | Selective costimulation modulator | | 32-52% | 8.15% AEs |
| Rituxan | Roche | Anti-CD20 monoclonal antibody | | ~27% | |
| Actemra | Roche | Monoclonal antibody. IL-6 inhibitor | | 25-36% | 3.38% AEs |
| Kineret | SOBI | IL-1 antagonist | | 13-17% | N/A |
| Humira | ABBV | TNF inhibitor | | 39-42% | 1.6% AEs |
| Enbrel | AMGN/PFE | TNF inhibitor | | 39-42% | Less SAE rate than MTX monotherapy (6.44% vs. 7.50%) |
| Remicade | JNJ/Merck (NYSE:MRK) | TNF inhibitor | | 21-40% | Less SAEs than MTX monotherapy |
| Cimzia | UCB | TNF inhibitor | | 37-38% | 8.6% AEs |
| Simponi | JNJ/MRK | TNF inhibitor | | 35-37% | 9.68% AEs |
| Xeljanz/XR** | PFE | JAK inhibitor | | 29-44% | Trial sizes too small to make meaningful comparison |
*Efficacy based on ACR 20/50 response at varying lengths of time (3 months - 12 months usually) for patients with inadequate response to standalone MTX. Efficacy data will vary widely depending on the size of trial and the patients tested, so do not take them verbatim.
**Xeljanz is not a biologic. It is included because JAK inhibitors are an important part of both current and future treatment, and given Xeljanz is first-in-class, it acts as a benchmark for future JAK inhibitors.
1The difference between the occurrence in SAEs/AEs in the arm with the drug + MTX and in the arm with placebo + MTX.
As can be seen in the table above, most biologics available on the market for RA are TNF-alpha inhibitors. They have demonstrated surprisingly high efficacy when combined with DMARDs, especially in the big 3 (Humira, Remicade, and Enbrel). They also boast strong safety profiles, with SAEs and AEs in line with MTX monotherapy.
However, the market is fairly crowded with TNF-alpha inhibitors. If you're familiar with Hepatitis B treatment, you know that having only one class of drug for treatment increases the unmet clinical need for patients who are resistant to that mechanism of action (MoA). Fortunately, there are other options out there in the current market which sell well. Unfortunately, for these drugs, their place is often relegated only to patients who have failed prior TNF inhibitors (20-40%) or DMARDs. The pie chart below shows the market share for each drug as of the latest quarterly earnings: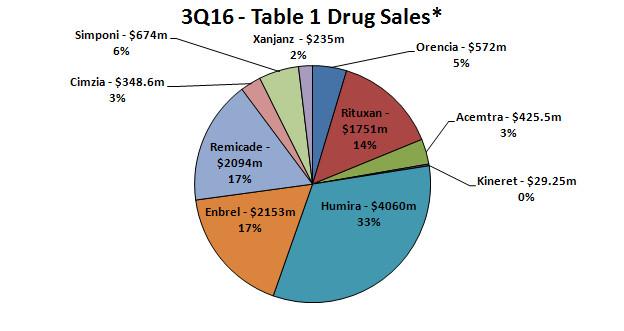 * - Sales are for all indications each drug is approved for, not just RA. More details below.
Source: Company filings through EDGAR. This data is global sales, rather than just the US, since not all companies separate them. Most do, though, and in most cases, US sales are >50% of worldwide sales. Foreign currency revenue translated into USD at exchange rate on January 8th, 2017.
Humira, no surprise, is the leader in sales followed "closely" by Enbrel, Remicade, and Rituxan. If you looked at the efficacy and safety results above, you may be a tad surprised to see this. However, there are a few elements which skew the sales data here.
Sales are for all indications, not just RA. Autoimmune inflammatory treatment has a crossover, so it is not uncommon to see drugs approved for many other autoimmune inflammatory conditions such as psoriasis, psoriatic arthritis, ankylosing spondylitis, Crohn's disease, ulcerative colitis, and juvenile idiopathic arthritis. It's hard to determine what comes from RA for each drug.
Going off the first point, the key driver behind Rituxan sales are its indications in cancer, not RA. Hence, its contribution to RA sales is much lower (its slice of the pie is smaller and all other slices are larger).
These drugs lose their efficacy after a while. Studies show that Humira retains clinical efficacy for the longest period of time.
In summary, and this will come as no surprise to those of you following these companies for a while, the big 3 of Humira, Enbrel, and Remicade stay far above the rest of the pack due to their efficacy and safety profile. Let's look at the hot topic regarding these big 3 drugs: Biosimilars.
Biosimilars - Too late?
Unless you've been living under a rock (say hello to Patrick for me), you've heard about biosimilars and their impact on sales for the reference drug. And in particular, the big 3 are in battle zone territory for holding on as long as they can in the US (having already lost in other places in the world). Remicade lost their battle this year as Inflectra recently launched in the US. Let's look at the table below:
| | | | |
| --- | --- | --- | --- |
| | Manufacturer | Reference Drug | Phase |
| Inflectra | PFE | Remicade | Launched |
| Erelzi | Novartis (NYSE:NVS) | Enbrel | Registered |
| Amjevita | AMGN | Humira | Registered |
| SB2 | MRK + Samsung Bioepis | Remicade | Preregistered on 5/23/16 |
| Rituximab biosimilar | NVS | Rituxan | III |
| Rituximab biosimilar | Boehringer Ingelheim | Rituxan | III |
| Rituximab biosimilar | AMGN | Rituxan | III |
| Infliximab biosimilar | PFE | Remicade | III |
| Infliximab biosimilar | AMGN | Remicade | III |
| Etanercept biosimilar | Coherus (NASDAQ:CHRS)/Daiichi Sankyo (OTCPK:DSNKY) | Enbrel | III |
| Adalimumab biosimilar | NVS | Humira | III |
| Adalimumab biosimilar | PFE | Humira | III |
| Adalimumab biosimilar | Momenta (NASDAQ:MNTA) | Humira | III |
| Adalimumab biosimilar | Fujifilm Kyowa Kirin Biologics | Humira | III |
| Adalimumab biosimilar | Boehringer Ingelheim | Humira | III |
Source: Bloomberg terminal
If you're going to copy someone, you might as well target the best. And here we are, with all of the big 3 at the top. Fortunately, for AbbVie, it looks like Amjevita will be held off until 2018 or so in the US due to litigation delays. And a similar story may unfold for Amgen and Pfizer, who are fighting hard against Novartis's subsidiary Sandoz's biosimilar Erelzi. Unfortunate for everyone (aside from Pfizer), Inflectra has already launched in the US and no doubt will negatively impact the sales of all other biologics, not just Remicade.
Meanwhile, we have a full brigade of biosimilars in Phase III development and a lone wolf waiting for approval. But instead of focusing on that, I'd like to draw attention to the new products that will be released soon for the treatment of RA because there is a chance these biosimilars may be too late to take the lion's share of profits (especially if they can't make it past court).
In the Pipeline: Rheumatoid Arthritis
There are some drugs immediately on the horizon for the treatment of rheumatoid arthritis and they boast some significant improvements, especially for those who have failed prior TNF inhibitor treatments. However, even as monotherapies, these drugs show high clinical efficacy as can be seen in the table below:
Manufacturer

Mechanism

Efficacy 1

Side Effects

Phase

Sirukumab

JNJ/GSK

IL-6 Inhibitor

78.69-83.61% AE

Pre-registration - 9/23/16

Sarilumab

SNY/REGN

IL-6 inhibitor

4.9% SAE

64.1% AE

Pre-registration - 1/08/16. CRL delaying release

Baricitinib

LLY/INCY

JAK1/2 Inhibitor

3.1% SAE

63.5% TEAE

Pre-registration - 1/19/16

ABT-494

ABBV

JAK1 Inhibitor

<3% SAEs

N/A AEs

III

Cosentyx

NVS

IL-17 Inhibitor

19.32-33.71% AE

III

Olokizumab

R-Pharm/UCB

IL-6 Inhibitor

-0.60 to -0.68 DAS28 from BL, anti-TNF prior treatment

13.6-26.3% SAE

88.3-94.7% TEAE

III

Filgotinib

GILD/GLPG

JAK1 inhibitor

44-53% TEAE

III
1 Efficacy is % of patients with ACR20 response to monotherapy. Data for use with DMARDs harder to find with these, so monotherapy was used in most cases instead.
Of the drugs listed, the closest to launch is Eli Lilly (NYSE:LLY) and Incyte's (NASDAQ:INCY) baricitinib, which should no doubt be a strong blockbuster for several reasons. One is that its efficacy is some of the highest seen so far: It has shown clinical superiority over Humira (the market leader) in the RA-BEAM trial where as Xeljanz (the other JAK inhibitor on the market) has shown numerically similar results vs. Humira. It is important to note that a meta analysis of Xeljanz in 2013 showed some clinical superiority against Humira in ACR50 response. Two is that it has a strong safety profile, with the rate of SAEs and TEAEs in line with other drugs currently available on the market. Third is that RA treatments with JAK inhibitor MoAs can be administered orally, rather than through subcutaneous/intravenous injection. Management has stated it intends to push baricitinib's position ahead of TNF inhibitors in RA treatment, which would yield a much higher market share if successful. The data supports such a decision, so Eli Lilly and Incyte are sitting comfortably now barring any complications that delay launch past Q1 2017. The PDUFA date is January 19th, so we should hear by then if there are any delays.
Sirukumab and Sarilumab, products from JNJ & GlaxoSmithKline (NYSE:GSK) and Sanofi (NYSE:SNY) & Regeneron (NASDAQ:REGN), respectively, will also see a launch in the next year barring delays. Sanofi and Regeneron recently received a complete response letter (CRL) from the FDA regarding manufacturing deficiencies. This gives JNJ and GSK breathing room as both drugs work with the same MoA. The timing advantage will be smaller now than it would have been otherwise, since the months Sanofi and Regeneron had over JNJ and GSK in filing for approval will now be partially eaten up by addressing the FDA's concerns. Barring a delay in the approval of sirukumab, JNJ and GSK's drug is expected to launch in Q4 2017. Sanofi and Regeneron have not given a timeline for addressing the FDA's requests. Both drugs will have to compete with Actemra (current IL-6 inhibitor on the market), but show higher efficacy and should generate a larger market share over time.
There are many other drugs being worked on for RA in the US by many different companies. I only listed Phase III and further drugs in the table above, but there are at least 23 different drugs in Phase II for RA treatment in the US. Key players include the usual suspects (all the current market players), Celgene (NASDAQ:CELG), Valeant (NYSE:VRX), Gilead (NASDAQ:GILD), and numerous small biotech companies. You can scroll past this section of the article - this information is for those curious:
Vobarilizumab - IL6 Inhibitor, Ablynx (OTC:ABLYF)/AbbVie
Toreforant - H4R antgonist, Johnson & Johnson
Spebrutinib - BTK inhibitor, Celgene
SAN 300 - VLA-1 Inhibitor, Valeant
Rexlemestrocel-L - N/A MoA, Mesoblast (NASDAQ:MESO)
RO 7123520 - N/A MoA, Roche
Piclidenoson - A3AR agonist, Can-Fite BioPharma (NYSEMKT:CANF)
Peficitinib - JAK3 inhibitor, Astellas Pharma (OTCPK:ALPMF)
PF 6650833 - IL-1 inhibitor, Pfizer
Dekavil- IL10 replacement, Pfizer/Philogen
MSC 2364447 - BTK inhibitor, EMD Serono (OTCPK:MKGAF)
LX 2931- S1P lyase inhibitor, Lexicon Pharmaceuticals (NASDAQ:LXRX)
JTE 051- IL-2 inhibitor, Japan Tobacco (OTCPK:JAPAF)/Akros Pharma
Ixekizumab - IL-17 inhibitor, Eli Lilly
HM 71224 - BTK inhibitor, Eli Lilly/Hanmi Pharma (OTC:HANPF)
Guselkumab - IL-23 inhibitor, Johnson & Johnson/MorphoSys (OTCPK:MPSYF)
GSK 3196165 - GM-CSF agonist, GSK/MorphoSys
GS 9876 - Syk Inhibitor, Gilead
GS 5745 - MMP9 mAb inhibitor, Gilead
GDC 0853 - BTK inhibitor, Roche
Clazakizumab - IL-6 inhibitor, Alder Biopharmaceuticals (NASDAQ:ALDR)
BMS 986142 - BTK inhibitor, Bristol-Myers Squibb
Acalabrutinib - BTK inhibitor, Acerta Pharm/AstraZeneca (NYSE:AZN)/Merck
ABT 122 - TNF & IL-17 inhibitor, AbbVie
Note: Several of these have already shown low efficacy and likely won't make it to Phase III testing in RA. They are included for the sake of completion. Many of these are drugs designed for other indications but are being tested in RA anyway to see if there is clinical efficacy.
Rheumatoid Arthritis - Market Size
The global market for RA is anticipated to grow to around $19b by 2020 according to GBI Research. According to BCC Research, the global market for RA therapies should grow to around $21.3b in 2020, with biosimilars showing astounding growth of 71% CAGR from 2015 to 2020 ($368m to $5.4b). This is not surprising given biosimilars of the big 3 had not launched in 2015 in the US yet. By 2018, there should be a biosimilar of each of the big 3 on the market in the US. Companies that stand to gain from this trend include Pfizer, Novartis, Amgen, and Merck.
Visiongain (cited at top of article) has a much more bullish outlook, suggesting a market size of $34.6b by 2020. This report is the most recent (July 2016) and claims that sales will grow until 2018, at which point they will begin to contract as more biologics and biosimilars enter the market and put further pricing pressure on the industry. The importance of pricing cannot be understated - as mentioned earlier, 92.3% of RA treatment sales come from biologics. Biologics are often reserved as a second-line treatment, meaning DMARDs and other therapies experience a higher volume yet generate less than 10% of total sales due to their low pricing.
Investment Summary
The key companies who currently have a strong foothold in RA treatment are:
AbbVie
Amgen/Pfizer
Johnson & Johnson/Merck
These are the companies behind the big 3 (Humira, Enbrel, and Remicade). Of these five companies, the one who stands to gain the most moving into the near-term future is Pfizer. Pfizer's first to US market Remicade biosimilar, Inflectra, will generate sales while its brethren fight in court and other biosimilars are still in Phase III. This will result in an increased market share for Pfizer relative to other market players.
The other big players will see their market shares decrease as Inflectra takes sales from their biologics. Additionally, once baricitinib hits the market, everyone will be hit especially if baricitinib can position itself as a treatment ahead of TNF-alpha inhibitors, the current main class of drugs on the market. This means there will be two key new players: Eli Lilly and Incyte. Baricitinib's clinical efficacy and safety data, along with route of administration, suggests it will be a key market player over its patent life in RA treatment.
I expect Johnson & Johnson will experience a decline in market share, especially given that Inflectra is a biosimilar of its flagship drug Remicade. It should be able to mitigate some of the bleeding through the release of sirukumab, an IL-6 inhibitor with greater efficacy than Actemra. However, since its launch will be close to the launch of sarilumab, Johnson & Johnson will likely see a material decline in its current RA market share.
AbbVie should continue to do well, experiencing a slight decline in its market share. As the market leader, it will be difficult to materially push down Humira sales in any indications, including RA. The length of time that Humira remains effective goes a long way, which has not been fully tested in newer drugs due to how long the follow-up periods are. To the benefit of AbbVie, it has also fought off Amjevita for now which should delay any at-risk launches of a Humira biosimilar. Lastly, AbbVie has its own Phase III JAK inhibitor which should help mitigate the risk of baricitinib taking away market share in the long term.
Amgen will likely not do well moving forward in RA. Its future market share hinges on its biosimilars such as Amjevita, since it has nothing in the pipeline for RA aside from biosimilars. Given how that is going in court right now, I don't have a bullish outlook for it in RA. It is working on other biosimilars for Remicade and Rituxan, but so are many other companies. Due to the delay in Amjevita, many Humira biosimilars will likely be launched around the same time (2018). Given its interchangeability, Amgen should see significant declines in market share as Enbrel sales decrease from biosimilar and new biologic competition.
As for new players in the field, the list below shows only some of the new players in RA and the respective reason:
Eli Lilly (baricitinib + Multiple Phase II drugs)
Incyte (baricitinib)
Novartis (Erelzi and various other biosimilars. Cosentyx likely won't make a difference)
Sanofi (sarilumab)
Regeneron (sarilumab)
GSK (sirukumab + Phase II drug)
Gilead (filgotinib + multiple Phase II drugs)
Novartis will likely become the market leader in biosimilars once it is able to launch each of its products in the US. Gilead will likely struggle given filgotinib's relative inferiority to the other JAK inhibitors such as baricitinib and ABT-494 in RA and its Phase II drugs are a long way from market launch (See comment section for opinions from community on strengths of filgotinib). Comments on the others are included earlier in the article. I hope this information helps inform you about this key indication in immuno-treatment.
Author's note: If you would like to be notified when I publish an article, please click the follow button beside my name at the top of the article or on my profile page. Let me know your thoughts in the comments and thanks for reading.
Disclosure: I/we have no positions in any stocks mentioned, and no plans to initiate any positions within the next 72 hours.
I wrote this article myself, and it expresses my own opinions. I am not receiving compensation for it (other than from Seeking Alpha). I have no business relationship with any company whose stock is mentioned in this article.
Editor's Note: This article discusses one or more securities that do not trade on a major U.S. exchange. Please be aware of the risks associated with these stocks.