Prior to Fairway Market's bankruptcy, investors believed that every organic foods retailer was poised to experience growth and be extremely profitable. However, after the bankruptcy, many came to the hard realization that just like in any industry, an organic foods retailer is capable of failure.
Overview
Sprouts Farmers Market (NASDAQ:SFM) is a rapidly growing, value-oriented, specialty grocery concept, offering natural, organic, and healthy products at prices competitive with conventional grocers. The Company operates 240 stores, primarily in the Southwest, but has been expanding into the Southeast and the Midwest as well. Its motto is "Healthy living for less," and it targets middle-income consumers who want to lead a healthy lifestyle without paying premium prices. It offers quality, fresh, natural, and organic products at attractive prices in every department.
It has a deep heritage in organic and natural food market
The company was founded in Arizona in 2002 by members of a family with a long history of selling fresh and natural foods to a broad demographic of customers. By 2010, the company had 54 stores and was generating $629M in revenue. In 2011, the company partnered with a private equity firm, Apollo Fund and, through acquisitions, it expanded its footprint. It started as a specialty grocery store, and in 2011, the company took an initiative to become an everyday healthy grocery store. Now it is trying to become a healthy grocery and food destination.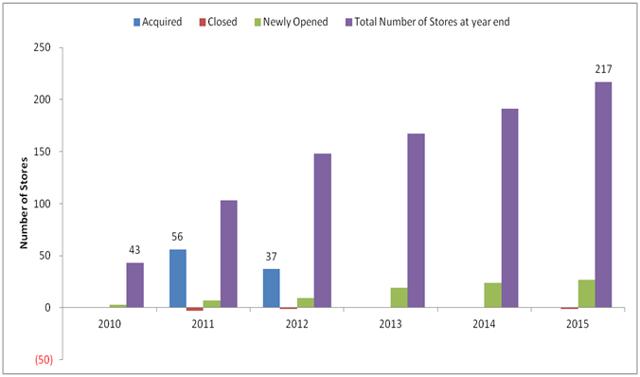 Grocery Retailer 101 - Building a loyal customer base
When it comes to the retail industry, customers have a very low switching cost. Once the consumers walk out of a grocery store, the only thing that guarantees their next visit is their current store experience. So it depends on whether they found the products that they were looking for, did they get excited about the product offerings, were they happy with the price points, and the customer experience they received. However, every target demographics' needs are different. For any food retailer to become successful, it needs to come up with a value proposition, a strategy to deliver that proposition, execute, identify the target audience, and build a loyal customer base. The first step to building a loyal customer base is to attract new customers, convert them to repeat customers by delivering on the value proposition day in and day out, and to expand their basket size.
As we mentioned earlier, Sprouts Farmers Market's motto is "Healthy living for less". Its strategy is to attract new customers by offering a larger selection of produce at lower prices compared to conventional stores, convert them to repeat customers by offering a good customer service, educate them about healthy living, and gradually expand their basket size. Offering low prices cannot be a strategy without a unique approach to reduce costs.
How is Sprouts offering low prices on produce?
It manages the entire produce supply chain in-house. It sources, warehouses, and distributes all the produce in-house. The buying is decentralized, and it builds relationships with local farmers. Since produce is its core offering, when needed, it can move a large amount of crop quickly. This helps the company further strengthen its relationships with farmers and get lower prices. It passes those savings on to its customers.
Differentiated
During one of the industry conferences, the host introduced Sprouts as one of the most differentiated food retailers. In the long run, only the companies that are differentiated and have a sustainable advantage will survive. Differentiation is not an idea, it is the execution. It is also about the sourcing, buying, distribution, offerings, layout of the stores, price points, target market, and customer service. They all need to be tied together in a unique way to create the desired brand image and unique shopping experience to target customers.
Sprouts focused on providing a convenient shopping experience and unique, healthy products at a competitive price to its customers. Its stores have a small-box format, an average 28,000-30,000 sq. ft. in size. They have a farmers' market feel, a bright, open-air atmosphere to create a comfortable and engaging in-store experience. It carries around 16,500 SKUs in its stores compared to 45,000-50,000 SKUs in a regular grocery store. It features fresh produce and bulk foods at the center of the store, which is in alignment with its strategy of attracting new customers through its fresh produce offerings. It doesn't mean that placing produce at the center of the store can't be copied; Kroger (NYSE:KR) has introduced a new format store called Main & Vine which features produce at the center of the store. However, product placement is just one small part of the strategy that creates a unique shopping experience. Every retailer needs to create a unique experience targeted towards its customer base. For example, Trader Joe's, a specialty retailer is famous for offering unique products. Consumers generally don't associate Traders Joe's with everyday grocery shopping, but they know that they can find unique tasting foods, such as international chocolates.
Since Sprouts is focused on providing healthy products, it doesn't carry many national brands such as Tide, Doritos, etc. Instead, it offers innovative, high-quality, healthy alternatives. Like any other food retailer, it is offering private label items and is expanding those offerings. At the end of 2011, it had around 800 private label items and now it has around 1,800 items. However, it does focus on maintaining its relationships with its suppliers. The moment it introduces a private label item, it doesn't abandon similar products it offered earlier. It doesn't place its private labels on premium spots just because they are its private label items, but rather they need to work their way up. Suppliers usually visit retail stores to check their product placement. Since Sprouts doesn't discontinue or demote any products the moment it introduces a new private label product; suppliers value this relationship.
While some of the peers are trying to cut costs by reducing headcount, Sprouts is on a hiring spree. It is focused on educating its customers about eating healthy and providing the best customer service. For any company, especially within the customer service industry, the key to success starts with fostering a culture where the employees are proud to be a part of the organization and the work that they are doing. It is trying to do just that. It plans to promote people within and provide its employees with opportunities to build their career. It is taking advantage of technology in order to have an optimum number of cashiers at the registers to provide the best customer service.
Like many retailers, the company is using data analytics to gain insights into customers' spending patterns and analyze its store traffic. It is analyzing the data to understand the customers' needs, improve its promotional effectiveness and customer experience, and customize the products and promotional offerings at the store level. It is also utilizing data analytics to predict changes in consumers' preferences so that it can offer relevant products. It has launched a digital app to offer digital coupons and help its customers with their shopping. By using the digital app and data analytics, the company is offering personalized promotions and products to customers and is trying to improve the shopping experience for its customers and expand their basket size. Sprouts is not the only company that is using data analytics and digital apps, a lot of its competitors are also doing the same. So, this is not a differentiating factor. However, without this, the company cannot gain a competitive advantage.
Grocery stores are expanding offerings and becoming food destination
As the market evolves, companies need to evolve to stay competitive. Many years ago, consumers went to grocery stores to buy groceries and then went home to cook. Now, that landscape has changed.
Whole Foods Market (WFM) established itself as a destination for premium quality natural and organic food by offering quality products at premium prices for health-conscious consumers. After establishing itself as a destination for health-conscious consumers, it expanded its deli offering with a wide variety of freshly prepared healthy food and convinced its customers that it can be a healthy alternative for their dining-out choices. It led the way for grocery stores to become an alternative for dining-out venue. While some grocery retailers have failed in converting themselves to be a grocery store and food destination, others have been successful.
Becoming a food destination is more than just adding an eating area and offering a few choices of prepared food. The expansion should augment the grocery retailers' value proposition.
Many years ago Stop & Shop Inc., a regional grocery retailer in the Northeast, tried to copy Whole Foods in becoming the food destination by setting up an eating area and offering a salad bar. The empty eating area in Stop & Shop reflects that creating a wonderful customer experience is not about the idea, but it is in the execution.
Will Sprouts succeed?
Last year, when Sprouts' consumer research indicated that its customers prefer deli space expansion, the company decided to expand its deli offerings. It is taking a gradual approach and using data analytics to pick stores to expand. It is selecting the stores to expand deli offering based on factors such as store traffic, daytime traffic, etc. According to the company, it is gaining positive traction.
The company is offering value oriented, freshly prepared healthy foods in its deli. It has added juice bars which offer freshly squeezed juices. It has received good customer reviews for its deli offerings. Sprouts is listening to its customers, and providing food based on their preferences. However, it is not the only company that is trying to understand customers' needs; some of its peers are also doing the same. Recently, Kroger CFO mentioned that the company is using data analytics to predict customer preferences and tailor its offerings instead of chasing the competition. Sprouts is good at executing and the expansion aligns with its value proposition. This expansion is not going to attract customers who are grabbing a meal in Whole Foods, but it will satisfy the customer base and will help the company expand its basket size too.
Growth Opportunity
The natural and organic food industry is growing and Sprouts has presence only in 13 states. It is natural to assume that the company has a substantial growth opportunity. However, one can't assume that there will be growth just because a company has a limited presence and the industry is growing. For example, Fairway Market had a very limited presence; it has 15 stores in the New York metro area, so, the company had a tremendous growth opportunity. It expanded aggressively and ended up in bankruptcy. Fairway Market was not profitable, and it was expanding through debt. In contrast, Sprouts is profitable and using cash from the operations for its expansion. It has also paid back some of its debt.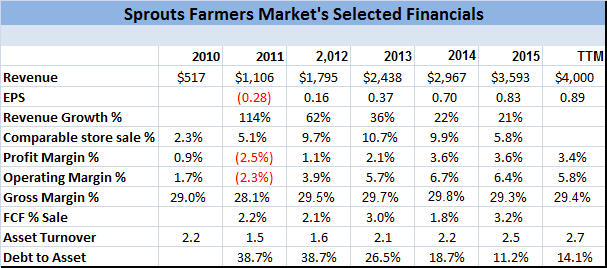 Source: SEC filings and Author's analysis
California is an attractive, yet, competitive market for natural and organic food retailers. A few years ago, The Fresh Market (NASDAQ:TFM), a premium brand specialty natural and organic retailer, tried unsuccessfully to expand into California and Texas. The Fresh Market was using word of mouth as its marketing strategy and had a very strong presence in the Southeast region. Word of mouth marketing strategy had worked for that company for decades and consistently it generated higher margins. However, that marketing strategy lets a retailer expand gradually, town by town and state by state. For years, The Fresh Market had taken a gradual approach and expanded successfully. A few years ago, that food retailer expanded beyond its core markets into California without changing its marketing strategy, and the expansion failed.
As we mentioned earlier, Sprouts Farmers Market's strategy is to offer produce at a competitive price, and it has lowered its costs through supply chain efficiency. It has in-house produce distribution and it builds relationships with growers. While expanding into a new region, the company needs to build its supply chain. It needs to build relationships with local growers and, if required, build a distribution center. So the company's geographic expansion needs to be gradual, and so far, it is doing just that. The company started in the Southwest and successfully expanded into the Southeast. Since its current CFO has experience in Canada, many analysts were asking the management whether the company is considering expanding into Canada. The management has repeatedly mentioned that in the near to medium term, it has no such plans and due to its business model, it needs to build supply chain before expanding into a new region. Recently, the CEO has also mentioned that the company is taking a consistent approach while signing new real-estate leases. The company is taking a consistent, gradual approach to expand and it will be one of the winners in this growing industry.
Sprouts' store footprint by state as of Jan 3, 2014: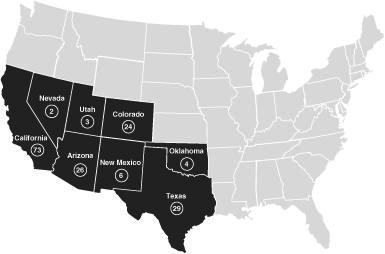 Source: The company's SEC filling
Sprouts' store footprint by state as of Jan 3, 2015: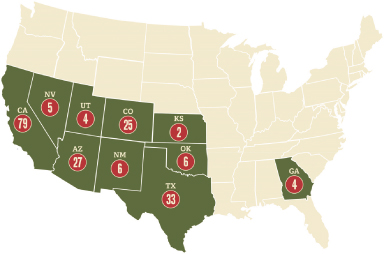 Source: The company's SEC filling
Sprouts' store footprint by state as of Jan 3, 2016: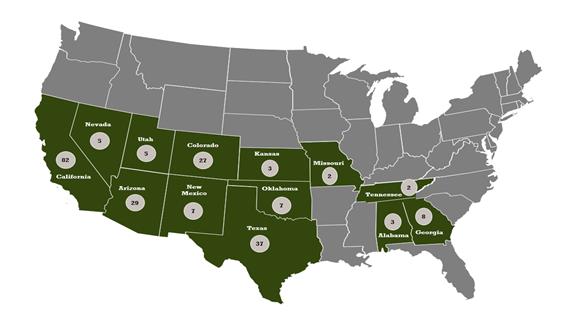 Source: The company's SEC filling
Industry is growing, so is the competition
Not so long ago, eating healthy was not part of mainstream American lifestyle, and Whole Foods Market was a specialty retailer. Consumers were preferring food that can be ready in a few seconds in a microwave. Foods that cooked faster were considered better. There were no gluten-free movement and vegan was considered hippie food. Now, consumer preferences and needs have changed. Consumers want to eat healthy, know what they put in their body, and lead a healthy lifestyle. So, the natural and organic food industry has experienced an impressive growth and the outlook remains strong.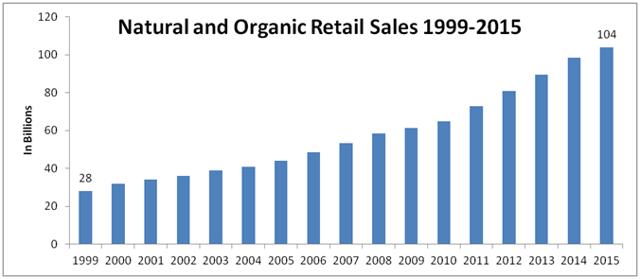 Source: Whole Foods Market's SEC filings and Author's analysis
The industry growth can be contributed to the following.
Heightened awareness of the role that healthy eating plays in long-term wellness.
Increasing consumer concerns over the purity and safety of food due to the presence of pesticide residues, growth hormones, artificial ingredients and other chemicals, and genetically engineered ingredients.
Even though most of the demographics want to live a healthy lifestyle, the millennial consumers are leading this growth.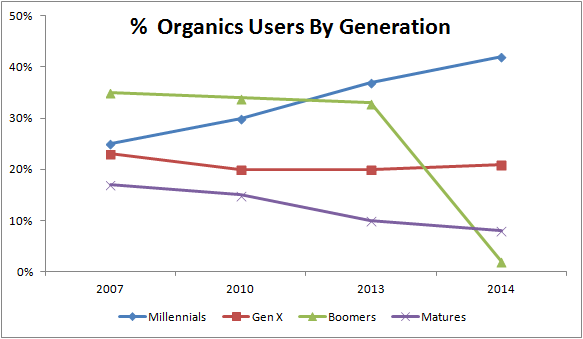 Source: Organic Trade Association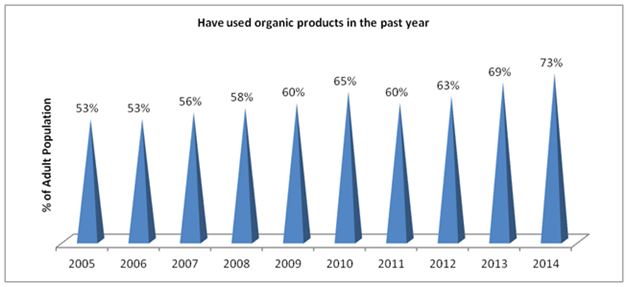 Source: Organic Trade Association
While the natural and organic industry is growing by double digits, the overall food industry is experiencing a 3% growth. As demand is growing, competition is also increasing. Conventional grocers and super retailers such as Wal-Mart (NYSE:WMT) and Target (NYSE:TGT) are increasing their natural and organic offerings, new players are entering the field, and the existing players are introducing newly formatted stores.
For example, Wal-Mart is promising affordable organic products for everyone with its Wild Oats organic offerings. Wal-Mart is working to lower the price of organic pantry staples, so, it will be at parity with national brand non-organic products. It is trying to achieve that goal through its supply chain efficiency and economy of scale. Wild Oats was the second largest natural and organic food retailer and was acquired by Whole Foods in 2007. However, due to FTC objection, the acquisition resulted in a reversal of purchase.
Increased competition and food deflation impact on Sprouts
Sprouts has successfully converted itself from a specialty retailer to a healthy grocery store. It is growing profitably, and its comparable store sales and financial performances are one of the best in the industry. Customers like its value offerings and convenient shopping experience. The company's high ROIC indicates that it is executing well on its differentiating strategy.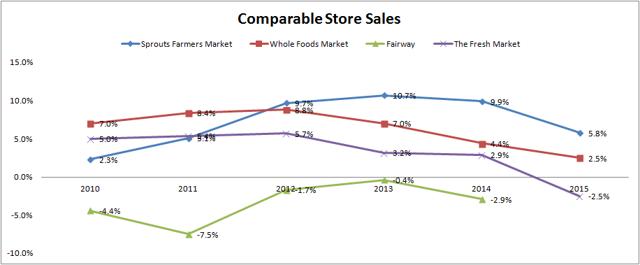 Source: SEC filings and Author's analysis

Source: SEC filings and Author's analysis
Trader Joe's, a specialty retailer which provides a convenient shopping experience and value offerings, is also performing well. The industry is evolving to meet the changing customer preferences. Every player is trying to adapt to these changing market dynamics. Whole Foods has introduced a small-box format value offering store called 365 by Whole Foods. However, the similarities between 365 by Whole Foods and Sprouts stores end with the small store size. While 365 by Whole Foods is focusing on prepared food and self-service, Sprouts is focusing on providing excellent customer service and educating customers about healthy eating. So, they are targeting different demographics. Similarly, Kroger has opened a new format store called Main & Vine - a small-box format, which focuses on fresh food. Main & Vine is a much higher-end store, and it seems to be targeting Whole Foods' customer base rather than Sprouts'. Consumers are demanding the transparency in the supply chain and want to know where the foods come from. So, Kroger has introduced a new brand called "Simple Truth"; products are free from 101 artificial preservatives and ingredients. This brand has gained customer confidence and performing well.
According to us, the biggest threat to Sprouts might be coming from The Fresh Market, a high-end specialty retailer. When it was a public company, it was planning to remain as a high-end specialty retailer. However, recently it got acquired by the same private equity firm that jump-started Sprouts' strategy to become an everyday healthy grocery retailer. Recently, during a conference call, when an analyst raised concerns regarding the threat from The Fresh Market, the CEO mentioned about Sprouts' first-mover advantage. We do value first-mover advantage, however, when the competitive landscape is evolving, companies can't just depend on that. They need to evolve constantly to maintain their competitive advantage. Sprouts seems to be doing just that.
The industry growth is attracting a lot of new players, so the competition is intensifying. In Southern California, within a three-mile radius, there are 13 new stores. The increased competition will impact margins. However, eventually weaker players will be weeded out and there will be stability. For example, recently Fairway Market applied for bankruptcy. We think Sprouts has a strong management and will remain as one of the strong players.
The increased competitive environment is heightened by food deflation. During a deflationary environment, most retailers try to be competitive and run more promotions than usual. The current prolonged deflationary environment is forcing most retailers to trim their yearly guidance. In this environment, Sprouts wants to maintain its sales and traffic. So, it is trying to be price competitive. However, this may not be the right strategy for a high-end retailer, but it is the right strategy for the company that is focused on providing value offerings. If it doesn't offer competitive prices, it might maintain its gross margin, but will lose traffic and, due to a lower volume, its operating margin will suffer. The company will also lose some market share and will find it difficult gaining back its customers' confidence even after the deflationary environment subsides. However, to emerge as a winner, the company needs to improve efficiency and reduce costs, which it is trying to do. In the near term, the company's margins and comparable sales growth will be negatively impacted. It is expecting a mere 1.5% to 2% comparable sales growth for the year. So, investors' enthusiasm has also declined.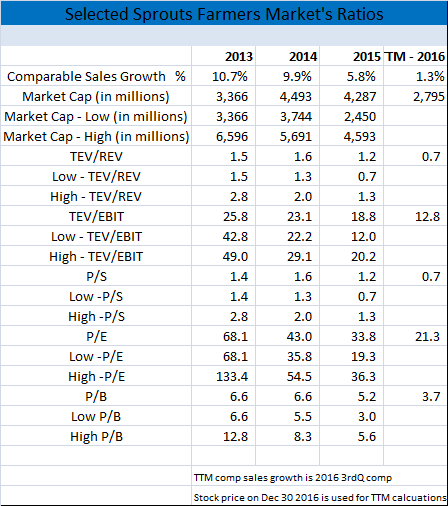 Source: SEC filings and Author's analysis
Conclusion
This is a well-managed company with a strong balance sheet. Customers like its value offerings and convenient shopping experience. It is growing profitably, and its comparable store sales and performances are one of the best in the industry. The company is taking a consistent, gradual approach to expand, and is using cash generated from the operations for expansion. The increased competition in this growing industry will weed out the weak players, and in the long run, Sprouts Farmers Market will emerge as one of the winners.
Disclosure: I am/we are long SFM.
I wrote this article myself, and it expresses my own opinions. I am not receiving compensation for it (other than from Seeking Alpha). I have no business relationship with any company whose stock is mentioned in this article.