It is difficult to regularly select winners when it comes to retailers.
Picky customers are always moving on to the next hot trend. Mild winters can play havoc with fashion inventories. Consumer confidence can wax and wane, and winning over Millennial shoppers has proven to be challenging for many retailers.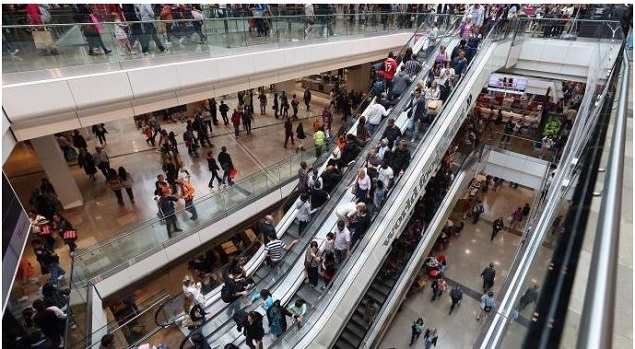 Source: Benzinga - Image
However, owning the best locations in each market where top-notch retail tenants want to lease is a different business than operating a network of retail stores.
When it comes to Class-A/A+ malls, lifestyle centers and mixed use developments, these are valuable pins in the map based upon demographics, public transit and arterial road access. The best retail concepts, with the right merchandise mix in the best locations, help to generate sales of $600 to $1,000-plus per square foot.
Of course, the overall health of tenants, mall traffic, sales per square foot trends and consumer confidence are all part of the retail REIT puzzle - along with investor sentiment. The Great Recession reminded investors that healthy REIT balance sheets can be a huge part of the equation. Well-managed REITs with strong balance sheets have the horsepower it takes to update, expand and redevelop existing properties to remain competitive. These redevelopment projects often generate attractive incremental returns on invested capital.
A Blue-Chip Strategy
In January 2016, I selected a trio of REIT blue-chips: Simon Property Group (NYSE:SPG), Tanger Factory Outlet Centers (NYSE:SKT) and Federal Realty Investment Trust (NYSE:FRT), with S&P ratings of A, BBB+ and A-, respectively. My speculative bonus pick for long-term value creations was Sears Holdings' (NASDAQ:SHLD) REIT vehicle Seritage Growth Properties (NYSE:SRG).
The rationale behind these picks can be found here:
I updated that thesis several times last year for SA readers and also published a couple of alerts regarding bonus pick Seritage.
In April, after Seritage had become a momentum stock (up 30% in just six weeks), I suggested SA readers take some chips off the table. A month later when that pricing bubble had popped, I wrote "Lather, Rinse, Repeat" to explain why I felt Seritage appeared to become attractive once again for investors on a valuation basis. However, this isn't a stock pick for proverbial widows and orphans.
What About E-Commerce?
Consumer preferences continue to evolve as are the bricks and mortar omnichannel retail strategies to combat Amazon.com (NASDAQ: AMZN) and other e-commerce competitors.
I happen to be enthusiastic when it comes to investing in REITs which can benefit from Amazon's revenue growth and rapid expansion of Amazon Web Services, its public cloud services arm. I have been a proponent of owning industrial REITs and data center REITs as a way for SA readers to profit from these growth trends.
Read more: Amazon Is Growing Like A Weed: Cash-In On REIT Landlords - 2016 Recap
The industrial REITs returned ~35% on average while data center REITs (which limped to the finish line this year) still rewarded investors with a ~29% average total return. Notably, owning these REIT landlords substantially outperformed the return on Amazon's shares in 2016.
However, the main focus of this article will be to take a look back at the performance of my bricks and mortar REIT picks for 2016 and assess the retail REIT investing environment as we kick off 2017.
Tale Of The Tape - Retail REIT 2016
Last year, performance for the entire equity REIT sector was bifurcated, with many REITs hitting 52-week or all-time highs by early July 2016.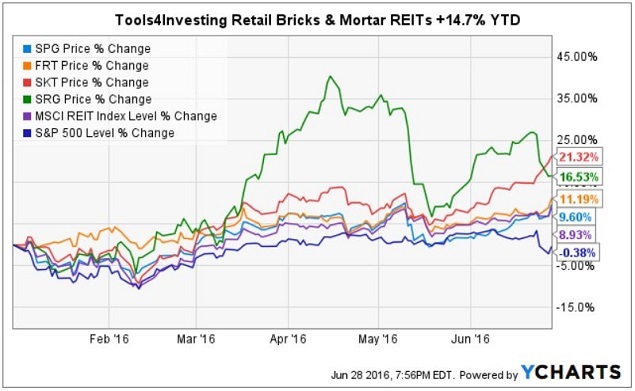 During the second half of 2016, a confluence of factors led to pessimism regarding REITs. Money began to flow out of the newly created GICS Real Estate sector and poured back into financials, particularly money center and regional banks positioned to benefit from a rising interest rate environment.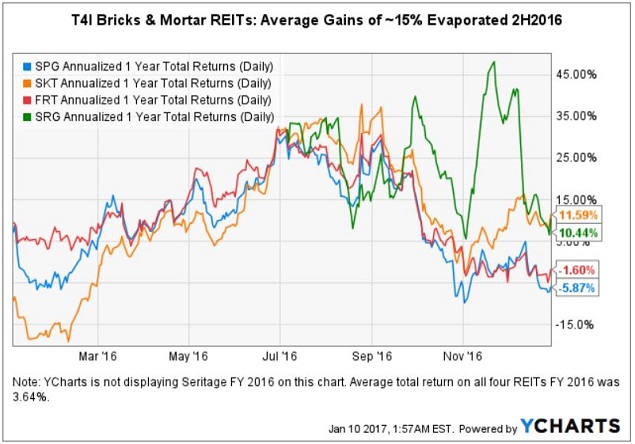 However, retail REITs were impacted by more factors than simply a newly hawkish Fed, a case of pre-election jitters, and risks associated with president-elect Trump's domestic and international policies.
Retail - The Bigger Picture
January is a time for retailers to report holiday sales results as well as put the spotlight on store closings. It was a disappointing holiday season for department stores which anchor regional malls. Many fashion retailers struggled as well, including The Limited, the latest victim to throw in the towel.
On January 9, SA contributor Jane Edmondson wrote an interesting piece highlighting how e-commerce has been growing market share at the expense of traditional department store retailers.
"Department stores in particular, once the anchor tenants at malls, have been particularly hard hit as shoppers favor specialty stores, discounters, and shopping online. Macy's announced it would cut more than 10,000 jobs with plans to close 100 stores. Sears Holdings is closing 150 stores and is selling its Craftsman tool brand to Stanley Black & Decker (NYSE:SWK). According to in-store analytics tracker RetailNext, mall traffic sank 12.3% in November and December, while mall sales declined 9.9%."
Edmondson is a proponent of an e-commerce ETF, Amplify Online Retail ETF (NASDAQ:IBUY), which launched on April 20, 2016. This ETF tracks the EQM Online Retail Index, which allows investors to participate in the rapid growth of companies which derive at least 70% of revenues from e-commerce.
On the same day, SA breaking news editor Clark Schultz reported First Data holiday spending trends:
First Data reports that overall holiday spending increased 4.7%Y/Y in 2016.
For retail categories, the company says spending was up 3.6%,
Retail e-commerce transactions rose 12%. More than one fifth (21.3%) of all holiday spending was conducted online, a substantial increase from 15.4% last year.
Department store sales were down 4.8%.
Clothing and accessories saw modest growth of 0.1%.
Women's ready-to-wear retailers saw a decline of 3.7%.
Electronics and appliances sales were up 8.5%.
The summary of trends seems to jive with the reports from the individual retailers.
My Accidental Research
In early December, our trusty microwave oven gave up the ghost after about 15 years of loyal service. I had every intention of going to a store to check out the various models, compare features, and drive home with the best make and model.
I started to do research online regarding the best microwave ovens of the modern era, and quickly narrowed the search to Panasonic (OTCPK:PCRFY) and GE (NYSE:GE) because of inverter technology. However, it was impossible to find the Panasonic model I wanted in a bricks and mortar store nearby in the city where I live, which happens to be Los Angeles.
The punch line is this model was featured as an Amazon "best buy," in stock, and delivered to my door in three days. It was $40 cheaper (~33%) than buying the same model directly from Panasonic online and about 10 days faster on the delivery. My better half is an Amazon Prime member, so there was no delivery charge for a 25-pound microwave oven.
I had no intention of buying an appliance online from Amazon when this process started. This experience was a real eye opener for me.
Bricks and Mortar REITs for 2017
I am not as optimistic about the total return potential for the Class-A mall REITs in 2017, as I was last year. I would advise investors proceed with caution and consider underweighting this REIT sub-sector. My sense is "normal" price to FFO ratios during the past five years are just too high for a raising interest rate environment.
Simon Property Group, my pick of the litter, is currently trading at 17.8x FFO versus an 18.9x historical ratio, and still could be a bit pricey here. Notably, Macerich (NYSE:MAC) appears to be a better value today, but I still have not forgiven management for spurning the final $95.50 per share offer from Simon.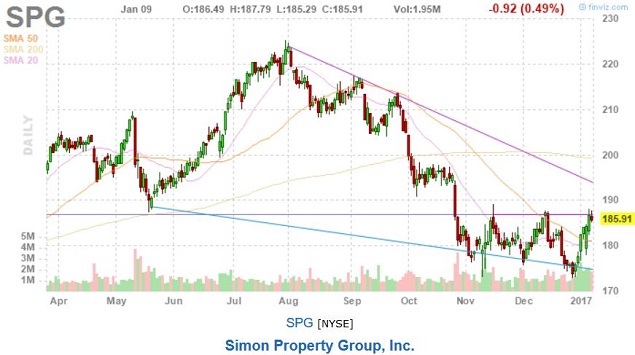 During the past 52 weeks, Simon has traded in a range of $170.29-225.29 per share. I suggest waiting for a greater margin of safety and consider initiating a position if shares pull back towards $175 per share or lower. I expect to see some choppy REIT trading during Q1 2017, with "flash" dips and spikes providing opportunities for nimble investors.
My other concern for Simon Property Group in particular is its sizeable $55 billion market cap. Simon is the largest holding of all of the REIT ETFs. Any time there is money flowing out of the REIT sector on interest rate concerns, this selling pressure on the largest REIT holdings will create an additional headwind. This caution applies to mall landlord General Growth Properties (NYSE:GGP) and to a lesser extent Macerich.
Federal Realty is another retail REIT blue-chip with a sector-leading track record of paying and raising its dividend distribution for 40 consecutive years.
Federal owns a combination of large mixed use and lifestyle center "trophy" properties, as well as a portfolio of more traditional grocery anchored shopping centers. Based upon the most recent Investor Day presentation, FRT's management is projecting a 7% CAGR for the next decade. While this would certainly be a fairly attractive growth rate for most REITs, the current Federal Realty valuation is 25.6x FFO estimates, with a distribution yielding just 2.7%.
Folks Always Want Bargains
There is no true REIT peer to compare with Tanger Factory Outlet Centers, the only REIT with a portfolio 100% focused on the outlet mall asset class. Tanger is currently trading at 15.7x P/FFO versus a normal ratio of 17x FFO.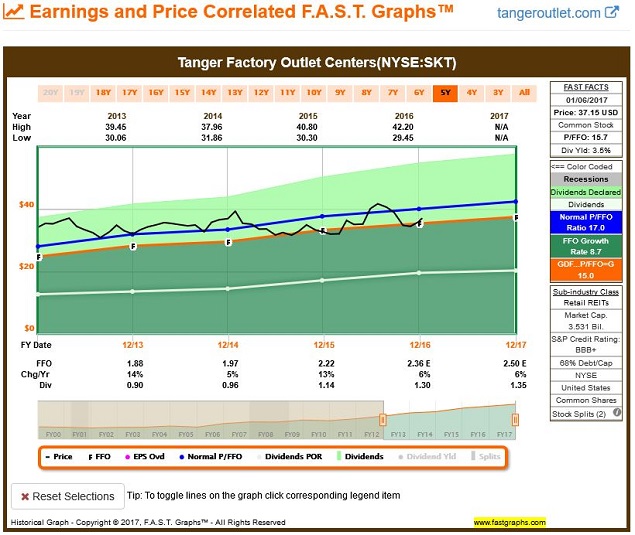 Based upon the FAST Graph above, Tanger is currently trading at a fairly attractive valuation, both on an absolute level and based upon historical multiples.
Tanger has a $3.6 billion market cap, a BBB+ balance sheet, with a yield of 3.6%. On January 4, Tanger was upgraded by Jefferies to Buy from Hold, with a $42 per share 12-month price objective. The consensus analyst estimate for Tanger remains a more conservative $37.65 per share. On the other side of the coin, Citi lowered Tanger to Sell from Hold on Dec. 13, 2016.
While the analyst community has mixed reviews, I think that long-term investors could consider an entry point for Tanger on a retracement from here toward $33.50 per share.
Seritage Bottom Line
Seritage remains a speculative long-term value play. It is only suitable for investors willing to accept the roller-coaster ride which comes from the credit risk of Sears Holdings as an anchor tenant. Sears Holdings will continue to shed stores. The iconic retailer has been in a slow death spiral for years which likely will end in a future bankruptcy.
However, that process creates real estate value-add opportunities, which is the Seritage value proposition. The great unknown is how long CEO Eddie Lampert can keep the plates spinning with asset sales.
On January 4, Seritage filed an 8-K revealing Sears Holdings will be exiting 19 unprofitable stores under the terms of the Master Lease. Rent will be paid through April. Sears will then pay Seritage a sum equal to 12 months' rent in advance, plus a year's worth of expenses. The weighted average Sears leases are at just $4.30 per square foot.
It was announced on Dec. 27, 2016, that Lampert had agreed to loan Seritage $200 million. This is a substantial sum of cash which appears sufficient to remodel and re-tenant those stores Seritage would like to develop. Seritage has demonstrated these spaces can be leased at market rates ranging from $12.00 to $40.00 per square foot, depending upon location, size of space, and the type of tenant.
When you do the calculus surrounding Seritage, keep in mind that the majority of Sears Holdings CEO Lampert's net worth is wrapped up in his SHLD and SRG bets. He continues to double down by lending to both entities. Lampert appears to own ~40% of Seritage shares. It is certainly in his best interest to try and manage the Sears Holdings process in a way that does not negatively impact Seritage.
Looking down the road in five or 10 years, there will be a minimal bricks and mortar Sears Holdings store footprint, if any. However, a Seritage portfolio consisting of newly renovated properties leased to creditworthy top-shelf retailers, restaurants and entertainment venues can continue to ring the register long after Kmart and Sears fade away.
The SRG value potential is quite attractive. However, it will play out with twists and turns over years, not months, so be prepared to hang on for a wild ride.
Grocery Anchored Shopping Centers
As of this writing, fellow SA contributor Brad Thomas just published a timely overview of grocery anchored REITs. Brad is a well-respected REIT expert, and there is no reason for me to reinvent the wheel. His catchy headline "Ya Gotta Eat" underscores the fact that grocery anchored centers cater to businesses selling products and services that tend to be e-commerce resistant compared with many regional mall tenants.
Among Brad's picks, I particularly like small-cap Urstadt Biddle (NYSE:UBA) and West Coast shopping center operator Retail Opportunity Investments Corp. (NASDAQ:ROIC). However, both are currently fully valued. ROIC is sporting a P/FFO of ~20x and yielding 3.4% while UBA is trading at ~19.8x P/FFO with a more attractive current yield of 4.4%.
At first glance, I am intrigued by shopping center REIT Kite Realty Group (NYSE:KRG) on a valuation basis. Kite is BBB- rated by S&P and trading at just 11.7x FFO, with a distribution currently yielding 5.1%.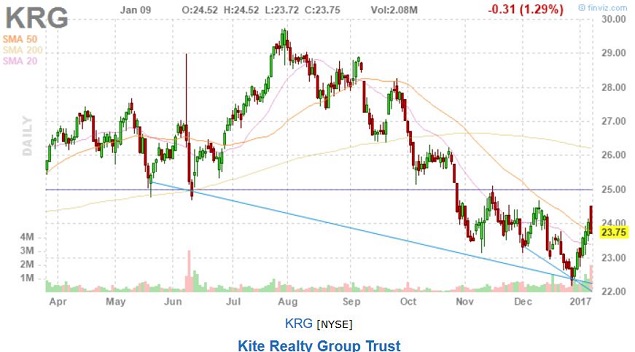 During the past 52 weeks, Kite Realty has traded in a range of $22.21-29.74 per share. On January 9, Kite was upgraded by Raymond James to Strong Buy from Outperform with a $29 price objective, which implies a 20% upside from current valuations.
I have not followed Kite Realty closely, but I intend to roll up my sleeves and dig deeper to understand the reasons for this attractive valuation. I will write-up an SA focus article in the near future if my research conclusions are satisfactory.
Investor Takeaway
I am not giving up on bricks and mortar retail, but I am approaching this REIT sub-sector with a cautious stance for 2017. Since I'm a strong proponent of owning the best real estate locations for the long term, this is a substantial change compared with my views from last year.
My plan is to review the Q4/FY 2016 operating results and guidance from a select group of retail REITs and revisit this subject in six to eight weeks. The first few weeks of Mr. Market's reaction to a Trump administration will be in the books, and we will have gleaned additional information from the REIT management teams.
I am contemplating whether to launch a Seeking Alpha Marketplace Premium subscription service. I would appreciate any feedback from readers who may be interested. Feel free to share them in the comment thread below, or send me an Inbox message.
I relentlessly hunt for diamonds in the rough and rising stars, in addition to closely following data centers, covering REIT blue-chips, and breaking news. Please consider following me as a Seeking Alpha author if you would like to be notified when my future articles are published.
Disclosure: I/we have no positions in any stocks mentioned, but may initiate a long position in SPG, KRG, FRT, SKT, SRG over the next 72 hours.
I wrote this article myself, and it expresses my own opinions. I am not receiving compensation for it (other than from Seeking Alpha). I have no business relationship with any company whose stock is mentioned in this article.