As a young junior trader, my first boss taught me that silver is the ultimate "trading sardine," as he called the metal that is gold's little brother. Silver is a volatile metal that attracts speculative interest on both the long and short side.
During my trading career, silver has provided me with more than one opportunity to score big. My first foray into the silver market was in 1987 when the metal ran from $5.50 to $11 per ounce over a few months and then fell from $11 to $7 in a matter of ten minutes. From 1995-1998 the price of the precious metal rose from under $5 per ounce to $7.40. Then, in 2004 silver broke out to the upside and by 2011 it peaked at an incredible $49.82 per ounce only a touch below the all-time nominal highs for the metal in 1980.
Since 2011 the price of silver has plunged reaching a low of $13.635 in late 2015. In 2016, the " trading sardine" was only able to make it to a high just above the $21 per ounce level and since then it has had a rough time. As you can see, this is a metal that has a habit of doubling and halving in value over time and that is why so many speculators love to play in the wild silver futures market.
Lower highs since July
Silver had a great six months during the first half of 2106. After hitting lows at $13.635 in December 2015, the precious metal rallied to highs of $21.095 in early July, an increase of 54.7% in six months. However, since then it has been all downhill.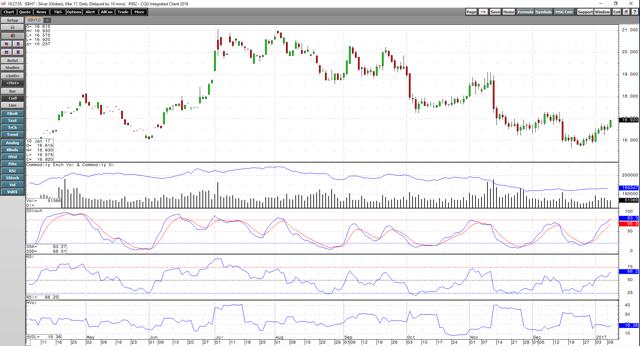 Source: CQG
Since the beginning of July, silver has been steadily making lower highs and lower lows hitting lows at the end of December at $15.675. While those lows are still over $2 higher than the December 2015 lows, the trend in silver has clearly been lower. However, over recent weeks there are signs that the speculative metal has found at least a temporary bottom.
Silver seems to have found a bottom
The fall from $21.095 to $15.675 or decline of almost 26% came at a time when both interest rates and the dollar headed higher. Higher interest rates increases the cost of carrying a precious metals long positions and a stronger dollar is traditionally bearish for the prices of metals like gold and silver as well as for other commodities.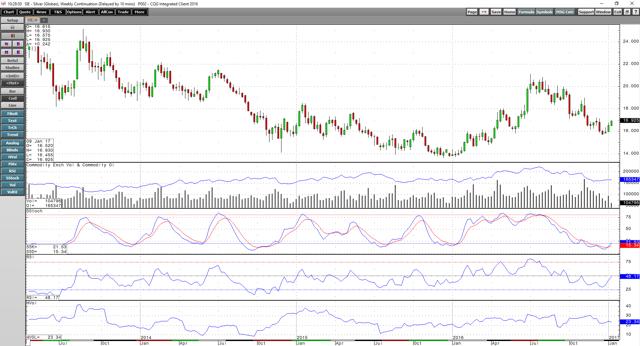 Source: CQG
The weekly chart of COMEX silver futures shows the decline over recent months. However, the price action in early 2017 could be shaping up to be a mirror of what happened in early 2016. The weekly chart shows that it is possible that silver found a bottom in December but the jury is still out as we are only a few short weeks past those lows which remain over $1.20 below the current price. Silver was trading on Tuesday, January 10 at the $16.90 per ounce level. It took silver longer to get going last year, but this year the price is already over 90 cents higher over the first week and one day than it was on December 30, 2016. Last year, silver did not manage a 60 cent rally until early February and that is a positive sign.
Some positive signs
The weekly chart also displays some positive technical signs for the precious metal. The slow stochastic, a momentum indicator, fell to oversold territory and has crossed to the upside indicating a shift in momentum from bearish to bullish. Open interest, the total number of open long and short positions in COMEX silver futures, fell to lows of just over 159,300 contracts on December 6 but it has stabilized and is currently just above the 165,000 contract level. The slight increase in open interest provides a degree of technical support for the price of silver as the price has moved higher over recent sessions. Relative strength remains in neutral territory which tells us that there is room for more price gains.
The same boss who called silver a "trading sardine" also told me that markets go higher when there is more buying than selling. The first time I heard that I thought to myself, tell me something I do not know. As an arrogant youth I did not yet understand what he meant when he uttered those sage words. In the world of gold and silver, it is always investment demand that determines the path of least resistance for prices. If the market begins to perceive that the price of silver put in a good bottom at just below $15.70 per ounce in late 2016, the buyers and the herd may just begin to return to the market in the weeks ahead. However, if silver fails they are likely to stay away and open interest will either begin to decline once again or will remain around the current level.
The dollar could hold the key
The historical price relationship between silver and the value of the U.S. dollar may be the best predictor of the future for the precious metal.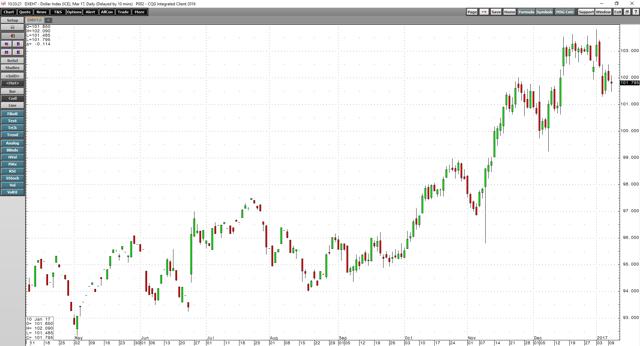 Source: CQG
As the daily chart of the dollar index shows, silver moved higher as the dollar corrected towards the bottom end of its trading range through 2016. However, the dollar found a bottom in May, two months before silver rallied to its highest price of the year and as the dollar began to make higher highs the price of silver slipped lower. When the dollar broke to new highs in November, it did not take long for silver to move to new medium-term lows. The dollar peaked on January 3 and corrected lower and now silver is correcting higher. The price of silver has been trading in lockstep with silver over recent sessions; therefore it may hold the key to the path for the precious metal in the weeks ahead. If the dollar index breaks below the 100.60 level on the active month March futures contract expect silver the challenge its critical resistance level on the upside.
$17.30 would be a first step
To break the bearish pattern of lower highs and lower lows in silver, the first level of resistance is at the December 7 highs of $17.30 per ounce.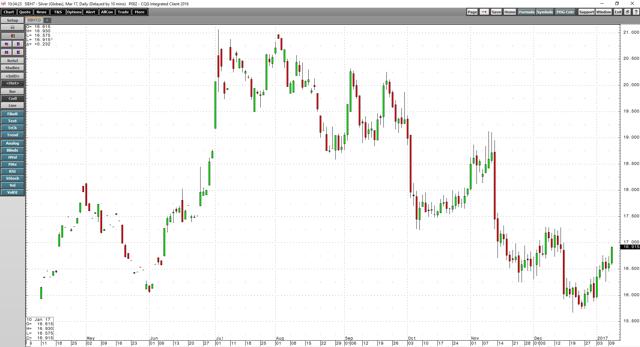 Source: CQG
As the daily chart for COMEX silver illustrates, to negate the pattern of lower highs, silver needs to trade above $17.30. While a break above that level will not necessarily turn the current silver bear into a bull, it would be a first step that would break the grip of the bear that still has silver in its clutches.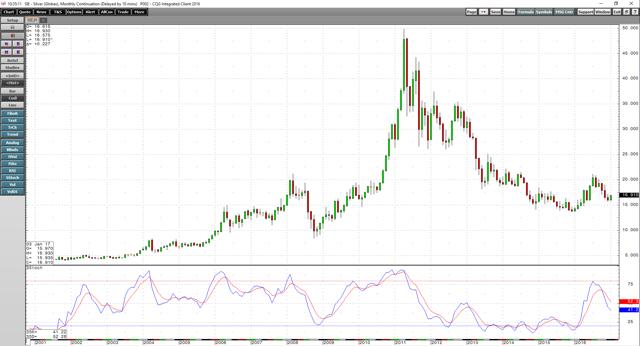 Source: CQG
The monthly silver chart still depicts a bearish trend for the metal and it may take months for that to change. However, silver tends to be a wild commodity. At this point, I would not be surprised to see silver trade $1 higher or lower at this point, the metal loves to move for no apparent reason other than more selling than buying or vice versa.
Silver looks a lot better than it did a few short weeks ago but it is not out of the woods just yet. The weekly chart tells us that more gains are possible but the monthly pictorial still points to a bear market. Any shorts in silver should place stops above the $17.30 level and the longs need to watch $16.25 on the downside. Silver can be a wild metal but it may just turn out to signal the next move in all precious metals prices as the herd of buying or selling tends to turn to silver first as it tends to offer the best rewards for those traders that call the market right.
I am flat silver right now but I will be a scale up seller to the $17.30 level on March futures, above there I will cover my short position. The trend in the dollar is strong for technical and fundamental reasons and I believe that interest rates in the U.S. will continue to head higher. Those factors do not present a bullish case for the price of silver but I have learned to be flexible and turn on a dime when silver decides to tell me I am wrong. Since so many investors look for an opportunity to hop on silver when it moves higher, $17.30 should be your wakeup call but always watch out for the head fake move. Call options could be the best vehicle to use for a stop on a short position. Keep tight stops on positions in the silver market in the weeks ahead. We could be in for lots of variance.
I have introduced a new weekly service through Seeking Alpha Marketplace. Each Wednesday I will provide subscribers with a detailed report on the major commodity sectors covering over 30 individual commodity markets, most of which trade on U.S. futures markets. The report will give an up, down or neutral call on these markets for the coming week and will outline the technical and fundamental state of each market. At times, I will make recommendations for risk positions in the ETF and ETN markets as well as in commodity equities and related options. You can sign up for The Hecht Commodity Report on the Seeking Alpha Marketplace page.
Disclosure: I/we have no positions in any stocks mentioned, and no plans to initiate any positions within the next 72 hours.
I wrote this article myself, and it expresses my own opinions. I am not receiving compensation for it (other than from Seeking Alpha). I have no business relationship with any company whose stock is mentioned in this article.