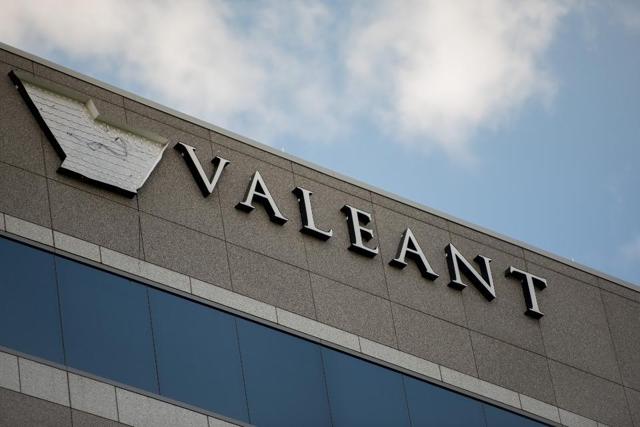 Source: Forbes
Valeant (NYSE:VRX) dropped some major news last night. The company divested non-core assets for $2.1 billion. It sold Dendreon Pharmaceuticals to China's Sanpower Group for $820 million, and certain skincare brands to L'Oreal (OTCPK:LRLCF), (OTCPK:LRLCY) for $1.3 billion:
French cosmetics group L'Oreal is buying CeraVe, AcneFree and Ambi from Valeant for about $1.3 billion in cash. Valeant is also selling its Dendreon unit to China's Sanpower Group Co. Ltd. [SPGCL.UL] for $819.9 million...

"With this sale, we are better aligning our product portfolio with Valeant's new operating strategy by exiting the urological oncology business, which is one of our non-core assets," Valeant Chief Executive Joseph Papa said in a statement on Monday.
The divestitures will shore up liquidity. VRX was up about 11% to $17.40 in early morning trading.
About Skincare Divestitures
Full-year revenue from skincare brands CeraVe, AcneFree and Ambi is $168 million, so L'oreal is paying about 8x revenue. CeraVe is part of the Bausch & Lomb/International segment, and generated revenue of $135 million over the last 12 months. I assumed the other two brands were also part of Bausch & Lomb. I estimate that Bausch & Lomb's EBITDA margins are about 29%. Assuming similar margins for the divested brands would derive EBITDA of $49 million. That said, the transaction would equate to an eye-popping 26.5x EBITDA.
L'Oreal is paying up to get these brands. The divested brands only represent 12% of Bausch & Lomb's total revenue. To assume the rest of the segment could be sold at 26.5x EBITDA would be silly. Moreover, in selling part of its jewel, Valeant might be sacrificing future growth to shore up liquidity in the short term.
About Dendreon
Dendreon's main product is Provenge, used to treat advanced prostate cancer. Revenue for the drug over the past 12 months was $304 million. It is part of the Branded Rx group, which has a 59% EBITDA margin. Assuming a similar margin, Provenge's EBITDA would be approximately $178 million and the transaction multiple would equate to 4.6x EBITDA. The low multiple gives credence to my claim that ex-Salix, the Branded Rx segment is a pariah and deserves a lower valuation multiple than Salix or Bausch & Lomb.
Buyout Metrics
The following table illustrates the buyout metrics for the divested assets: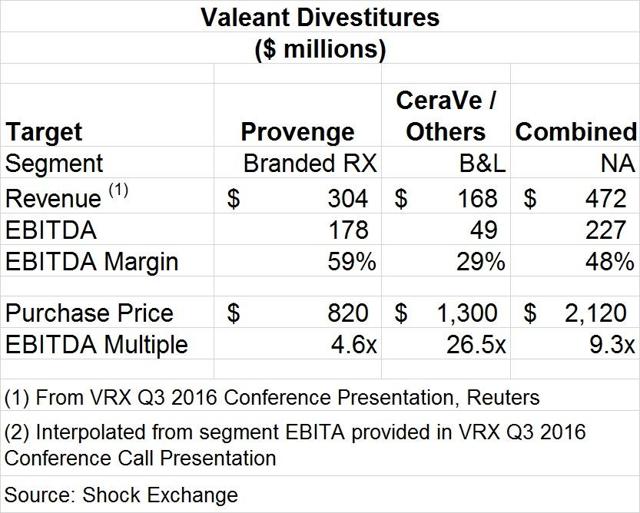 Had Valeant announced the sale of Provenge alone, the stock could have cratered. In my opinion, by announcing the robust sale of the skincare products simultaneously, it probably softened the blow. I have written extensively about Valeant in order to understand the sum of its parts. It appears that if the company sells parts of U.S. Diversified or Branded RX ex-Salix, the buyout multiple could be less than the 5.0x to 7.3x I used for my sum-of-the parts valuation.
All of the divested assets were sold at a blended multiple of 9.3x EBITDA - less than the 10x bogey to justify an 8x multiple for VRX standalone. The sale will improve Valeant's probability of survival, yet buttresses my claim that Valeant's sum-of-the parts is worth about 7x EBITDA standalone or $1/share. Valeant will shed 5% of run-rate revenue, 5% of its EBITDA and 7% of its debt. The question remains, "Will Valeant lower its earnings guidance going forward?"
Conclusion
The asset sales confirmed my previous suspicions. To generate robust sales, Valeant might have to sell future growth businesses, and Branded RX and U.S. Diversified are worth less than other parts of the company. VRX could survive but the stock is practically worthless. Avoid VRX.
Disclosure: I am/we are short VRX.
I wrote this article myself, and it expresses my own opinions. I am not receiving compensation for it. I have no business relationship with any company whose stock is mentioned in this article.
Editor's Note: This article discusses one or more securities that do not trade on a major U.S. exchange. Please be aware of the risks associated with these stocks.