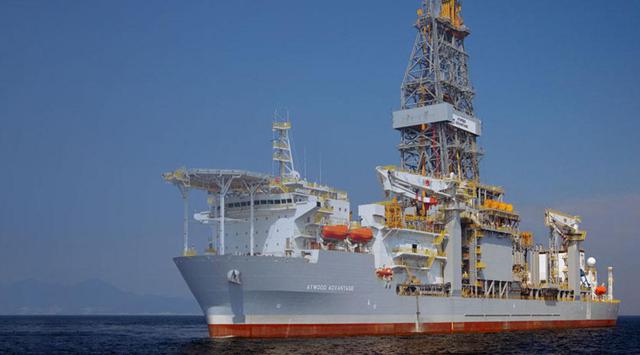 Drillship Atwood Advantage.
This article is an update of my preceding article on Atwood Oceanics (NYSE:ATW) published on November 14, 2016.
Investment Thesis:
Atwood Oceanics presents a bleak business outlook in 2017, assuming that the offshore drilling business will be late to respond to the oil prices positive momentum that we have experienced since the last OPEC/non OPEC resolution to cut oil production by nearly 1.8 MBOPD, which is still to be implemented as we speak.
Yet, as I have explained recently the market did not exclude the offshore drillers surprisingly, and the sector enjoyed significant gains despite dismal fundamentals and weakening backlog outlook with no quick fix. The market holds no memory and move often on a simple logic of emotion, but even we perceive it as wrong, it is something that should be incorporated into any complete trading balanced strategy equation.
The logic of this move is therefore easy to analyze. The company needs cash to reduce debt and enhance its liquidity until the offshore drilling market will turn around. Atwood is not the only one that has decided to take this path.
Therefore, this recent move explained below should not be taken as a surprise by investors. The company is well aware of its financial situation and using an inflated stock price to finance the debt is appealing despite the immediate danger of dilution which is certain even if the company is not using it to benefit.
Commentary:
Yesterday, the company announced the following:
It has commenced an underwritten public offering of 13,500,000 shares of common stock. Atwood expects to grant the underwriters a 30-day option to purchase up to 2,025,000 additional shares of common stock. Atwood expects to use the net proceeds from the offering for general corporate purposes, which may include the repayment of borrowings under its credit facility, the funding of future purchases of its outstanding 6.50% Senior Notes due 2020, working capital and capital expenditures, and otherwise to enhance its liquidity.
A quick review of Atwood backlog, debt and liquidity:
1 - Backlog.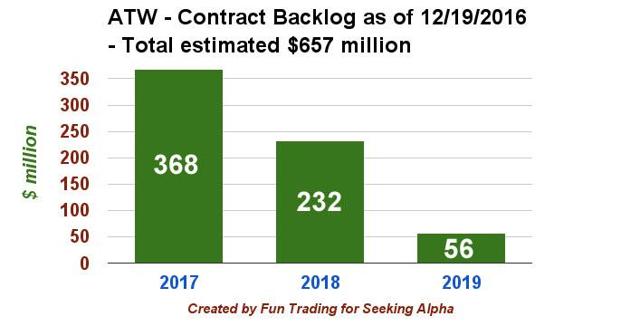 The backlog is weakening and now shows only $368 million for 2017 compared to $1.021 billion in revenues for the 2016 fiscal year. This shows what many analysts are calling a "backlog cliff" that depicts clearly what is happening for companies such as Atwood Oceanics and despite a State-Of-The-Art fleet. Just a reminder, the entire Jack-up fleet (4 rigs) is now stacked. However, in the last presentation the company announced in its last presentation that one jack-up is expected to get a new contract for one-year in mid-2017 which will increase backlog by approximately $14 million in 2017 and $14 million in 2018. Unfortunately, the expected contract for the Atwood Admiral in Brazil has been pushed down the road but still alive though.
Atwood Admiral

Premier Oil reaffirmed our exclusive negotiation position for their exploration drilling

program in Brazil in 2018
One last note, the Atwood Achiever contract may have been reduced by one-year from 11/18 to 11/17 but we need a confirmation from the company on that. If the drillship is reduced by one year the backlog will be reduced by about $175 million in 2018 but the company will receive a lump sum that I estimate around $130 million. It is surprising after the last acquisition by BP of the Senegal/Mauritania prospect from Cobalt.
If you want more information about that, please read my article. click here.
| | | | | | |
| --- | --- | --- | --- | --- | --- |
| ATW 01/01/17 | 2017 | 2018 | 2019 | 2020 | day rate |
| Atwood Achiever | 12(?) | 11 (?) | 0 | 0 | 495,5 |
| Atwood Archer | 0 | 0 | 0 | 0 | 0 |
| Atwood Admiral | 0 | 0 | 0 | 0 | 0 |
| Atwood Advantage | 8 | 0 | 0 | 0 | 581 |
| Total Drillship | 20 | 11 | 0 | 0 | |
| Atwood Condor | 1 | 0 | 0 | 0 | 240 |
| Atwood Osprey | 5,8 | 11 | 9 | 0 | 208 |
| Atwood Eagle | 0 | 0 | 0 | 0 | 0 |
| Total SemiSub | 6,8 | 11 | 9 | 0 | |
| Atwood Aurora | 0 | 0 | 0 | 0 | 0 |
| Atwood Beacon | 0 | 0 | 0 | 0 | 0 |
| Atwood Mako | 0 | 0 | 0 | 0 | 0 |
| Atwood Manta | 0 | 0 | 0 | 0 | 0 |
| Atwood Orca | 0 | 0 | 0 | 0 | 0 |
| Total Jackups | 0 | 0 | 0 | 0 | |
2 - On the debt/liquidity side:
At the end of the last quarter Long-term debt was $1.228 billion and according to the last presentation, with no debt maturity until May 2019.
Remaining liquidity was $700 million end of 2016 (including remaining revolver with balance at $449 million) after paying $55 million as a milestone for the two UDW Drillships under-construction, $68 million in debt service and $55 million in maintenance.
The cash at the last quarter was $145.43 million and the share outstanding stood at 64.827 million.
Conclusion:
The strategy behind this offering is quite simple. The company is running a tight race as we speak, and the outcome is unknown. Depending on the recovery, which is still months away for the drilling Industry the company may or may not exist as it is.
I evaluate the odds as a good 50/50 right now. However, after the last run up the stock price traded on the overbought side, and was overvalued, in my opinion.
The company appears to agree with me and is using equity to reduce the debt and increase liquidity. I believe it is a sound strategy and a positive for both the company and its shareholders. As a trader I really appreciate the timing.
On the one hand, ATW will be diluted by this offering, which will put pressure on the stock price to a more "fair value" price, and on the other hand, the bottom line is raised by adding liquidity and "kicking the can a bit longer" while waiting for the recovery.
My only reservation is that management was not "bold" enough and limited the offering to only $195 million. I would have preferred a bigger share offering representing about 30% of the long-term debt or $365 million (30 million shares). This small amount may push the company to return to the equity market later in 2017.
The price of the offering has not been announced, but based on approximately $12.6 the company will be able to get approximately $195 million. The 15.525 million represents a 28.3 % increase in shares outstanding to approximately 80.4 million shares.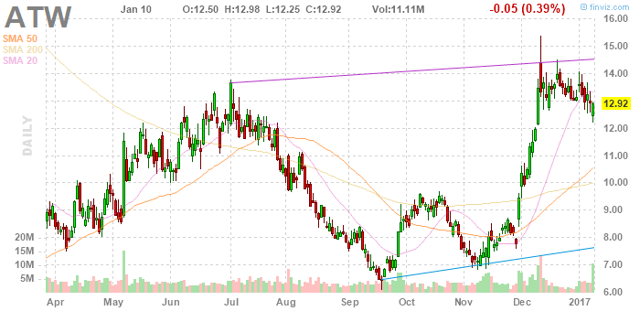 Technically, the stock may correct the next few days/weeks to eventually $11 (weak support) or eventually $9 (Strong support). Sorry, I do not see much upside potential from here.
If the company announce that the Atwood Achiever has been terminated for convenience one year earlier, or November 2017, we may see an accelerated downside. I wonder if Cobalt sale to BP could not allow Cobalt an easy contract exit somehow?
Right now, I recommend to hold and wait, until the stock has clearly shown a convincing bottom and until the bad news have been either dismissed or clearly released.
Important note: Do not forget to follow me on ATW. Thank you for your support.
Disclosure: I/we have no positions in any stocks mentioned, and no plans to initiate any positions within the next 72 hours.
I wrote this article myself, and it expresses my own opinions. I am not receiving compensation for it (other than from Seeking Alpha). I have no business relationship with any company whose stock is mentioned in this article.
Additional disclosure: I trade ATW.