The U.S. Economy
In December, Federal Open Market Committee (FOMC) members voted unanimously to raise the federal funds target rate by 25 basis points on December 14 from a range of 0.25-0.50% to 0.50-0.75%. Following the December 2015 rate hike, this was only the second time the FOMC raised rates in over a decade, an indication of the slow pace at which the U.S. economy has been recovering. In a statement released at the conclusion of its two-day policy meeting, the Federal Reserve cited "realized and expected labor market conditions and inflation" as supportive of its decision while specifically noting the continued strength in labor markets and moderate expansion in economic activity during the second half of 2016. Notably, the Fed signaled that interest rates would rise at a faster pace than previously projected, with Fed officials unexpectedly increasing their median projection for the number of rate hikes in 2017 from two to three.
Looking at some of the economic data releases leading to the Fed decision in more detail, we believe that it is safe to say that the footing of the U.S. economy is arguably a bit better than it was at this time last year. On the consumption front, we've seen gradual progress in the health of the consumer. Many workers have seen wages accelerate at a level consistent with what they experienced during the prior expansion. Although wages have only recently begun to increase at these rates, it is a positive signal nonetheless. Supporting the potential for further wage increases is the number of American workers quitting their jobs, which has also been trending higher. The reason that an increasing quits rate is supportive of rising wages is due to the fact that most workers only choose to voluntarily quit their jobs in the event that they have something better lined up. This data in aggregate is supportive of consumption.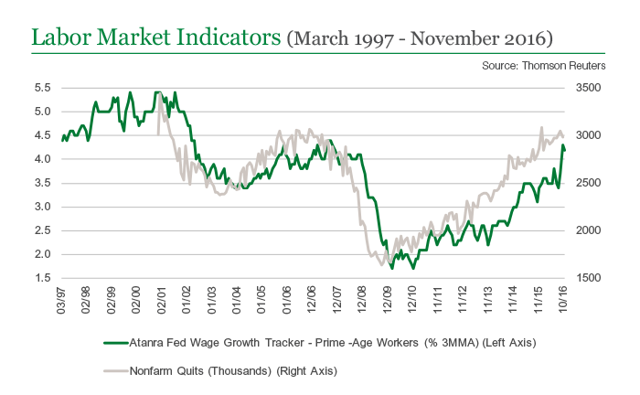 Considering the overall state of labor markets, consumers are certainly feeling optimistic. The latest report from the Conference Board shows that consumer confidence continued to move upward in December, reaching its highest reading since August 2001. Though the current conditions component of the index remains very strong, December's gain was largely driven by a sharp rise in expectations as more households anticipate continued improvement in the labor market and a healthier overall economic backdrop in 2017. Further continuation of this optimism, however, is likely to depend on whether or not consumers' expectations are realized.
On the manufacturing side of the economy, there has been a gradual recovery of late as much of the initial pain felt in the energy space has dissipated. According to recent survey data, economic activity in the manufacturing sector expanded in November. This marked the third consecutive month of accelerating headline and new order growth - the most forward-looking component of the survey - which suggests continued support for the sector heading into 2017. Similarly, non-manufacturing activity in November was indicative of another bright spot in the U.S. economy that should continue to hold up reasonably well due to strong new order growth.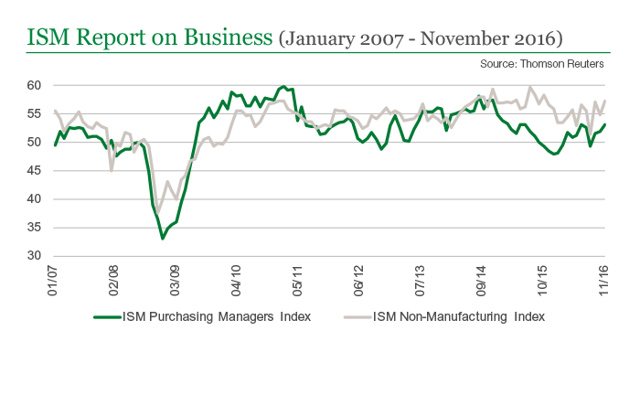 Global Economy
According to options-based fed funds futures, prior to the December FOMC meeting, 100% of investors expected a rate hike from the U.S. Federal Reserve. Not all markets had priced in the move, however. The Japanese yen, for example, continued to weaken following the rate hike relative to the U.S. dollar. The weakness was a continuation of what we've seen since the U.S. presidential election, when the spread between U.S. Treasury and Japanese government bond yields spiked. The growing rate differential led investors to believe that the potential for significant capital flight out of Japan - as investors search for better returns elsewhere - could put destabilizing pressure on the yen.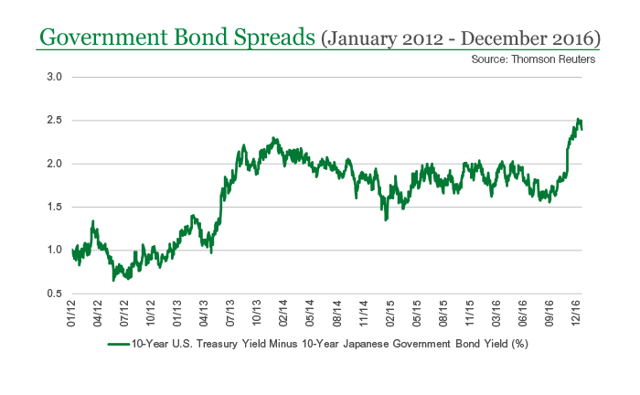 We believe that Japanese policymakers want to see a weak yen, as it could boost optimism, corporate profits, and inflation expectations among Japanese companies, making them more willing to invest and raise wages. However, if the yen were to weaken dramatically, this could upset aging consumers in Japan by raising the cost of living to a point where it puts a squeeze on consumption. While we will continue to monitor these dynamics, we remain of the view that the path of least resistance is for a weaker yen, primarily driven by the policy divergence between the Fed and the Bank of Japan (BoJ), as we do not see the BoJ being willing to raise its yield target so soon after implementing its new policy framework and with inflation remaining so far below target.
Elsewhere, the European Central Bank (ECB) announced that it will expand its asset purchases to at least 2.3 trillion euros ($2.4 trillion USD). The expansion will consist of extending the program until at least the end of 2017, with monthly bond purchases reduced to 60 billion euros per month starting in April 2017 from 80 billion euros per month currently. ECB President Mario Draghi cited weak underlying price pressures, political uncertainties, and inadequate government reforms as reasons behind the decision. Markets initially interpreted the ECB's actions as hawkish, focusing on the reduced amount of monthly bond purchases as opposed to the extension of the program. However, we view the announcement as a dovish taper, and believe that the extension of quantitative easing (QE) by the ECB should be viewed as a commitment to keeping the program open-ended and contingent on growth and inflation reaching the central bank's goals.
In other words, given the prevailing macro and political uncertainty, the QE extension - albeit at a reduced size - is to ensure a presence in the market for longer, such that financial conditions remain favorable for an extended period of time. If the outlook were to become less favorable, the ECB may very well increase the size and/or duration of the program further.
While the eurozone has seen a modest pick-up in loan growth (chart below) and the economy has recovered to a stable growth rate, we believe that the chances for growth and inflation to surprise to the upside are lower than in other regions of the world. Elusive structural reforms, chronically high unemployment, high debt levels, and significant political uncertainty remain as overhangs.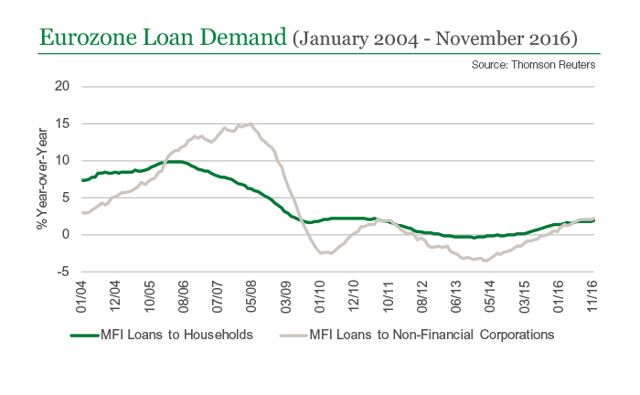 Our Perspective

Global equity markets produced positive returns during December on both a local currency and U.S. dollar basis, and U.S. markets were up as well. Valuations in the broad U.S. stock market became incrementally less attractive in December. However, while somewhat elevated, they are not yet at an extreme. Valuations in the broad U.S. stock market remain somewhat elevated and became incrementally less attractive in December. However, we continue to see few unsustainable excesses in the U.S. economy that would suggest the economy is at risk of collapsing under its own weight. In this environment, discernment and flexibility are critical.

Given the slow global growth environment, in portfolios geared toward investors that need capital growth, we are targeting investments in fundamentally strong businesses that are not heavily reliant upon macroeconomic growth to drive sales and earnings. More specifically, we see value in businesses that we believe have control of their destiny and are taking share in large established markets or are creating new markets on their own. The goal is to identify companies trading at attractive valuations relative to their growth potential.

For fixed income investors and investors with a shorter time horizon or current income needs, we still see value in the corporate bond sector, and portfolios maintain a sizeable allocation to corporate securities. We continue to view the economic outlook as being supportive of credit, but remain mindful that we are nearly eight years into an economic expansion and valuations are becoming less compelling. As such, we may look to reduce credit exposure over time as credit spreads tighten. Regarding government debt, portfolios have a notable allocation to U.S. Agency and nominal U.S. Treasury securities.

Portfolios also maintain a modest duration. Despite the recent spike in interest rates, they remain historically low. Given that, we maintain our view that investors are not being adequately compensated to hold significant amounts of long-term debt. Should rates continue to move higher-as we anticipate-we may incrementally add duration to take advantage of higher levels of income.

In our view, short-term and income-oriented investors should also explore equities that display stable fundamentals and are trading at attractive valuations. We believe companies that generate strong, stable cash flows and pay an attractive dividend could be compelling options for these types of investors in the current environment.
Source: Thomson Reuters. Analysis: Manning & Napier Advisors, LLC (Manning & Napier).