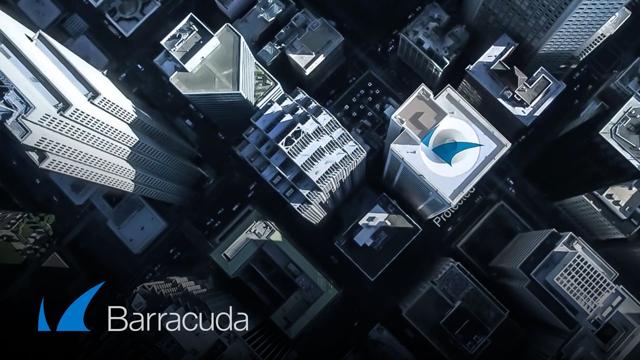 Barracuda (NYSE:CUDA) is the hottest cyber security stock right now. The stock rose 6% after trading, yesterday when earnings came in above expectation. Revenue beat by $2.21M representing a growth of 11% YoY and EPS beat by $0.08.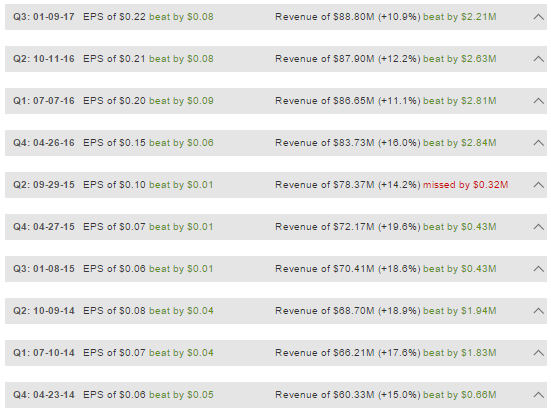 Source: Seeking Alpha
Management has been known for guiding softly and recent spates of insider selling made it easy for a markup in stock price to occur. Using the midpoint of revenue guidance for next quarter at $88 million, assuming a beat of around the $2 million ballpark, that will represent a revenue growth of 7% YoY.
For a stock that is yet to achieve $100 million in quarterly revenue, there is not much difference between the projected growth to perpetuity (5% for tech companies) and its 2017/2018 growth, all things being equal.
Outside of the beat, the most important metric that needs to be watched aside from the revenue growth rate is the operating margin. Non-GAAP operating expense is 58% of revenue, an improvement of 12%, YoY.
Management has been effective at keeping operating expense in check. The genius of the whole idea remains hidden until you realize the level of competition that exists in the cyber security industry.
Such a brilliant performance calls for strong commendation. To be honest, I wasn't much surprised about the beat. I predicted continual revenue growth in my previous article. This I believe was largely driven by Barracuda's strong cloud security offering.
Interestingly, management has the option of driving more aggressive revenue (subscription-driven) growth by ramping up operating cost. This option is on the table and I feel it is one that will give investors more optimism about CUDA's ability to gain market share.
In the earnings report, while product revenue declined, subscription increased, underlining the success of its cloud offerings targeted at Office 365 and Amazon (NASDAQ:AMZN) AWS users.
The growth in cloud users seems to be a leading indicator of Barracuda's success in cloud security. The number of active customers increased to a record high of 309,000, representing a 15% growth. This was driven by demand for an email security solution and Office 365.
CUDA had a mixed review building up to the earnings report. The bearish concern is predicated on growing competition while the bullish bet revolves around its success in the SMB space.
The bulls clearly had the upper hand due to the success of the cloud security offerings, which came in above expectation.
Heading into next quarter, management has once more guided softly. Declining top line revenue growth rate coupled with the realization that the competition's flames keep burning hotter has given management more reasons to be cautious.
Valuation
Given that shares of Barracuda increased by over 6% after the strong Q3 performance, this indicates that the market is pricing in more optimism than pessimism in near-term free cash flow growth. This makes the stock somewhat expensive at its current valuation.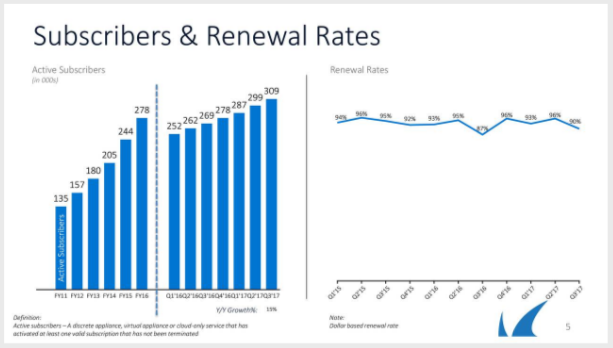 Source: Barracuda
Another concern for me is the slowing growth and drop in renewal rate. Product revenue declined 5.5%, YoY. The product drives subscription and it will be hard to say that the decline in product revenue won't catch up with the stock.
This might be an indication of looming challenges.
On a brighter note, the massive exodus to cloud platforms driven by the success of Office 365, Microsoft (NASDAQ:MSFT) Azure and Amazon AWS will continue to fuel future demand. Also, management is yet to fully monetize the new email threat scan tool. The introduction of new cloud security solutions such as the NGFW (next generation firewall) for the Google (NASDAQ:GOOG) (NASDAQ:GOOGL) cloud platform and the success of the WAF (web application firewall) on AWS will provide more tailwinds.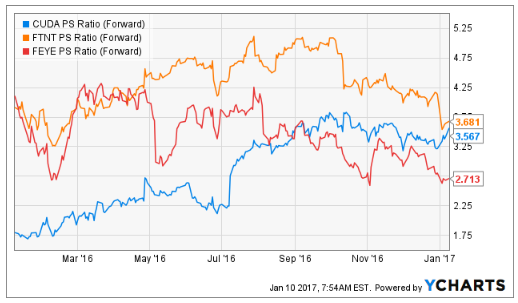 Due to a balance in valuation drivers, CUDA is a HOLD with a price target of $26. This factors in a modest P/S of 4 driven by soft revenue guidance.
Disclosure: I/we have no positions in any stocks mentioned, and no plans to initiate any positions within the next 72 hours.
I wrote this article myself, and it expresses my own opinions. I am not receiving compensation for it (other than from Seeking Alpha). I have no business relationship with any company whose stock is mentioned in this article.